A day of drama in the Illinois House ended Monday night with a passage of bipartisan education funding legislation that's being hailed as "historic."
Gov. Bruce Rauner said he will "quickly" sign it into law should the Senate pass the package on Tuesday, as is expected.
That would allow the comptroller to begin sending districts their state aid, and stave off any potential danger of low-income schools shutting down or having to make mid-year cuts.
Two general state aid payments to schools that should have been made in August were delayed as lawmakers struggled to reach an agreement, due to a provision in the state budget that required a new "evidence-based" funding formula become law before the money could be sent.
In the long-term, that new formula stands to level out Illinois' notoriously inequitable way of funding education, by sending more state funds to districts without the local property wealth to fund to "adequately" support students' learning. The state's reliance on local property taxes to fund schools means that currently there's a wide gap, in which richer districts spend upwards of $32,000 a student while others spend a third as much.
A "Fix the Formula" coalition of education advocacy groups sent a statement applauding the compromise: "For the past four years, superintendents, teachers and civil rights leaders have come together to fight for a formula that ensures a student's zip code no longer determines the school resources available."
But it took three tries Monday before the House was able to pass the measure, Senate Bill 1947, House Amendment 5, given opposition on both sides of the aisle.
The package guarantees every district will receive at least as much in the future as it did this year; going forward, any additional money will be put through the new evidence-based formula.
Additionally, Illinois will begin to pick up the tab for Chicago Public Schools' teachers' retirement benefits, as it does for every other district. Chicago also gains the ability to raise the local property tax rate, which is estimated to bring in up to $120 million that can be used for CPS pensions.
Related: Chicago Board of Education Backs Springfield School Funding Deal
At Republicans' request (they say it will save districts money), the package would also allow school districts an easier path toward reprieve from state-issued curricula mandates. The plan explicitly loosens a requirement for five days of physical education; schools can move to three days a week of gym class, and allow seventh to 12th grade students who play sports to opt out of PE (currently, only high schools junior and seniors have that option). Finally, schools have the option of bringing in a private company to teach drivers' education.
Teachers' unions fought against a main component of the compromise—the creation of a state-run fund for $75 million of private and parochial school scholarships, to be paid for by donors in exchange for a state income tax credit worth 75 cents on the dollar.
"It protects the rights of parents to choose the school that best meets the needs of their children – providing more school choice for children from low-income families," Rauner said in a statement.
Though it's a five-year pilot program and not a permanent one, teachers' unions say it will drain students—and the state tax dollars that follow them to the classroom—from public schools.
"Taxpayer dollars should be invested in our public school classrooms, plain and simple. The Governor's proposal gives the wealthy another break while robbing our public schools of students and dollars," Illinois Federation of Teachers President Dan Montgomery said in a statement. "Vouchers should not be the price of progress."
Details of the program weren't available until Monday morning, hours before voting began. According to information from House research analysts, the tax credits will help send roughly 6,000 students whose household income is less than 300 percent of the federal poverty level (equal to about $73,000 for a family of four) to private or parochial schools.
Extending the tax credits stands to put a $100 million dent in the state budget; a relative drop in the bucket compared with overall spending, but nonetheless a cause for concern for Rep. David Harris, R-Arlington Heights.
"Look, I went to parochial high school. My two sons went to parochial grade school and high school. My wife and I made the choice to do that because the education we wanted for our kids, but we struggled to pay the tuitions and we struggled to pay the property taxes. That was a choice that we voluntarily made. So I understand and value parochial education… but I also have a responsibility to the taxpayers of the state of Illinois," Harris said. "Like it or not, because of our two years of budget impasse and an accumulation of $15 billions of back bills, this state needs a tight fiscal diet for years to come."
With that pushback, an initial pass fell to stunning defeat: It received only 46 of the necessary 71 votes.
The House then briefly recessed, returned to the floor and voted on an override of Rauner's amendatory veto of Senate Bill 1, the original education measure Democrats approved in May and the foundation of the formula overhaul in the ultimate deal.
That effort also failed, by a vote of 63-45.
Immediately, the compromise plan was put back on the board.
This time, faced with backing Senate Bill 1947 or the prospect of continued stalemate putting schools at risk, 33 representatives switched their votes, putting it over the top.
Afterward, Rauner made a rare appearance on the House floor, shaking hands and talking with representatives.
"Today we saw compromise. Instead of pitting children and communities against each other, Democrats and Republicans came to an agreement on much of what's in this bill. And even where we don't fully agree, we're willing to work together in good faith and meet each other half way," House Speaker Michael Madigan said in a statement. "Through compromise, we've included some provisions that many members would not have supported on their own. But a package that permanently provides more money for Illinois schools and puts us closer than ever to fixing Illinois' broken school funding system is too important to let partisan differences get in the way."
Follow Amanda Vinicky on Twitter: @AmandaVinicky
---
Related stories: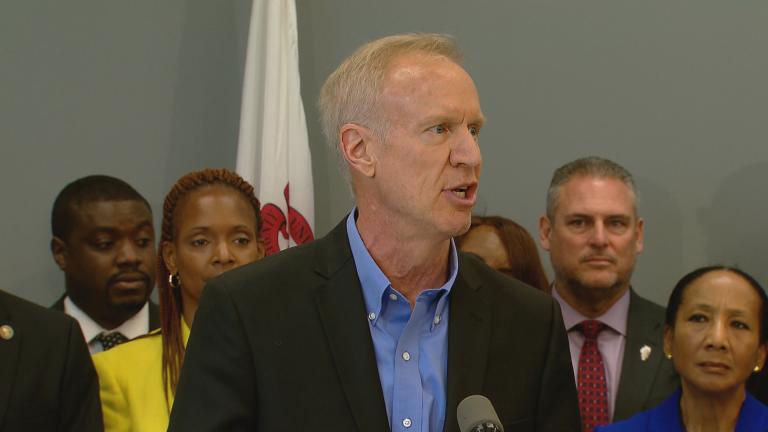 Rauner Shakes Off Staff in Latest Upheaval
Aug. 24: Gov. Bruce Rauner may say a controversial cartoon published by the Illinois Policy Institute has nothing to do with him, but his response may have led to another staff shake-up.
---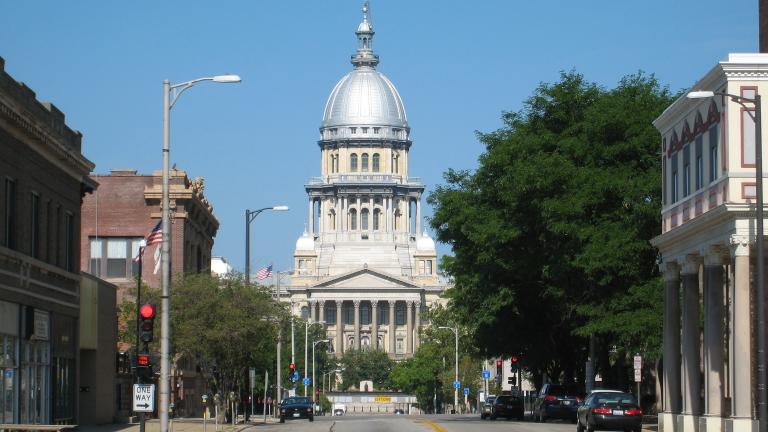 Legislative Leaders Reach Deal on Education Funding Reform
Aug. 24: After days of meetings and months of debate, an agreement has been reached on a new education funding reform in Springfield.
---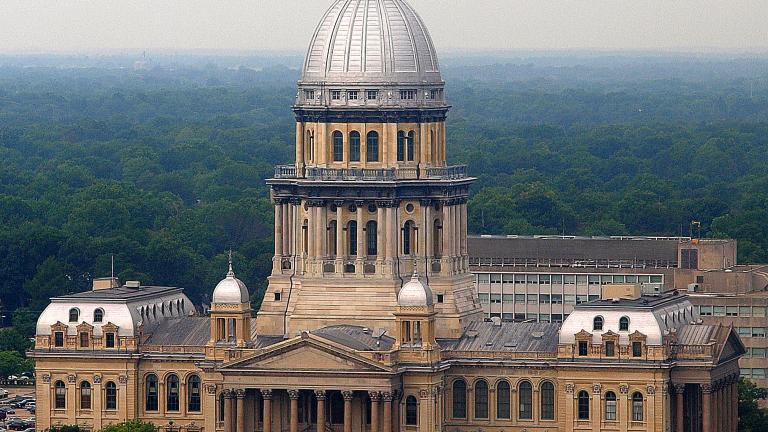 Education Talks, Cartoon Controversy Continue
Aug. 23: Illinois' top legislators will meet Thursday to continue hammering out a deal on education funding, even as a controversy continues to swirl over an editorial cartoon that backs one of Gov. Bruce Rauner's positions.
---