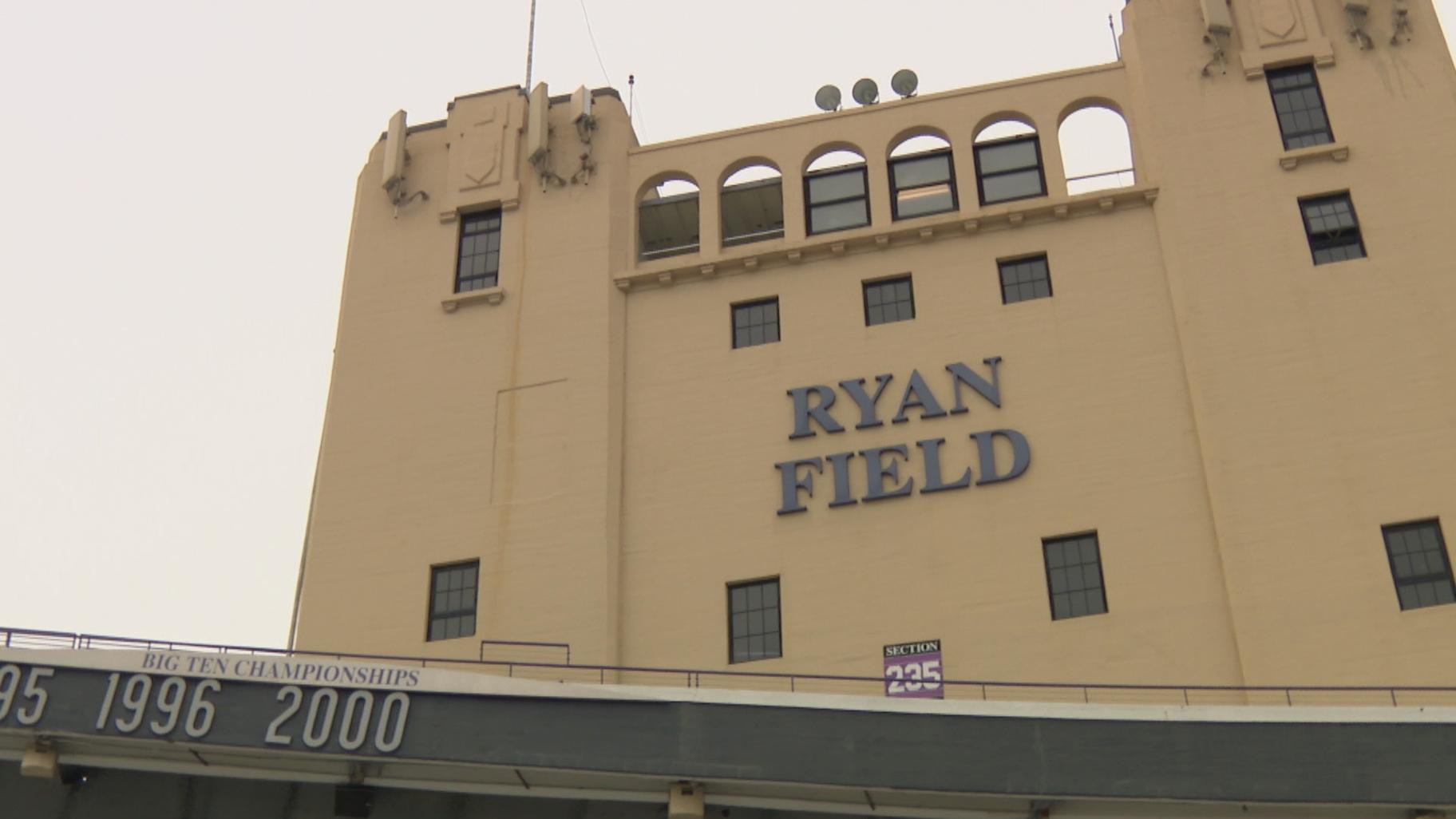 (WTTW News)
Note: This story was originally published July 28 and is regularly updated with new developments.
---
Less than a month ago, Pat Fitzgerald was preparing to lead the Northwestern Wildcats football team into what would have been his 17th season at the helm as the second-longest tenured head coach in the Big Ten conference.
But since then, a rapidly unfolding hazing scandal with allegations spanning several years led to his ouster and threw the university into turmoil. Several former student athletes have now filed lawsuits against the university, while Fitzgerald himself has retained prominent legal counsel and could seek legal recourse following his termination.
The following is a timeline of events detailing the investigation, Fitzgerald's termination and subsequent lawsuits, in order of the most recent developments:
Oct. 5: Pat Fitzgerald filed a lawsuit against President Schill and Northwestern University claiming he was wrongfully terminated and seeking damages in the amount of $130 million.
"If there was ever an athletic coach at Northwestern University that should not have been terminated, it's coach Fitzgerald," Fitzgerald's attorney Dan Webb said during a press conference. "And the fact he was terminated based on no rational reasons or facts whatsoever — the fact that they've gone out and destroyed his reputation as one of the best football coaches in America based on no legitimate reason or evidence — is disgraceful, is despicable conduct on behalf of Northwestern."
Fitzgerald said there was no basis to fire him for cause, and that the university breached not only his coaching contract, but also an oral agreement in which Fitzgerald accepted a two-week suspension with the expectation he would not be disciplined any further. Instead, he was fired just days later.
That $130 million Fitzgerald is seeking includes $68 million that would have been paid through the remainder of his coaching contract and another $62 million in damages.
In response to the suit, Northwestern issued a statement saying it is "confident that the University acted appropriately in terminating Fitzgerald and we will vigorously defend our position in court."
Aug. 14: Three former Northwestern baseball staffers filed lawsuits against the university, claiming that they faced retaliation, harassment, bullying and abuse after reporting NCAA violations allegedly committed by ex-head coach Jim Foster.
Two assistant baseball coaches, Dustin Napoleon and Jonathan Strauss, and the university's director of baseball operations Chris Beacom claim they were demoted and ultimately had their contracts not renewed
"Chris, Jon and Dusty were trying to do the right thing as whistleblowers in telling the school of the head coach's NCAA violations and a bullying attitude that led to the potential harm of baseball players, yet Northwestern turned its back on them," attorney Christopher Esbrook, who represents the three men, said in a statement. "The University worked on a code of silence instead of working through the issues reported by these brave coaches."
Aug. 3: Two more players represented by attorney Ben Crump and Levin & Perconti filed lawsuits against the university claiming negligence, willful and wanton disregard for player safety and well-being and violation of Illinois' Gender Violence Act.
Tom Carnifax, who was on the Northwestern football team from 2016 to 2019, alleged he was a victim of sexual, physical and emotional hazing that began his freshman year during training in Kenosha. He claimed he was forced to participate in various "sexualized hazing rituals" including a "naked pass rush" and the "Car Wash."
The second player who filed suit remained anonymous.
Aug. 2: Ramon Diaz, a former offensive lineman who played at Northwestern from 2005 to 2008, filed a lawsuit against the university claiming he was subjected to "hazing, sexual and physical abuse, racial discrimination, and other dehumanizing acts."
Among the various allegations, the lawsuit claimed Diaz's teammates shaved the words "Cinco de Mayo" into the back of his head. Diaz also alleged he and other freshmen were forced to participate in a so-called "carwash," in which they were forced to rub against other players who were naked and covered in soap in order to reach the team's showers.
According to the lawsuit, university officials including Fitzgerald and Phillips were "in a position to address the toxic culture but did not."
Aug. 1: Northwestern announced it would hire former U.S. Attorney General Loretta Lynch to lead an independent review of the university's "processes and accountability mechanisms" already in place to detect, report and respond to potential hazing and misconduct across the NU athletics programs.
"I am determined that with the help of Attorney General Lynch, we will become a leader in combating the practice of hazing in intercollegiate athletics and a model for other universities," Northwestern President Michael Schill said in a statement.
July 31: Two more former Northwestern football players filed lawsuits against the university. Running back Warren Miles Long, who played for the Wildcats from 2013 to 2018, and an unnamed player who was on the team from 2015 to 2019 each claimed they were "subjected to ongoing sexual, physical and emotional abuse during their years playing football for the Wildcats."
The unnamed played claimed he was "ran" 10 times, while Long also claimed he was "targeted for sexual abuse by upperclassman."
July 28: Ben Crump and attorneys with the law firm of Levin & Perconti announced they've filed another lawsuit against the university, this time on behalf of a third former football player whom they allege was a victim of "childhood sexual abuse" when he was a 17-year-old student at Northwestern.
The lawsuit also claimed the unnamed player, who attended the university from 2015 to 2019, was forced to play in games after suffering concussions leading to serious mental health issues.
"This is just the beginning. We will file more lawsuits against Northwestern next week and in the weeks following," Crump said in a statement. "This is much bigger than just a few players. Hundreds of players were victimized over the years."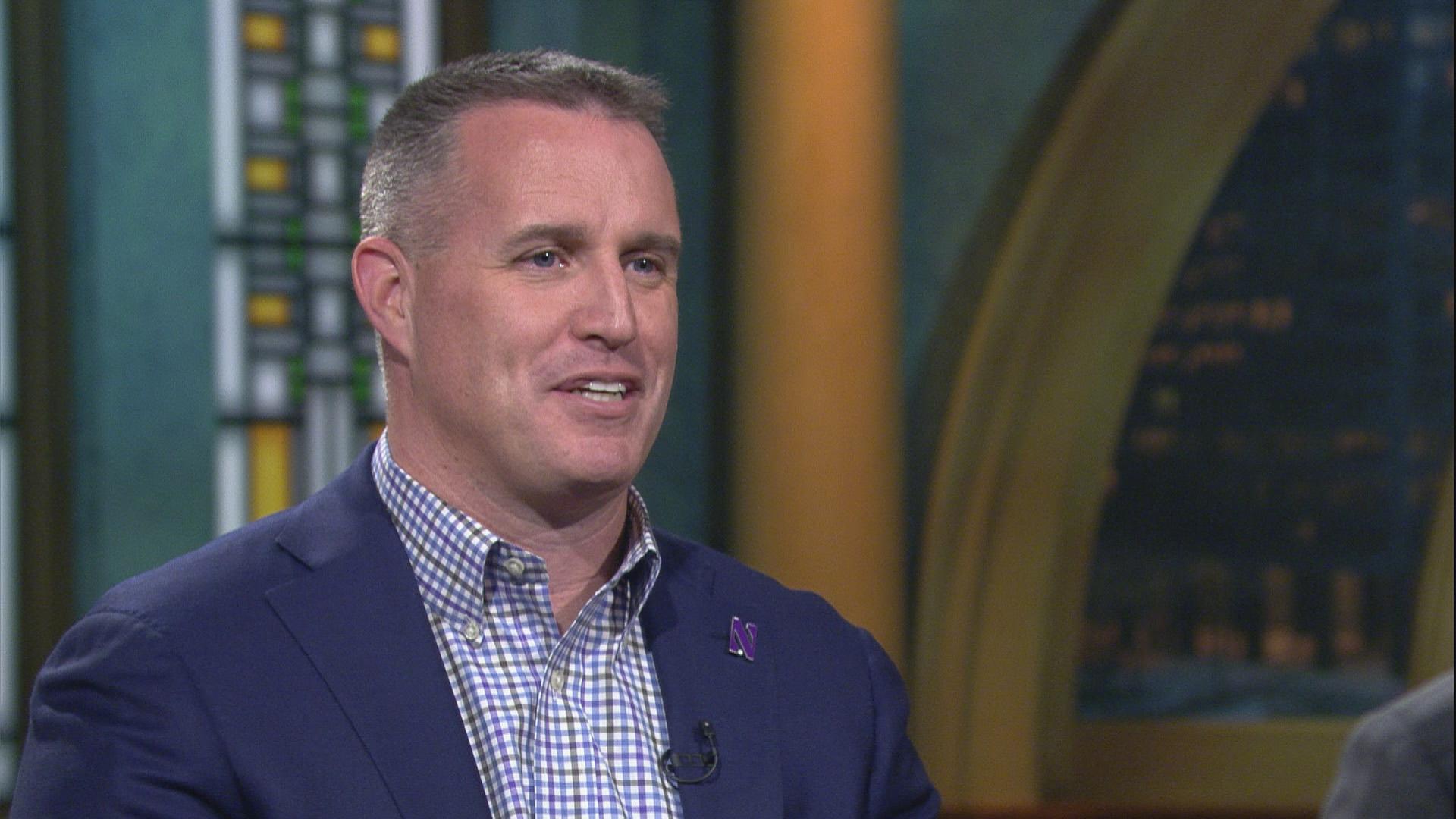 Northwestern University football coach Pat Fitzgerald appears on "Chicago Tonight."
July 27: Former Northwestern linebacker Simba Short became the fifth football player to file a hazing-related lawsuit against the university. Crump and other attorneys on his behalf allege Short suffered "frequent locker room harassment, unwanted physical and sexual contact and was degraded and bullied by coaches and other players" following a surgical procedure to repair an injured shoulder.
July 24: Crump and other Chicago attorneys announced a lawsuit on behalf of former NU quarterback and wide receiver Lloyd Yates against the university. That suit alleged an array of forced hazing rituals, including players holding down a teammate while the players rubbed their crotches in the teammate's face; naked drills and workouts; new players made to strip and run through a line of naked teammates covered in soap, known as the "Car Wash"; trading insults during rap battles and team dinners; and players made to drink protein shakes until they became sick.
The suit also alleged that coaches and staff knew or should have known of the hazing, and that many in authority also subjected players to racist and discriminatory comments.
Webb in a statement noted the lawsuit did not name Fitzgerald as a defendant and failed to show he had "actual, contemporaneous knowledge of the behaviors described in the complaint."
An unnamed female volleyball player also filed a lawsuit against Northwestern, claiming she was physically harmed to the point of requiring medical attention during a hazing incident in early 2021.
Schill issued another statement in which he said "the picture painted by some of these commentators of our program, our student-athletes and the University itself is entirely inconsistent with the Northwestern we all know and love."
"While there is no doubt in my mind that shameful events did take place in the football program," he said, "I also know that the vast majority of our student-athletes — in football and in our other 18 D1 teams — are people of character who do amazing things both on the field and in the classroom. I am proud of them."
July 21: Attorneys representing "John Doe" launch two additional lawsuits — this time against Fitzgerald, the university and ACC Commissioner James Phillips, who previously served as Northwestern's athletic director from 2008 to 2021.
These complaints, which were filed on behalf of two more football players who were also on the team from 2018-2022, allege the defendants failed to prevent or intervene in the hazing, and failed to protect students from what they called "assaultive, illegal, and often sexual in nature" acts.
July 18: A former football player identified only as "John Doe" filed the first lawsuit stemming from the hazing scandal in Cook County.
That player, who was on the Northwestern football team from 2018-2022, alleged that Fitzgerald, Schill, the board of trustees and athletic director Derrick Gragg enabled and concealed sexual misconduct and racial discrimination.
"It wasn't just confined to one bad actor," attorney Parker Stinar said in an interview with the Associated Press.
The lawsuit allegations include naked players in locker rooms forcing freshmen to also strip naked and then perform various acts. It also accuses Fitzgerald of enabling a culture of racism, including forcing players of color to cut their hair and behave differently to be more in line with the "Wildcat Way."
Fitzgerald's attorney, Dan Webb, said in response to the lawsuit that "the complaint has no validity as to Coach Fitzgerald and we will aggressively defend against these allegations with facts and evidence."
July 17: Eight former football players retained civil rights attorney Ben Crump to represent them in advance of a possible lawsuit.
"Whether the coaches at Northwestern approved or participated in the harassment of these players or not, they are responsible for allowing and enabling a toxic, disgusting, and damaging culture in their programs," Crump said in a statement. "Sadly, our research suggests that this kind of abuse of student athletes may be far more common on college campuses than we know, because there is tremendous pressure to keep quiet. It's time for a reckoning to protect young athletes."
July 13: Northwestern terminated head baseball coach Jim Foster after just one season amid separate allegations of misconduct.
The Chicago Tribune reported that an internal university investigation revealed "sufficient evidence" to support claims that Foster had engaged in "bullying and abusive behavior."
July 10: Schill announced the university had terminated Fitzgerald "for his failure to know and prevent significant hazing in the football program."
"The head coach is ultimately responsible for the culture of his team," Schill said in a statement. "The hazing we investigated was widespread and clearly not a secret within the program, providing Coach Fitzgerald with the opportunity to learn what was happening. Either way, the culture in Northwestern Football, while incredible in some ways, was broken in others."
Schill acknowledged that Hickey's investigation revealed 11 current or former student athletes had said that hazing — some of which involved "forced participation, nudity and sexualized acts of a degrading nature" — had been ongoing within the football program for several years.
Fitzgerald also released a statement of his own, saying he had agreed to the two-week suspension and was surprised by his termination. He announced he has also entrusted his attorney — longtime litigator Dan Webb — to "take the necessary steps to protect my rights in accordance with the law."
July 8: The Daily Northwestern, the university's student newspaper, published details from a former football player who described the hazing he'd seen as "egregious and vile and inhumane behavior." The player said some of that hazing involved coerced sexual acts — allegations that a second player also told the paper — and that Fitzgerald may have known that hazing took place.
According to The Daily, the player described a hazing activity he referred to as "running," which was used to punish players for mistakes made during games or practice. When this occurred, the selected player would be restrained by several upperclassmen wearing "Purge-like" masks, who would begin "dry-humping" the player in a dark locker room, The Daily reported.
Schill issued a statement that same day, indicating he "may have erred in weighing the appropriate sanction for Coach Fitzgerald."
"In determining an appropriate penalty for the head coach," Schill said, "I focused too much on what the report concluded he didn't know and not enough on what he should have known."
July 7: After Hickey's investigation is complete, Northwestern University President Michael Schill announced Fitzgerald has been suspended for two weeks without pay. While that investigation did not find sufficient evidence that the coaching staff knew about ongoing hazing, Hickey did find that there were "significant opportunities" to find out about and report the conduct.
The university also announced additional steps in response to Hickey's report, including: ending the football team's Kenosha training camp, requiring an outside monitor in the team's locker room who doesn't report to the football coaching staff, and creating an online portal for student athletes to anonymously report hazing or hazing-related concerns.
Dec. 2022: Northwestern hired attorney Maggie Hickey, of the law firm ArentFox Schiff, to conduct an investigation into the hazing allegation.
Nov. 30, 2022: University officials received an anonymous complaint alleging there had been hazing occurring within the NU football program. That complaint claimed the hazing involved student athletes and may have begun during the team's training camp activities in Kenosha, Wisconsin.
Nick Blumberg and the Associated Press contributed to this report.
Contact Matt Masterson: @ByMattMasterson | [email protected] | (773) 509-5431
---