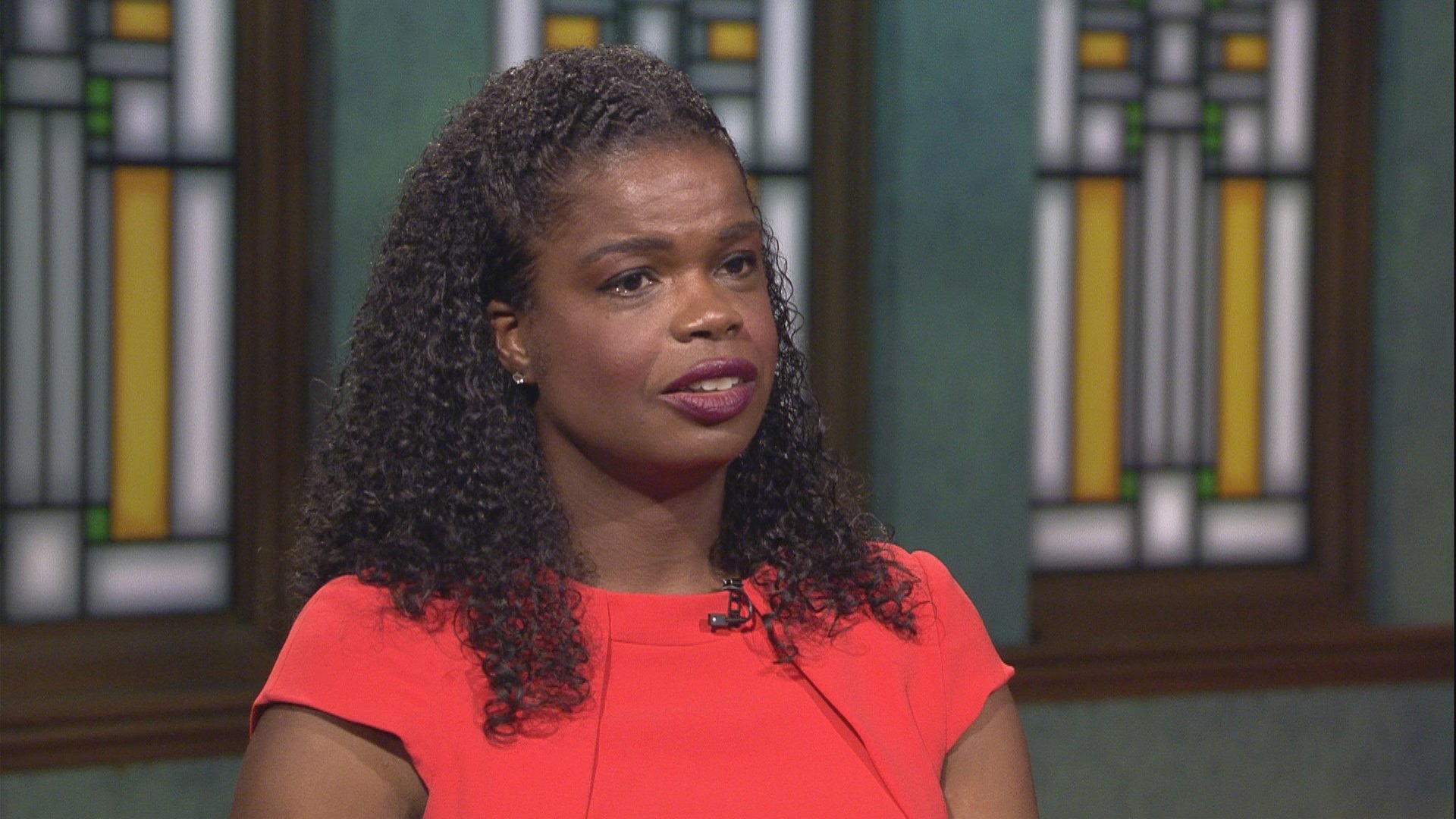 Cook County State's Attorney Kim Foxx appears on "Chicago Tonight" on Sept. 17, 2019. (WTTW News)
Cook County State's Attorney Kim Foxx on Tuesday morning announced her plans to run for re-election next year in a slickly produced ad that acknowledges missteps in the Jussie Smollett case and calls out critics like President Donald Trump and the Chicago Fraternal Order of Police.
Foxx, who was first elected as top prosecutor in 2016, is already facing multiple challengers for her job following a tumultuous year in which the decision by her office to drop charges against "Empire" actor Smollett led to a monthslong public controversy and calls for her ouster.
In a two-minute ad announcing her re-election campaign, Foxx discussed that case head-on, admitting that she "didn't handle it well."
"I own that," Foxx said. "I'm making changes in my office to make sure we do better. That's what reform is about."
I ran for Cook County State's Attorney four years ago because we needed to change criminal justice in our county. Today, I'm officially announcing that I'm running for re-election. We've gotten a lot done, and we can't go back now. pic.twitter.com/0ECV7BRJGH

— Kim Foxx (@KimFoxxforSA) November 19, 2019
---
Smollett was charged with 16 counts of felony disorderly conduct earlier this year after he allegedly lied to police about being the victim of a racist and homophobic attack in January. Chicago police investigated those claims and believe he orchestrated that attack on himself.
Foxx initially announced she had recused herself from the case, and in a bombshell move, her top assistant Joseph Magats dropped the charges weeks after they were filed. But Foxx later said she had not officially recused herself and has changed her reasoning for why she stepped away from the case.
A Cook County judge later determined Foxx erred in appointing Magats to the case and has since appointed veteran litigator Dan Webb as special prosecutor to determine whether there are grounds to prosecute Smollett, and whether Foxx or anyone in her office involved in the case "engaged in improper conduct or committed any criminal offenses."
Foxx also faces an ongoing investigation into her conduct by Cook County's inspector general.
Among her most vocal critics during this controversy has been the FOP, the union representing Chicago police officers, which issued a vote of no confidence and publicly called for her resignation earlier this year.
Foxx said her office is constantly "under attack" by Trump, the National Rifle Association and the police union, which she said is "clinging to the old ways."
"They'll do anything to undercut progress," she says in the ad, "including attacking me personally over the Jussie Smollett case."
FOP 2nd Vice President Martin Preib responded to Foxx's barbs in an email to WTTW News on Tuesday morning, saying that "in almost any other city, the notion of a scandal-plagued prosecutor like Kimberly Foxx running for re-election could not be seriously entertained."
He also criticized Foxx for dropping murder charges against two men, Arturo Reyes and Gabriel Solache, who were convicted and eventually exonerated of a 1998 double murder after claiming they were beaten into confessing by retired detective Reynaldo Guevara.
"The absolute breakdown in the criminal justice system in Cook County is her own doing and has nothing to do with President Trump, the FOP, or the NRA," Preib wrote in the email. "Lastly, if Ms. Foxx thinks being a prosecutor is a tough job, try being a Chicago Police Officer, particularly when the prosecutor is on the side of the criminals."
Beyond the Smollett case, Foxx highlights her record over the past three years, saying prosecutions of violent crimes and gun cases have increased under her watch. She also pointed to convictions her office won in the high-profile slayings of 15-year-old Hadiya Pendleton and 9-year-old Tyshawn Lee.
Foxx ran as a criminal justice reformer in 2016. During her time in office, she's lowered the county's incarceration rate nearly 20% according to one report and has moved to expunge past marijuana convictions.
And already she has won backing from the Cook County Democratic Party.
"We're on the right path to reforming criminal justice in Cook County and making the system work for everyone," she said. "But there's still work to do and I need your help. Join me."
Contact Matt Masterson: @ByMattMasterson | (773) 509-5431 | [email protected]
---
Related stories:
Special Prosecutor in Smollett Case Reveals He Made Campaign Contribution to Kim Foxx
Ex-Judge: Smollett's Lawyers Not Allowed to Practice Law in Illinois
Jussie Smollett's Attorneys Seeking to Reverse Special Prosecutor Ruling
Judge Orders Special Prosecutor to Examine Smollett Probe
Chicago Releases 911 Calls from Smollett Incident in January
Kim Foxx: False Rumor Caused Recusal in Jussie Smollett Case
Read: Chicago Police Release First Wave of Jussie Smollett Documents
---