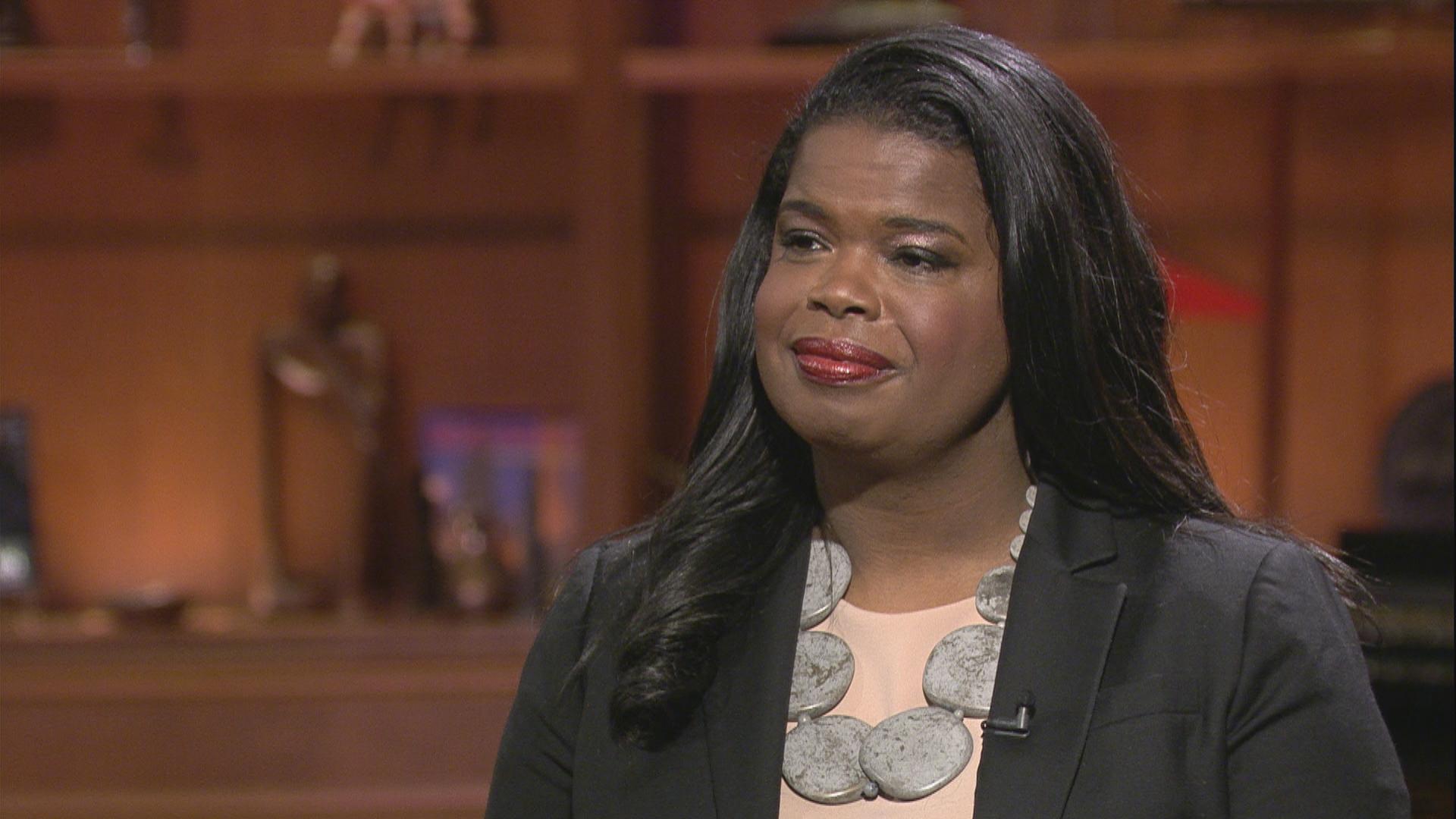 Cook County State's Attorney Kim Foxx appears on "Chicago Tonight" on Dec. 20, 2018.
Cook County Circuit Court Clerk candidate Michael Cabonargi, Illinois Supreme Court candidate P. Scott Neville and Cook County State's Attorney Kim Foxx will have the coveted endorsement of the Cook County Democratic Party in next year's elections.
Local committeemen voted Friday for Cabonargi, Neville and Foxx, after a two-day slating process at the IBEW Local 134 hall in Bronzeville. Media and interested members of the public were able to watch candidates' tryouts – candidates were each given the podium for three minutes, and were then subject to questioning from committeemen – but party leaders voted in private for their favorites.
There were no upsets; each of the slated politicians had gone into the slating exercise as a presumed front-runner and with the backing of Cook County Democratic Party Chair Toni Preckwinkle. 
Being slated by the party had long been considered a straight path to victory. Mayor Lori Lightfoot's dominant victory earlier this year over Preckwinkle shows that axiom has lost some credence.
Still, having the party's backing brings with it campaign foot soldiers and other forms of support.
Democrats went through with the endorsements despite calls from some of the candidates for the party to stay on the sidelines during the primary to let "the people" decide who should make it to the general election in 2020.
Winning a Democratic Party endorsement in a countywide race is typically akin to winning office outright, given Republicans' longstanding lack of political strength throughout most of Chicago.
It's too early to tell what sort of competition the Cook County Democratic Party's slated candidates might face in the primary given that there's still time for more candidates to enter; candidates can't even begin collecting petition signatures until Sept. 3, and those can be turned in between Nov. 25 and Dec. 2. 
It's also possible that candidates who made failed pitches to the party may drop out of the running, given that running against the party's choice could be viewed as a notch against them in the future.
The race for Cook County Circuit Court clerk in particular stands to widen, given incumbent Dorothy Brown earlier this week making known that she is not running for another term. Among the other declared candidates for the post are: former Cook County Commissioner Richard Boykin, Water Reclamation District Commissioner Mariyana Spyropoulos, state Sen. Iris Martinez and attorney Jacob Meister.
Declared candidate for the Illinois Supreme Court position include judges Cynthia Cobbs, Shelly Harris, Nathaniel Howse, Margaret McBride and Jesse Reyes as well as attorney Daniel Epstein.
Former Assistant State's Attorney Bill Conway is thus far the only candidate who has announced a run for incumbent Foxx's job as Cook County's top prosecutor. Conway, a U.S. Naval reserve officer, had asked the party to withhold an endorsement as he is on reserve duty. Foxx has come under scrutiny for withdrawing charges against "Empire" actor Jussie Smollett after he allegedly lied to police about being the victim of a hate crime. Foxx reportedly defended her office's handling of the case on Friday when asked about it during the slatemaking, saying her objective, as with every other case, is to focus on violet crimes.
Follow Amanda Vinicky on Twitter: @AmandaVinicky
---
Related stories:
Democratic Slating for the State's High Court
Cook County Circuit Court Clerk Dorothy Brown Won't Seek Re-Election
Spotlight Politics: Politicians Hit Illinois State Fair
Cook County Circuit Court Clerk Dorothy Brown Won't Seek Re-Election
Chief Judge Evans: Gun Violence Not the Result of Bail Reform
---