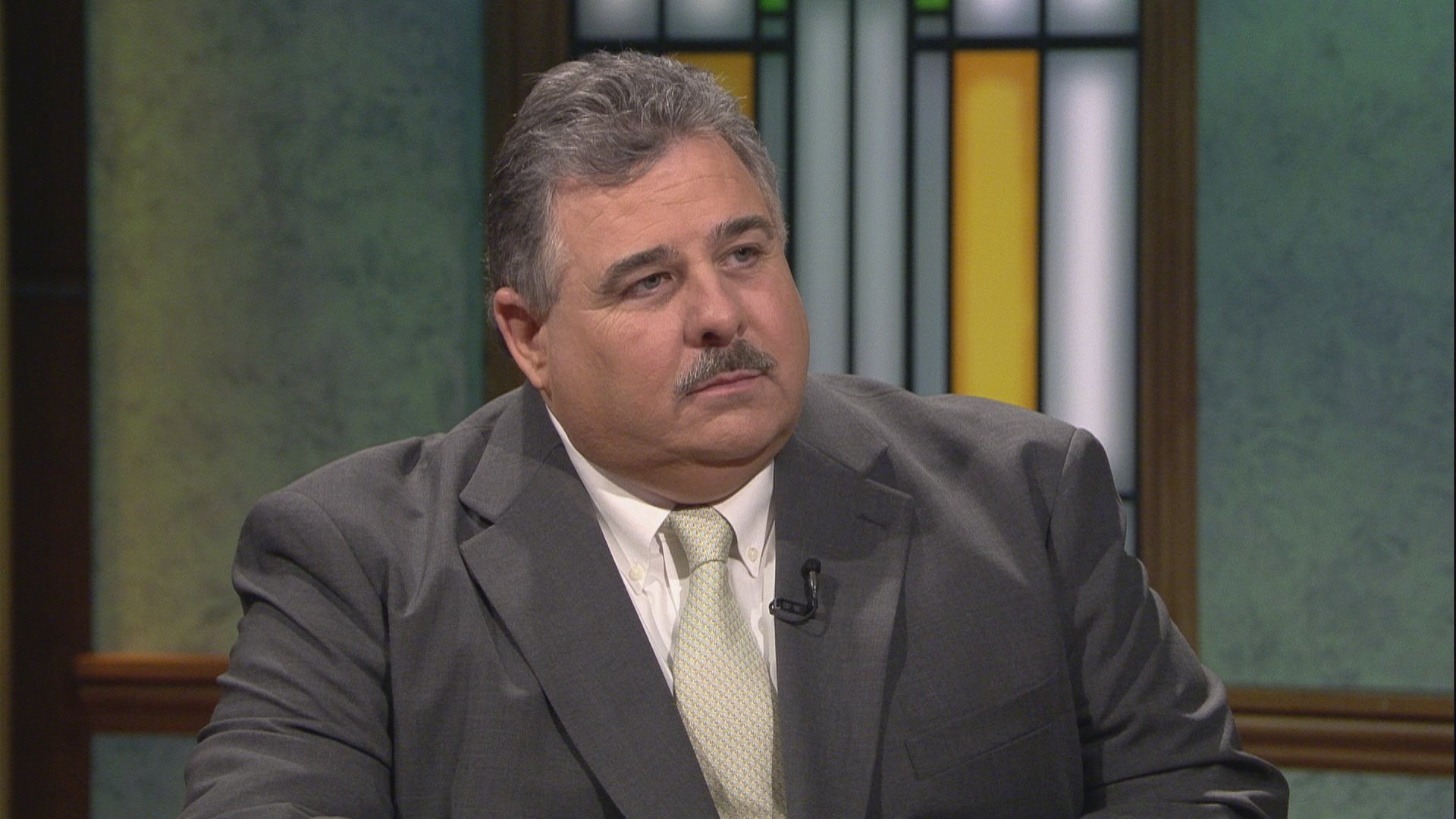 Kevin Graham appears on "Chicago Tonight" on Feb. 7, 2019.
The head of the Chicago Fraternal Order of Police joined chiefs from several suburban police departments in calling for Cook County State's Attorney Kim Foxx to step down following her office's handling of the Jussie Smollett prosecution.
"Ms. Foxx needs to resign and she should do it quickly," Chicago FOP President Kevin Graham said during a press conference Thursday afternoon.
Already this month, groups of suburban police chiefs have issued a vote of no confidence in Foxx after her office decided to drop more than a dozen felony disorderly conduct charges against Smollett.
Duane Mellema, president of the North Suburban Association Chiefs of Police, cited that case in a letter to Foxx, calling it the "latest and most egregious example of the failure by you and your staff to hold offenders accountable."
Mellema joined Graham at Thursday's press conference, where he called the dismissal "particularly worrisome" because of what he called a "complete lack of communication and failure to follow established procedures."
The Smollett case made national headlines during the investigation and only grew larger once charges in the case were abruptly dismissed.
Smollett told police he'd been beaten by two men who were yelling racist and homophobic slurs at him in the early morning hours of Jan. 29 in the Streeterville neighborhood on Chicago's Near North Side.
But investigators eventually determined Smollett had paid two brothers $3,500 to stage the attack in an effort to raise his own public profile. Earlier this month, a grand jury indicted him on 16 additional counts of disorderly conduct for filing a false police report, all stemming from the alleged hoax attack.
Smollett, 36, has maintained his innocence throughout the investigation, telling reporters last week he's "been truthful and consistent on every single level since day one." Prosecutors believe the actor did orchestrate the attack and insist they only dropped the charges as part of an "alternative prosecution" because Smollett is a first-time offender facing a low-level felony charge.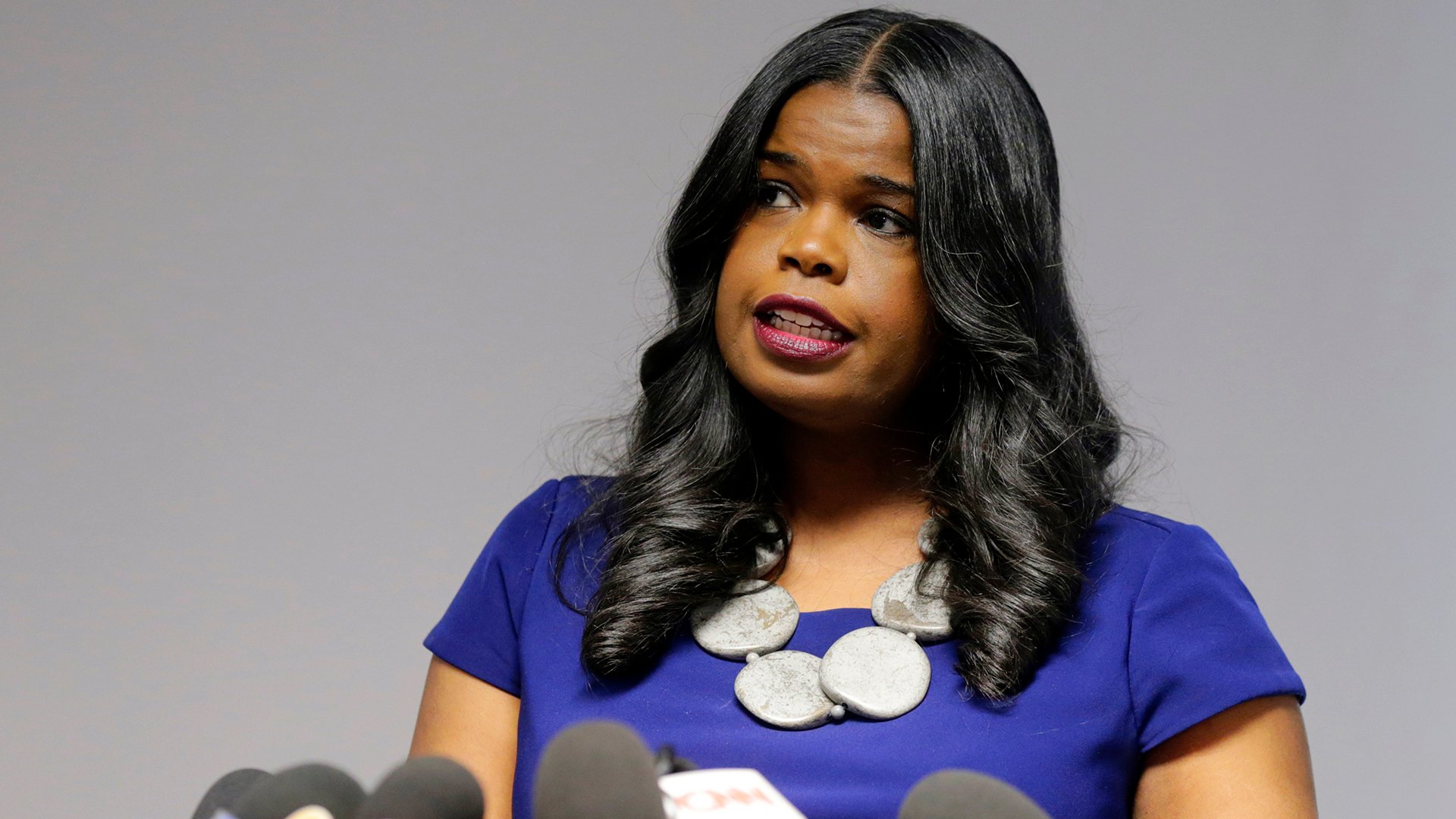 This Feb. 22, 2019 file photo shows Cook County State's Attorney Kim Foxx speaking at a news conference in Chicago. (AP Photo / Kiichiro Sato, File)
That decision has led to a firestorm of criticism directed at Foxx. She recused herself from the case, but not her entire office, after asking Chicago Police Department Superintendent Eddie Johnson to turn his investigation over to the FBI following conversations with Smollett's family and representatives.
Foxx said the actor was still considered the victim of an attack when she made that request.
President Donald Trump has pushed for a federal investigation into the dismissal. Mayor Rahm Emanuel – who told Trump to "sit this one out" – called it a "whitewash of justice."
And local and national prosecutors' organizations have lambasted Foxx's handling of the case, saying the dismissal was "abnormal and unfamiliar to those who practice law in criminal courthouses."
"Prosecutors must be held to the highest standard of legal ethics in the pursuit of justice," the Illinois Prosecutors Bar Association said in a statement. "The actions of the Cook County State's Attorney have fallen woefully short of this expectation."
The FOP last month called for a federal investigation into Foxx, alleging she interfered with the investigation into the "Empire" star's case. Graham on Thursday said he believes that process is moving forward.
Foxx has said she would welcome an outside investigation into her handling of the Smollett case. But she said Thursday she has no intention of stepping down.
"I was elected by the people of Cook County to pursue community safety, prevent harm, and uphold the values of fairness and equal justice," Foxx said in a statement. "I'm proud of my record in doing that, and I plan to do so through the end of my term and, if the people so will it, into the future."
Despite the timing of his statements, Graham insists his union's issues with Foxx pre-date the Smollett case, pointing to issues of officer safety and her office's work to free people who have been wrongfully convicted of crimes – people Graham said "should be remaining in jail."
"This didn't start with Jussie Smollett," he said. "It's a continuous problem. We need to have a prosecutor who is going to charge people when they commit a crime. If there's no charges and nobody goes to jail then obviously the law doesn't mean anything to anyone. That's a problem."
Contact Matt Masterson: @ByMattMasterson | [email protected] | (773) 509-5431
---
Related stories:
Emanuel: City Seeks to Recover Investigation Costs from Smollett
2 Major Cases Add Up to Big Doubts About Chicago Prosecutor
Confused by Jussie Smollett Case? Here's What You Need to Know.
Trump Calls on FBI, DOJ to Review Jussie Smollett Case
Kim Foxx Backs Dismissal of Charges in Jussie Smollett Case
---