With statewide marijuana legalization on the horizon, Cook County State's Attorney Kim Foxx and her office are working to speed up the process to expunge past cannabis convictions.
Last month, Foxx announced her office had partnered with California-based nonprofit organization Code for America to identify and seal tens of thousands of low-level marijuana convictions using the first-of-its-kind program in Illinois.
"Our current justice system was not designed in the digital age," Foxx said during a press conference Tuesday, Aug. 27. "And so we needed to partner with someone who had the incredible technology and the capacity for innovation to allow us to do that."
Code for America's Clear My Record technology will allow Foxx's office to automatically and securely evaluate record clearance eligibility by reading and interpreting conviction data.
That process takes just a few minutes and does not require any input on the part of the convicted individual, according to Code for America founder Jennifer Pahlka.
Streamlining conviction data processing also will make it easier for courts to update records, ensuring that individuals can obtain relief as soon as possible. Relief will be available to hundreds of thousands statewide, including tens of thousands in Cook County, Foxx said.
On Jan. 1, 2020, recreational marijuana will officially be legal in Illinois, the 11th state to do so. As part of The Cannabis Regulation and Tax Act, legislators also created an opt-in process for the Illinois attorney general and state's attorneys to clear past convictions in their jurisdictions.
Foxx's office says it can receive a list of eligible convictions from the Illinois State Police to review and grant relief by submitting those eligible convictions to the courts for final approval.
That information can be run through the Clear My Record technology at a speed of 10,000 records per minute to identify which ones are eligible for expungement.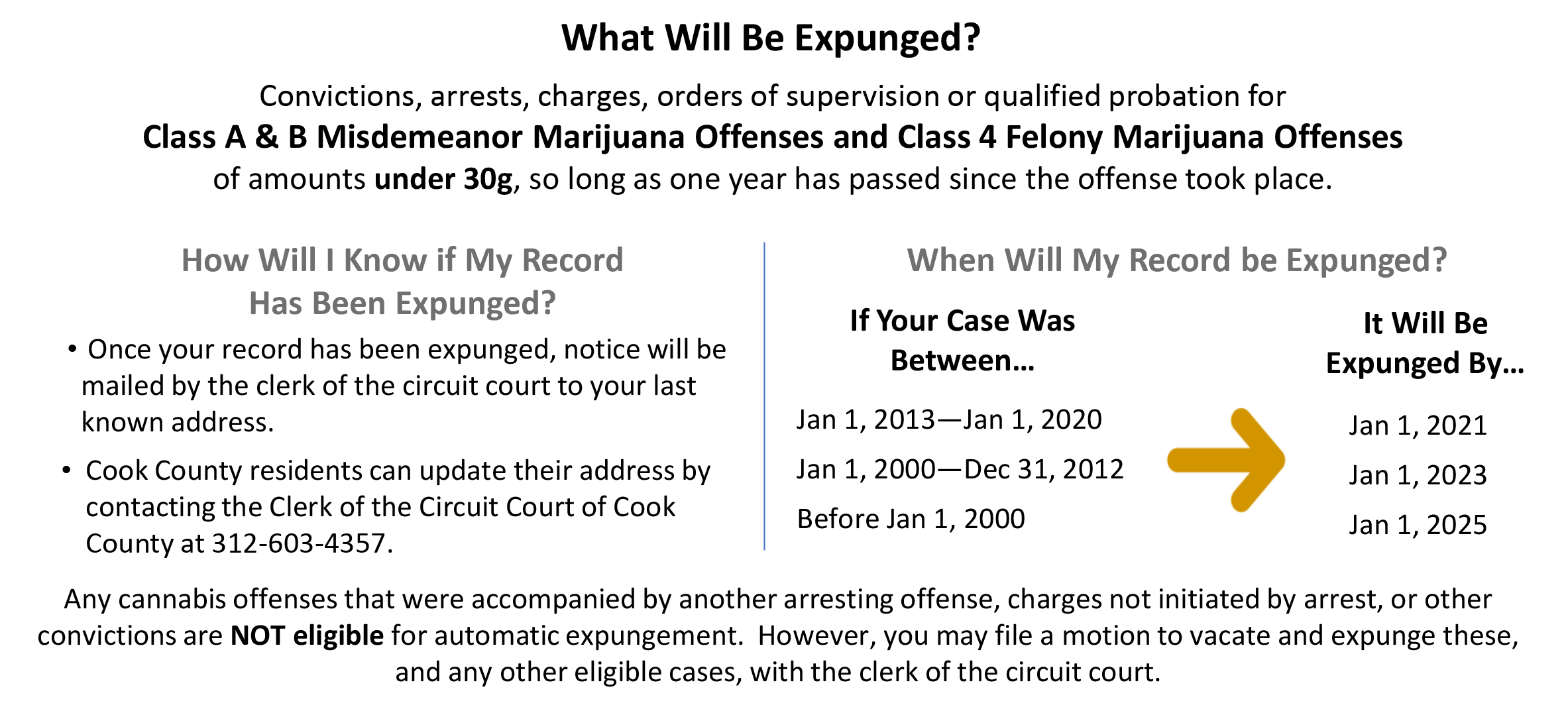 Click to see more. (Graphic courtesy of the Cook County State's Attorney Office)
Foxx has supported the legalization effort, and earlier this year began working to wipe misdemeanor possession convictions off the books, a process she is now ramping up in order to "right the wrongs of the past."
During the war on drugs, prosecutors secured cannabis-related convictions under the belief that it improved public safety, Foxx said. "In the benefit of hindsight and looking at the war on drugs, it is also prosecutors that have to be at the table to ensure that we're righting the wrongs of the past.
"Conviction relief is not only a critical part of righting the wrongs of the war on drugs, it is a recommitment of our values; that a low-level marijuana conviction does not mean that someone is a threat to public safety," Foxx said.
Contact Matt Masterson: @ByMattMasterson | [email protected] | (773) 509-5431
---
Note: This story was first published Aug. 27, 2019. It has been updated to include our interview with Cook County State's Attorney Kim Foxx on "Chicago Tonight." 
---
Related stories:
Kim Foxx Plans to Expunge Misdemeanor Marijuana Convictions
2 Years In, Cook County State's Attorney Kim Foxx Looks Back, Ahead
Kim Foxx Calls on R. Kelly Abuse Victims to Come Forward
Felonies, Pleas and Convictions Examined in New Cook County Report
New Cook County State's Attorney Kim Foxx Talks Reform Plans
---