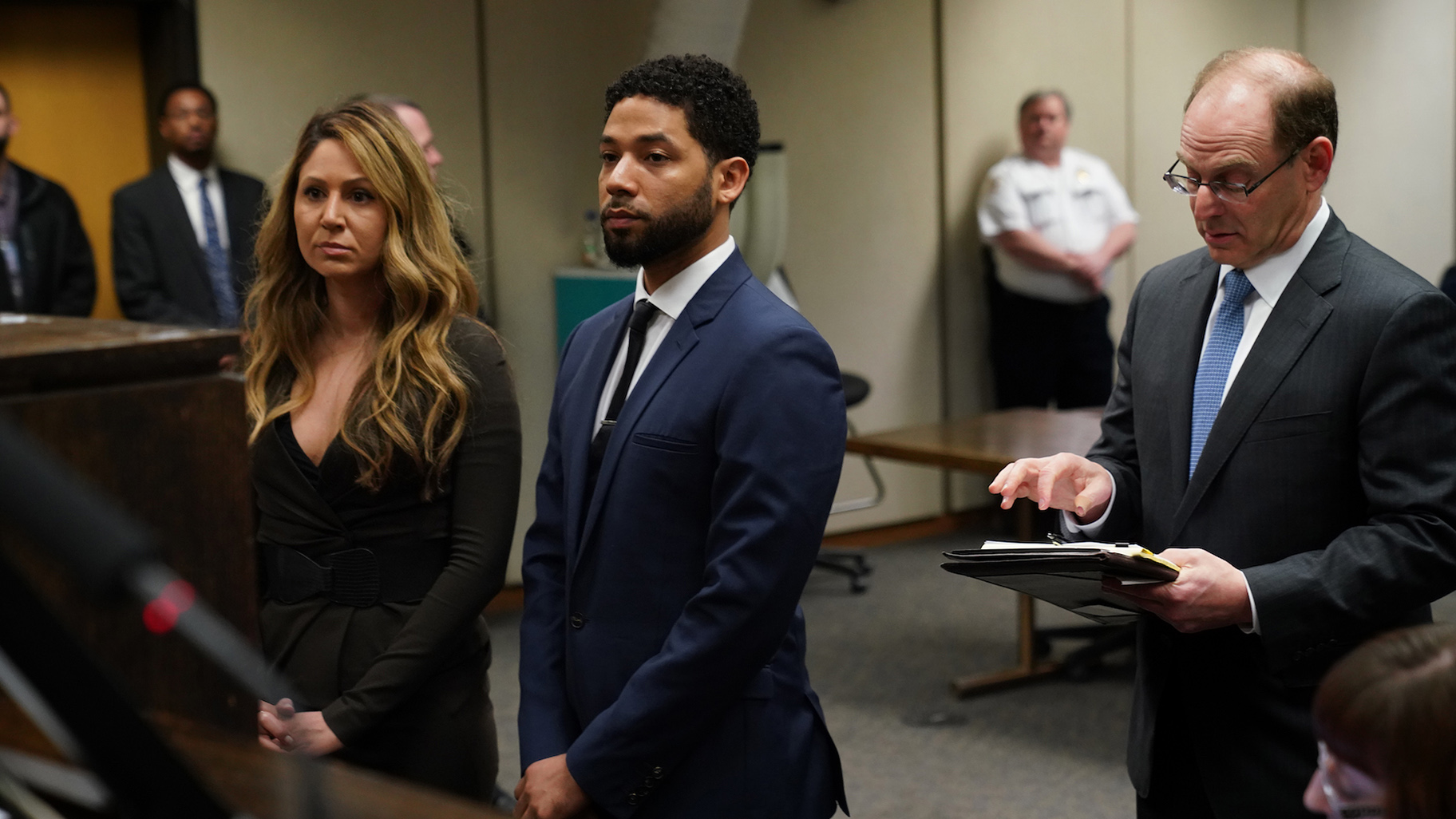 Jussie Smollett appears at a hearing for judge assignment with his attorney Tina Glandian, left, at the Leighton Criminal Court Building on Thursday, March 14, 2019. (E. Jason Wambsgans / Pool / Chicago Tribune)
Attorneys for former "Empire" television star Jussie Smollett are continuing to proclaim their client's innocence, calling the case itself and a judge's recent decision allowing a special prosecutor to review criminal charges against the actor a "travesty of justice."
In a trio of motions filed Friday, attorneys Tina Glandian and Mark Geragos asked Cook County Judge Michael Toomin to reconsider his June ruling, which would open the door to a special prosecutor potentially refiling felony disorderly conduct charges against Smollett.
"This case has been a travesty of justice and an unprecedented deprivation of Mr. Smollett's constitutional rights, including the presumption of innocence and the right to a fair trial," the attorneys wrote in their motion to reconsider.
They argue Toomin "accepted false media reports" to presume Smollett is guilty of the criminal charges he faced, despite the fact he pleaded not guilty and the charges were eventually dismissed.
Smollett and his attorneys continue to claim he was the victim of a homophobic and racist attack on Jan. 29 perpetrated by brothers Olabinjo and Abimbola Osundairo. The brothers, who were arrested, told police they had been paid by Smollett to carry out the attack in an attempt to boost his public profile.
The Osundairos were then released while Smollett was arrested and indicted on 16 felony counts of disorderly conduct after Chicago police detectives determined he had orchestrated the attack on himself. Those charges were abruptly dropped by Cook County State's Attorney Kim Foxx's office in late March as part of what they initially called an "alternative prosecution" for a first-time offender facing relatively minor charges.
That decision set off a firestorm of public controversy and calls for Foxx's removal from her post over her handling of the case.
Foxx said she recused herself from the case in February, but has given varying reasons as to why that decision was made. She then appointed her top assistant, Joseph Magats, to take over the prosecution in her stead.
That led to a legal challenge by retired judge Sheila O'Brien, who claimed Foxx should not have been allowed to pick her replacement if she was truly recused. That petition eventually ended up before Toomin, who agreed, saying a special prosecutor should have been appointed by someone outside of Foxx's office to handle the case.
Smollett's attorneys claim Toomin misapplied the law with his "vague and overbroad" ruling that a special prosecutor may prosecute their client "if reasonable grounds exist." They claim the only evidence showing the attack was a hoax is "self-serving statements" made by the Osundairos themselves.
On top of the criminal investigation, Smollett is also the subject of lawsuits filed by the brothers – who are suing him for defamation – and the city of Chicago, which is seeking to recoup $130,000 in overtime expenditures the Chicago Police Department spent investigating his claims.
Along with their motion to reconsider, Glandian and Geragos the Osundairos' grand jury transcripts unsealed and a new judge to replace Toomin and hear their arguments.
"Judge Toomin's conclusion in the Order that a special prosecutor should be appointed is undoubtedly tainted by his improper opinion of Mr. Smollett's guilt based on media reports, not evidence," they state. "Thus, Judge Toomin must be substituted from this case for cause."
Contact Matt Masterson: @ByMattMasterson | (773) 509-5431 | [email protected]
---
Related stories:
Chicago Releases 911 Calls from Smollett Incident in January
Kim Foxx: False Rumor Caused Recusal in Jussie Smollett Case
Read: Chicago Police Release First Wave of Jussie Smollett Documents
Read the Newly Released Jussie Smollett Case File
Judge Orders Jussie Smollett Case File to be Unsealed
---