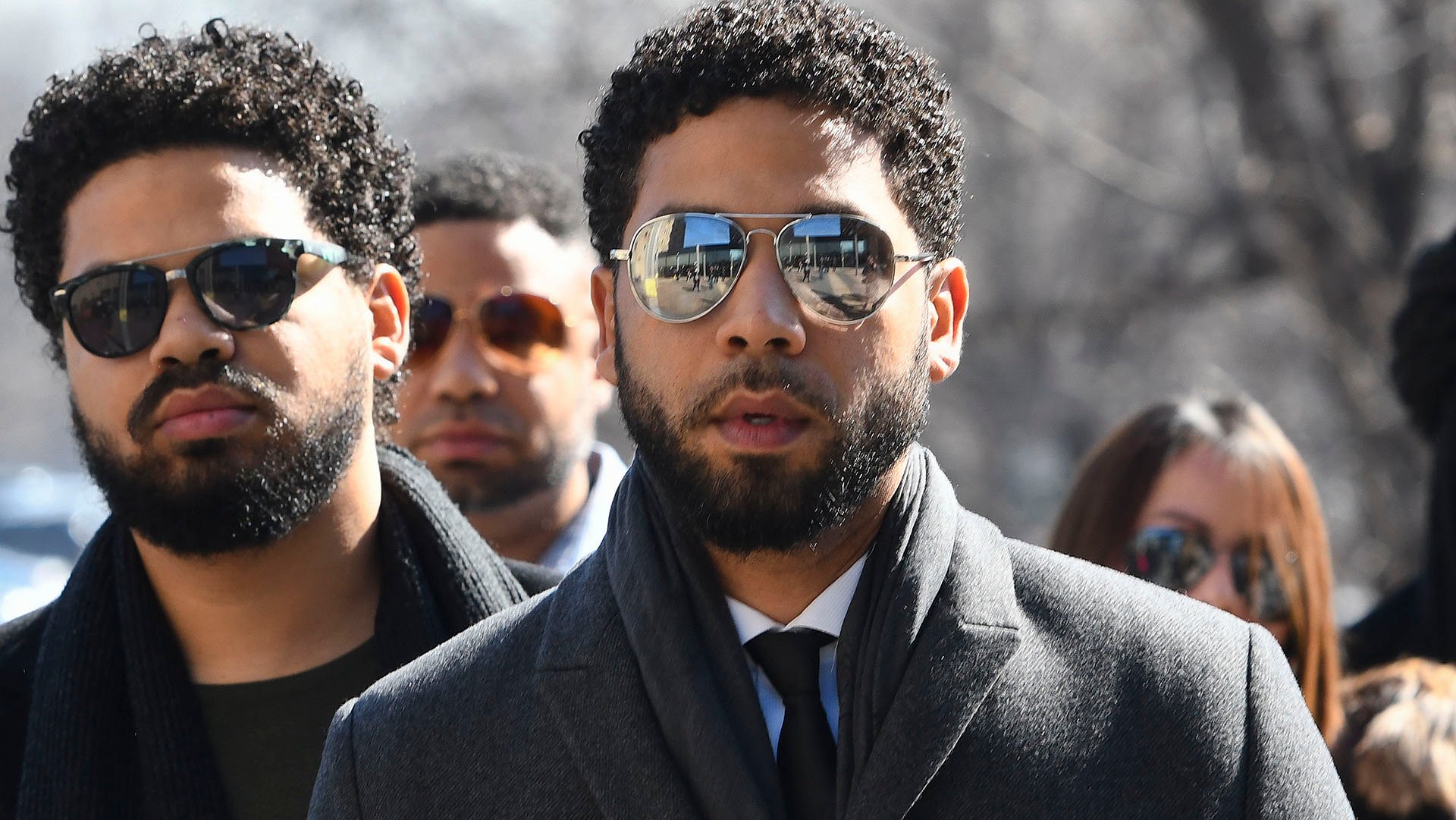 "Empire" actor Jussie Smollett, center, arrives at Leighton Criminal Court Building for a hearing to discuss whether cameras will be allowed in the courtroom during his disorderly conduct case on Tuesday, March 12, 2019, in Chicago. (AP Photo / Matt Marton)
Cook County prosecutors' abrupt decision in March to drop felony charges against "Empire" star Jussie Smollett appeared to shock legal experts and community leaders. But an assistant state's attorney signaled to investigators the case was likely heading in that direction weeks before the bombshell move.
That revelation and more were found among nearly 500 pages of case reports, arrest files and supplementary files stemming from the Chicago Police Department's investigation of Smollett's claims earlier this year. The documents were released Thursday as part of a Freedom of Information Act request.
Included are the arrest reports of Smollett, as well as brothers Olabinjo and Abimbola Osundairo, who were initially accused of attacking Smollett but later testified against him to a Cook County grand jury.
Chicago police detectives state in a case supplementary report that once Smollett was indicted by a grand jury on Feb. 28, they could "no longer investigate the crime." Around this time, the detectives met with Assistant State's Attorney Risa Lanier to turn over items left on their "to do list" for the case.
"Lanier informed detectives that she felt the case would be settled with Smollett paying the City of Chicago $10,000 in restitution and doing community service," the detectives wrote in the report.
That indeed is what occurred weeks later on March 26, when prosecutors dropped the charges against Smollett in return for him forfeiting his $10,000 bond payment. Smollett also completed 16 hours of community service with the Rainbow PUSH Coalition in the days before the dismissal.
The new documents, which were separated into three individual files, had been kept from the public for months due to a sealing order that was removed last week.
Thursday's release comes ahead of more than 300 pages of detective's notes, subpoena notes and other "ancillary notes" the department says it will publish sometime next week.
Read group one of the Chicago police files here.
A final release expected later in June is set to include surveillance and other video files that require "a heavy amount of digital redaction" to blur faces and remove vehicle license plates from those not involved in the investigation.
The CPD's document dump comes a week after Cook County Judge Steven Watkins unsealed case files in the high-profile prosecution that had been withheld from public view since prosecutors unceremoniously dropped all charges against Smollett in March.
Already, more than 250 pages of motions, orders and documents have been turned over by the Cook County clerk. The state's attorney's office is expected to release more files next month.
Read group two of the Chicago police files here.
Smollett had wanted those files to remain sealed, claiming he wanted to maintain his privacy. Watkins didn't buy that argument, pointing out in his written order that the actor had "voluntarily stood in front of cameras from numerous news organizations in the courthouse lobby" and spoke about the case on "several occasions."
"These are not the actions," Watkins wrote, "of a person seeking to maintain his privacy or simply to be let alone."
The case began back in January, when Smollett reported to police that he'd been attacked by two men who beat him and shouted racist and homophobic slurs as he was walking on the 300 block of East Lower Water Street in the Streeterville neighborhood.
Read group three of the Chicago police files here.
Detectives spent weeks investigating his claims, but eventually determined Smollett had staged the incident, allegedly paying the Osundairo brothers $3,500 to "attack" him in an effort to boost his public profile and earn a raise on his hit television show.
Smollett, 36, was charged in February with felony disorderly conduct for filing a false police report. A grand jury returned 16 similar charges against him the following month.
But attention on the already high-profile case intensified once the state's attorney's office dropped all of those charges in what it has said was an "alternative prosecution" for a defendant with no criminal background facing low-level felonies.
Other takeaways from the documents include:
• In his initial statement to police, Smollett said he had flown into O'Hare from New York on the morning of the attack and arrived at his home around 1:30 a.m. on Jan. 29. He said he was hungry, so he left his apartment to go buy eggs at an Illinois Street Walgreens. When he found it closed, he went to a Subway on McClurg Street and bought a tuna sandwich and salad.
• After leaving Subway, Smollett said he called his agent while he was walking home. As he hit the intersection of New and Lower North Water, he claimed he heard someone yell "Empire f----- Empire n-----" at him. When he responded, he said he was punched in the face and the attack began.
• Smollett's injuries were cataloged as: abrasions and redness to right and left cheeks, injury to inner lower lip, redness to neck, soreness to back, shoulder, and rib area.
• Smollett returned home after the incident. A detective interviewed the doorman working at Smollett's building around this time, who reported seeing Smollett enter the building and say "I was jumped."
• Smollett specified that only one of the Osundairo brothers should punch him during the staged attack because he didn't trust the other brother to "pull his punches," according to statements the brothers made to investigators. The Osundairos' names are redacted from this portion of the files.
• During the attack, the Osundairo brother authorized to hit Smollett punched him in the face, then began hitting him in the body while "being careful to pull his punches," the brothers told investigators. Smollett then punched back before being thrown to the ground by the other Osundairo brother who "began rubbing his knuckles into Smollett's face trying to 'bruise him' without hurting him badly."
• As part of their investigation, police sought surveillance video from: Subway, Walgreens, a Target, a Lowe's, the River East Center, nearby condos and Lizzie McNeill's Irish Pub.
Smollett has maintained his innocence.
While the criminal charges are gone, the case has spawned a wave of additional legal maneuvering.
Smollett is being sued by the city of Chicago, which is seeking to recoup $130,000 in overtime expenditures the CPD spent investigating his claims. The Osundairo brothers he allegedly paid to stage the attack filed suit against Smollett's attorneys for defamation of character. And a former appellate judge is petitioning for a special prosecutor to review the state's attorney's handling of the case.
Contact Matt Masterson: @ByMattMasterson | [email protected] | (773) 509-5431
---
Related stories:
Read the Newly Released Jussie Smollett Case File
Judge Orders Jussie Smollett Case File to be Unsealed
Recusal Request Derails Hearing on Special Prosecutor in Smollett Case
Foxx Opposes Special Prosecutor in Smollett Case
2 Major Cases Add Up to Big Doubts About Chicago Prosecutor
Confused by Jussie Smollett Case? Here's What You Need to Know.
Trump Calls on FBI, DOJ to Review Jussie Smollett Case
---