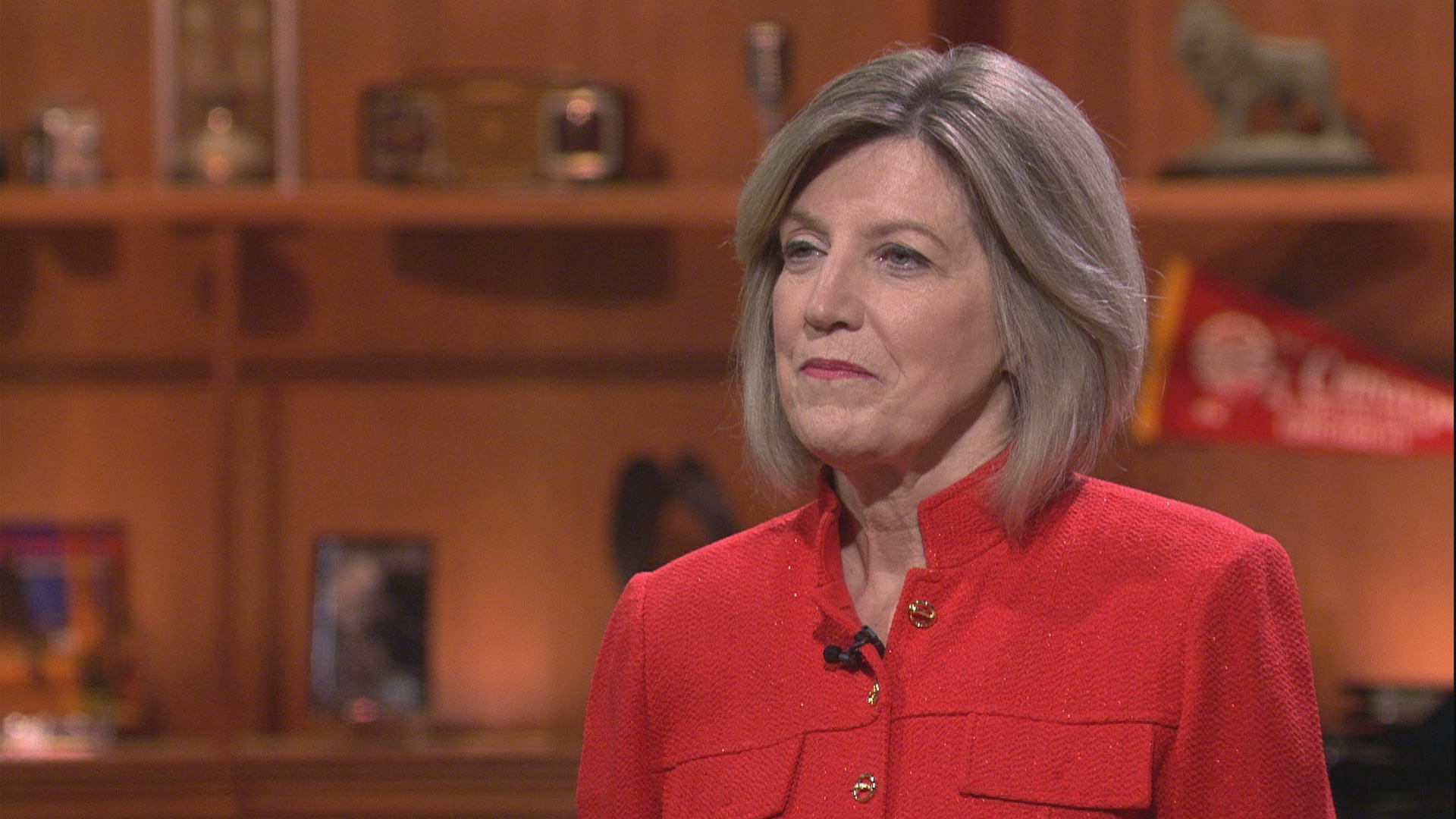 Retired Illinois Appellate Court Judge Sheila O'Brien appears on "Chicago Tonight" on June 24, 2019.
The retired appellate judge who successfully petitioned for a special prosecutor to review the Jussie Smollett case says the actor's California-based attorneys should be reported for the unauthorized practice of law within Illinois after they made a series of filings last week on their client's behalf.
Sheila O'Brien claimed in a letter to Cook County Judge Michael Toomin on Wednesday that four motions celebrity attorney Mark Geragos and Tina Glandian filed for Smollett last week should be ignored as the pair doesn't have the proper legal standing to practice law in Illinois.
"Ms. Glandian and Mr. Geragos told this court that each of them was 'Rule 707 admitted,'" O'Brien states in her letter. "This information was untrue at the time of the filing and is untrue now."
That rule O'Brien cites – 707 – comes from the Attorney Registration and Disciplinary Commission and permits "an eligible out-of-state attorney to appear in an Illinois proceeding upon the filing of an appearance of an active status Illinois attorney and a verified Statement."
Out-of-state attorneys must obtain permission to practice law in Illinois for state cases. According to ARDC registration records O'Brien included in her letter, neither Glandian nor Geragos are currently authorized to practice in Illinois, with each of their registrations expiring sometime in 2019.
"More than thirty days have passed since the June 21, 2019 (decision) rendered by this court. Because Ms. Glandian and Mr. Geragos and the Geragos law firm were not licensed in Illinois, their pleadings of July 19, 2019 in this cause should be held for naught and reported as the unlicensed practice of law in Illinois," the letter states.
Smollett and his attorneys maintain he was the victim of a racist, homophobic attack when he was beaten by two brothers near his Streeterville residence in late January. But Chicago police detectives determined Smollett arraigned the incident himself, paying the two brothers beforehand and instructing them when and how they should attack him.
A grand jury indicted him earlier this year on 16 felony counts of disorderly conduct for filing a false police report.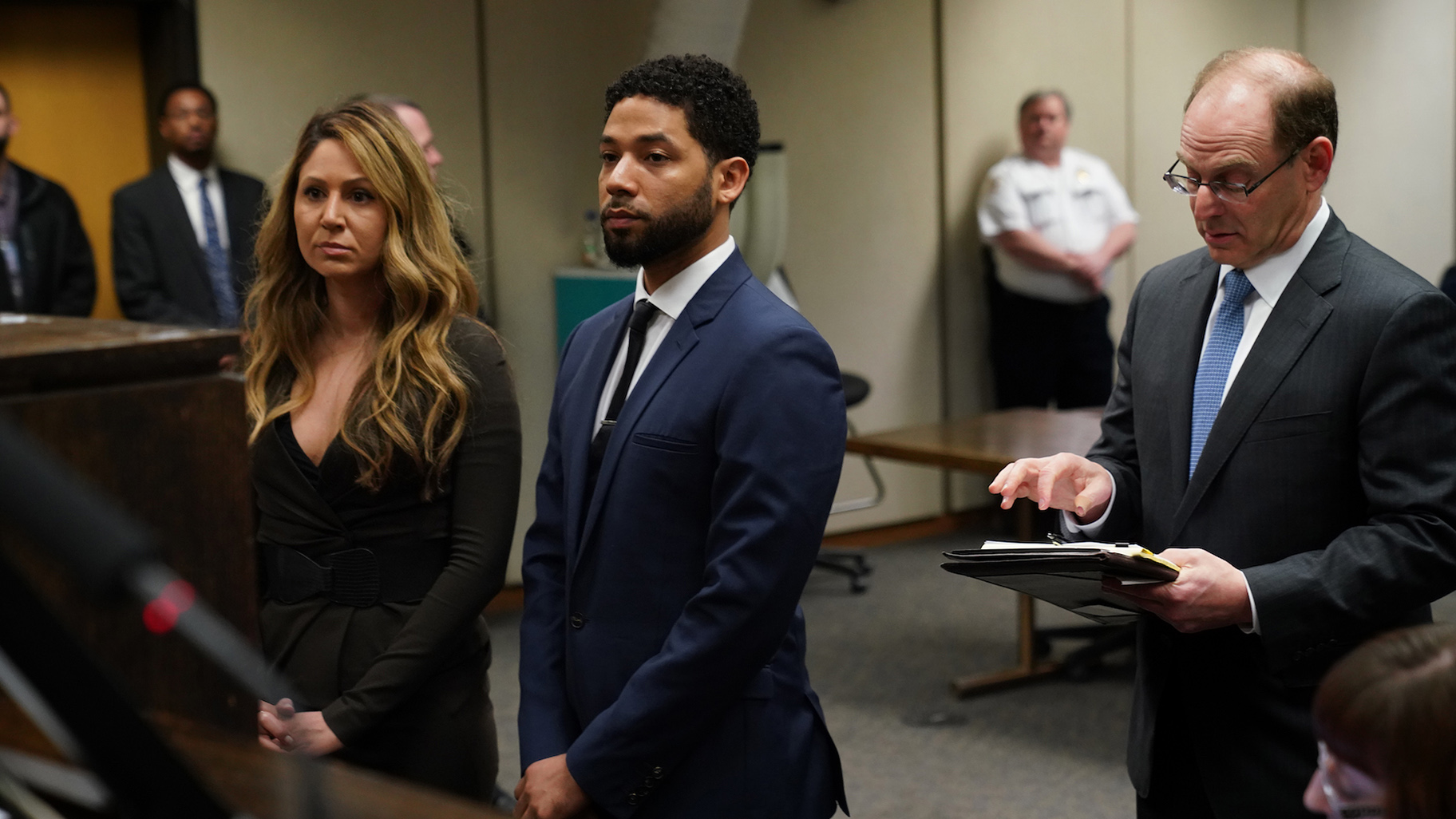 Jussie Smollett appears at a hearing for judge assignment with his attorney Tina Glandian, left, at the Leighton Criminal Court Building on Thursday, March 14, 2019. (E. Jason Wambsgans / Pool / Chicago Tribune)
The case has garnered extensive, international attention, not only due to the bizarre details of the case itself, but for the way it was handled within the office of Cook County State's Attorney Kim Foxx. After Foxx recused herself, citing contact with Smollett's family when he was still considered a victim, she appointed her top assistant Joseph Magats to oversee the prosecution.
Magats dismissed the charges in March as part of what the state's attorney's office called an "alternative prosecution" with Smollett, who had no criminal background.
But O'Brien, and many other legal experts, took issue with Foxx appointing her own successor after her recusal. Foxx has since changed her reasoning for why she stepped away from the case and claimed she never formally recused herself.
O'Brien filed a petition this spring seeking the appointment of a special prosecutor to review Smollett's case and decide whether any charges are warranted. Toomin obliged.
"But once that (recusal) decision became a reality, section 3-9008 was the only road (Foxx) could traverse and that statute unequivocally requires that a special prosecutor be appointed by the court," the judge wrote in his June 21 ruling. "Yet, for reasons undisclosed even to this day, Foxx instead chose to detour from that mandated course, instead appointing Mr. Magats as 'the Acting State's Attorney for this matter.'"
Toomin has not yet appointed a special prosecutor.
Geragos and Glandian asked the judge to reconsider that ruling last week. They're also seeking a new judge to handle the case, claiming Toomin accepted false media reports in presuming Smollett's guilt of those charges, labeling him a "charlatan who fomented a hoax the equal of any twisted television intrigue."
"This case has been a travesty of justice and an unprecedented deprivation of Mr. Smollett's constitutional rights," they wrote in one motion last week, "including the presumption of innocence and the right to a fair trial."
A hearing is scheduled to discuss their motions next Wednesday.
Contact Matt Masterson: @ByMattMasterson | (773) 509-5431 | [email protected]
---
Related stories:
Jussie Smollett's Attorneys Seeking to Reverse Special Prosecutor Ruling
Judge Orders Special Prosecutor to Examine Smollett Probe
Chicago Releases 911 Calls from Smollett Incident in January
Kim Foxx: False Rumor Caused Recusal in Jussie Smollett Case
Read: Chicago Police Release First Wave of Jussie Smollett Documents
Read the Newly Released Jussie Smollett Case File
Judge Orders Jussie Smollett Case File to be Unsealed
---