Former U.S. Attorney Dan Webb takes the oath of special prosecutor before Judge Michael Toomin during a status hearing concerning actor Jussie Smollett at the Leighton Criminal Court building, Friday, Aug. 23, 2019. (Antonio Perez / Pool / Chicago Tribune)
The special prosecutor appointed last month to review actor Jussie Smollett's criminal case said he has no recollection of making a $1,000 contribution to Cook County State's Attorney Kim Foxx's election campaign in 2016.
Veteran attorney Dan Webb revealed in a Cook County court filing Monday afternoon that a contribution in his name was made to Foxx in October 2016, one month before she was elected to her current position, as part of a fundraiser hosted by his law firm Winston & Strawn.
Webb was appointed as special prosecutor in Smollett's high-profile case in August, almost five months after Foxx's office dismissed 16 felony disorderly conduct charges against the former "Empire" star following an attack he allegedly orchestrated against himself.
Smollett was charged in February, a month after he told police he'd been the victim of a hate crime near his Streeterville residence in late January. But after weeks of investigation, Chicago detectives determined Smollett had orchestrated the attack on himself and lied to police about it.
Webb is tasked with investigating two aspects of that case: whether there are grounds to prosecute Smollett, and whether Foxx or any other person or office involved in the case "engaged in improper conduct or committed any criminal offenses."
In interviewing for the position, Webb indicated to Cook County Judge Michael Toomin that he'd never met nor had contact with Foxx. He did not disclose the campaign contribution, the filing states, because he did not recall making it.
Webb said he was contacted last week by Foxx's attorney Michael Bromwich, who said the state's attorney's office had recently discovered a check made out to "Friends For Foxx" in the amount of $1,000 signed by Webb. A copy of the check shows the contribution was made for "Kim Foxx's State's Atty Campaign."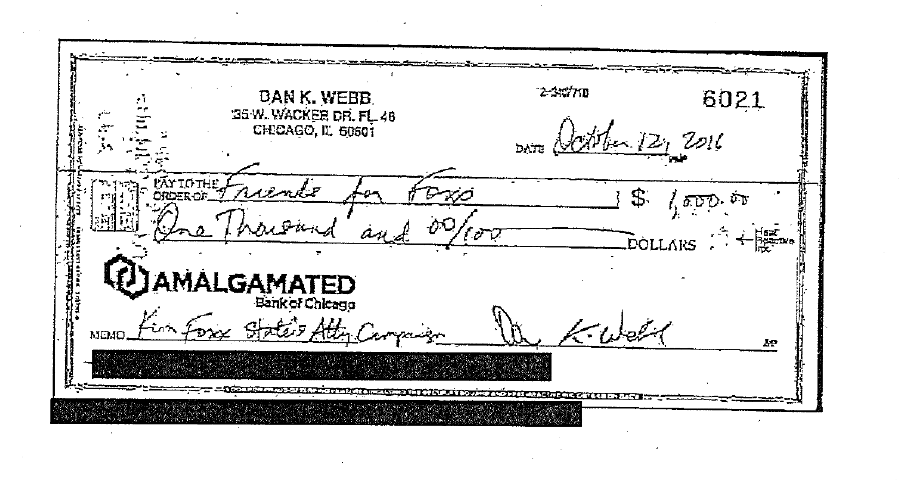 A copy of the contribution special prosecutor Dan Webb made to Kim Foxx's election campaign in 2016.
According to the filing, Webb contacted another attorney at Winston & Strawn last week, Kimball Anderson, who indicated he had spearheaded the fundraiser and "undoubtedly requested" that Webb make a contribution. A flyer advertising the event included in the filing lists both Anderson and Webb as hosts.
Webb and Anderson both claim they have no recollection of Webb actually attending the fundraiser, according to the filing. But they state that it's also not unusual for partners at their firm to host fundraisers for political candidates.
"To show support for my partners, I almost always contribute to the political fundraisers they are sponsoring at the Firm," Webb wrote in the filing, "unless I have some specific reason why I do not want to support the candidate."
Webb states in the filing that Foxx and Bromwich do not consider the payment to be "an issue" and won't file any objection claiming that it's caused a conflict of interest for Webb's investigation.
"On Tuesday of last week, my campaign staff notified me that Dan Webb had contributed $1,000 to my campaign in October 2016," Foxx said in a statement Monday evening. "Mr. Webb was notified that same day, and my office continues to cooperate fully with the investigation." 
Webb requested a status hearing to be held in the case to discuss these new facts. That is scheduled to be held Friday afternoon.
Contact Matt Masterson: @ByMattMasterson | (773) 509-5431 | [email protected]
---
Related stories:
Veteran Litigator Dan Webb Appointed Special Prosecutor in Smollett Case
Ex-Judge: Smollett's Lawyers Not Allowed to Practice Law in Illinois
Jussie Smollett's Attorneys Seeking to Reverse Special Prosecutor Ruling
Judge Orders Special Prosecutor to Examine Smollett Probe
Chicago Releases 911 Calls from Smollett Incident in January
Kim Foxx: False Rumor Caused Recusal in Jussie Smollett Case
Read: Chicago Police Release First Wave of Jussie Smollett Documents
---