Former U.S. Attorney Dan Webb takes the oath of special prosecutor before Judge Michael Toomin during a status hearing concerning actor Jussie Smollett at the Leighton Criminal Court building, Friday, Aug. 23, 2019. (Antonio Perez / Pool / Chicago Tribune)
A high-profile litigator with decades of experience handling prominent cases ranging from international scandal to local judicial corruption has been chosen as the special prosecutor in the Jussie Smollett case.
Cook County Judge Michael Toomin on Friday announced that he's appointed Dan Webb to review Smollett's case, giving the former U.S. attorney authority to potentially file new criminal charges against the former "Empire" star.
"Why Dan Webb?" Toomin said. "I think it's obvious his background, experience, his qualifications make him an eminently understandable choice."
Webb has served as a special prosecutor in five previous cases, including the trial of Richard "RJ" Vanecko, nephew of former Mayor Richard M. Daley, who was convicted in the 2001 killing of 21-year-old David Koschman.
His background includes extensive work in high-profile cases. He served as special counsel in the Iran-Contra affair in 1990. As the U.S. Attorney in Chicago, he played a lead role in "Operation Greylord," which rooted out judicial corruption within Cook County. He's now in private practice at Winston & Strawn LLP, where he's represented Fortune 500 companies including Microsoft and Verizon.
On Friday, Webb was hesitant to put any sort of timeline on his investigation, but said he plans to move forward as quickly as he's able.
"I don't know where this case is going," he told reporters at the Leighton Criminal Court Building following his appointment. "I'm going to take it one step at a time. I've got to master the facts, I've got to learn the legal issues and I've got to be fair to everybody. But I can tell you right now, our strategy is to expedite it and move forward very quickly."
Toomin in June granted a petition for a special prosecutor filed by former appellate judge Sheila O'Brien, who argued Foxx mishandled the high-profile prosecution.
Friday's announcement comes almost five months to the day since the Cook County State's Attorney's Office dropped Smollett's criminal charges, sparking a wave of backlash over the way Kim Foxx and her staff handled the case.
Smollett was first charged in February, a month after he told police he'd been the victim of a hate crime near his Streeterville residence in late January. But after weeks of investigation, Chicago detectives determined Smollett had orchestrated the attack on himself and lied to police about it.
They claimed the actor paid brothers Olabinjo and Abimbola Osundairo some $3,500 as part of a hoax intended to raise his public profile. Weeks after his arrest, a grand jury indicted Smollett on 16 felony counts of disorderly conduct for filing a false police report.
Foxx eventually recused herself from the case – but later claimed she didn't mean that in a "legal sense" – and turned the prosecution over to her top assistant, Joseph Magats rather than allowing a special prosecutor to take over. Toomin decried that move in approving a special prosecutor, calling it "creative lawyering" which he deemed to be "in opposition to well-established authority."
"Although disqualification of the duly elected State's Attorney necessarily impacts constitutional concerns," Toomin wrote in his June 21 ruling, "the unprecedented irregularities identified in this case warrants the appointment of independent counsel to restore the public's confidence in the integrity of our criminal justice system."
Foxx's office issued a statement Friday pledging their "full cooperation" to Webb.
"While the court previously concluded that our office had no conflict of interest in this case," the statement read, "public trust is paramount to our work."
Smollett, who was not present Friday, has maintained his innocence throughout the case. Even if new criminal charges aren't filed, the actor and his attorneys are currently the subject of separate civil lawsuits brought by the Osundairo brothers and the city of Chicago, which is seeking to recoup $130,000 in overtime costs it spent investigating Smollett's claims.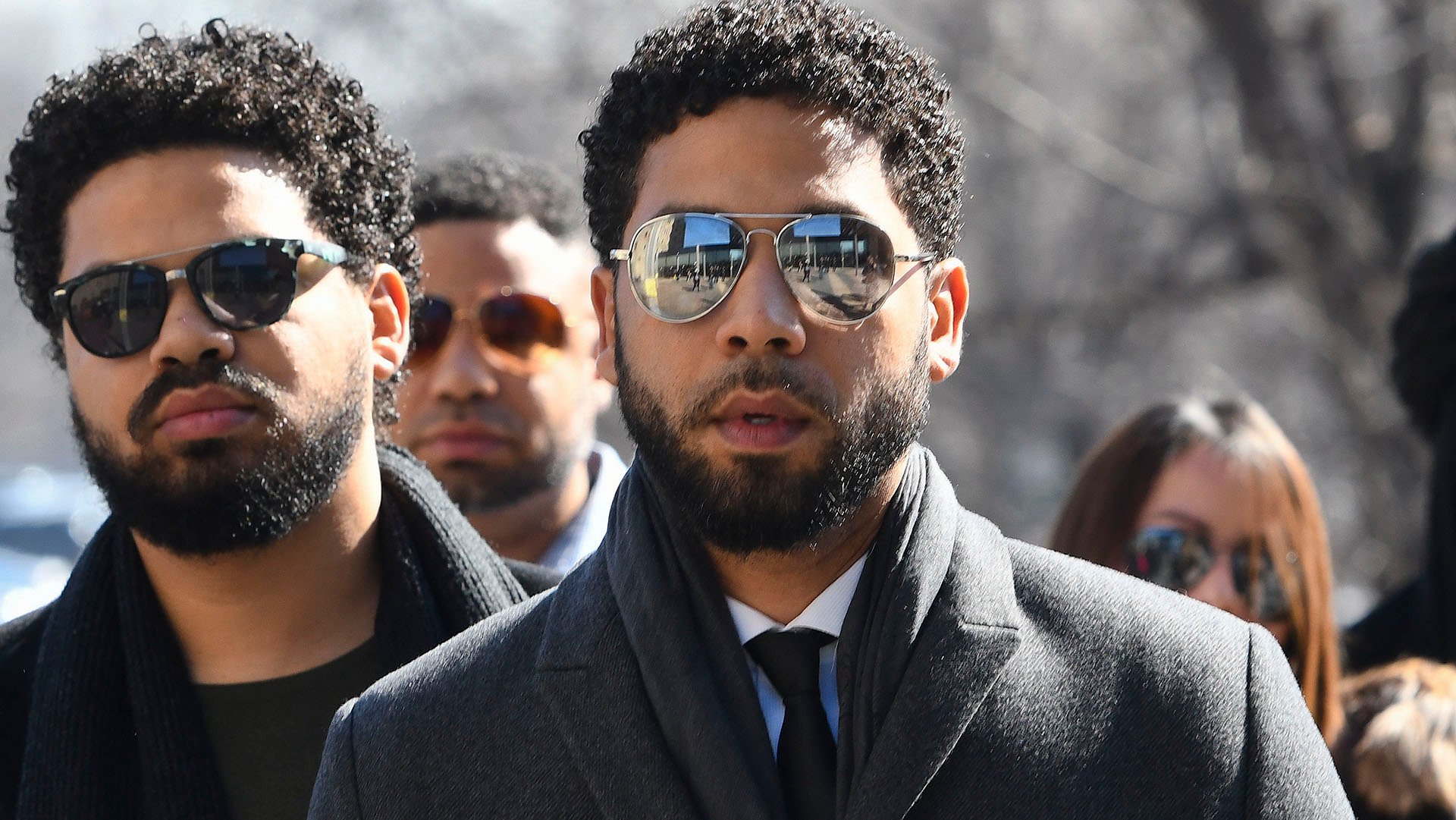 Former "Empire" actor Jussie Smollett, center, arrives at Leighton Criminal Court Building for a hearing to discuss whether cameras will be allowed in the courtroom during his disorderly conduct case on Tuesday, March 12, 2019, in Chicago. (AP Photo / Matt Marton)
'I don't want to reinvent the wheel'
Webb said he was on vacation with his family in Disney World when he got the call from Toomin asking him to take the case. That was two-to-three weeks ago, he said, after Toomin had already reached out to the 100-plus state's attorneys in Illinois and Attorney General Kwame Raoul as required by state law.
Of those inquiries, Toomin said he received just 30 responses: 27 noes, one maybe and two yeses. But of the two who did agree to take the case, Toomin determined there were other limiting factors that restricted their ability to take on the investigation.
"They were willing but they were not able," he said. "And that is my call."
As special prosecutor, Webb has three tasks: investigate if any persons or offices involved in Smollett's case engaged in any wrongdoing, determine if there's standing to prosecute Jussie Smollett if he believes a crime was committed and file a written report of his findings. He's said his firm is taking on the case pro bono.
His first steps will include filing a motion to impanel a special grand jury to assist in his investigation and setting up an interview with Smollett's attorneys to hear their side of the case.
He also plans to contact each of the four agencies that have conducted their own investigations into this case—the Cook County State's Attorney, Chicago Police, Cook County Inspector General and FBI—to see what evidence they've gathered before he moves ahead with his review.
"I don't want to reinvent the wheel," Webb said. "I'm starting this thing fresh today. I'm not going to accept any view of this case whatsoever from anybody. I have to examine the evidence, I've got to make decisions out of fairness based on what the evidence is. I'm going to start fresh and we'll see where it goes."
Contact Matt Masterson: @ByMattMasterson | (773) 509-5431 | [email protected]
---
Related stories:
Judge Won't Reconsider Special Prosecutor Ruling in Jussie Smollett Case
Ex-Judge: Smollett's Lawyers Not Allowed to Practice Law in Illinois
Jussie Smollett's Attorneys Seeking to Reverse Special Prosecutor Ruling
Judge Orders Special Prosecutor to Examine Smollett Probe
Chicago Releases 911 Calls from Smollett Incident in January
Kim Foxx: False Rumor Caused Recusal in Jussie Smollett Case
Read: Chicago Police Release First Wave of Jussie Smollett Documents
---