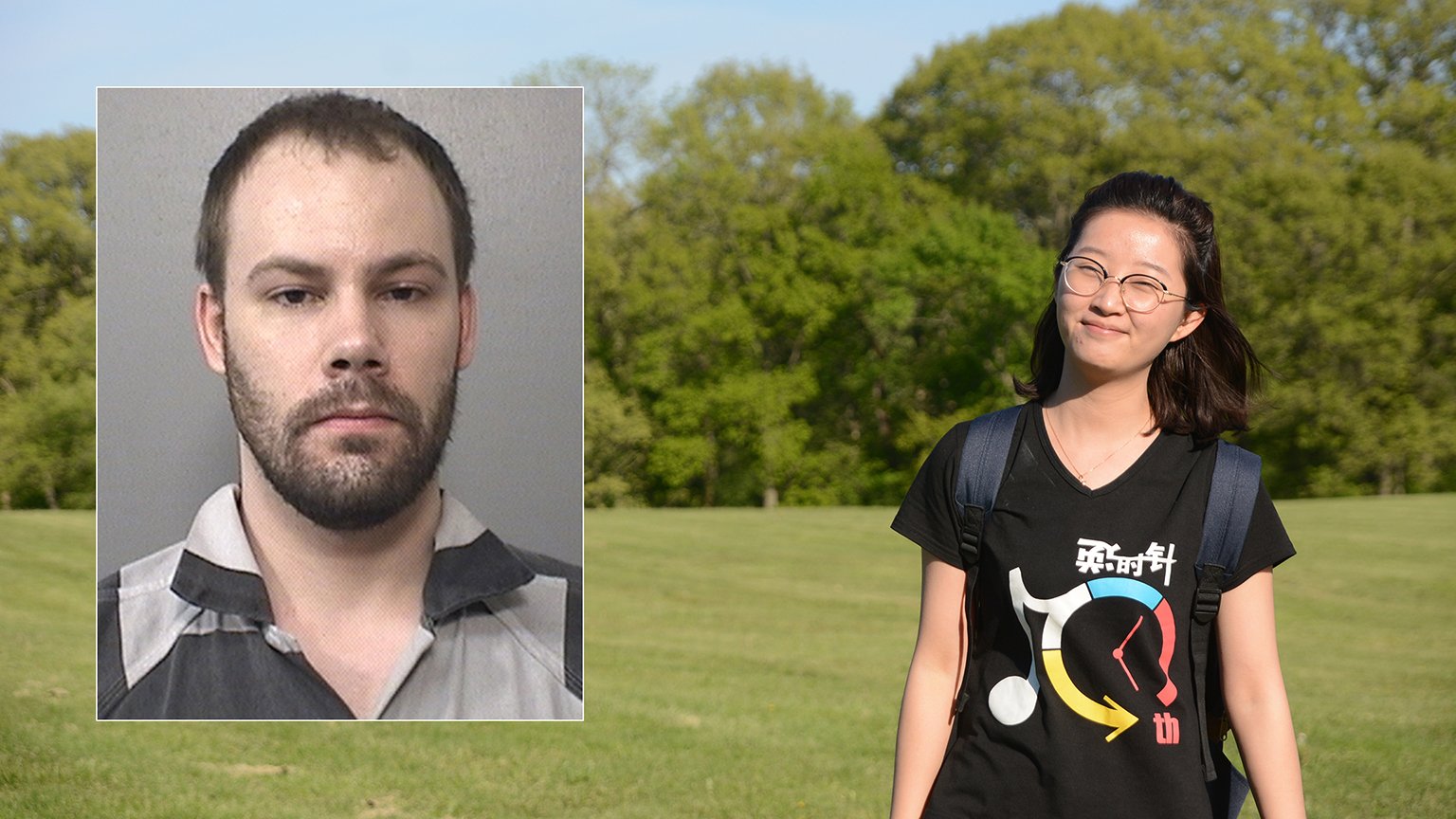 Yingying Zhang disappeared on June 9, 2017. (University of Illinois Police Department). Inset: Brendt Christensen (Macon County Sheriff's Department)
Attorneys for Brendt Christensen, the man charged with the kidnapping and death of Chinese scholar Yingying Zhang, are demanding access to mental health treatment records from one of the prosecution's key witnesses: Christensen's girlfriend, who wore a wire for federal investigators in the weeks after Zhang went missing.
Christensen's defense team filed a motion Sunday evening seeking to compel prosecutors to disclose receipts showing his girlfriend, identified in court documents only as "T.B.," paid for more than a half dozen psychologist appointments and spent more than $500 on prescription medication between July and December 2017.
"At trial, she is likely to provide highly inflammatory testimony regarding her relationship and interactions with Mr. Christensen," defense attorneys Elisabeth Pollock and George Taseff wrote in the motion. "However, there are strong indications that T.B. is an extremely damaged and unstable individual who has required mental health treatment at numerous times in her life."
Christensen is on trial in federal court in Peoria and faces a possible death sentence if convicted. He has pleaded not guilty.
Zhang, the 26-year-old visiting scholar who disappeared from the University of Illinois campus in June 2017, was last seen getting into a vehicle allegedly driven by Christensen after missing a bus to an appointment. Her remains have not been found.
Read: 2-Year Anniversary of Chinese Scholar's Disappearance as Death-Penalty Case Begins
Christensen was married at the time of the kidnapping, but previously disclosed conversations with mental health staff at the U. of I. Counseling Center revealed that his then-wife had "recently rejected him for another man" after seeking to "open up their marriage" around March 2017. They have since divorced.
He began seeing T.B. about two months before the kidnapping, according to his attorneys, who noted that she "quickly introduced Mr. Christensen to the 'BDSM' lifestyle, something with which he had previously been entirely unfamiliar and had expressed no interest in."
After Zhang disappeared and Christensen emerged as a possible suspect, FBI investigators convinced T.B. to wear a wire and record her interactions with him. She did so as they attended a vigil for Zhang on June 29, 2017 and allegedly recorded Christensen explaining how he kidnapped Zhang and took her back to his apartment against her will.
Christensen was arrested the following day.
His attorneys want to introduce evidence of T.B.'s mental health, which they say is "directly relevant to both her competence to testify and her credibility and reliability." Specifically, they say prosecutors have evidence that T.B. paid for eight psychologist appointments and two instances of physician services, and spent $586.86 for prescription medications in the six months after Zhang disappeared.
They say they've formally requested these records from prosecutors in the past, but have been denied.
The motion contains several text messages T.B. sent to Christensen and other men throughout 2017 in which she detailed ongoing panic attacks, anxiety issues and short-term memory loss. It also states that in the recording T.B. made during Zhang's vigil, she told Christensen "she had Stockholm Syndrome and was worried it might have affected her brain."
On top of kidnapping resulting in death, which is a capital charge, Christensen also faces two counts of lying to FBI investigators. Although Illinois abolished the death penalty within its state boundaries in 2011, capital punishment is still federally legal. Because Christensen is charged in federal court, he is eligible for the death penalty, if convicted.
Jury selection in his trial began last week and is expected to wrap up by Tuesday. Opening arguments are scheduled for Wednesday morning.
Contact Matt Masterson: @ByMattMasterson | [email protected] | (773) 509-5431
---
Related stories:
Death Penalty, Religious Questions Highlight Day 1 of Brendt Christensen Trial
Attorney: Family of Missing U. of I. Scholar Wants to Believe She's Alive
Mental Health Defense Dropped in Chinese Scholar Case
Defense: Accused in China Scholar's Death Denied Proper Care
Judge Sets June 3 Trial in Missing Chinese Scholar Case
Bloody Handprint Among Evidence in Chinese Scholar's Case
---