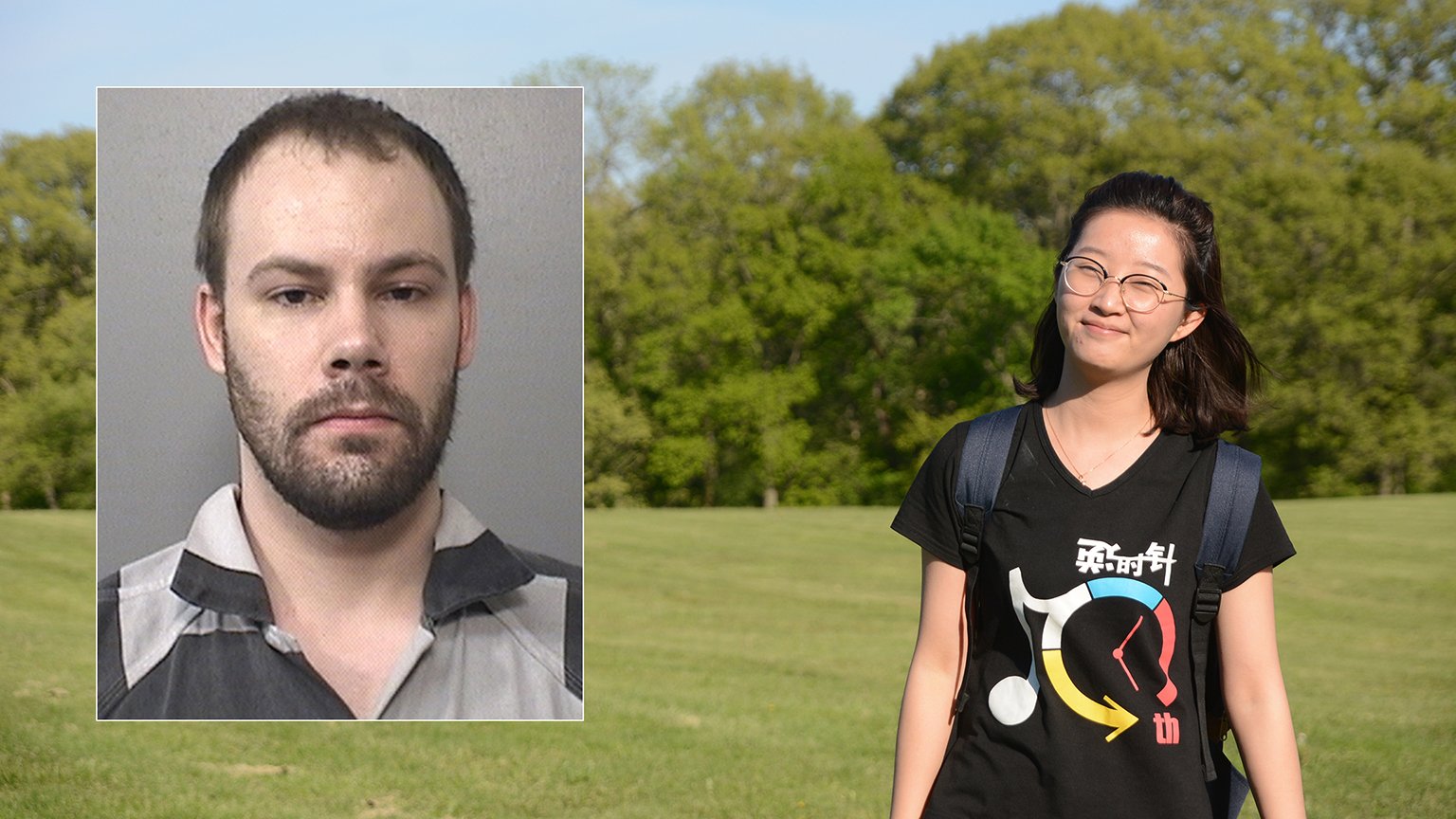 Yingying Zhang disappeared on June 9, 2017. (University of Illinois Police Department). Inset: Brendt Christensen (Macon County Sheriff's Department)
Questions about religious beliefs and the death penalty highlighted the extensive first day of jury selection in the capital trial of Brendt Christensen, who is accused in the kidnapping and death of missing University of Illinois scholar Yingying Zhang.
The trial got underway Monday morning at the Federal Building and U.S. Courthouse in Peoria, Illinois, nearly two years after Zhang vanished from the Urbana-Champaign campus. But a majority of juror questioning went on behind closed doors, away from the public.
Christensen, 29, appeared in court wearing a blue button-down shirt and khakis rather than the standard green jail jumpsuit he'd worn throughout the pretrial process. He did not speak to the potential jurors, but instead sat quietly at a table inside the courtroom, occasionally turning only to speak with his attorneys.
He faces a charge of kidnapping resulting in death, a capital crime, as well as two counts of making false statements to the FBI.
During the selection process, potential jurors will be brought into court in groups of a dozen or more each morning and afternoon throughout the week. Each of the jurors will participate in group questioning in open court, as well as individual questioning with attorneys in the chambers of U.S. District Court Judge James Shadid.
Media was not permitted to sit in on the individual questioning sessions, which lasted multiple hours into Monday afternoon, far longer than the court's original estimate.
Jury selection was expected to last about a week, but will now likely run longer as attorneys pare down the initial pool to a group of 70 jurors. From there, 12 jurors and six alternates will be selected to hear the trial.
About half of the questions posed during the public selection process dealt specifically with the death penalty, including whether any jurors had strong opinions about it or whether they would feel precluded from imposing it due to religious beliefs.
One prospective juror said she would have difficulties sentencing anyone to death because "God doesn't want us to take revenge."
"It would be really hard when it came down to going that way," she said.
Other potential jurors said they believe a life sentence would be a worse punishment than death and two more said they work with law enforcement and would be more likely to side with the prosecution's telling of events.
Each of those potential jurors was excluded.
Although Illinois abolished the death penalty in 2011, capital punishment is still federally legal. That means someone convicted of a capital crime in federal court is still eligible for the death penalty even if they were convicted in a state where such punishment is not allowed.
"This is a federal case subject to federal law," Shadid instructed jurors, "which is eligible for the death penalty."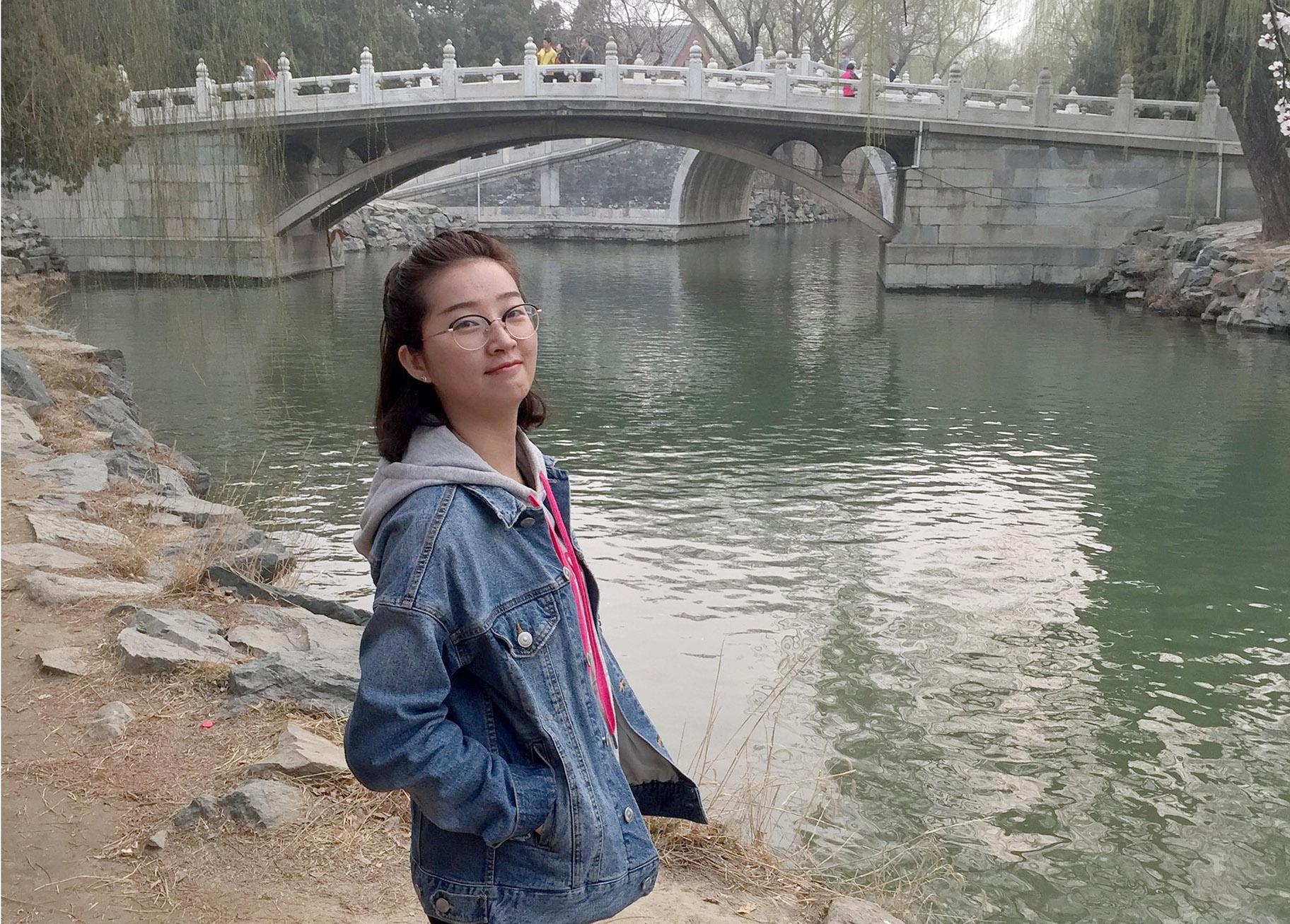 This undated photo shows Yingying Zhang. (Courtesy of the University of Illinois Police Department via AP)
Surveillance footage showed Zhang entering a car allegedly driven by Christensen on June 9, 2017 just after she missed a bus en route to an appointment to sign a new apartment lease for the 2017-18 school year.
She has not been seen since and her body has not been recovered. Prosecutors allege Christensen tortured and killed Zhang and had attempted to lure another woman into his car earlier that same day.
A forensic search of Christensen's phone revealed he had visited a web forum titled "Abduction 101" in April 2017, investigators said. That forum included threads discussing "perfect abduction fantasy" and "planning a kidnapping."
Zhang's family traveled back to Illinois from China last week for the trial. Her father Ronggao Zhang sat in the courtroom Monday, while her mother Lifeng Ye sat in an overflow room elsewhere in the building.
The trial, which has garnered extensive media coverage both in the U.S. and in Zhang's home nation of China, could last more than a month. Shadid said the guilt phase of the trial will likely last two to three weeks. If Christensen is convicted of the top count, it's likely sentencing would last a similar amount of time.
Christensen is due back in court when jury selection resumes Tuesday.
Contact Matt Masterson: @ByMattMasterson | [email protected] | (773) 509-5431
---
Related stories:
Attorney: Family of Missing U. of I. Scholar Wants to Believe She's Alive
Mental Health Defense Dropped in Chinese Scholar Case
Defense: Accused in China Scholar's Death Denied Proper Care
Judge Sets June 3 Trial in Missing Chinese Scholar Case
Bloody Handprint Among Evidence in Chinese Scholar's Case
Lawyer Argues Scholar Kidnapping Case Belongs in State Court
---