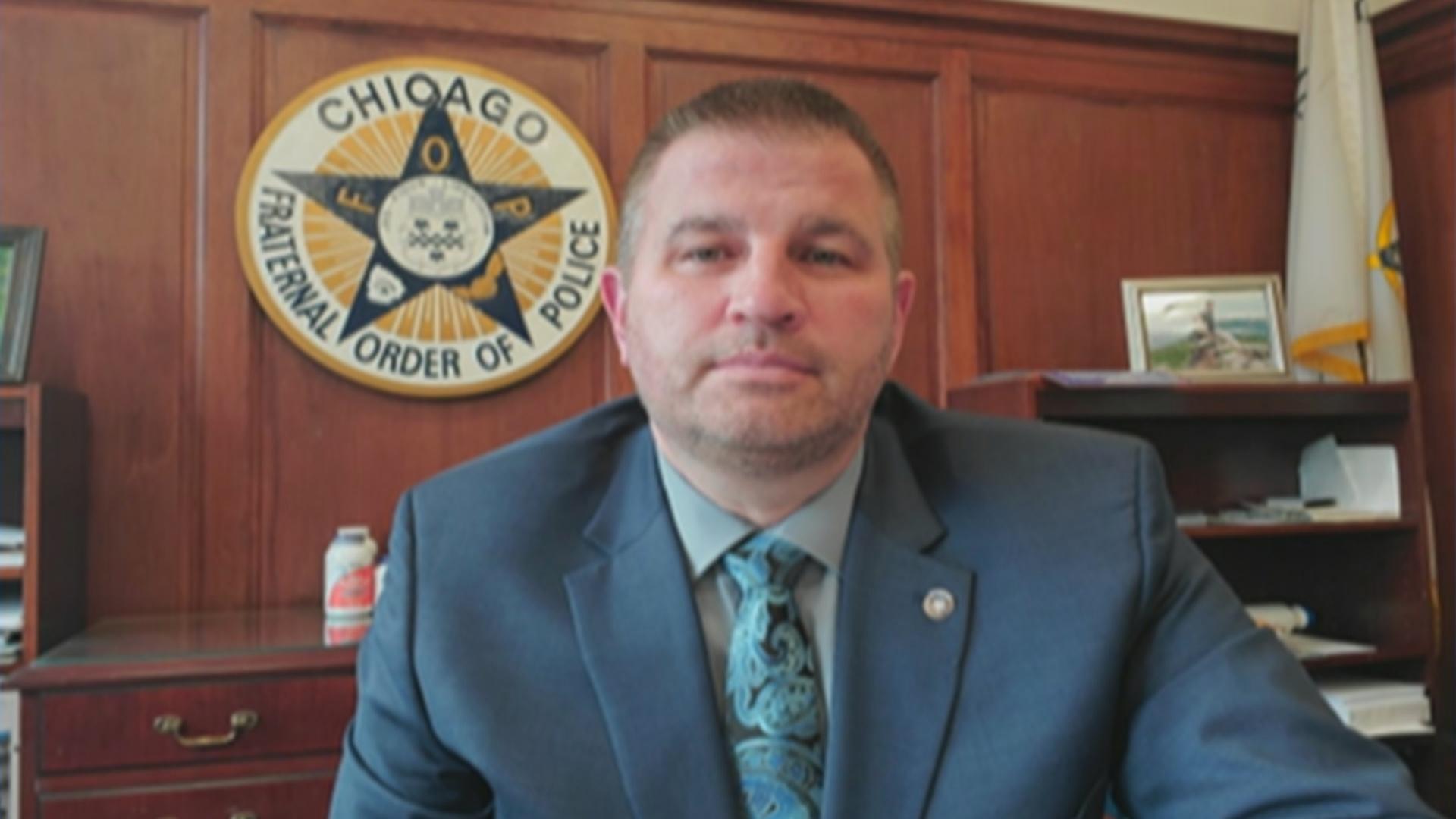 Fraternal Order of Police Lodge 7 President John Catanzara appears on "Chicago Tonight" via Zoom on May 14, 2020. (WTTW News)
John Catanzara, the first-term police union president who faced termination following his inflammatory social media posts, announced Tuesday morning that he has officially retired from the Chicago Police Department.
A day after he announced his intention to leave the department, Catanzara — the first-term president of the Fraternal Order of Police Lodge 7 — posted a picture of his personnel action request form (PAR) on his Facebook page, which shows that he has indeed retired from the CPD.
In the comments section of that form, Catanzara wrote: "Finally!!! Let's go Brandon," which is an insult used by conservatives directed at President Joe Biden.
Catanzara already faced possible termination during a three-day hearing that began Monday before the Chicago Police Board. He was accused of violating nearly a dozen CPD rules stemming from his inflammatory social media activity and ​​false police reports he filed against a supervisor and former Superintendent Eddie Johnson.
But because he is no longer an officer, he is no longer subject to discipline from the Chicago Police Board. Attorneys representing Police Superintendent David Brown, who brought the rules violations charges against Catanzara, moved Tuesday to withdraw those charges.
Catanzara was not present during a brief status hearing, but his attorney Tim Grace confirmed that his client submitted his resignation papers to the CPD's human resources department at 9 a.m. Tuesday morning.
"That PAR form was approved by human resources," Grace said. He added that Catanzara's resignation is effective immediately.
Catanzara had been an officer with the CPD for nearly 27 years, though he had been stripped of his police powers since before his election as FOP president in May 2020.
In a video message posted online Monday night, Catanzara criticized both the hearing officer and the attorneys representing Superintendent Brown, saying the proceeding went "pretty much exactly like I anticipated it would go."
"They had two choices and it was simple: They were going to do the right thing or they were going to do what they were told," he said, suggesting city officials worked to ensure he would be terminated. "And it's clear they chose the latter."
Catanzara called the hearing a "kangaroo court" and said he decided to resign not only to keep Mayor Lori Lightfoot from being able to say she fired Catanzara, but also because he did not want his termination to demoralize FOP membership.
Despite his resignation from the CPD, he does plan to stay on as FOP president for the remainder of his three-year term. He has also announced plans to run for mayor in 2023.
James Lydon, who represented Brown during the hearing, said Catanzara "willfully violated" CPD rules with "horribly disparaging," "offensive" and "obscene" posts that were damaging to the department's image in the community.
During Monday's hearing, Catanzara did not deny making any of the social media posts or the criminal incident reports that led to the rule violations, but he wanted more latitude to explain his actions.
He testified for more than two hours Monday before addressing the court at the end of the hearing to announce his retirement plans.
Contact Matt Masterson: @ByMattMasterson | [email protected] | (773) 509-5431
---