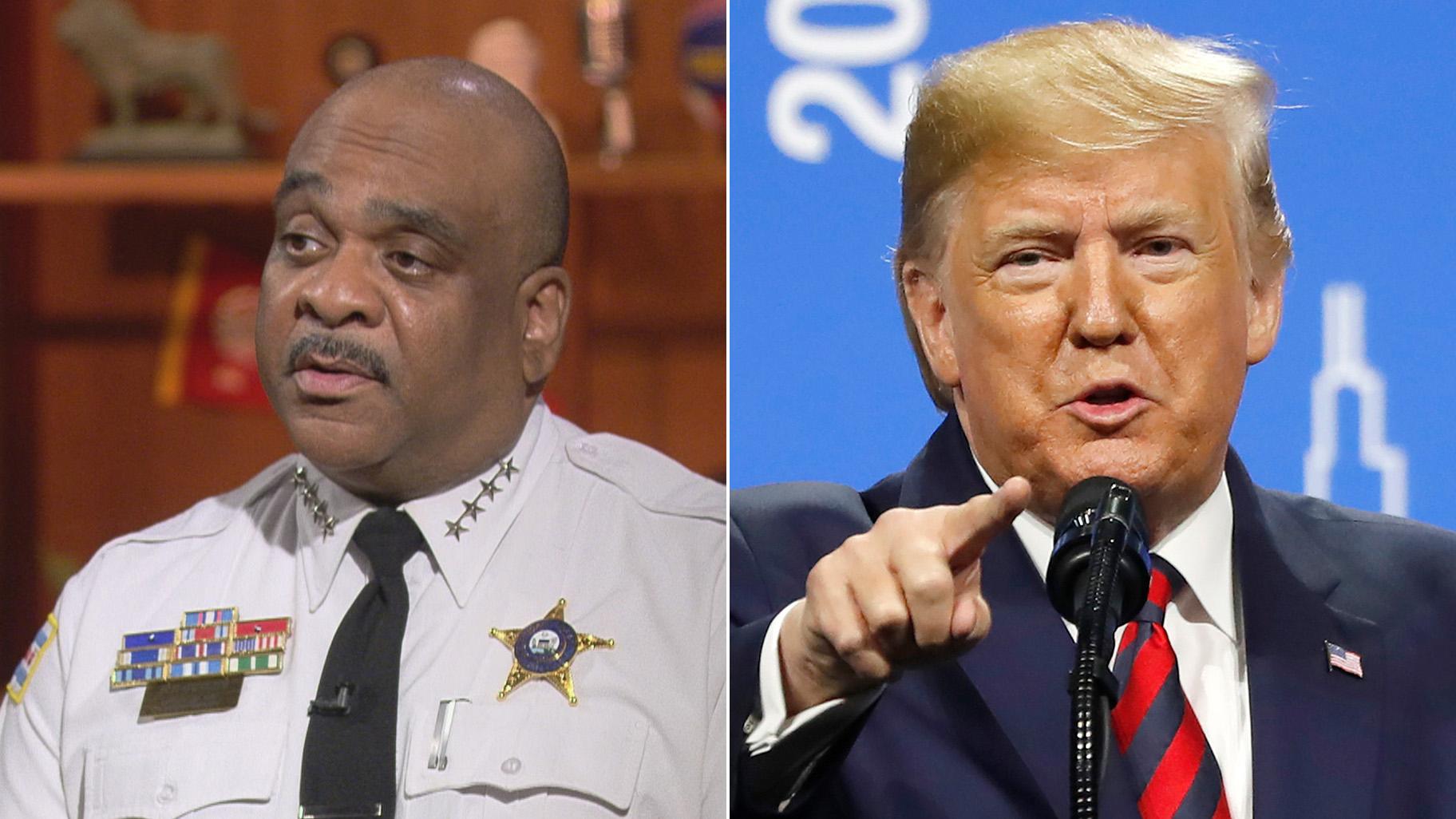 Chicago Police Superintendent Eddie Johnson on "Chicago Tonight" in 2018, left, and President Donald Trump in Chicago on Oct. 28, 2019. (WTTW News, left, AP Photo / Charles Rex Arbogast, right)
The Chicago Police Department says crimes like robberies and car thefts are at 20-year lows through the first 10 months of 2019, while homicides in the month of October are down nearly 25% over the same period last year.
"I feel good about the statistics," Police Superintendent Eddie Johnson said Friday after the department released its latest crime data. "We've seen steady declines for the last three years. So that is progress. It's not cause for celebration, but we're certainly in a much better place than we were in 2016 and, quite frankly, where we were last year."
The CPD said last month saw the fewest number of shootings and homicides of any October since 2015. But beyond that, the department said overall crime in the city has declined in total by 10% year-to-date.
October crime stats are out and violence continues to fall as officers seize a record number of illegal guns so far this year. Thanks to our community partners who work alongside CPD everyday to make Chicago safer and stronger. https://t.co/Dce2qRJ1k0 via @LinkedIn

— Anthony Guglielmi (@AJGuglielmi) November 1, 2019
---
Even with those declines, President Donald Trump on Friday tweeted that "Chicago will never stop its crime wave with the current Superintendent of Police."
"It just won't happen!" the president wrote.
Trump has been feuding with Johnson for the past week since the superintendent announced he'd be skipping the president's appearance at the International Association of Chiefs of Police Conference – his first appearance in Chicago since his election.
In the same tweet, Trump complimented Chicago Fraternal Order of Police President Kevin Graham, who greeted him on the tarmac when he arrived in the city earlier this week. Johnson's refusal to attend the conference also led to a vote of no confidence by the Chicago FOP's board of directors.
In response, Mayor Lori Lightfoot shot back a tweet of her own calling Johnson a lifelong Chicagoan who has "dedicated his career to public service."
"You only serve yourself," Lightfoot wrote to Trump. "The crime wave you should be concerned about is the one you are perpetrating against the American people from the White House."
Johnson was asked about Trump's tweet at a press conference Friday morning, but had little to say in response to the barbs.
"I don't worry about any external stuff, I worry about what we have in front of us," he said. "The fact of it is, the numbers do matter, facts matter and the facts are that we've steadily been bringing these (crime) numbers down over the past three years. So that's what we need to focus on."
Contact Matt Masterson: @ByMattMasterson | [email protected] | (773) 509-5431
---
Related stories:
Eddie Johnson Responds to Trump Barbs: 'I'm Doing the Right Thing'
In Chicago, Trump Calls the City an Embarrassment to the US
Trump's Visit to Chicago Creates Stir Before He Even Arrives
Police Union Leaders Issue Vote of No Confidence in Eddie Johnson
Police Chief Skipping Trump's 1st Chicago Visit as President
---