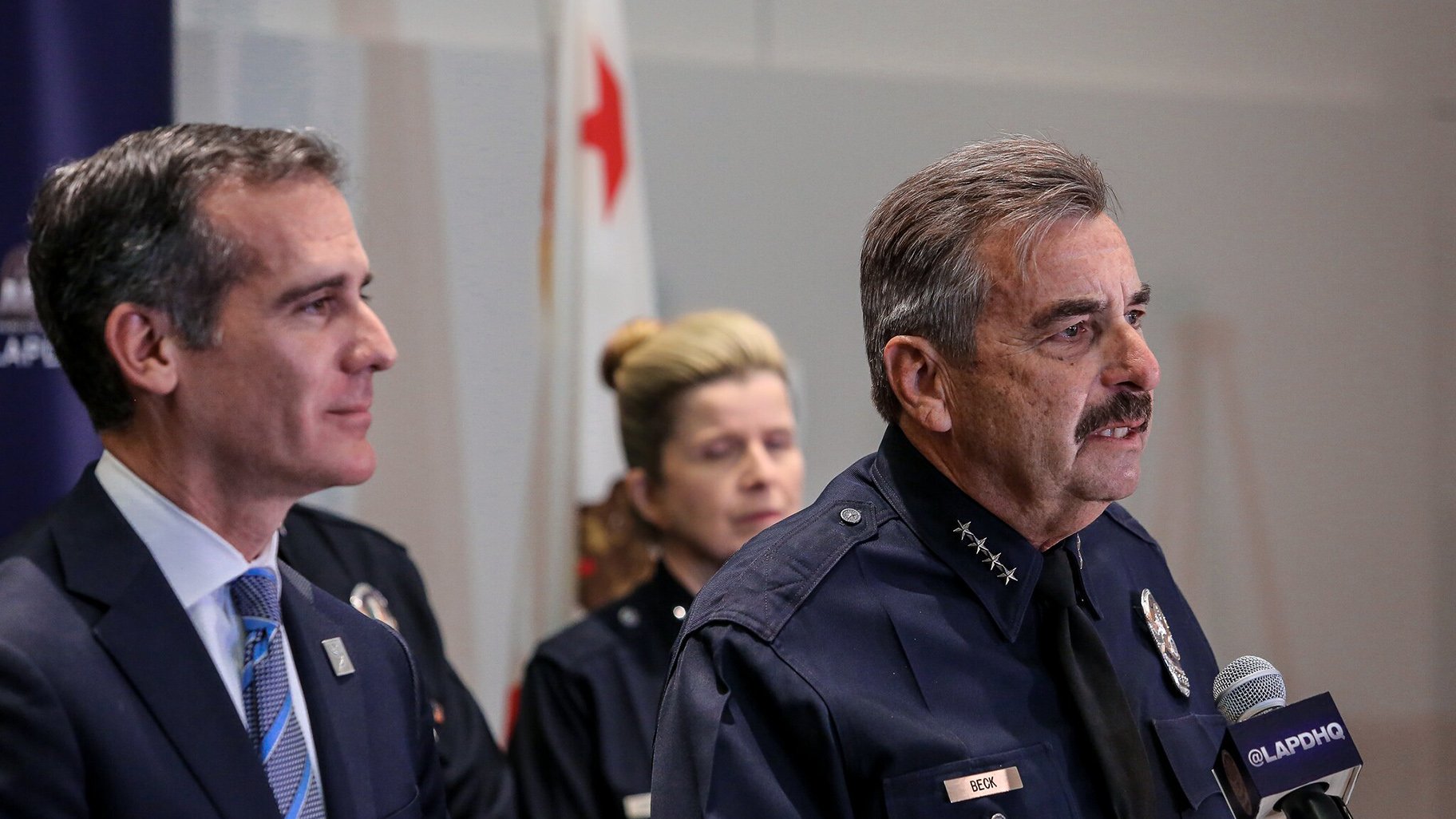 Charlie Beck, right, speaks during a press conference in 2018 while Los Angeles Mayor Eric Garcetti, left, looks on. On Friday, the former LAPD chief was named Chicago's interim police superintendent. (Eric Garcetti / Flickr)
Charlie Beck, who led the Los Angeles Police Department for nearly a decade until his retirement last year, has been tabbed to serve as the interim Chicago police superintendent following Eddie Johnson's retirement at the end of the year.
Mayor Lori Lightfoot announced the appointment Friday, just one day after Johnson announced his plans to retire after three years as superintendent. Beck, 66, will handle the superintendent duties in an interim role while the Chicago Police Board conducts its search for a permanent replacement.
"It was important for me that we bring somebody in who is gonna build on (Johnson's) legacy," Lightfoot said, introducing Beck on Friday morning. "There are a lot of reasons why this just made good sense for us."
Beck began his career with the LAPD as a patrol officer in 1977. By 2006, he'd been named deputy chief and three years later he was chosen to succeed William Bratton as Los Angeles' top cop.
Beck was lauded in LA for his efforts to rebuild relationships with black and Latino communities, and, like Johnson in Chicago, he refused to assist federal authorities in their fight against illegal immigration. He also led the LAPD through the end of its own consent decree process – a process the Chicago Police Department is currently going through.
"All of which makes him the perfect interim selection," Lightfoot said, "for what Chicago needs at this moment."
But Beck has also clashed with the civilian police commission that oversees the department, as well as the district attorney's office and the police union. In an unprecedented move, he recommended that prosecutors charge an officer who shot and killed an unarmed homeless man in 2015, though the district attorney's office declined to file a case.
He announced his retirement in 2018 on his 65th birthday.
Beck said he reached out to Johnson on the day Johnson was appointed superintendent and offered whatever resources his department could provide. On Friday, he repeatedly referred to Johnson as a "friend" and echoed Lightfoot's thoughts about continuing his legacy.
"I think this city can be very proud of the success of Superintendent Johnson," Beck said. "I think the city can expect more of the same as we continue forward. And even though my stay here will be brief, I look forward to working with the residents and people that work in Chicago, meeting them, learning about their needs and making this a better place."
Beck's demeanor was described by the Los Angeles Times as "plain-spoken" and "down-to-earth." As he announced his retirement last year, the Times wrote Beck had earned a reputation as a "cop's cop" – someone who knew all the ins and outs of the job.
Truly a cop's cop. Coming from a family of police officers, Chief Charlie Beck is immensely respected for being a visionary leader & implementing trust, transparency & quality violence reduction strategies in LA. He & First Dep. Supt Anthony Riccio will make a formidable team. https://t.co/pP9cxa5mcV

— Chicago Police (@Chicago_Police) November 8, 2019
---
Bratton, who now serves as vice chair of the Homeland Security Advisory Council, lauded Beck's appointment in a tweet Friday morning, calling it a "good move" on Lightfoot's part.
"Charlie Beck is the best of the best," he wrote. "@Chicago_Police will benefit from his leadership, even if only for a few months. …"
Johnson indicated Thursday he'd continue serving until the end of the year. The mayor said Johnson and Beck will work together over the next few weeks to determine when a transition will occur.
Asked if he'd consider taking on the role in a permanent capacity, Beck said he had no intention of doing so.
"I didn't take this to fill a resume or make money or any of that," he said. "I took this because this is my calling, this is what I do, and I hope to do it in Chicago."
The Associated Press contributed to this report.
Contact Matt Masterson: @ByMattMasterson | [email protected] | (773) 509-5431
---
Related stories:
Top Cop Eddie Johnson Announces Retirement: 'It's Time'
Spotlight Politics: Johnson's Retirement Will Set Off Political Fight for Next Superintendent
Mayor Lightfoot on Eddie Johnson Retirement Reports: 'He's Still Here'
Eddie Johnson Responds to Trump Barbs: 'I'm Doing the Right Thing'
CPD Releases New Crime Data as Trump Again Attacks Eddie Johnson
Police Union Leaders Issue Vote of No Confidence in Eddie Johnson
---