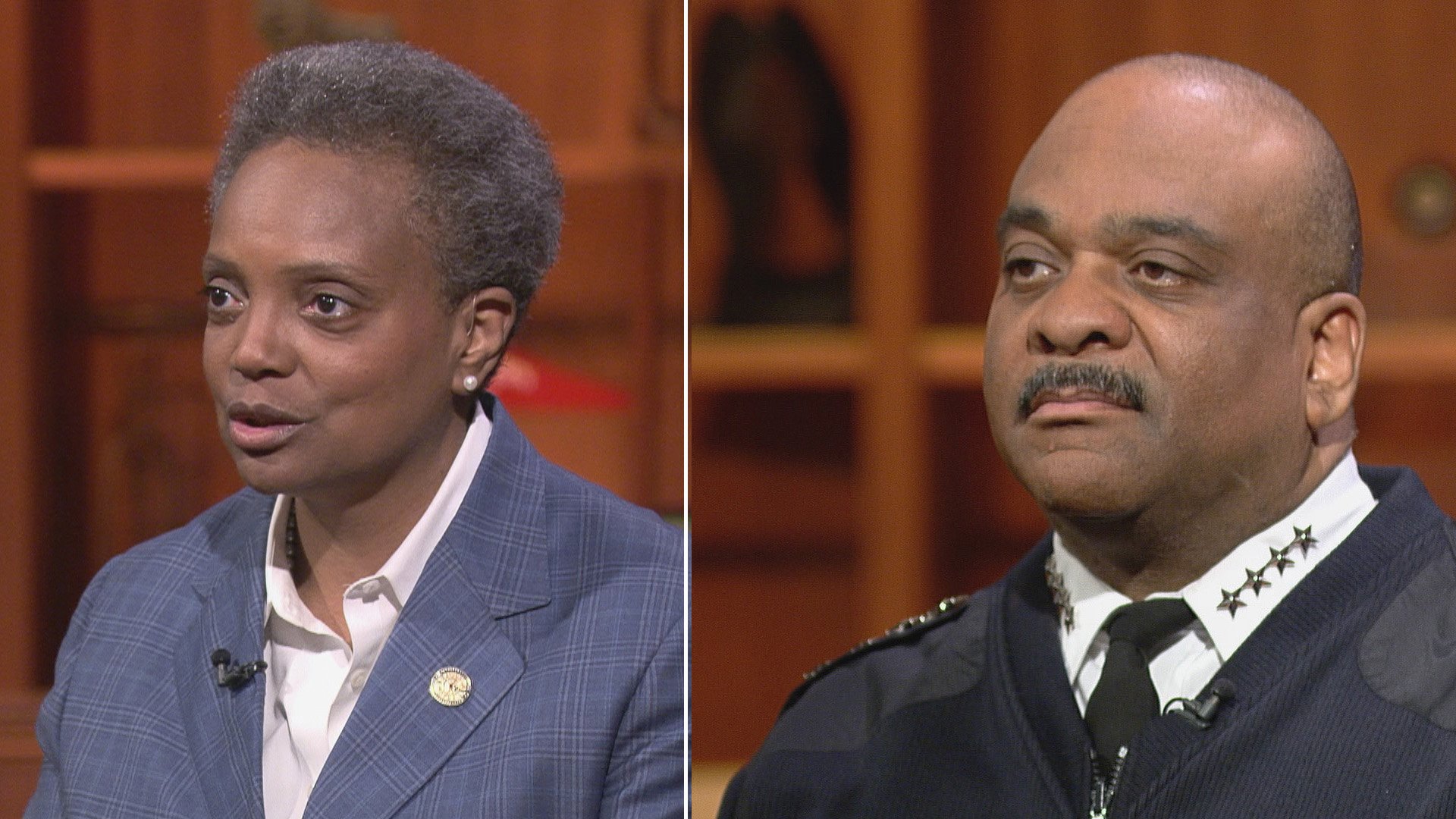 Still images from appearances of Mayor Lori Lightfoot and Chicago Police Superintendent Eddie Johnson on "Chicago Tonight." Lightfoot spoke to reporters Wednesday about Johnson's possible retirement this week. (WTTW News)
Mayor Lori Lightfoot wouldn't say Wednesday if she expects Chicago Police Superintendent Eddie Johnson to retire this week, as has been reported by multiple media outlets. But if and when Johnson does step down, Lightfoot said she'll follow the legally mandated process to find his replacement.
Johnson on Monday told reporters he'd been "toying" with the idea of retiring for some time, and multiple outlets have since reported he is expected to end his tenure as superintendent by the end of this week.
But Lightfoot, speaking Wednesday at a ground-breaking ceremony for a new Blue Cross Blue Shield of Illinois facility in Morgan Park, wouldn't say if she's already making plans to find Johnson's eventual successor.
"He's still here, we haven't had that conversation yet," she told reporters. "When we have that conversation, then there'll be something to say."
Johnson has been with the Chicago Police Department for more than three decades and has spent the last three-plus years as superintendent. But his possible retirement comes amid an ongoing investigation by the city's inspector general into Johnson after he was found asleep in his car last month.
That incident was initially blamed on a change in Johnson's blood pressure medication. But Lightfoot later told the Chicago Sun-Times that Johnson had told her he'd had "a couple of drinks with dinner" earlier that evening.
WBEZ reported on Wednesday that Lightfoot made the decision to replace Johnson shortly after that incident. For his part, Johnson said his possible retirement has nothing to do with that investigation.
The board of directors for the Chicago Fraternal Order of Police also issued a vote of no confidence in Johnson after he refused to attend President Donald Trump's speech last month in Chicago at the International Association of Chiefs of Police Conference.
On Tuesday, ABC-7 reported the mayor was planning to meet with former Los Angeles Police Department Chief Charlie Beck about possibly filling in as interim police chief once Johnson steps down.
Lightfoot denied that report Wednesday.
"I don't know what you're talking about, about a meeting with Charlie Beck," she said. "I've seen a lot of speculation about different names – some of which are wildly off base – but as I said, we have a superintendent who is in place and when the time comes to make an announcement, we'll make that announcement."
Johnson was appointed to his role in 2016 by then-Mayor Rahm Emanuel, who had fired previous Superintendent Garry McCarthy after video was released showing the fatal shooting of Laquan McDonald by a police officer. In doing so, Emanuel eschewed the three finalists for the job chosen by the Chicago Police Board.
Lightfoot, who at the time led the search for those candidates as the head of the Police Board, said she has no intention of bypassing that process if and when the time comes to replace Johnson.
"The Police Board process is mandated by law," she said. "I'm not going to violate the law. And having led the last search for a superintendent, I believe in respecting the law and the Police Board process. So when and if we get to that point, of course I will follow the law and I will follow the Police Board process."
Contact Matt Masterson: @ByMattMasterson | [email protected] | (773) 509-5431
---
Related stories:
Eddie Johnson Responds to Trump Barbs: 'I'm Doing the Right Thing'
CPD Releases New Crime Data as Trump Again Attacks Eddie Johnson
Police Union Leaders Issue Vote of No Confidence in Eddie Johnson
Police Chief Skipping Trump's 1st Chicago Visit as President
---