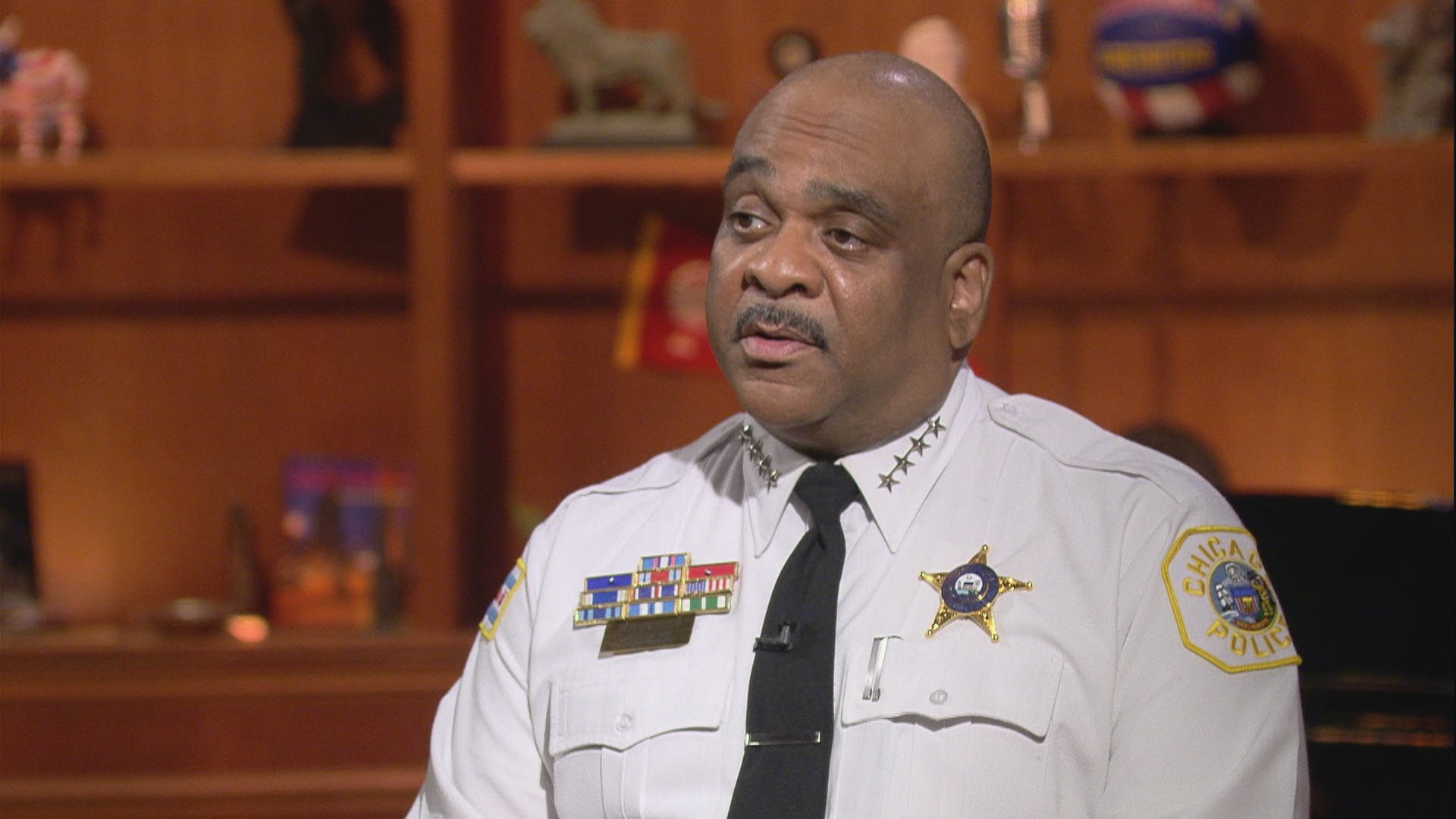 Chicago Police Superintendent Eddie Johnson appears on "Chicago Tonight" on Aug. 9, 2018.
Chicago Police Superintendent Eddie Johnson's no-show at President Donald Trump's speech Monday on the Near South Side has earned him a vote of no confidence from the local police union's board and a rebuke from the president himself.
So how does Johnson feel about Trump calling him out for skipping his first trip to Chicago since his 2016 election?
"Personally that tells me that I'm doing the right thing," Johnson said during a press conference Monday afternoon.
Johnson had previously signaled his intention to skip Trump's appearance at the International Association of Chiefs of Police Conference, saying through a spokesman that the "values of the people of Chicago are more important" than anything Trump – a regular critic of the city – could say.
That decision irked the Board of Directors of the Fraternal Order of Police Lodge 7 – the union that represents Chicago police officers – which issued a no confidence vote in Johnson last week. Chicago FOP President Kevin Graham was the first to meet Trump upon his arrival in Chicago on Monday.
Since his campaign, Trump has repeatedly singled out the city, both for what he says is its unwillingness to get tough on criminals and what he complains is a willingness to coddle immigrants living in the country illegally.
"More than anyone else he should be here, because maybe he could maybe learn something," Trump said Monday, claiming Johnson puts the needs of illegal immigrants above the needs of the law-abiding residents of Chicago.
"Those are his values and frankly those values to me are a disgrace. I want Eddie Johnson to change his values and to change them fast."
The president went on to say Chicago is "embarrassing to us as a nation," falsely claiming it's a more dangerous place than Afghanistan. Johnson countered that violent crime has fallen across the country over the past two years, driven largely by declines in Chicago.
That includes a 40% drop in gun violence since a spike in 2016 and double-digit declines in robberies, burglaries and vehicle thefts, according to Johnson.
"Today the same police officers the president criticized for their inability to protect this city spent all day protecting him," Johnson said. "The national narrative that Chicago is a city on fire is just simply not true."
Despite the back-and-forth, Johnson said he would be willing to work with Trump "as long as that partnership reflects who we are as Chicagoans." Johnson pointed to additional funding like the millions of dollars the federal government has withheld from the city through its Byrne Justice Assistance Grant.
"Chicago has made progress in the last few years," he said. "We're certainly not where we want to be, but we've made progress. And if anyone's out there that wants to help, then spend a little time here seeing what's going on and then we can talk about how those resources can be dedicated to the city."
The Associated Press contributed to this report.
Contact Matt Masterson: @ByMattMasterson | [email protected] | (773) 509-5431
---
Related stories:
In Chicago, Trump Calls the City an Embarrassment to the US
Trump's Visit to Chicago Creates Stir Before He Even Arrives
Police Union Leaders Issue Vote of No Confidence in Eddie Johnson
Police Chief Skipping Trump's 1st Chicago Visit as President
Why Does Trump Keep Saying Chicago Has 'Strongest' Gun Laws?
---