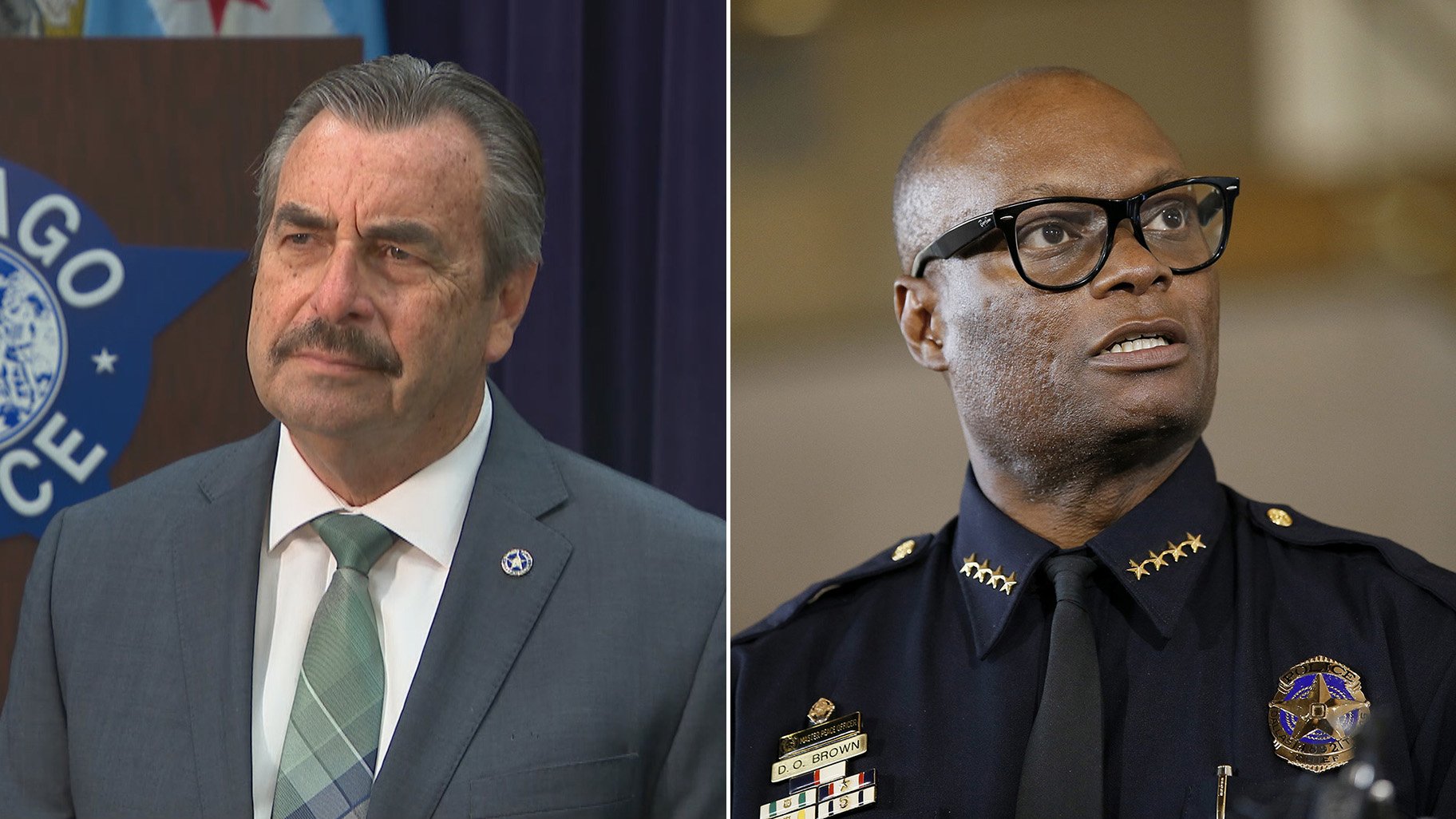 Left: Interim Chicago Police Superintendent Charlie Beck speaks with "Chicago Tonight" on April 8, 2020. Right: Dallas Police Chief David Brown briefs the media on June 15, 2015 about a shooting at Dallas Police headquarters in Dallas. (AP Photo / Tony Gutierrez, File)
Twenty weeks after he took over as the Chicago Police Department's interim superintendent, Charlie Beck officially stepped down from his post Wednesday, handing over a badge to the city's new top cop David Brown.
Both Beck and Chicago Mayor Lori Lightfoot said it was a "bittersweet moment" as the interim superintendent planned to exit the city and return to his family in Los Angeles.
"Though I came to Chicago without knowing virtually anybody that was in the Chicago Police Department, I leave feeling very much connected to them and very much as part of the CPD family," Beck said during a ceremony honoring his brief tenure in the city.
Before coming to Chicago, Beck led the Los Angeles Police Department for nearly a decade until his retirement in 2018. He was tabbed as Chicago's interim top cop during a period of transition in the police department after then-Superintendent Eddie Johnson announced last November that he'd be retiring at the end of 2019.
But Beck took over just weeks later after Lightfoot fired Johnson, alleging he had "repeatedly lied" to both the mayor and the public about an October incident in which he was found slumped over behind the wheel of his car after an evening of drinking. That incident remains under investigation by the city's Inspector General, and Lightfoot said Wednesday she is "extremely unhappy" that it has not yet been completed.
Today, Interim Superintendent Charlie Beck will hand over leadership of the #ChicagoPolice Department to Acting Superintendent @ChiefDavidBrown. During Beck's five months at CPD, he led the department through structural changes to better combat crime in the city. pic.twitter.com/FbTcD7s1YU

— Chicago Police (@Chicago_Police) April 15, 2020
---
From the moment he was appointed, Beck has repeatedly stressed the importance of getting the CPD into compliance with its consent decree and putting the city on a better track to reduce its violent crime and homicide rates.
In January, he announced sweeping changes to the police department's organizational structure, essentially splitting the CPD into two halves – one focused on the consent decree and another on CPD operations – with both reporting directly to the superintendent.
The goal of this reorganization, he said, was to provide more resources directly to neighborhoods.
"In the past, the Chicago Police Department was very siloed, and what I wanted to do was make it more responsive to the communities," Beck told WTTW News during an interview last week. "This will not only impact this generation of the police department, it will affect it for generations to come."
Beck said he plans to be a resource for Brown as long as he remains on the job.
"You will find out about his story, you will find out about his personal dedication to law enforcement, you will find out about his love for cops and his love for truth and his love for justice," Beck said. "And I think that's what Chicago wants from the leader of the Chicago Police Department."
The 59-year-old Brown, who retired as chief of the Dallas Police Department in 2016, was appointed to his new position by Lightfoot earlier this month. He has more than three decades of law enforcement experience and rose through the ranks there from patrol officer to police chief. He's been lauded for his reform efforts in Dallas as he sought to increase transparency and improve training to reduce officer-involved shootings.
Lightfoot cited those efforts in announcing him as her superintendent pick earlier this month, as well as his first-hand experience dealing with the effects of gun violence.
Brown's youngest brother was killed in 1991 by drug dealers in the Phoenix area. And months after becoming chief in 2010, his 27-year-old son shot and killed two men, including a suburban police officer, before he was gunned down by responding officers.
Brown's official title will be "acting superintendent" until his appointment is approved by the City Council, which the mayor said could occur as early as next Wednesday.
"Chicago's skyline may be a world away from the Lone Star State of Texas, but starting today, Chicago is now home for me and my family," he said. "And I promise to never stop working to make it a safer place."
Contact Matt Masterson: @ByMattMasterson | [email protected] | (773) 509-5431
---