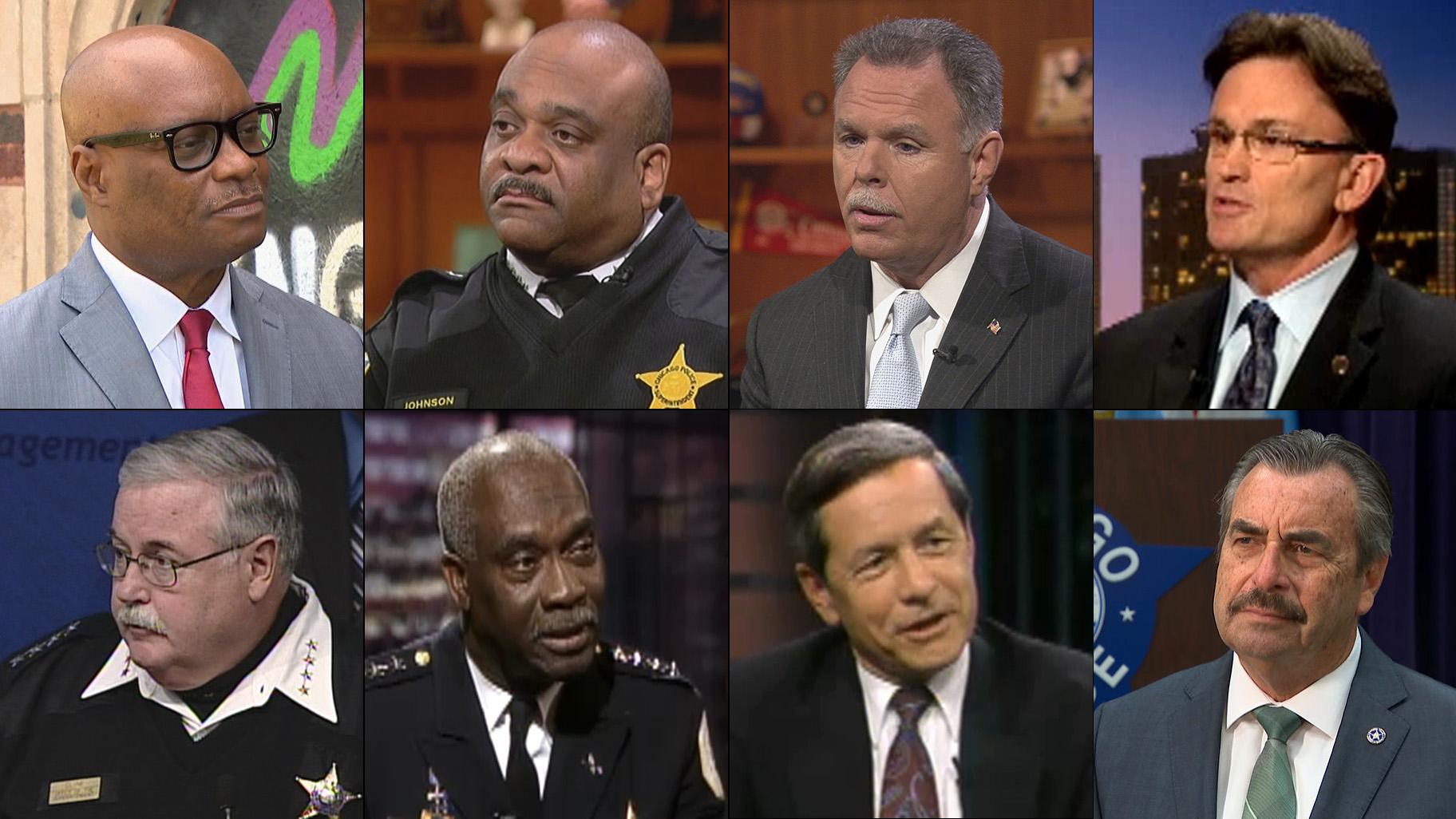 A collage of recent top cops in Chicago. Top row, from left: David Brown, Eddie Johnson, Garry McCarthy, Jody Weis. Bottom row, from left: Phil Cline, Terry Hillard, Matt Rodriguez and most recent interim Superintendent Charlie Beck. (WTTW News photos)
In its nearly 200-year history, Chicago has seen more police chiefs than mayors.
From Orsemus Morrison, the first man elected to the job (then called "high constable") in 1835, to the most recently departed Superintendent David Brown, the city's top cop has often been torn between serving two seemingly conflicting constituencies: the public and the rank-and-file officers of the Chicago Police Department.  
Occupants of this powerful, high-profile position — appointed by the mayor since the 1860s — walk a political tightrope, and have suffered some epic falls. Reform-minded leaders are often criticized by the police union for being overly zealous and losing the trust of the force, while more than one superintendent has resigned after facing charges of personal corruption or failing to curb the lawless behavior of those under his command.
Brown is the latest in a long line of men — no woman has ever held the top job — to have his mettle tested by Chicago's entrenched law enforcement practices and intractable violence. Promises to curb crime and clean up the department are nearly as old as the job itself. 
Here's a look at the legacy of the city's most recent superintendents. 
David Brown: April 15, 2020 to March 16, 2023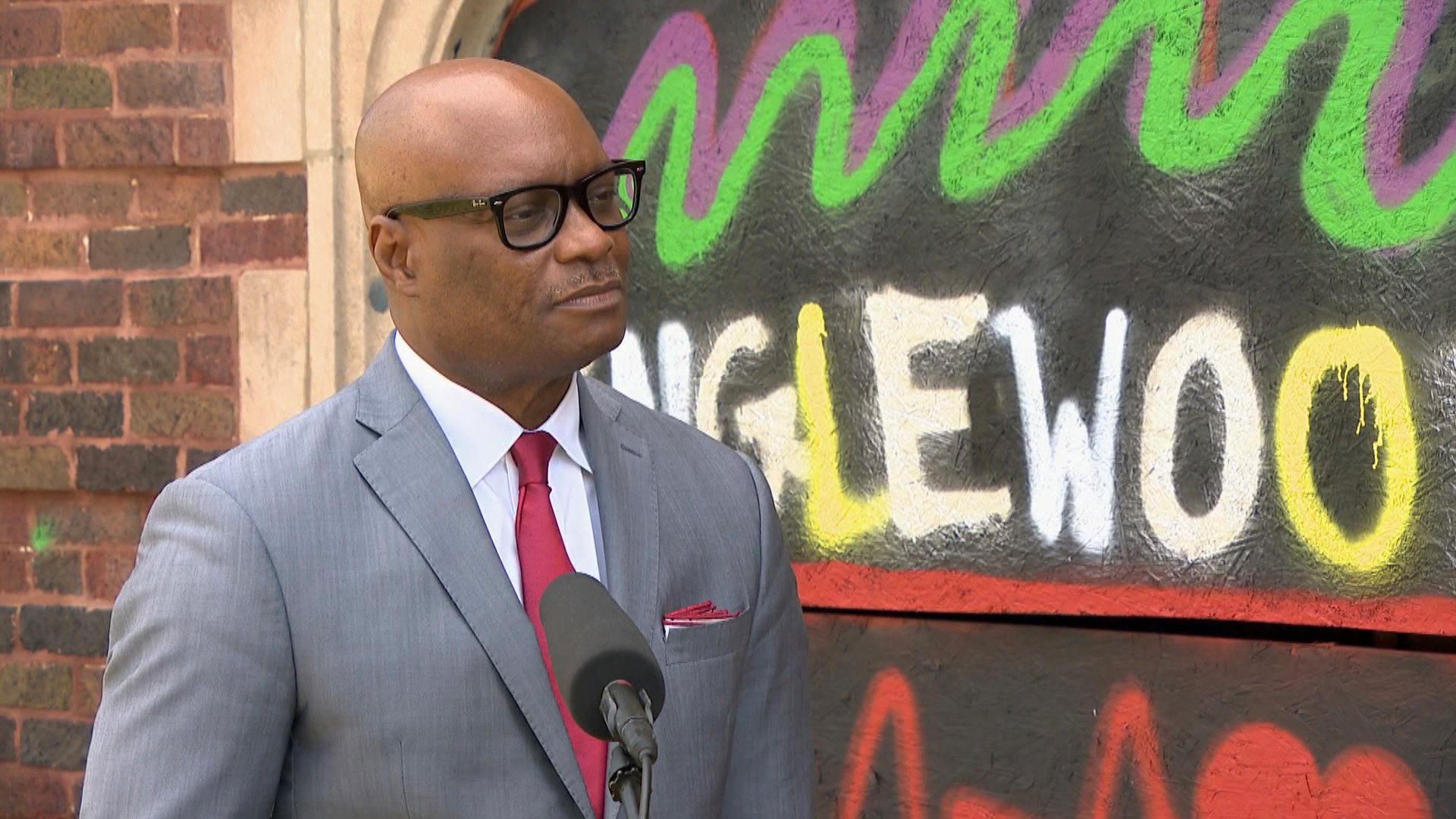 Chicago Police Superintendent David Brown speaks with WTTW News on Wednesday, May 20, 2020.
Brown led the Dallas Police Department from 2010 to 2016, where he earned praise for his reform efforts. It's a reputation that undoubtedly appealed to Mayor Lori Lightfoot as she searched to replace disgraced outgoing Superintendent Eddie Johnson (more on that in a moment).
Brown's administration was immediately tested, navigating policing during the coronavirus pandemic and then the civil unrest that followed the police murder of George Floyd in Minneapolis. His response to the latter was questioned, with critics saying the police department protected downtown from looting and property damage at the expense of neighborhoods on the South and West sides.
The superintendent kicked off his tenure with a bold "moon shot" goal, vowing to reduce shootings and murders in the city to all-time lows. But by the end of 2020, Chicago had experienced 769 homicides — 274 more than the previous year. In 2021, homicides topped 800, the deadliest year for the city in decades.
Brown was also heavily criticized by Chicago's largest police union — the Fraternal Order of Police Lodge 7 — for his record on officer wellness. The FOP said Brown didn't do enough to support police and regularly canceled days off, leading to additional strain.
---
Charlie Beck (interim): Dec. 2, 2019 to April 15, 2020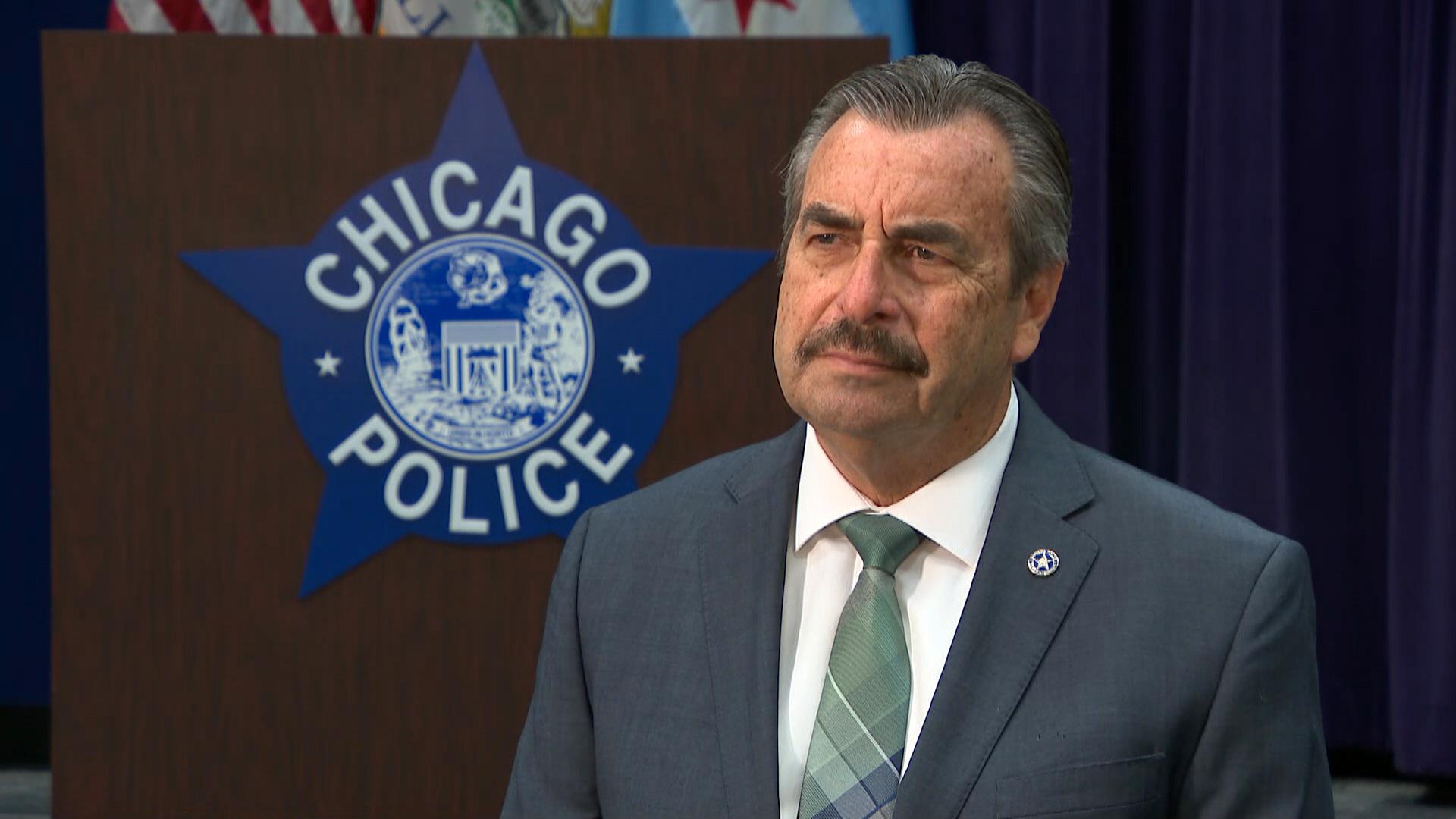 Interim Chicago Police Superintendent Charlie Beck speaks with "Chicago Tonight" on Wednesday, April 8, 2020. (WTTW News)
A former Los Angeles police chief, Beck bridged the gap between Johnson and Brown. More than a placeholder, the veteran law enforcement professional oversaw a review of the Chicago Police Department's structure and resource allocation. 
---
Eddie Johnson: March 28, 2016 to Dec. 2, 2019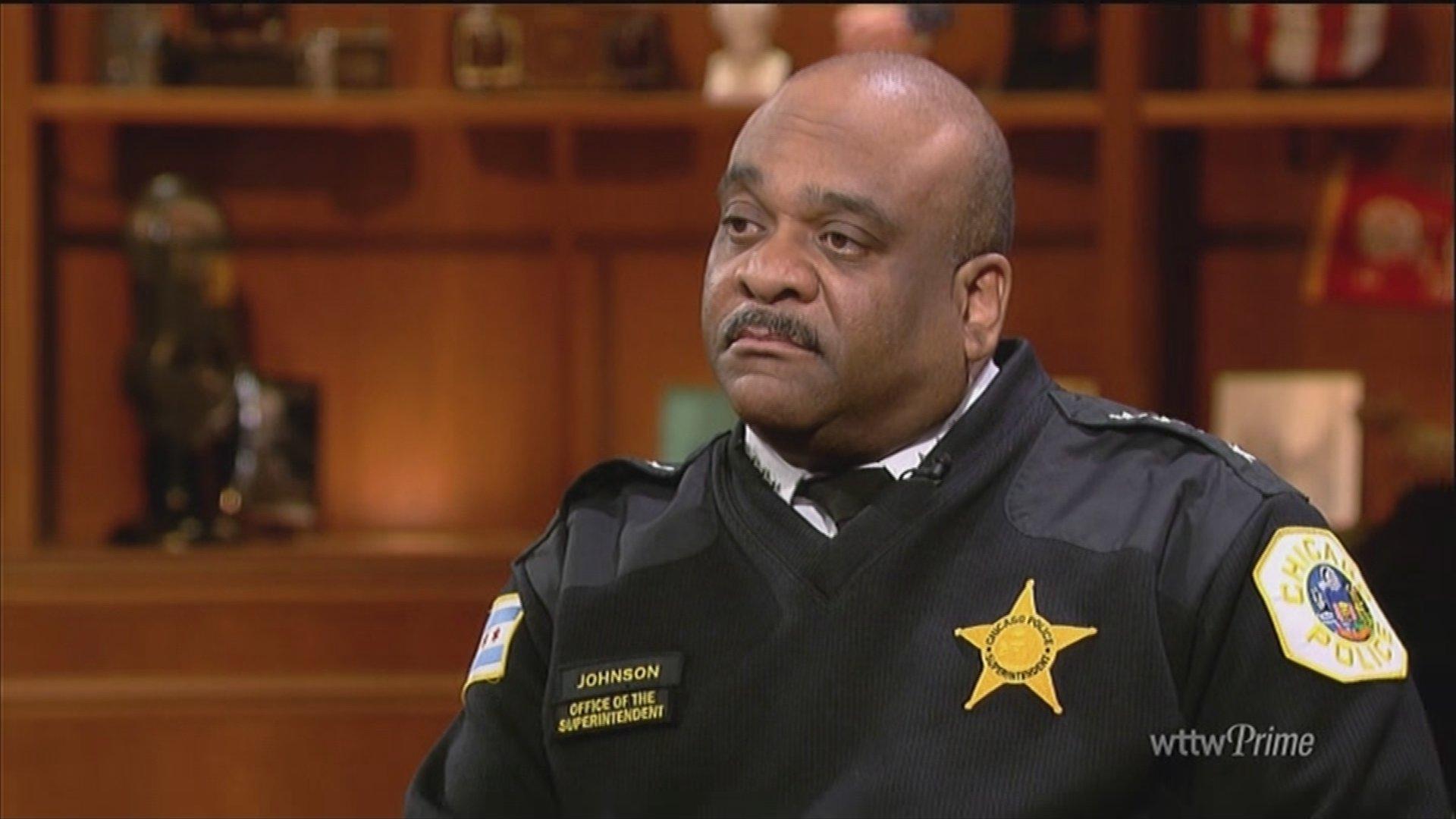 Chicago police Superintendent Eddie Johnson appears on "Chicago Tonight" on January 3, 2017. (WTTW News)
Johnson never even applied for the job, but that didn't stop Mayor Rahm Emanuel from appointing Johnson to the superintendent role, ignoring other finalists put forward by the police board. Formerly the department's chief of patrol, Johnson may have been seen as the "insider" antidote to his predecessors, both recruited from outside CPD. 
Having announced his plan to retire at the end of 2019, Johnson was forced to make an early exit, fired by Lightfoot after a city watchdog report revealed he had lied about an incident in which he was found asleep behind the wheel of his car.
---
John Escalante (interim): Dec. 1, 2015 to March 28, 2016
Escalante stepped into the breach after police dashcam footage showing the fatal shooting of Laquan McDonald was released — some 13 months after the October 2014 incident in which McDonald was shot 16 times by Officer Jason Van Dyke. In the immediate aftermath of the video release, Garry McCarthy lost his job. During his brief tenure, Escalante was an advocate for the mandated use of body cameras.
Homicides also increased under his watch, a rise he attributed to an escalation of social media conflicts. Others, however, theorized the increase was due to more tentative policing following scrutiny brought on by the fatal shooting of McDonald.
---
Garry McCarthy: May 11, 2011 to Dec. 1, 2015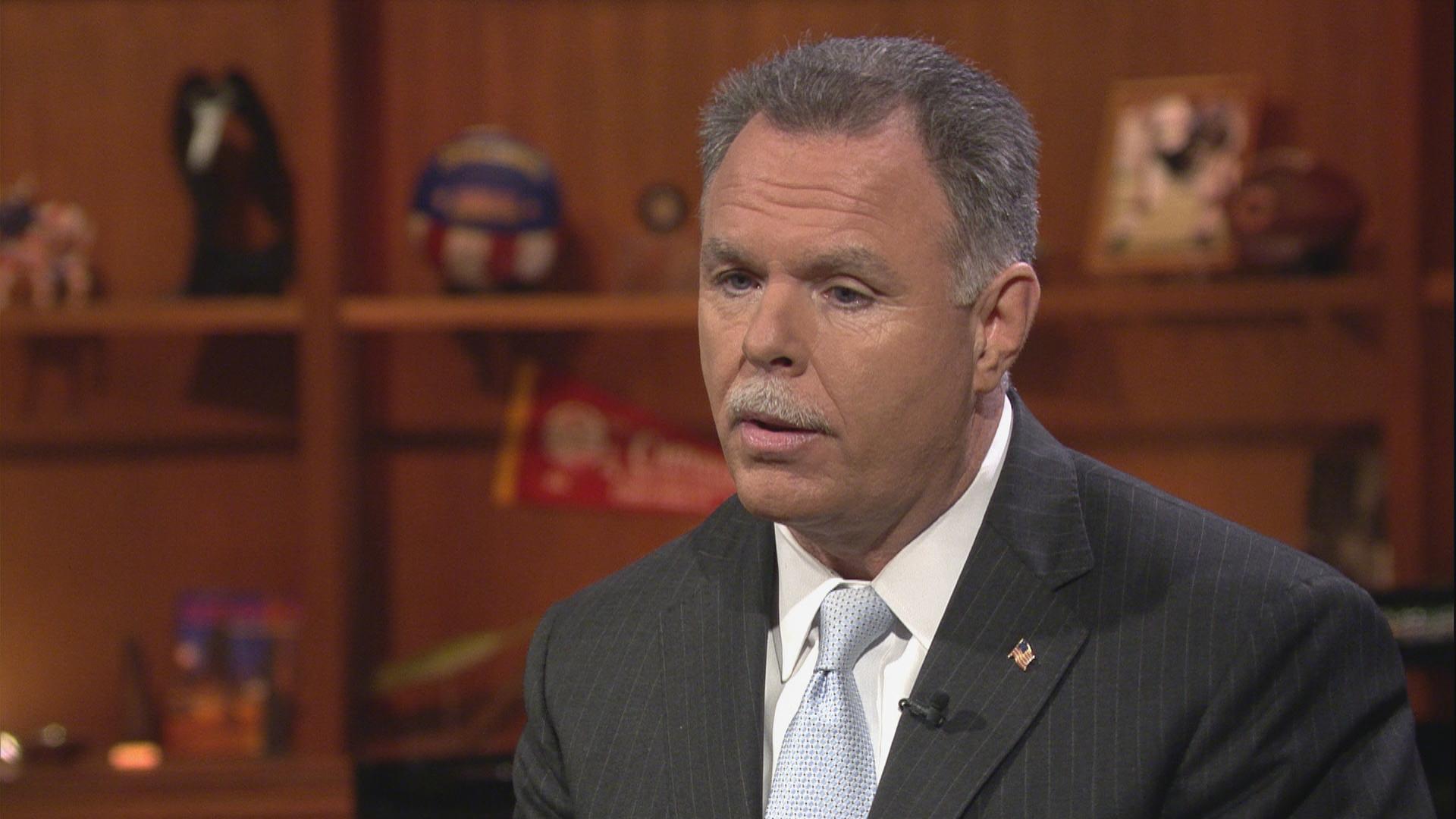 Garry McCarthy appears on "Chicago Tonight" on Feb. 20, 2018.
Mayor Rahm Emanuel turned to McCarthy, whose resume boasted impressive East Coast law enforcement experience, for his first superintendent appointee.
Among McCarthy's credentials: developing policing strategies for the New York Police Department and leading the department of Newark, N.J., to its first murder-free month since the 1960s.   
Ultimately, McCarthy couldn't deliver the same results in Chicago, where the murder rate remained high. That, combined with outrage over his department's handling of the murder of Laquan McDonald, led to McCarthy's firing. 
McCarthy mounted an unsuccessful campaign for Chicago mayor in 2019, garnering just 2.7% of votes cast.
---
Terry Hillard (interim) — more on him below.
---
Jody Weis: Feb. 1, 2008 to March 1, 2011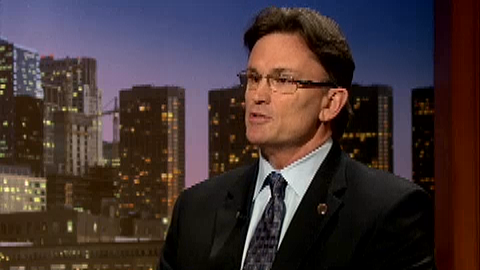 Jody Weis appears on "Chicago Tonight" on Jan. 26, 2012 to talk about Chicago gangs. (WTTW News)
After a series of scandals rocked the police department, Mayor Richard M. Daley brought in Weis from the FBI and gave him a mandate to clean house. The first outsider to helm the department in more than 40 years, Weis was met with mistrust by officers.
In 2011, Weis quit rather than give Emanuel, the incoming mayor, the opportunity to fire him. 
---
Philip Cline: Oct. 6, 2003 to April 2, 2007
Police Superintendent Phil Cline speaks at a news conference on Oct. 26, 2005. (WTTW News)
A Chicago Police Department veteran, Cline was promoted to the top job from the post of first deputy superintendent of the department. His was a noncontroversial choice, but by the end of his tenure, Cline would be associated with the actions of officers whose behavior shook public opinion of, and confidence in, the department.
Security camera footage of Officer Anthony Abbate beating a female bartender half his size for refusing to serve him more drinks shocked not only Chicagoans but people around the world. Allegations that members of a special operations unit were robbing drug dealers and plotting a murder for hire further led to the sense of a department out of control. Cline resigned under the weight of the scandals.
---
Terry Hillard: Feb. 18, 1998 to April 18, 2003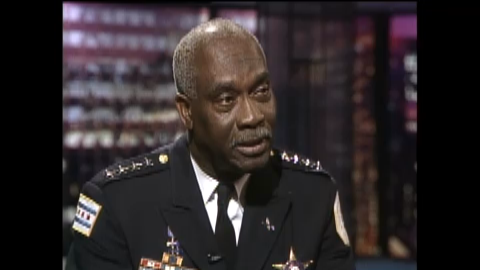 Police Superintendent Terry Hillard appears on "Chicago Tonight" on June 6, 2000. (WTTW News)
A former Marine who served in Vietnam, Hillard was a longtime Chicago police veteran when he was promoted to superintendent. A steady hand at the helm, Hillard steered the department through turmoil, including the 1998 murder of Ryan Harris and the wrongful questioning of 7- and 8-year-old boys as suspects. 
His plans to install video cameras in patrol cars and to videotape murder confessions were not universally accepted by officers. Still, Hillard finished out his career at CPD without generating revolt in the ranks or suffering scandal, retiring in 2003 after 35 years and coming back to serve as interim superintendent in 2011.
---
Matt Rodriguez: April 13, 1992 to Dec. 1, 1997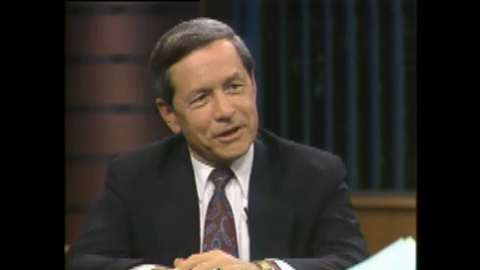 Police Superintendent Matt Rodriguez appears on "Chicago Tonight" on May 12, 1992. (WTTW News)
Chicago's first Latino superintendent, Rodriguez's lasting impact on the Chicago Police Department is arguably his rollout of the CAPS community policing program.  
Rodriguez resigned after he was found to be in violation of a department prohibition against associating with convicted felons. At the same time, accusations of brutality and corruption among the ranks had undermined Rodriguez's leadership.
Contact Patty Wetli: @pattywetli | (773) 509-5623 |  [email protected]
---