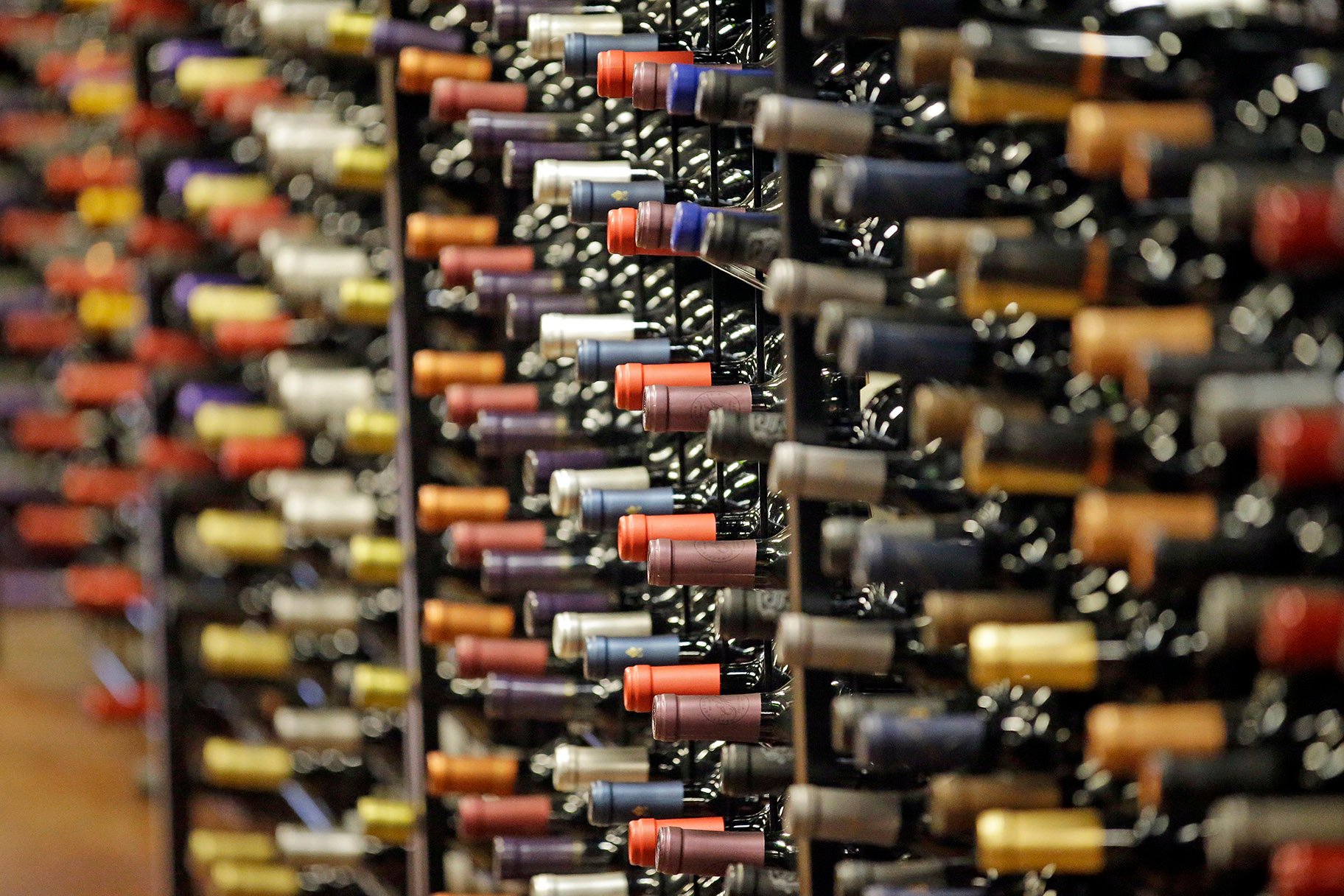 In this June 16, 2016, file photo, bottles of wine are displayed during a tour of a state liquor store, in Salt Lake City. According to federal health statistics, Americans are drinking more now than when Prohibition was enacted a century earlier. (AP Photo / Rick Bowmer, File)
While bars and restaurants around Chicago have been closed to dine-in customers since a statewide stay-at-home order was issued last month, liquor stores have been largely allowed to continue operating during regular hours as essential businesses. That will no longer be the case as of Thursday, when a citywide curfew on liquor sales will go into effect.
Mayor Lori Lightfoot on Wednesday announced the city will begin enforcing a 9 p.m. curfew on the sale of liquor in order to prevent "congregate activity" that's been seen across the city near stores that sell alcohol.
"As I have said before, we are not messing around on this," Lightfoot said, "and we will not hesitate to take further action as needed."
The curfew will remain in effect as long as Gov. J.B. Pritzker's stay-at-home order is active during the COVID-19 pandemic. Businesses that violate the curfew could face a $500 fine, arrest or the revocation of their liquor licenses.
In a statement, Jeremy Kruidenier, vice executive director and general counsel for Wine and Spirits Distributors of Illinois, said his group supports Lightfoot's curfew and commends her office for keeping licensed wine and spirits retailers open for business.
To date, the city's Department of Business Affairs and Consumer Protection (BACP) has received more than 1,000 complaints of businesses operating in violation of the governor's order. In response, the BACP has conducted 690 in-person investigations and contacted 4,881 businesses over the phone.
Already, those enforcement measures have led to 21 citations issued to eight businesses found to be violating the statewide mandate. They include restaurants that have allowed dine-in customers and yoga, fitness studios and other places that have remained open despite their classification as nonessential businesses. Thus far, those fines have totaled $120,000.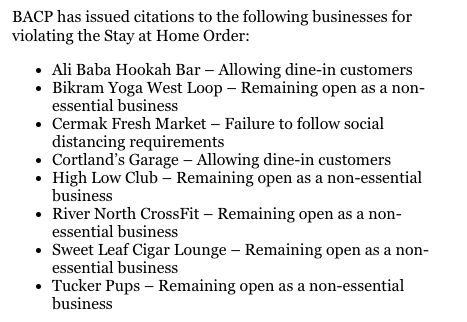 (City of Chicago)
"I understand that times are tough, but if you are a business operating in violation of the stay-at-home order, you will be held accountable," Lightfoot said. "We have no other choice."
The decision to enact a curfew is not punitive, but protective, Lightfoot said, though its announcement came one day after the Chicago Police Department issued its highest total of dispersal orders to large groups congregating throughout the city.
Since Pritzker's order took effect on March 21, the CPD has issued 2,033 dispersal orders and 11 citations for up to $5,500 in fines to individuals not adhering to those orders.
Interim Police Superintendent Charlie Beck said large gatherings have repeatedly been found at liquor stores and other businesses during the stay-at-home order, but he said Tuesday night "was our zenith" with the department issuing more than 300 dispersal orders.
"Many people are getting the point in Chicago," he said, "but some are not."
Beck and Lightfoot also decried the violence seen as temperatures rose Tuesday evening, with 19 recorded shooting incidents and six homicides. Beyond the toll on public safety, they pointed to the impact gun violence has on stay-at-home enforcement and public health resources during the coronavirus pandemic.
"Every one of those ER beds taken up by a gunshot victim could be somebody's grandmother, somebody with pre-existing conditions, somebody that is in danger of losing their lives because of the pandemic," Beck said. "There are two pandemics that face Chicago, and only one is virus induced."
Contact Matt Masterson: @ByMattMasterson | [email protected] | (773) 509-5431
---