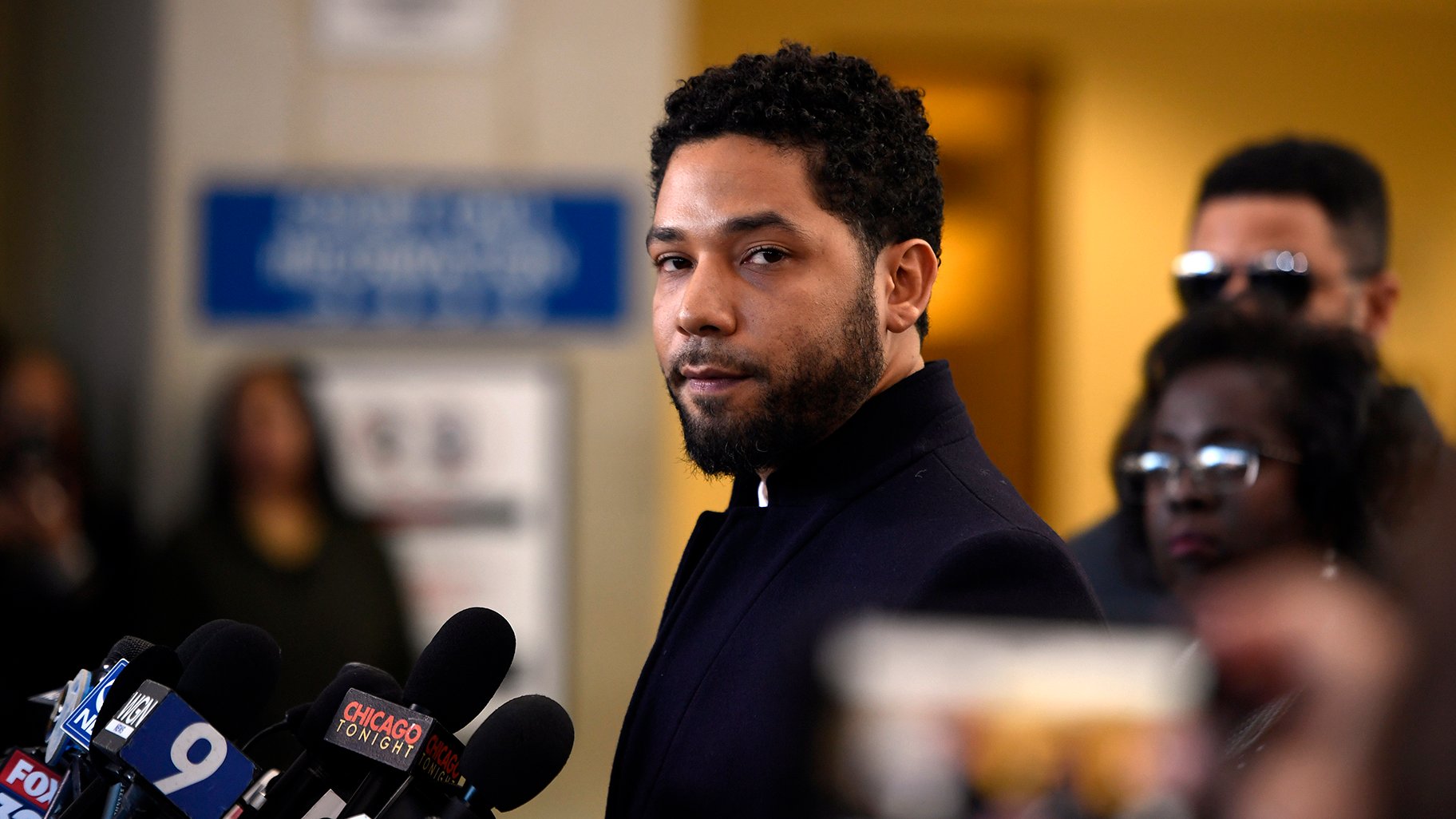 Actor Jussie Smollett talks to the media before leaving Cook County Court after his charges were dropped, Tuesday, March 26, 2019. (AP Photo / Paul Beaty)
The two brothers who allegedly helped "Empire" star Jussie Smollett stage a racist, homophobic attack on himself have filed a defamation lawsuit against the actor's legal team, alleging that they've been falsely accused of committing a hate crime.
Olabinjo and Abimbola Osundairo filed the federal suit Tuesday morning against celebrity attorney Mark Geragos, attorney Tina Glandian and the Geragos & Geragos Law Firm. They're accused of making false statements, insisting the brothers planned and executed a hate crime against Smollett on their own.
Smollett was indicted on 16 counts of disorderly conduct for filing a false police report about the alleged attack. But after the Cook County State's Attorney dropped those charges last month, Smollett's attorneys continued pushing the story that their client was the victim of a real attack.
"Instead they doubled down, not simply affirming that Mr. Smollett was a wholly innocent victim, but that (among other accusations) Plaintiffs unequivocally led a criminally homophobic, racist, and violent attack against Mr. Smollett," the lawsuit states.
"Defendants made these comments knowing they were untrue to distract from Mr. Smollett's farce and to promote themselves and the Geragos & Geragos Law Firm."
Read the Osundairo brothers' complaint here.
Smollett, 36, told police he'd been beaten in the early morning hours of Jan. 29 by two men who were yelling racist and homophobic slurs at him and wrapped a noose around his neck on the Near North Side. But police say the actor's claim eventually unraveled as they discovered Smollett had paid the Osundairo brothers to stage the attack.
Days before the attack, Smollett texted Abimbola Osundairo saying he "might need (his) help on the low," the city of Chicago alleges in a separate lawsuit targeting Smollett. They allegedly discussed the attack, with Smollett saying he was upset with the way his employers handled a racist and homophobic letter he had allegedly received days earlier.
The day before they carried out the hoax, Smollett drove the brothers to the area where he wanted the attack to occur, the city's complaint states, making sure to point out a nearby surveillance camera he hoped would capture the incident on video.
Smollett then allegedly gave Abimbola Osundairo a $3,500 check and provided the brothers with $100 to purchase a rope and other materials needed for the attack.
"Mr. Smollett's motivation was simple," the brothers say in their lawsuit. "He wanted his employer and the public to notice and appreciate him as a successful Black, openly gay actor. So, Mr. Smollett directed every aspect of the attack, including the location and the noose."
Smollett was arrested in February and charged with disorderly conduct for filing a false police report. A grand jury later indicted him on additional counts stemming from the same incident. But in a surprise move last month, the state's attorney's office dropped those changes in exchange for Smollett forfeiting his $10,000 bond.
The Osundairo brothers claim this move was "notably unheard of in Cook County" and suggest Smollett's fame may have influenced that agreement.
"Many argued the Cook County State's Attorney botched the prosecution of Mr. Smollett's case," the lawsuit states. "Some suggested that the State's Attorney cut him a deal due to his affluence and celebrity."
After charges against Smollett were first filed, Chicago Police Superintendent Eddie Johnson called the alleged hoax a "slap in the face" to all Chicagoans. Attorneys for the Osundairos carried that theme into a press conference Tuesday, accusing Geragos and Glandian of a smear campaign against the city.
"My city, my police department and my client all deserve to have their reputations restored," said Gloria Schmidt, a Chicago attorney representing the brothers. "We want to end these malicious attacks and ensure that those responsible for continuing to destroy the reputation of the Chicago Police Department and that of the (Osundairo brothers) are held accountable."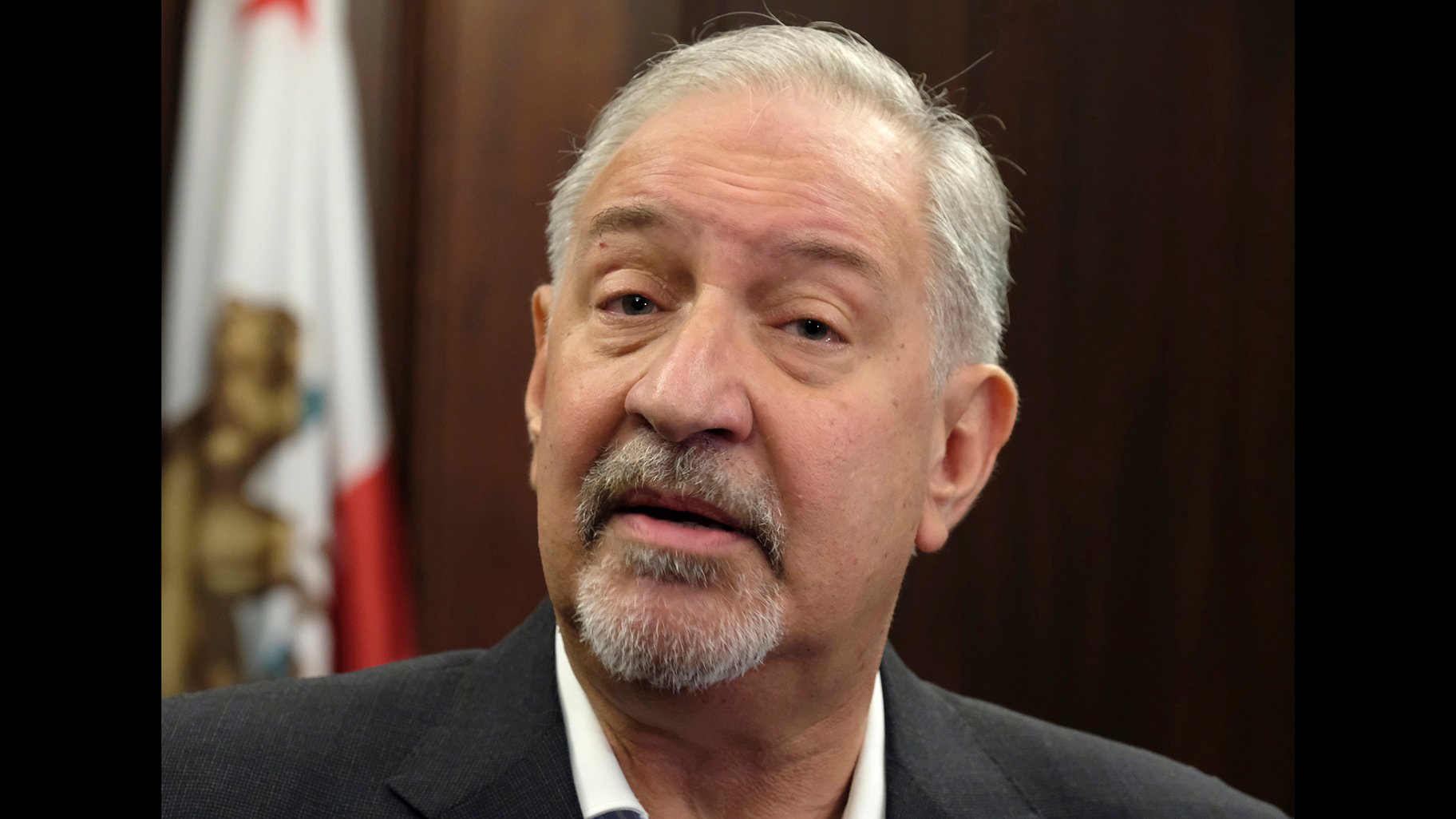 This Sept. 2, 2016 file photo shows attorney Mark Geragos talking to the media during a news conference in downtown Los Angeles. Two brothers who said they helped Jussie Smollett stage a racist and homophobic attack against himself are suing the "Empire" actor's attorneys including Geragos, for defamation. (AP Photo/Richard Vogel, File)
In their lawsuit, the brothers point to media appearances Glandian and Geragos made on national television in which they repeatedly insisted Smollett was innocent of any crime. In one appearance, Glandian allegedly said the brothers had dressed in "whiteface" and battered Smollett.
She also alleged Abimbola Osundairo and Smollett had engaged in a brief homosexual relationship – a claim the brothers strictly deny. The lawsuit also claims Geragos implied the brothers lied under oath about the attack during grand jury testimony.
The brothers feel "unsafe and alienated" in Chicago because of these statements, according to their attorneys, and have struggled to find work and make ends meet since this hoax attack.
"We have sat back and watched lie after lie being fabricated about us in the media only so one big lie can continue to have life," the brothers said in a statement Tuesday morning. "We will no longer sit back and allow these lies to continue."
Contact Matt Masterson: @ByMattMasterson | [email protected] | (773) 509-5431
---
Related stories:
Chicago to Sue Jussie Smollett After He Refuses to Pay
Emanuel: City Seeks to Recover Investigation Costs from Smollett
2 Major Cases Add Up to Big Doubts About Chicago Prosecutor
Confused by Jussie Smollett Case? Here's What You Need to Know.
Trump Calls on FBI, DOJ to Review Jussie Smollett Case
Kim Foxx Backs Dismissal of Charges in Jussie Smollett Case
---