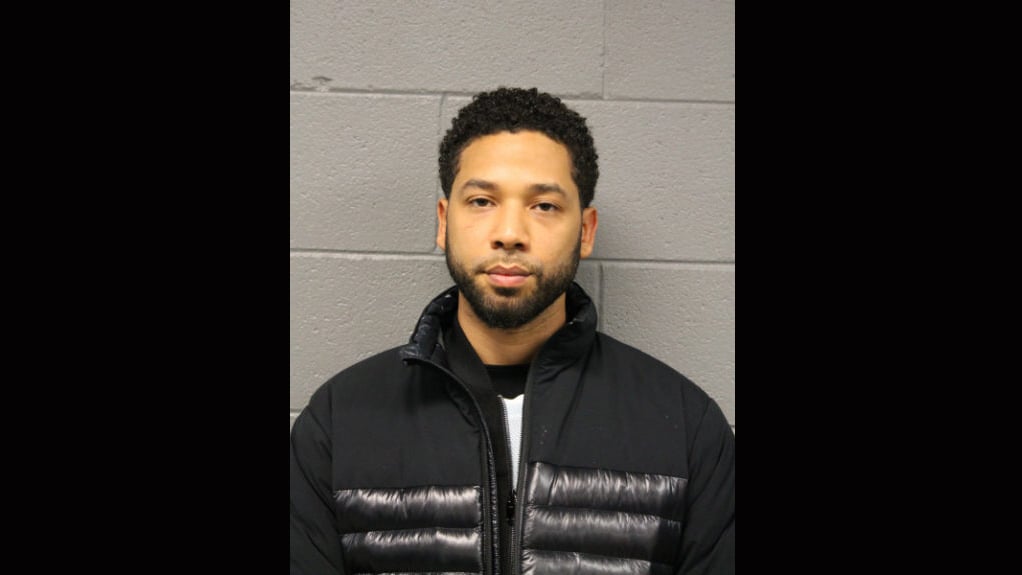 Booking photo of Jussie Smollett (Chicago Police Department)
A Cook County grand jury has retuned 16 counts of disorderly conduct against "Empire" actor Jussie Smollett following an alleged hoax in which he's accused of paying two brothers to stage a racist, anti-gay attack on himself.
A spokesman for Cook County State's Attorney Kim Foxx on Friday confirmed the additional charges, which were returned on Thursday. Smollett was previously charged with a single felony count of disorderly conduct last month.
Smollett, 36, initially reported to Chicago police that he had been attacked in the early morning hours of Jan. 29 by two men in the Streeterville neighborhood. Early police statements indicated the two suspects had yelled racial and homophobic slurs at Smollett before they hit him in his face, poured "an unknown chemical substance" on him and wrapped a "rope" around his neck.
Smollett, 36, allegedly told detectives the attackers also yelled he was in "MAGA country" in an apparent reference to President Donald Trump's "Make America Great Again" campaign slogan. The actor did suffer minor injuries, but police believe those were self-inflicted.
The incident was initially treated as a possible hate crime and came a week after Smollett said he had received a letter containing a homophobic message and a "white powder." That powder was later determined to be crushed aspirin.
Suspicion about Smollett's account started with reports that he had not fully cooperated with police after telling authorities he was attacked.
Chicago Police have alleged Smollett planned the hoax because he was unhappy with his salary and wanted to promote his career.
As Supt Johnson stated, allegations against Mr. Smollett are shameful & if proven, they are an affront to the people of Chicago who embraced him as a neighbor & respected him as a role model. We stand behind the work of detectives & refer any comment on indictment to prosecutors https://t.co/7bFECluCSP

— Anthony Guglielmi (@AJGuglielmi) March 8, 2019
---
Smollett's attorney Mark Geragos said the indictment itself was expected, but he called the 16 new counts "prosecutorial overkill."
"This redundant and vindictive indictment is nothing more than a desperate attempt to make headlines in order to distract from the internal investigation launched to investigate the outrageous leaking of false information by the Chicago Police Department and the shameless and illegal invasion of Jussie's privacy in tampering with his medical records," Geragos wrote in an emailed statement Friday night.
Geragos added his client adamantly maintains his innocence, "even if law enforcement has robbed him of that presumption."
CWBChicago first reported on the new charges in a story published Friday afternoon. That report states the true bill of charges returned by the grand jury indicates Smollett had lied about the attack to two officers, including "the beat cop who took his initial report and a detective who conducted a follow-up interview the same day."
The Associated Press contributed to this report.
Contact Matt Masterson: @ByMattMasterson | [email protected] | (773) 509-5431
---
Related stories:
Brothers in Smollett Case Say They Have 'Tremendous Regret'
Judge Allows Smollett to Travel to Meet with Attorneys
Prosecutor: Jussie Smollett Gave Detailed Instructions for Fake Attack
Police: Jussie Smollett's Staged Attack a 'Slap in the Face' to Chicago
'Empire' Actor Jussie Smollett Charged with Disorderly Conduct
---