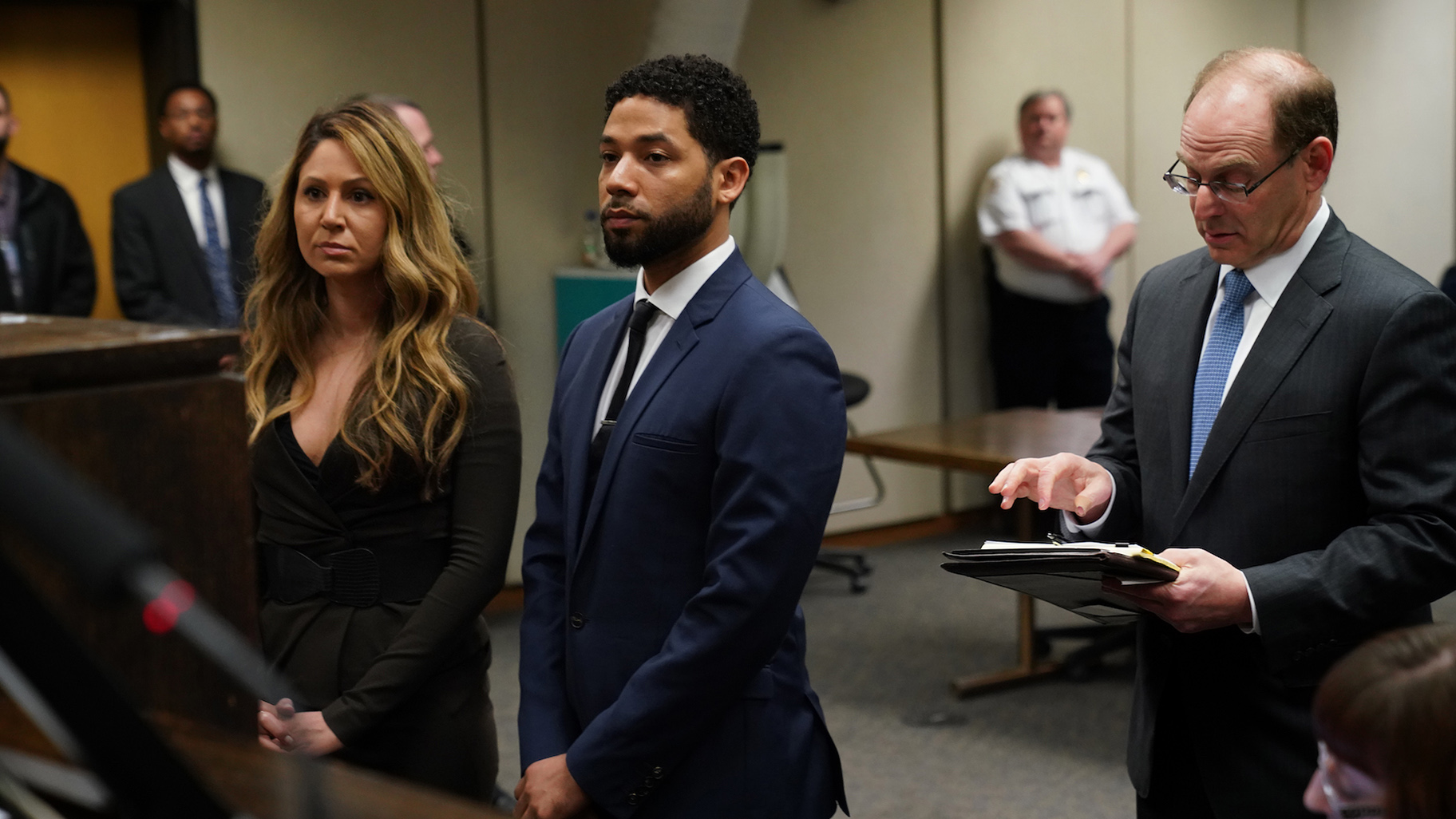 Jussie Smollett appears at a hearing for judge assignment with his attorney Tina Glandian, left, at the Leighton Criminal Court Building on Thursday, March 14, 2019. (E. Jason Wambsgans / Pool / Chicago Tribune)
Jussie Smollett's case won't be transferred to another court and the judge handling the proceedings won't revisit his earlier ruling allowing a special prosecutor to potentially refile criminal charges against the former "Empire" star.
Cook County Judge Michael Toomin on Wednesday denied a pair of motions filed on Smollett's behalf seeking a judge substitution and leave to allow the actor to intervene in the ongoing proceedings.
"Today was a good day for justice," said former appellate judge Sheila O'Brien, who successfully petitioned Toomin to appoint a special prosecutor on the case earlier this year. "Another good day for justice."
Because Smollett was barred from intervening, Toomin did not hear arguments on another motion filed asking the judge to reconsider his special prosecutor ruling, which could potentially open the actor up to future criminal charges.
Smollett's attorney Tina Glandian called it "mind-boggling" that her client hasn't been allowed to intervene in a case in which he is directly involved.
"It's become abundantly clear that nobody actually wants to deal with the merits of this case," she told reporters after the hearing. "Nobody really wants the truth."
But O'Brien contends her petition has nothing to do with the merits of the case. Rather, she's argued that it's about who has the jurisdiction to prosecute the case following the recusal of Cook County State's Attorney Kim Foxx.
Smollett was first charged in February, a month after he told police he'd been the victim of a racist and homophobic attack near his Streeterville residence in late January. But after weeks of investigation, Chicago detectives determined Smollett had orchestrated the attack on himself and lied to police about it.
They claimed the actor paid brothers Olabinjo and Abimbola Osundairo some $3,500 as part of a hoax intended to raise his public profile. A grand jury eventually indicted Smollett on 16 felony counts of disorderly conduct for filing a false police report.
Those charges were abruptly dismissed in March by Foxx's top assistant, Joseph Magats, who Foxx had chosen to handle the case after stepping away. O'Brien challenged Foxx's decision in April and Judge Toomin ruled last month Foxx's actions were improper as she did not have the authority to hand the case over to anyone following her recusal.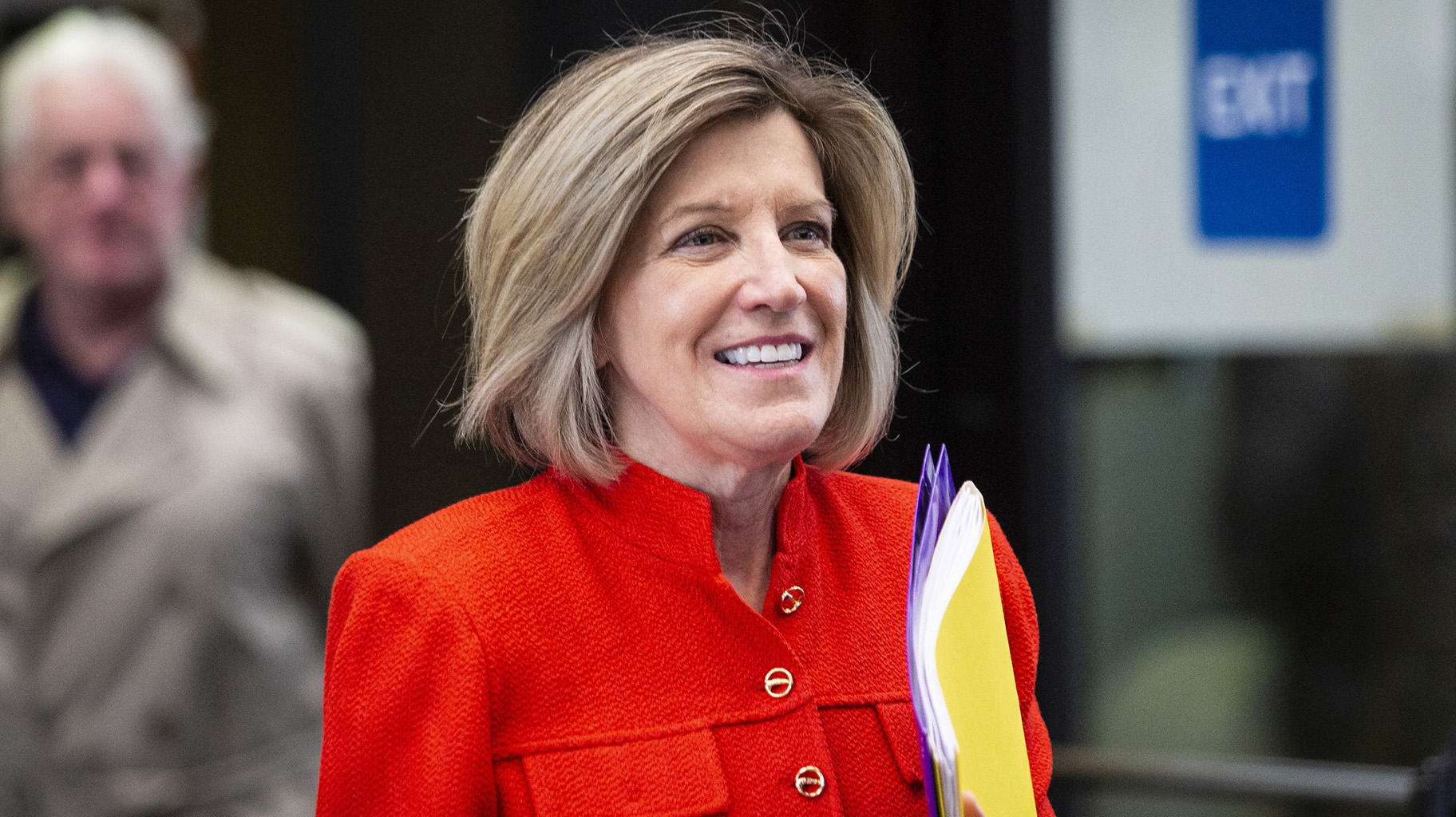 Former state appeals court Judge Sheila O'Brien walks out of the Leighton Criminal Courthouse in Chicago after a hearing about appointing a special prosecutor to investigate the Cook County state's attorney's office handling of "Empire" actor Jussie Smollett's case, Thursday, May 2, 2019. (Ashlee Rezin / Chicago Sun-Times via AP)
Smollett's attorneys have called the case a "travesty of justice" and maintained their client was the victim of a real attack perpetrated by the Osundairo brothers.
The brothers, however, claim Smollett paid them to carry out the staged attack to help boost his public profile. Their testimony before a grand jury earlier this year led to the initial indictment against Smollett.
Smollett's attorneys had also filed a motion seeking to unseal transcripts from those grand jury proceedings. But Toomin on Wednesday refused to hear arguments on that after denying their motion to intervene.
His attorneys argued Toomin relied on "false media reports" to presume Smollett is guilty of the criminal charges he faced, despite the fact he pleaded not guilty and the charges were eventually dismissed. They also claim Toomin misapplied the law with his "vague and overbroad" ruling that a special prosecutor may prosecute their client "if reasonable grounds exist" and it's in the "interest of justice."
They maintain those grounds don't exist, as the only evidence showing the attack was a hoax is "self-serving statements" made by the Osundairos themselves.
Glandian said she and fellow attorney Mark Geragos will consider appealing the judge's rulings.
Toomin has not yet selected a special prosecutor. No more court dates will be scheduled in the case until that decision is made.
Contact Matt Masterson: @ByMattMasterson | (773) 509-5431 | [email protected]
---
Related stories:
Ex-Judge: Smollett's Lawyers Not Allowed to Practice Law in Illinois
Jussie Smollett's Attorneys Seeking to Reverse Special Prosecutor Ruling
Judge Orders Special Prosecutor to Examine Smollett Probe
Chicago Releases 911 Calls from Smollett Incident in January
Kim Foxx: False Rumor Caused Recusal in Jussie Smollett Case
Read: Chicago Police Release First Wave of Jussie Smollett Documents
Read the Newly Released Jussie Smollett Case File
Judge Orders Jussie Smollett Case File to be Unsealed
---