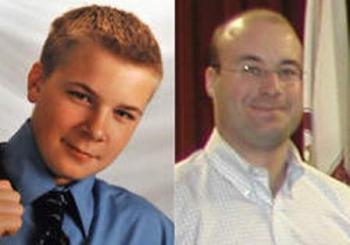 Richard (RJ) Vanecko, the nephew of former Mayor Richard M. Daley, pleaded guilty today to involuntary manslaughter in connection with the death of 21-year-old David Koschman in 2004.
"When RJ Vanecko and Nanci Koschman, the defendant and the mother of the dead victim, both walked into court today, it was clear that something had suddenly developed because neither was scheduled to be here today," said Chicago Tonight Correspondent Carol Marin. "We knew it was a plea deal."
David Koschman died 11 days after hitting his head on the concrete following an altercation in which Vanecko threw a single punch during a drunken encounter in the Rush street area.
Vanecko pleaded guilty today to felony involuntary manslaughter in the death of 21-year-old David Koschman in 2004. The plea deal was unexpected as Vanecko's trial date was set for Feb. 18.
Vanecko was sentenced to 60 days in jail, followed by 60 days of home confinement and 30 months probation. He was also ordered to pay Nanci Koschman $20,000 in restitution and to apologize.
"The first time she ever saw him in person was in court today," said Marin. "He said, 'I have felt terrible since the moment that I heard David was injured. When he passed, I was shocked. I extend my sincerest apology.'"
Koschman accepted Vanecko's apology by quietly saying, "thank you."
"Koschman addressed the court, saying she hadn't slept at all last night," said Marin. "She said, 'It was all about David. He was the light of my life and he meant everything to me.'"