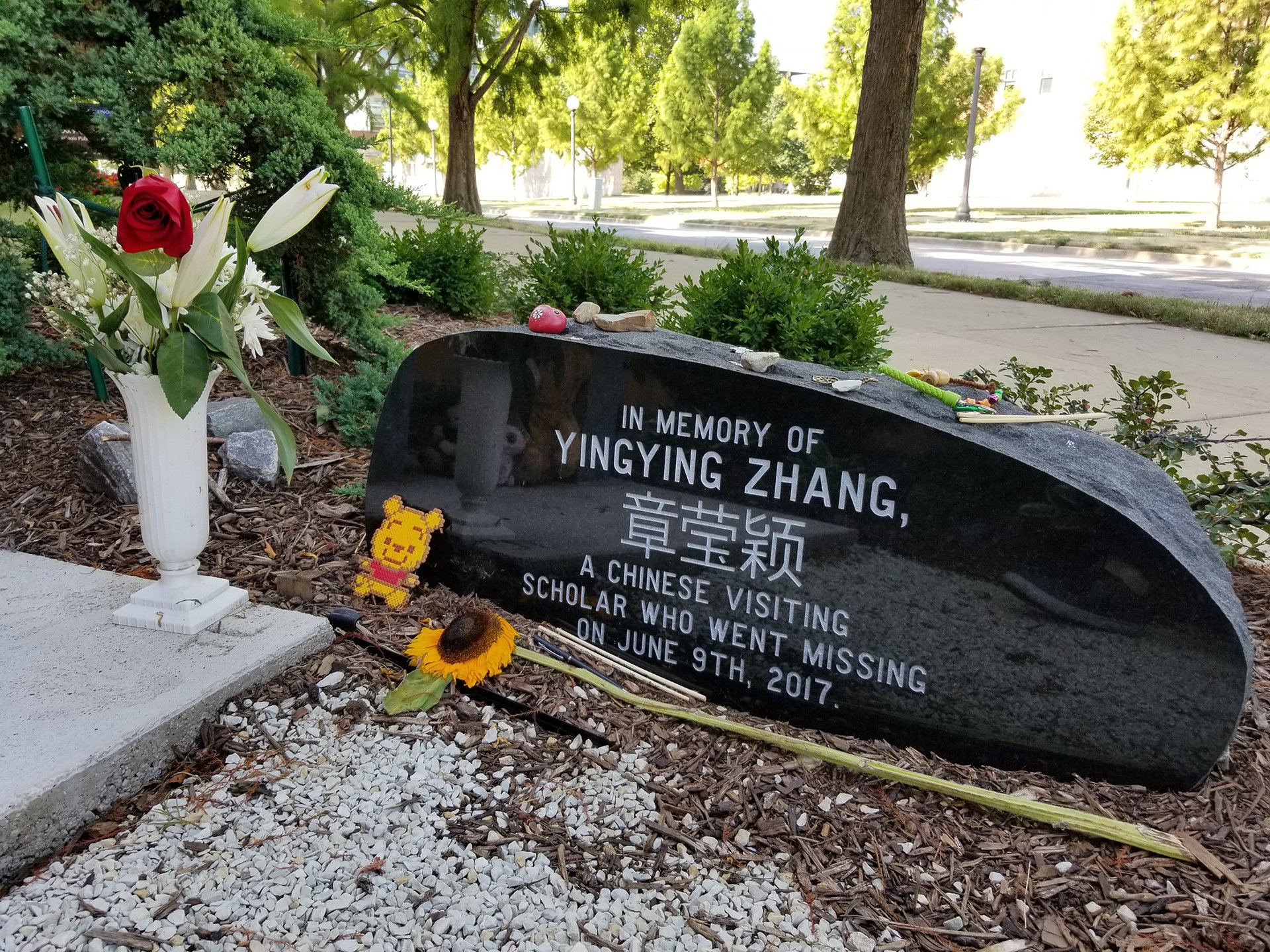 A memorial stone engraved with Yingying Zhang's name in both English and Chinese on the campus of the University of Illinois at Urbana-Champaign on Aug. 7, 2019. (Matt Masterson / WTTW News)
After killing Chinese scholar Yingying Zhang, Brendt Christensen placed her butchered body in three separate garbage bags, which he tossed in a dumpster outside his Champaign apartment before disposing of her personal items among trash receptacles around the Champaign-Urbana area.
That's according to statements Christensen made to federal prosecutors under an immunity agreement in November 2018, which offers the first legitimate information on Zhang's possible location since she was last seen alive in June 2017.
But even with that new information, recovery may be impossible as investigators believe the size of Zhang's remains by now could be "smaller than a cellphone."
"If what that man said is true, it further confirms that he is a heartless and evil person," Zhang's father, Ronggao Zhang, said through a translator during a press conference Wednesday in Urbana. "We condemn his brutal and malicious actions and we hope that he suffers the rest of his life as he made Yingying suffer in the final moments of her life."
"We now understand that finding (Yingying) may be impossible," he said.
Zhang's family was notified by prosecutors last month that Christensen's defense team provided information about the "potential site" of the remains in a landfill in Vermilion County along the Illinois-Indiana border.
In statements to his attorneys, Christensen claimed that on June 10, 2017, one day after kidnapping and murdering Zhang, he put her dismembered remains in a trio of garbage bags. Those were left in a dumpster right outside his apartment and were likely removed during regular trash collection three days later.
The contents of the dumpster were taken to a private landfill in Danville, Illinois, where they were compacted at least twice, according to Zhang family attorneys Steve Beckett and Zhidong Wang. They claimed federal authorities are still considering an attempt to recover Zhang's body.
But even with that knowledge, conducting a search of the landfill is a process fraught with challenges.
"It is evident that any attempt to recover Yingying's remains would be complicated and expensive, would require government oversight and the cooperation of the landfill owners, and would have no certainty of success," Beckett said.
The area where Zhang's body was likely dumped is some 50 yards wide and was covered with at least 30 feet of garbage from other dumpster collections. Any excavation would involve removing tons of garbage from the scene entirely – which could expose workers to hazardous materials and cause possible environmental issues.
"(Federal investigators) described for us that at this stage, with decomposition and then compaction, the size of the remains could be smaller than a cellphone," Beckett added.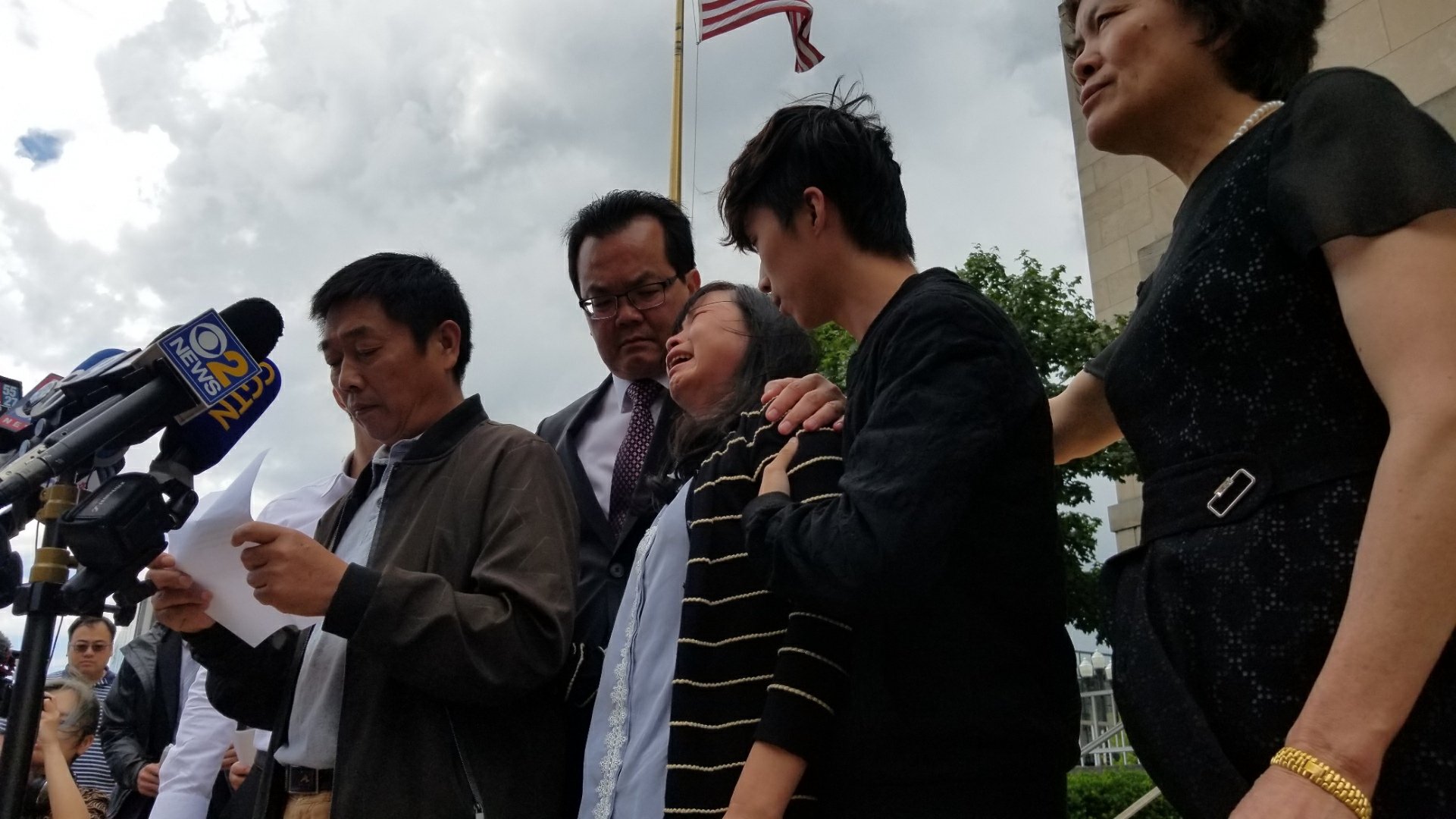 Yingying Zhang's father, Ronggao Zhang, reads a statement in Chinese outside the federal courthouse in Peoria, Illinois, on Monday, June 24, 2019, moments after a 12-person jury found Brendt Christensen guilty of her kidnapping and death. Yingying Zhang's mother, Lifeng Ye, sobs as her husband addresses the media. (Matt Masterson / WTTW News)
'We are really miserable'
Zhang was last seen alive on June 9, 2017 getting into Christensen's black Saturn Astra on the University of Illinois campus after she missed a bus to an appointment. The two did not previously know each other.
FBI investigators testified they found her blood and DNA inside Christensen's Champaign apartment, where the former Ph.D. candidate raped, beat and decapitated her, according to a statement he made to his then-girlfriend as they attended a memorial vigil for Zhang. Christensen was unaware his girlfriend was cooperating with the FBI and wearing a wire.
Christensen was convicted in June of kidnapping resulting in death and two counts of making false statements to the FBI. It took jurors just two hours to reach a verdict after the defense admitted in their opening statements that Christensen did, in fact, kill Zhang.
He faced a possible death sentence, but last month was sentenced to life in prison without the possibility of release after jurors could not unanimously agree on a sentence.
Ronggao Zhang on Wednesday said he and his family have not yet decided whether they will stay in the U.S. in hopes of a possible search, or return to their native China. They're now working with U. of I. officials to set up a gravesite somewhere on campus after already creating a new endowment through the university.
"We are really miserable," Ronggao Zhang said, upon learning what happened to his daughter. Yingying's mother, Lifeng Ye, was in tears throughout the press conference before excusing herself from the room.
"You see my wife, she cannot control herself at the moment," Ronggao Zhang continued.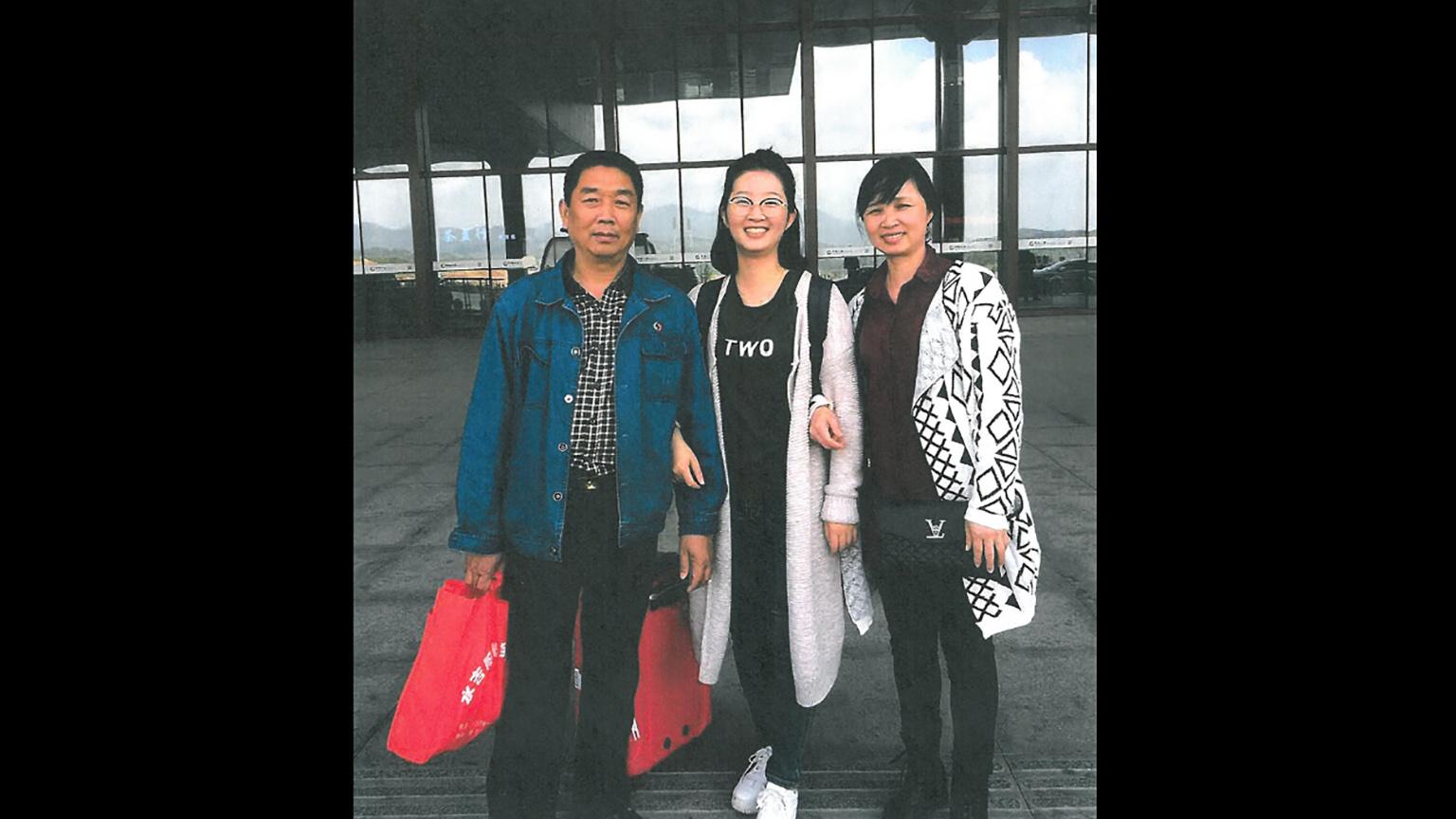 Yingying Zhang, center, stands with her parents at a train station in China in 2017. This marked the last time they saw their daughter alive. (U.S. Attorney's Office)
Christensen had offered to tell prosecutors what he did with Zhang's remains as early as 2017, seeking a plea deal that would have spared him from the federal death penalty. But prosecutors rejected that offer.
Christensen's defense team again approached Assistant U.S. Attorney Eugene Miller in 2018 to inform them of Christensen's statements and see if they could somehow pass that information along without having it used at Christensen's trial.
Miller and the defense ultimately reached an immunity agreement. But under that deal, prosecutors were barred from disclosing any of that information to anyone until after that trial had concluded.
A week after sentencing, prosecutors sat down with Zhang's family and informed them of Christensen's claims. 
His attorneys say the information their client provided is accurate. But Zhang's family remains wary of any information provided by the man who killed their daughter.
"Christensen lied so many times," Zhidong Wang said. "We do not believe his attorneys had any reason to lie to the prosecution's team. But at the same time, no one can say for sure Christensen told his attorneys the truth."
Contact Matt Masterson: @ByMattMasterson | (773) 509-5431 | [email protected]
---
Related stories:
Family Told Dead Chinese Scholar's Body May Be in Landfill
Brendt Christensen Sentenced to Life in Prison for Yingying Zhang Killing
Brendt Christensen Jury Deliberations Begin After Lengthy Closing Arguments
Jurors Likely to Begin Deliberating Brendt Christensen Sentence This Week
Christensen Breaks Down During Emotional Testimony from Yingying Zhang's Family
'She Was the Hope of Her Family': Sentencing Underway in Yingying Zhang Murder Case
Brendt Christensen Offered to Reveal Location of Yingying Zhang's Body
Brendt Christensen Found Guilty in Kidnapping, Death of Yingying Zhang
Defense Attorney: 'Brendt Christensen Killed Yingying Zhang'
---