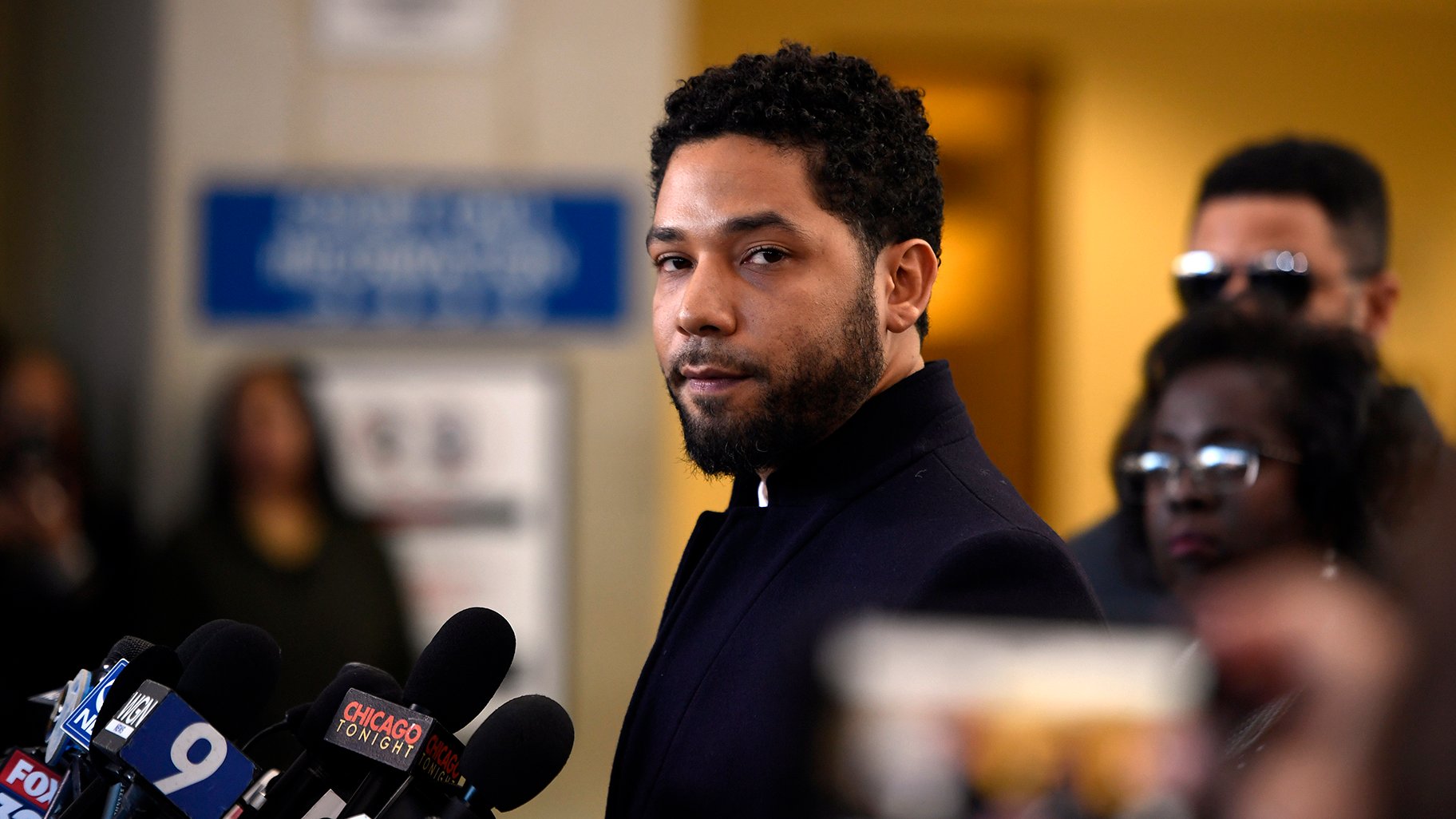 Actor Jussie Smollett talks to the media before leaving Cook County Court after his charges were dropped, Tuesday, March 26, 2019. (AP Photo / Paul Beaty)
A Cook County judge has ordered the case file for "Empire" actor Jussie Smollett to be unsealed, nearly two months after the Cook County State's Attorney's Office dropped more than a dozen felony charges against him.
Judge Steven Watkins on Thursday vacated a sealing order that had kept the case file removed from the public eye following intense public scrutiny over the prosecution's handling and dismissal of the high-profile case.
"Now that that order has been vacated, the state's attorney's office will review its files and turn over any documents that were previously sealed as a result of the sealing order that are now available to the public," Assistant State's Attorney Cathy McNeil-Stein told media after Thursday's hearing.
Smollett, 36, wanted the case file to remain sealed, citing privacy concerns.
But Smollett "voluntarily appeared on national television for an interview speaking about the incident in detail," the judge wrote. "After the March 26 dismissal, he voluntarily stood in front of cameras from numerous news organizations in the courthouse lobby and spoke about the case. On several occasions, attorneys for defendant, presumably with his authorization, appeared on various media outlets speaking about the case."
The judge added, "These are not the actions of a person seeking to maintain his privacy or simply to be let alone."
Hours after Watkins' decision, the county clerk's office released to the media hundreds of pages of court filings and documents related to the case.
The actor told police he'd been beaten in the early morning hours of Jan. 29 by two men who were yelling racist and homophobic slurs at him and wrapped a noose around his neck on the Near North Side. But police say the actor's claim eventually unraveled as they discovered Smollett had paid two brothers to stage the attack.
He was charged with disorderly conduct for filing a false police report. A grand jury later returned 16 similar charges against him in March.
But by the end of that month, Cook County prosecutors had dropped all the charges in lieu of what they called an "alternative prosecution." The case file was sealed immediately afterwards, despite attempts by media attorneys to open the file up to the public.
"This is about transparency and trust in the system and we believe the public has a right to know what the government did here and why," media attorney Natalie Spears said after the hearing.
State's Attorney Kim Foxx has faced constant scrutiny since the dismissal. Foxx recused herself, but not her office, from the Smollett case in February, leaving First Assistant State's Attorney Joseph Magats in charge. That move came after Foxx had asked Police Superintendent Eddie Johnson to turn over the then-ongoing investigation to the FBI at the behest of a Smollett family representative, according to the Chicago Tribune. That request came at a time when Smollett was still presumed to be the victim of an attack.
The state's attorney's office on Thursday issued a statement saying Foxx is "pleased to be able to provide the public with even greater transparency in this matter than was previously possible because of the sealing order."
Former appellate judge Sheila O'Brien, who is petitioning for a special prosecutor to re-examine the Smollett case, called Watkins' ruling a "good first step," but added "more needs to be done," saying Foxx needs to come forward and explain publicly the decision process behind how the case was handled.
"The handling of the Jussie Smollett case by this state's attorney has been a disaster," she said during a press conference Thursday afternoon. "Ms. Foxx, please tell us the truth, whatever it is. Tell us the truth, the whole truth. Please no more cover-up."
Smollett never had to take responsibility for his alleged crime and has always maintained his innocence.
The Associated Press contributed to this report.
Contact Matt Masterson: @ByMattMasterson | mmasterson@wttw.com | (773) 509-5431
---
Related stories:
Recusal Request Derails Hearing on Special Prosecutor in Smollett Case
Foxx Opposes Special Prosecutor in Smollett Case
2 Major Cases Add Up to Big Doubts About Chicago Prosecutor
Confused by Jussie Smollett Case? Here's What You Need to Know.
Trump Calls on FBI, DOJ to Review Jussie Smollett Case
Kim Foxx Backs Dismissal of Charges in Jussie Smollett Case
---