Just in time for summer, Chicagoans have a new way to explore all the outdoor options available to them.
Chicago-based environmental nonprofit Openlands recently launched a "Get Outside Map" that serves as an interactive guide to hundreds of outdoor sites in and around the city, including parks, forest preserves, hiking trails, picnic shelters and more.
The free, online tool allows users to explore sites via a map or search by location, activity, amenities and other options. Filters allow users to identify sites for bird-watching, fishing, horseback riding and even geocaching, among other activities.
The map currently features info on 350 sites across northern Illinois, northwest Indiana and southeastern Wisconsin. Each location has its own page with a list of activities, photos, a link with directions and info about upcoming events.
"Connecting the people of the Chicago region to nature close to where they live is fundamental to our mission at Openlands," said Jerry Adelmann, Openlands' president and CEO, in a statement. "At a time when more and more Americans are expressing greater interest in nature, while believing they have less time and fewer places to enjoy it, we've committed to providing a way for residents to quickly and easily find places to explore the outdoors, right here near Chicago."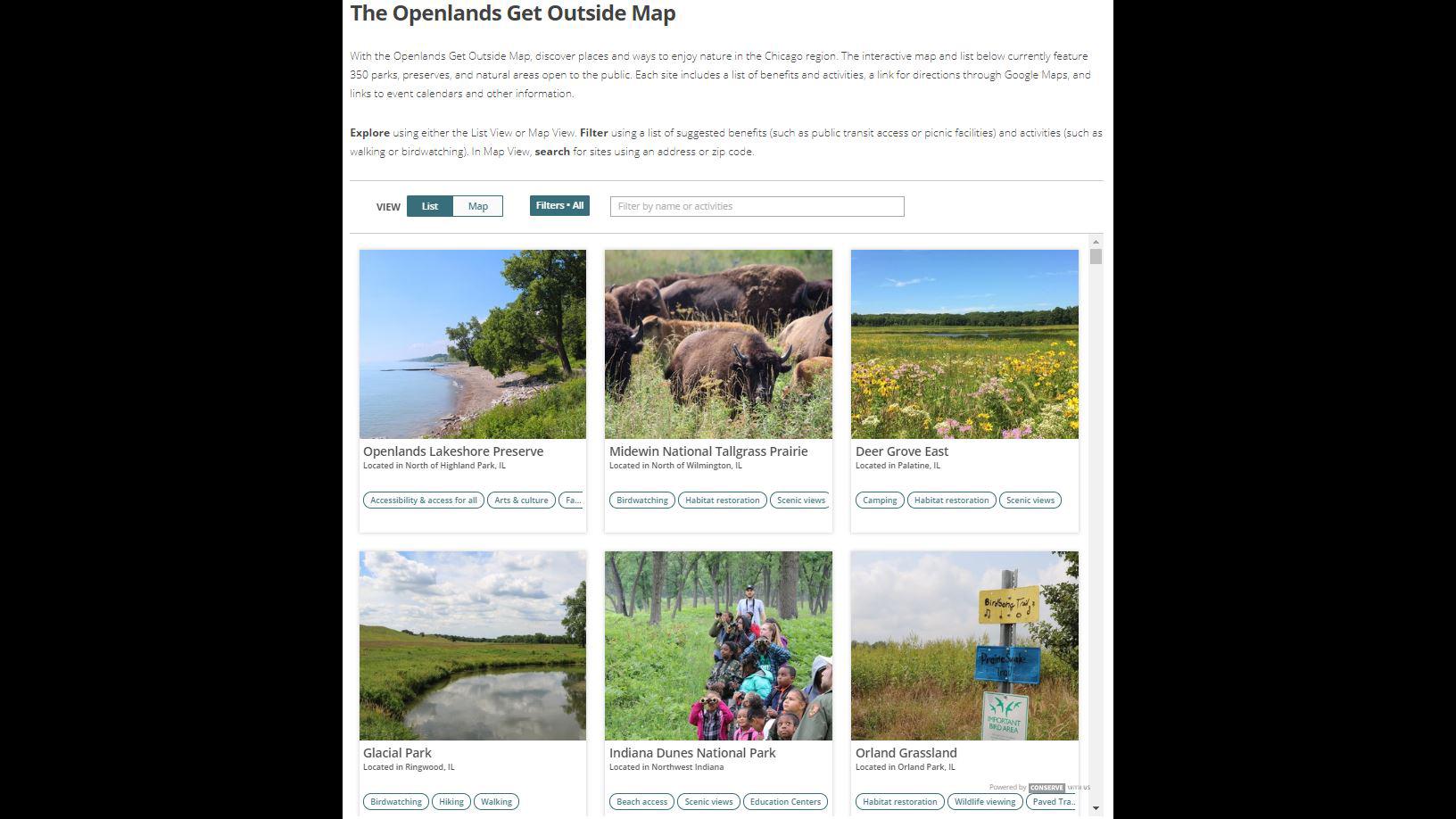 Openlands' new tool allows users to search for outdoor activities in and around Chicago. (Openlands)
The map presents opportunities to explore a canyon in Cook County, canoe or kayak through river rapids, spot bald eagles along the Illinois River, search for bison while traversing a converted military base and other outdoor adventures. 
Although the new tool was launched with warmer temperatures in mind, it is not exclusive to summer recreation options. Come winter, users will be able to use the map to identify sites for cross-country skiing, snowshoeing and other cold-weather activities.
"There are so many options for us to experience nature close to home, and we want to reinforce the idea that you don't need to go to Montana or Arizona or even northern Michigan," said Brandon Hayes, Openlands's communications director, in a statement. "So many people think nature around Chicago starts and ends with Starved Rock State Park, but that's just not true. There are many dedicated land management agencies here in the region working to protect nature and inviting us to share it, and this map highlights those opportunities."
Note: This story was first published July 1, 2019. It has been updated.
Contact Alex Ruppenthal: @arupp | [email protected] | (773) 509-5623
---
Related stories:
Try These 10 Summer Outdoor Adventures Without Leaving Illinois
2019 Chicago Summer Festival Guide
Take it Outside: 10 Summer Activities In and Around Chicago
6 Weekend Ideas for a Summer Road Trip or Chicago Staycation
List: Free Summer Concerts in Millennium Park's Pritzker Pavilion
10 Things About Chicago Beaches You Might Not Know
Lakefront Trail Users Adjusting to Newly Separated Bike, Pedestrian Paths
Get Fit at Free Outdoor Workouts in Chicago This Summer
An 'Open Swim' in the Chicago River is in the Works for September
10 Outdoor Spots to Unwind and De-Stress in Chicago
---