Video: Doug McConnell talks about a planned swim in the Chicago River on "Chicago Tonight."
---
Doug McConnell has swam in New York's Hudson River, the Boston Harbor and even the English Channel. Now he wants to make a splash in his own city.
McConnell, of Barrington, and co-organizer Don Macdonald, of Chicago, are in the final stages, they hope, of planning an "open swim" in the Chicago River.
"Nobody in their right mind can [imagine] actually swimming in [the river]," McConnell said. "But if you look at the numbers, it really has improved to the point where you can [safely] have direct exposure."
That's true, at least most of the time, according to advocates for the river and data tracking its improvement in recent years and over the past century. However, the Metropolitan Water Reclamation District of Greater Chicago has said that while the quality of Chicago-area waterways has improved, "they are not designed for swimming."
Given the challenges of swimming in an urban river, McConnell said the event would be open to just a few hundred experienced swimmers – "so that we're not plucking people out of the water all over the place."
In future installments, McConnell said he could see the event growing to include several thousand swimmers.
"But in all cases, we want to put people through an application process so that we know that they've got some credentials," he said.
McConnell said city officials didn't know how to respond when he first approached them about a potential open swim event.
"It is such an outlandish idea, nobody really knows where to send you," he said.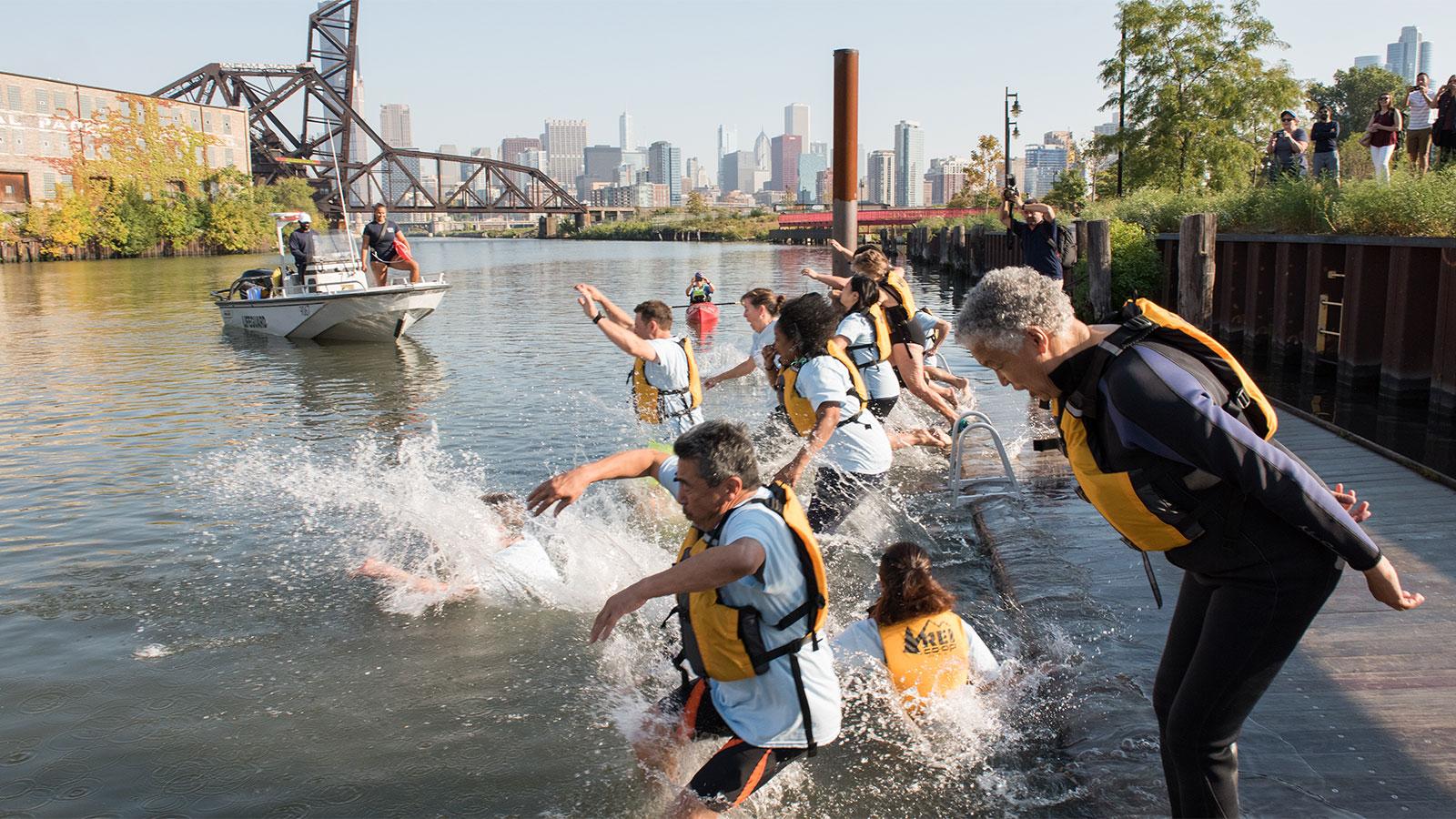 Cook County Board President Toni Preckwinkle and other elected officials jump into the Chicago River during the "Big Jump" event in September 2017. (Courtesy Metropolitan Water Reclamation District)
After months of research and navigating various departments, McConnell said organizers have conditional approval from the Chicago Park District to hold the event in the morning on Sept. 15, a Sunday.
Organizers have a 75-page safety plan with a map outlining ideal positions for lifeguards, buoys, kayaks (for safety personnel) and other elements to make sure the swim runs smoothly.
The event would start along the river's South Branch at Ping Tom Memorial Park in Chinatown. Participants would swim north for about 2.4 miles and exit on the Chicago Riverwalk near the Clark Street Bridge.
Organizers still need sign-off from the sites where swimmers would enter and exit the river.
"It's not against the law to swim in the river," McConnell said. "However, you do need approval from the property owners where you get in and where you get out."
McConnell said the event would raise money for research of amyotrophic lateral sclerosis, or ALS, also known as Lou Gehrig's disease. Organizers also want proceeds from the event to go toward youth swimming lessons, potentially through the Park District, McConnell said.
McConnell said he hopes to have plans for the event finalized in the next two weeks.
"We're just trying to muscle our way through all these approvals and get this hammered down," he said.
For more information, visit the organizers' website or its Facebook page.
Contact Alex Ruppenthal: @arupp | [email protected] | (773) 509-5623
---
Related stories: