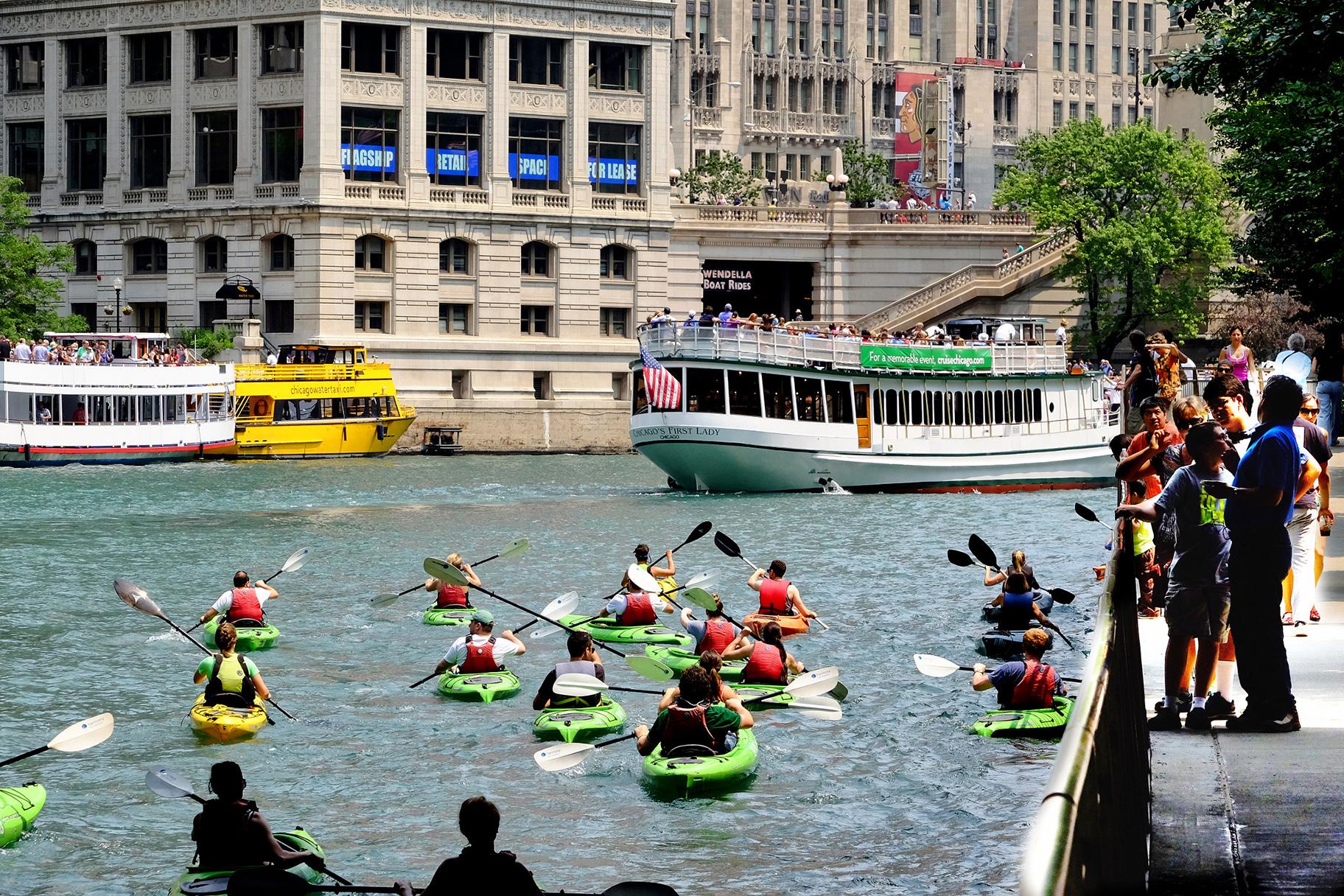 Kayakers on the Chicago River (Brian Kay / Wikimedia Commons)
Chicago summers are nature's way of rewarding your winter survival skills. And now that warm weather is here, it's time to turn off your latest Netflix binge, get off the couch and actively embrace the season. 
Here are 10 fun, easy ways to do just that in the city and suburbs.
---
1. Swing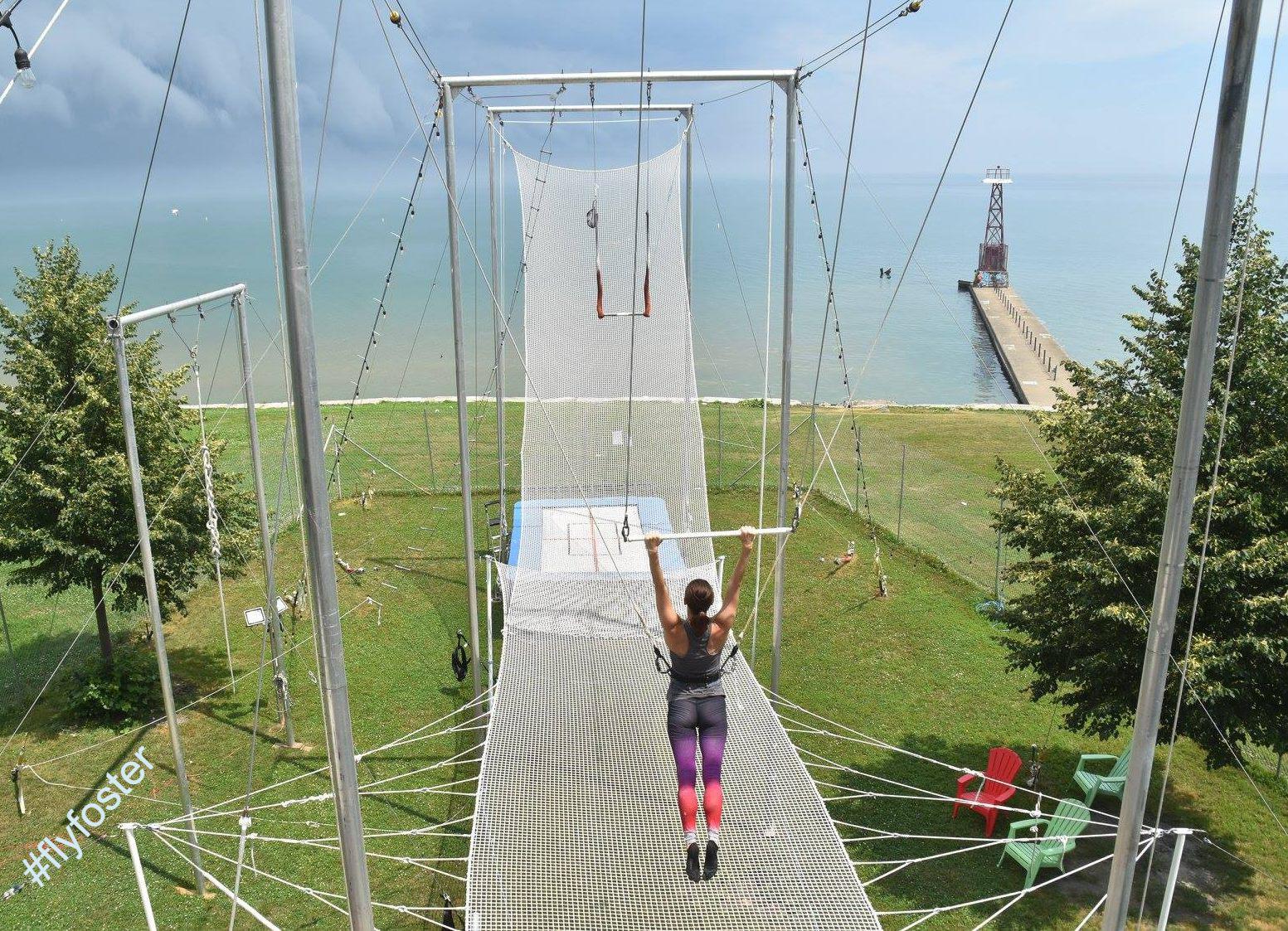 (Courtesy Trapeze School New York Chicago)
Circus enthusiasts and wannabe pilots: take advantage of outdoor flying and aerialist classes at Trapeze School New York Chicago, which recently moved from Belmont Harbor to Foster Avenue Beach.
The options here are many. Flying trapeze classes let students of all fitness levels fly through the air while connected to safety lines. Static trapeze – which involves a stationary bar used for a variety of seated, standing and hanging poses – allows you to use your own body to create momentum and show off more advanced skills.
And then there's the trampoline, which helps you learn basic body awareness skills and train for somersaults and twisting.
Classes are open to all ages; the Trapeze School also offers a number of programs specifically for kids ages 6 to 14, including mini-workshops, an all-day circus experience and a summer adventure program.
2. Hold tight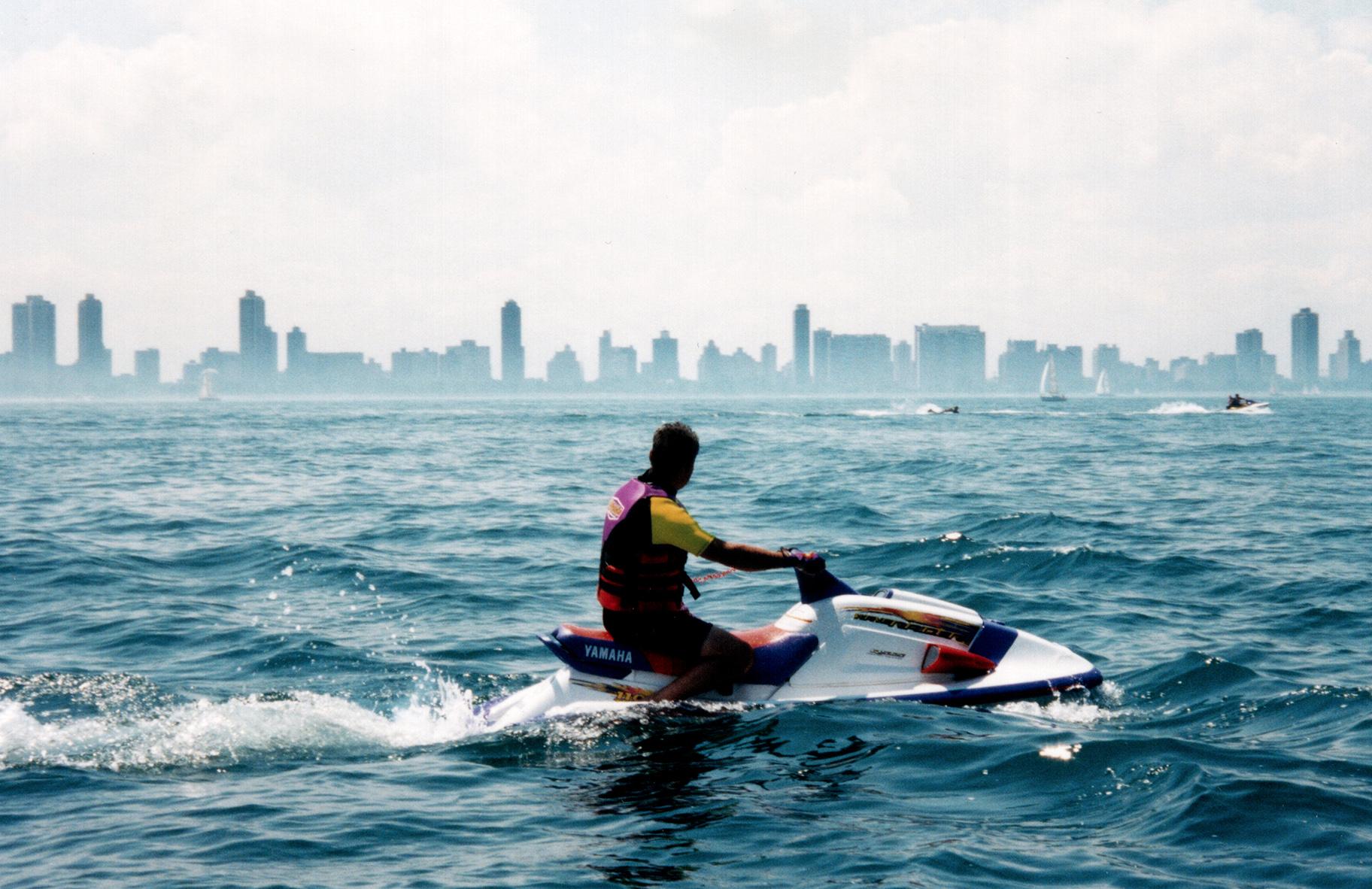 (VV Nincic / Flickr)
Soak up the sun and make waves this summer on Lake Michigan by renting a Jet Ski.
You can find rental shops at North Avenue Beach, Montrose Beach and 31st Street Harbor.
Prices vary. Chicago Watersport Rentals at 31st Street Harbor offers half-hour rates of $59 on Monday through Thursday and $80 on weekends.
3. Paddle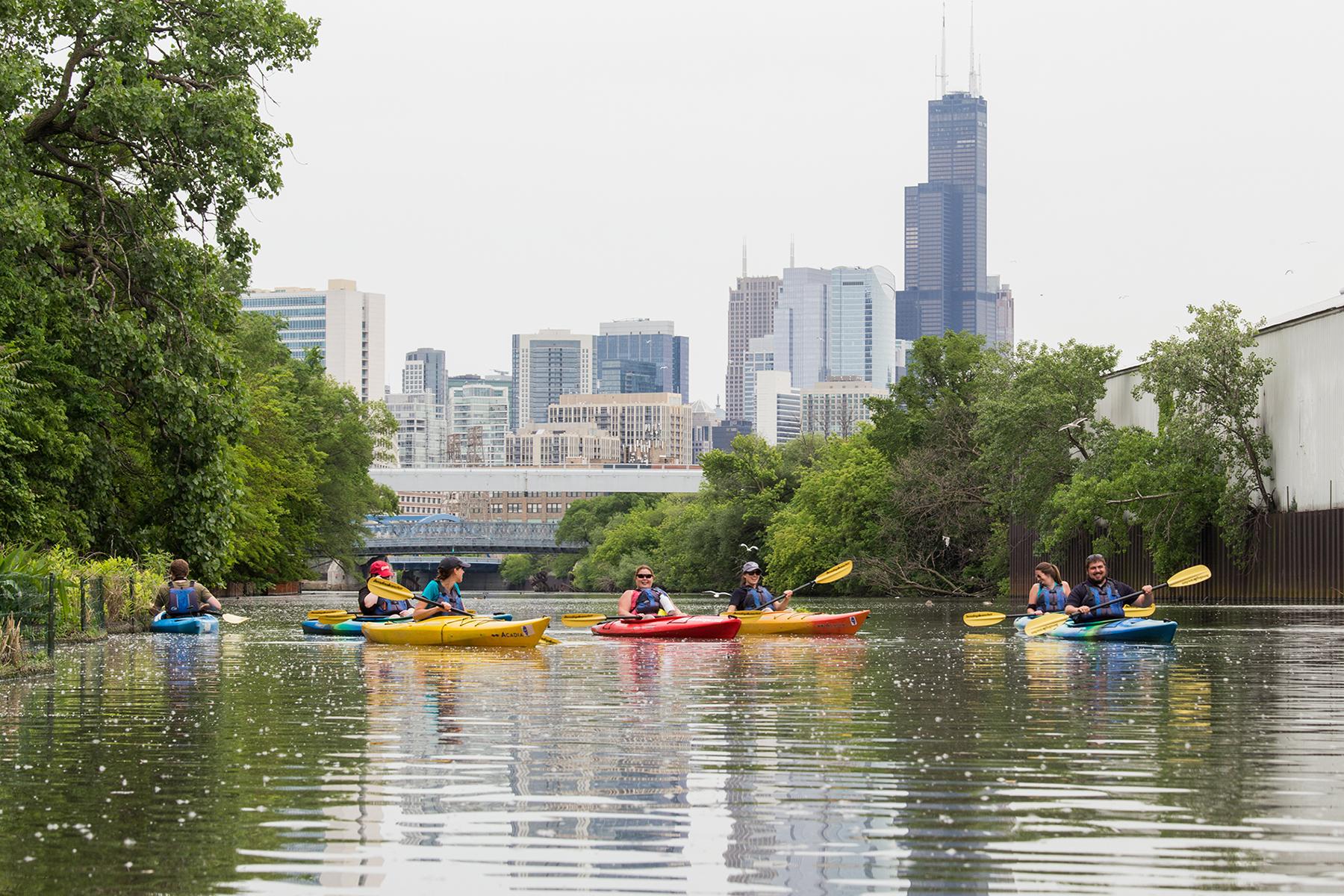 Shedd Aquarium's Kayak for Conservation program aims to introduce residents to the Chicago River ecosystem and the wildlife that call the waters home. (Hilary Wind / Shedd Aquarium)
Getting out on the water in Chicago doesn't require a motor or sail. If you're willing to put in some work you can enjoy the area's waterways at your own pace – and under your own power.
Kayak rentals are available at a number of shops along the river and lakefront, including Urban Kayaks in New East Side, Wateriders in River North, Chicago River Canoe and Kayak in Avondale and Chicago Watersport Rentals at the 31st Street Harbor in Burnham Park. There are also organized kayaking programs, such as Shedd Aquarium's Kayak for Conservation.
Kayaking opportunities extend well beyond the city limits, with spots to wet your paddles on the Des Plaines River, the Skokie Lagoons and the Busse Woods in Elk Grove Township. The Forest Preserves of Cook County has info on kayak and boat rentals at these locations. 
4. Balance
(Courtesy Chicago SUP)
It takes a little balance (and you should expect to fall off at least once), but we think it's worth the effort.
Stand-up paddle boarding – or SUP, as it's called – is a unique way to experience Lake Michigan while also getting a full-body workout. 
This activity involves a paddle board (varieties include those used for recreational paddling, surfing and even stand-up paddle yoga) and a paddle that looks like an elongated canoe paddle with a blade shaped like a teardrop.
Because the U.S. Coast Guard classifies stand-up paddle boards as vessels, you have to wear a personal flotation device if you're paddling outside of a designated surfing or swimming area. SUPers must also wear a safety whistle to alert their presence to other boaters.
Chicago offers a handful of options for SUP rentals, including Kayak Chicago (Montrose Beach and North Avenue Beach), Chicago SUP (North Avenue Beach, Diversey Harbor, Ohio Street Beach and Kathy Osterman Beach), Urban Kayaks (Monroe Harbor) and Chicago Watersport Rentals (31st Street Harbor).
5. Climb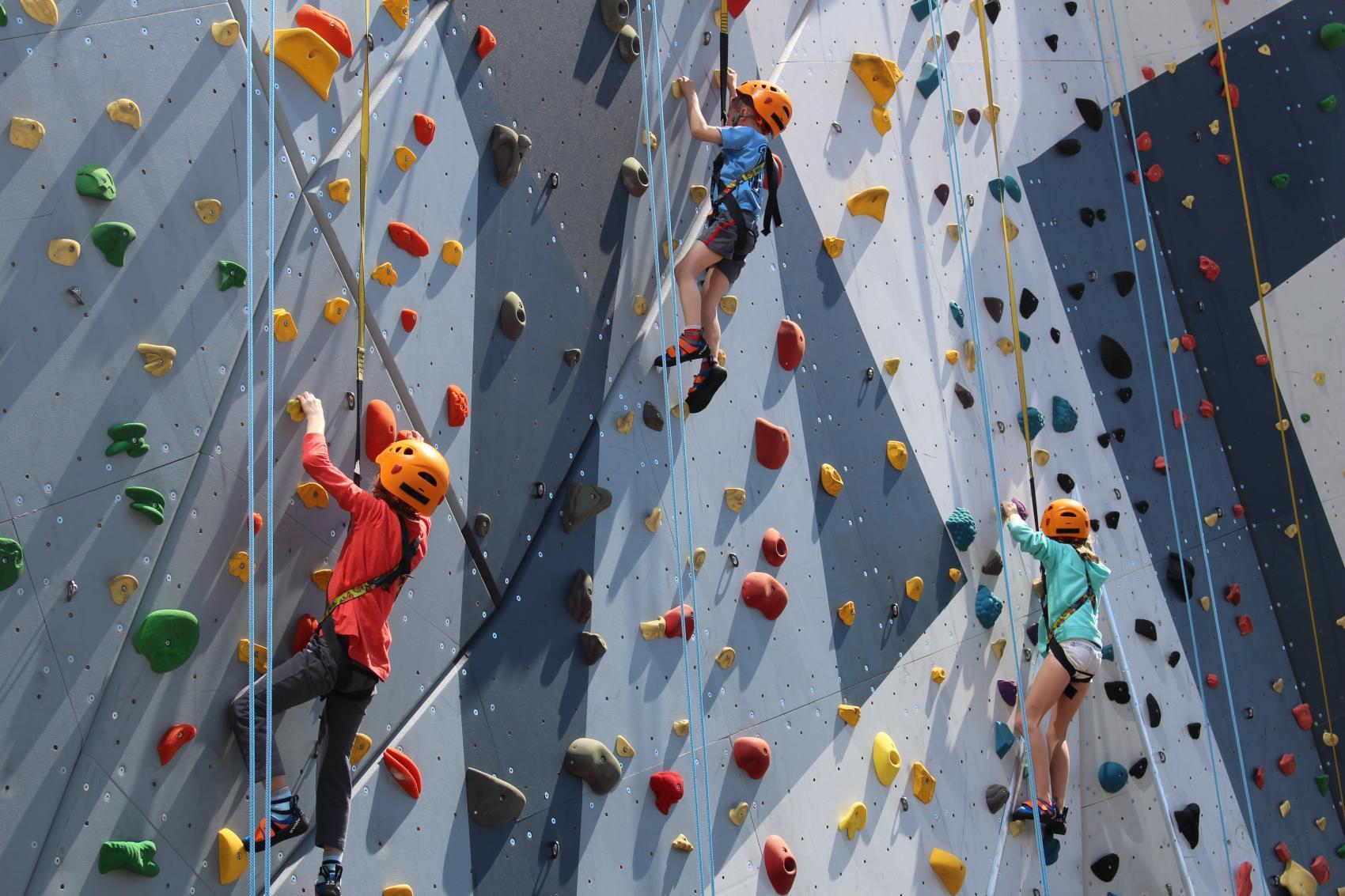 The Climbing Wall at Maggie Daley Park can hold up to 100 climbers at any given time. (Courtesy Chicago Park District)
Climbing the stairs from deep inside an L station doesn't compare to scaling a rocky cliff, but here's something that'll get you closer to the real deal: the Climbing Wall at Maggie Daley Park.
Described as Chicago's "first and only" climbing park, the attraction offers two rock-climbing structures made of custom-designed sculptural rocks that reach a maximum height of 40 feet and cover a total surface area of 19,000 square feet.
Managed by Lakeshore Sport & Fitness, the wall is divided into sections for beginners and experts and offers three different types of climbing: bouldering, lead-harnessed and top rope. The wall is open to adults and kids, but climbers under the age of 18 must have a waiver signed by a parent or guardian. 
Bonus: City residents get 20% off climbing prices with proof of residency. 
6. Aim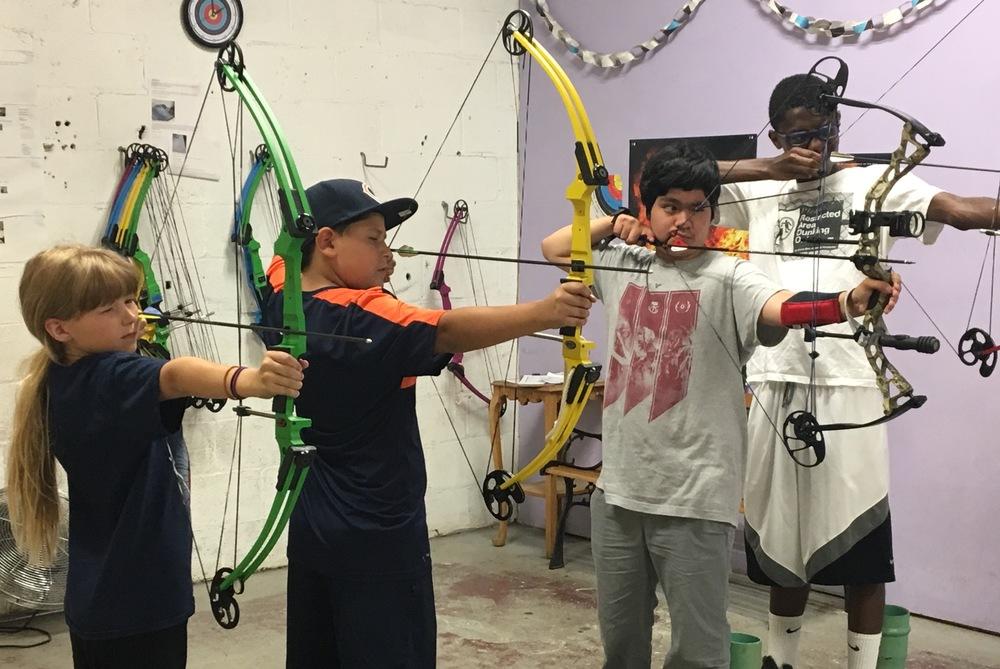 The Archery Bow Range – Chicago facility in Humboldt Park offers archery classes for kids ages 8 and up. (Courtesy Archery Bow Range – Chicago)
Perfect for a rainy day (or a really hot and humid one), the indoor archery bow range in Humboldt Park offers yearround archery shooting, lessons, leagues and tournaments.
The range, located in the Kimball Arts Building (1757 N. Kimball Ave.), is operated by Archery Bow Range – Chicago, with lessons provided in partnership with the Lincoln Park Archery Club.
Introductory classes start at $25 and are open to adults and kids ages 8 and up. There's also a four-week introductory clinic that costs $110 for adults and $112 for kids.
For those who already know how to handle a bow, the range offers walk-in archery for "well-behaved archers" when space permits. No reservations are required, but check the schedule online to make sure the range will be available.
If you're really into it, the range also runs leagues for both adults and kids/teens.
7. Roll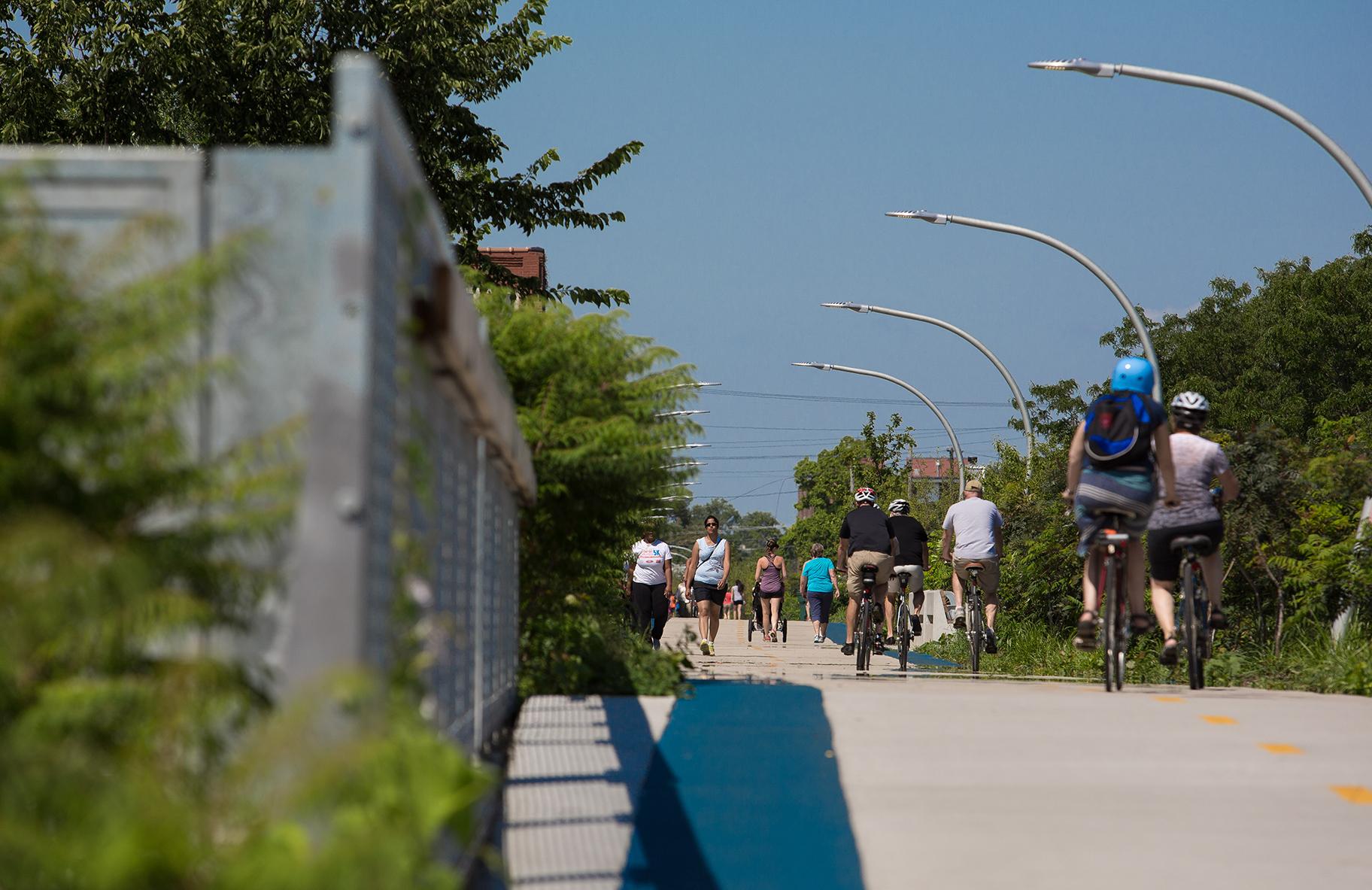 The 606 Trail (Courtesy The Trust for Public Land)
The Lakefront Trail. The 606. The North Shore Channel. Chicago boasts no shortage of desirable routes for cyclists, and summer is the perfect time time to explore them.
In addition to well-known spots like the North Branch Trail System and the Riverwalk, Chicago's official bike map identifies all kinds of routes for cyclists, including off-street trails, neighborhood greenways (streets optimized for biking and walking) and roadways with protected or shared bike lanes.
The suburbs also offer a host of solid cycling options, such as the Green Bay Trail in Wilmette, Palatine's Deer Grove Forest Preserve, Busse Woods Trail in Elk Grove Village, Illinois Prairie Path in Wheaton, Salt Creek Trail in La Grange Park and Cal-Sag Trail in Palos Hills.
8. Fly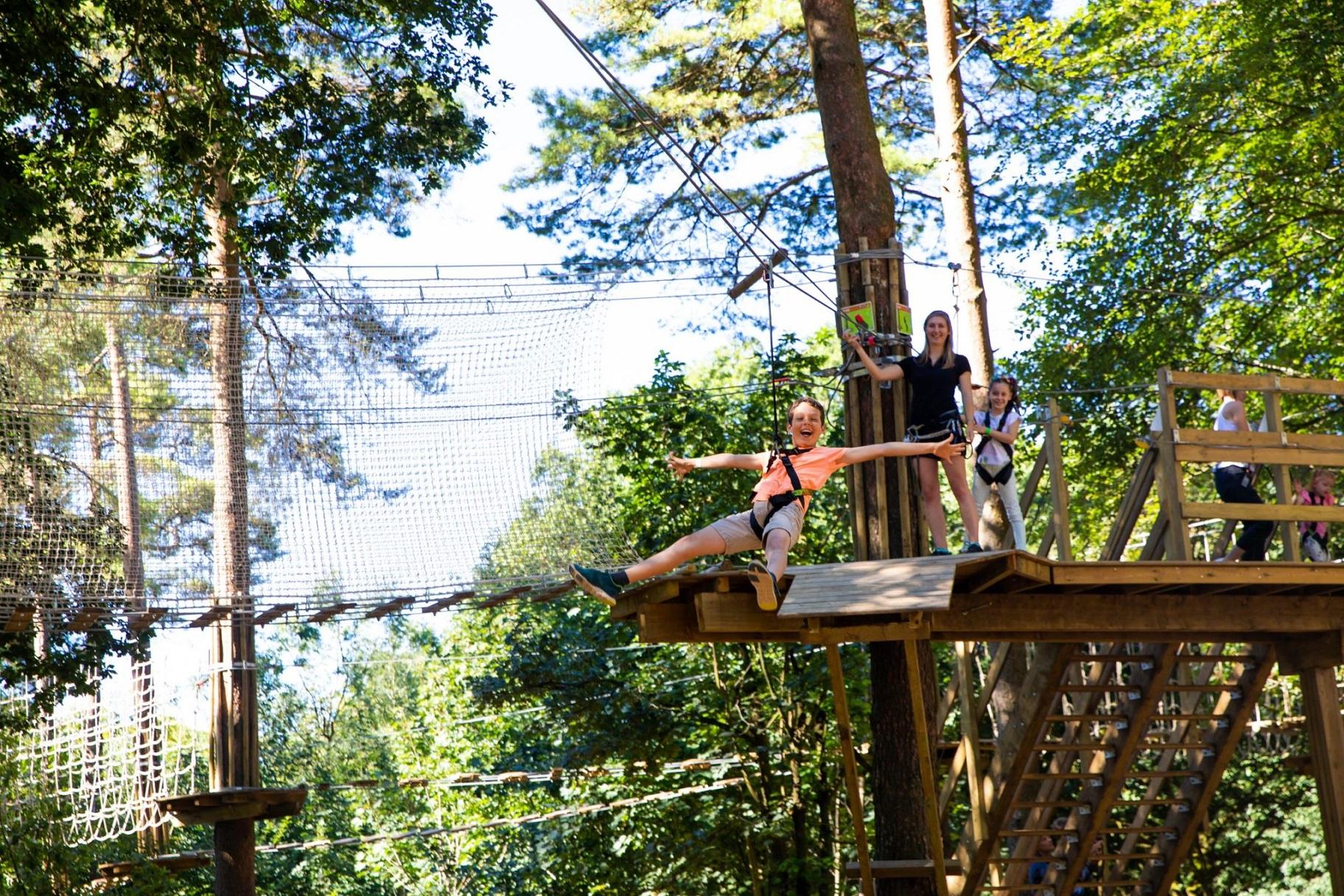 Outdoor adventure company Go Ape opened a zipline course at Bemis Woods in Western Springs in 2016. (Courtesy Go Ape)
Opened in 2016, the seven-acre zip line and obstacle course at Bemis Woods in suburban Western Springs offers the type of adventure normally reserved for a Caribbean vacation. The course, operated by adventure company Go Ape, features five zip lines, the longest of which spans 600 feet.
From 40 feet above ground, you pull yourself up rope ladders, hang on trapezes and tackle more than three dozen other types of obstacles while traveling from one zip line station to the next. The entire course takes between two and three hours to complete.
Bonus feature: The course also includes a Tarzan-style swing that you can use to launch yourself into the air before landing safely on a cargo net.
9. Hike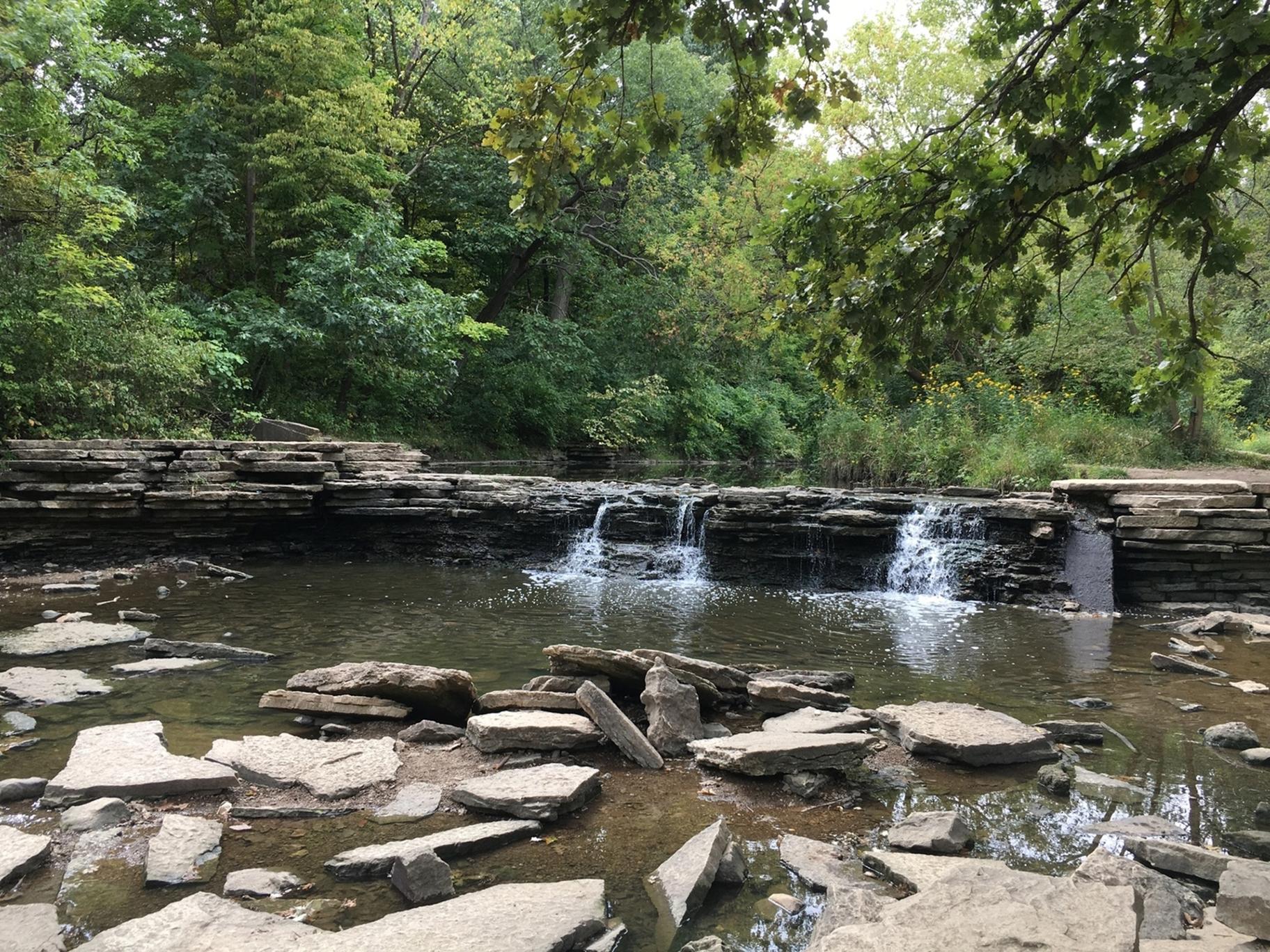 Waterfall Glen Forest Preserve (Enjoy Illinois)
Less than an hour's drive from Chicago, the nearly 2,500-acre Waterfall Glen Forest Preserve in Darien is considered one of the most ecologically remarkable open spaces in all of northern Illinois.
The site, operated by the Forest Preserve District of DuPage County, offers 11 miles of trails for hikers (as well as cyclists) that range from gentle rolls to hilly terrain. The preserve's four mapped trails are outlined in limestone- and turf-covered routes, but you can also explore more narrow, unmarked footpaths.
Along the way, you'll encounter prairies, savannas and oak-maple woodlands featuring 740 native plant species. Also nearby are more than 300 species of mammals, birds, fish, amphibians and reptiles that use the forest preserve yearround or during seasonal migrations.
Perhaps the most popular destination within the preserve is the Rocky Glen waterfall, which was constructed by the Civilian Conservation Corps in the 1930s.
10. Ride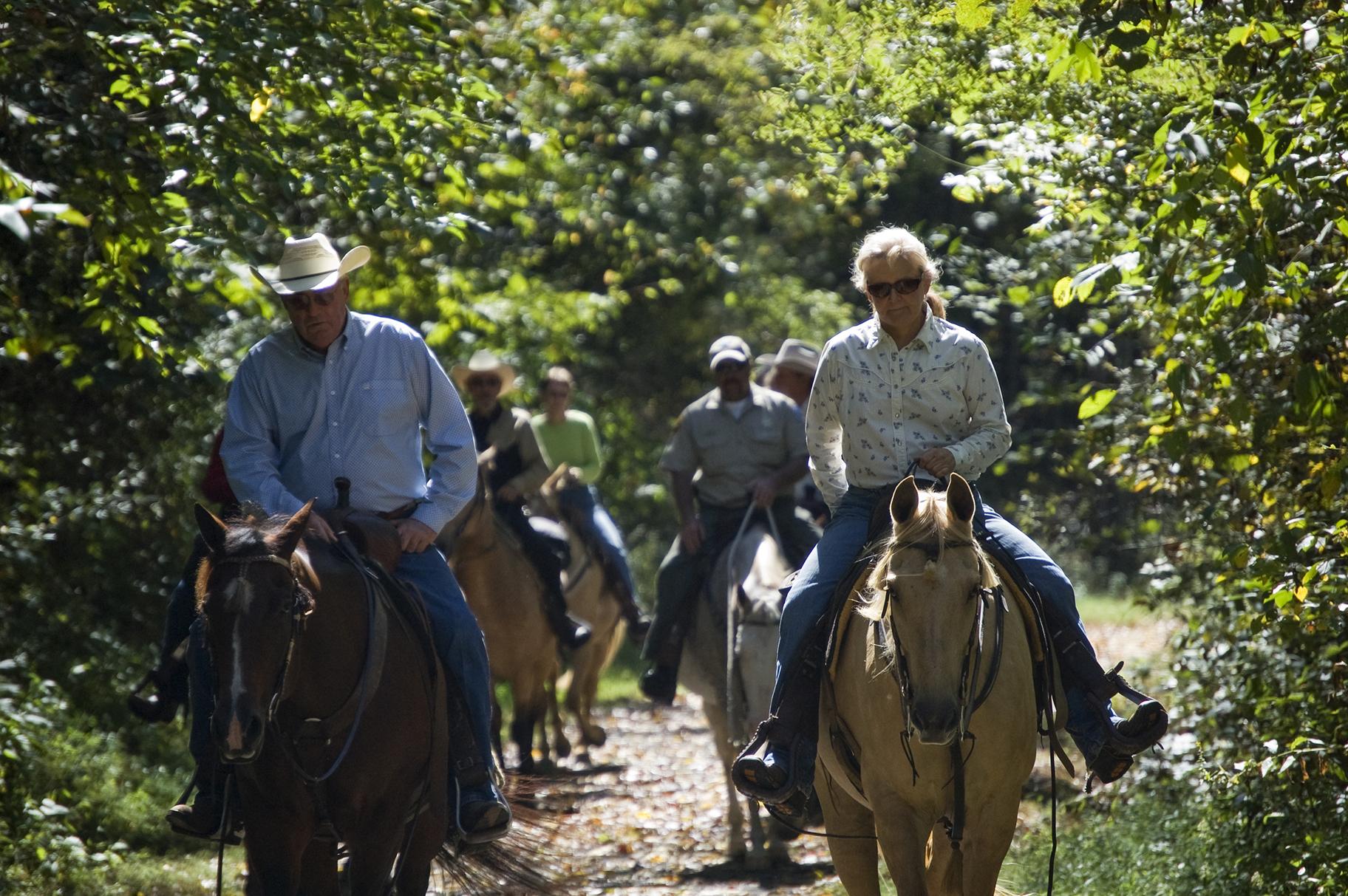 Horseback riding at New River Trail State Park in Virginia (Virginia State Parks / Wikimedia Commons)
Looking for a taste of the Wild West in your own backyard? Chicago's suburbs offer plenty of options for horseback riding, particularly southwest of the city.
Yelp users rate Memory Lane Stables in Willow Springs as the top area spot for horseback riding. The stable also offers pony trail rides and birthday parties with horses or ponies.
Other horseback riding option can be found in Wheaton, Plainfield and Mokena. Morton Grove's Glen Grove Equestrian Center is an option for those north of the city.
Contact Alex Ruppenthal: @arupp | [email protected] | (773) 509-5623
---
Related stories:
2019 Chicago Summer Festival Guide
6 Weekend Ideas for a Summer Road Trip or Chicago Staycation
List: Free Summer Concerts in Millennium Park's Pritzker Pavilion
10 Things About Chicago Beaches You Might Not Know
Lakefront Trail Users Adjusting to Newly Separated Bike, Pedestrian Paths
Get Fit at Free Outdoor Workouts in Chicago This Summer
An 'Open Swim' in the Chicago River is in the Works for September
10 Outdoor Spots to Unwind and De-Stress in Chicago
---