10 Outdoor Spots to Unwind and De-Stress in Chicago
The Garden of the Phoenix in Jackson Park (Urbanrules / Wikimedia Commons)
There are more than 2.7 million people in Chicago, and while you might enjoy the company of your fellow residents much of the time, sometimes you just want everyone to "shush" for a few moments of ... quiet. 
Despite its moniker as "The City that Works," Chicago features plenty of spots to get away from the city's hustle and bustle. Here are 10 spots to zen out in the city this summer.
---
1. Promontory Point
Constructed from landfill in the 1920s as part of Daniel Burnham's Plan of Chicago, Promontory Point juts into Lake Michigan from Burnham Park at 55th Street in Hyde Park. The point offers breathtaking views of Chicago's skyline and is a popular viewing spot for Navy Pier's summer fireworks. Unlike many lakefront areas in Chicago, this one includes plenty of green space, so you can be made in the shade.
In January, Promontory Point was added to the National Register of Historic Places. The point can be accessed via the city's lakefront trail.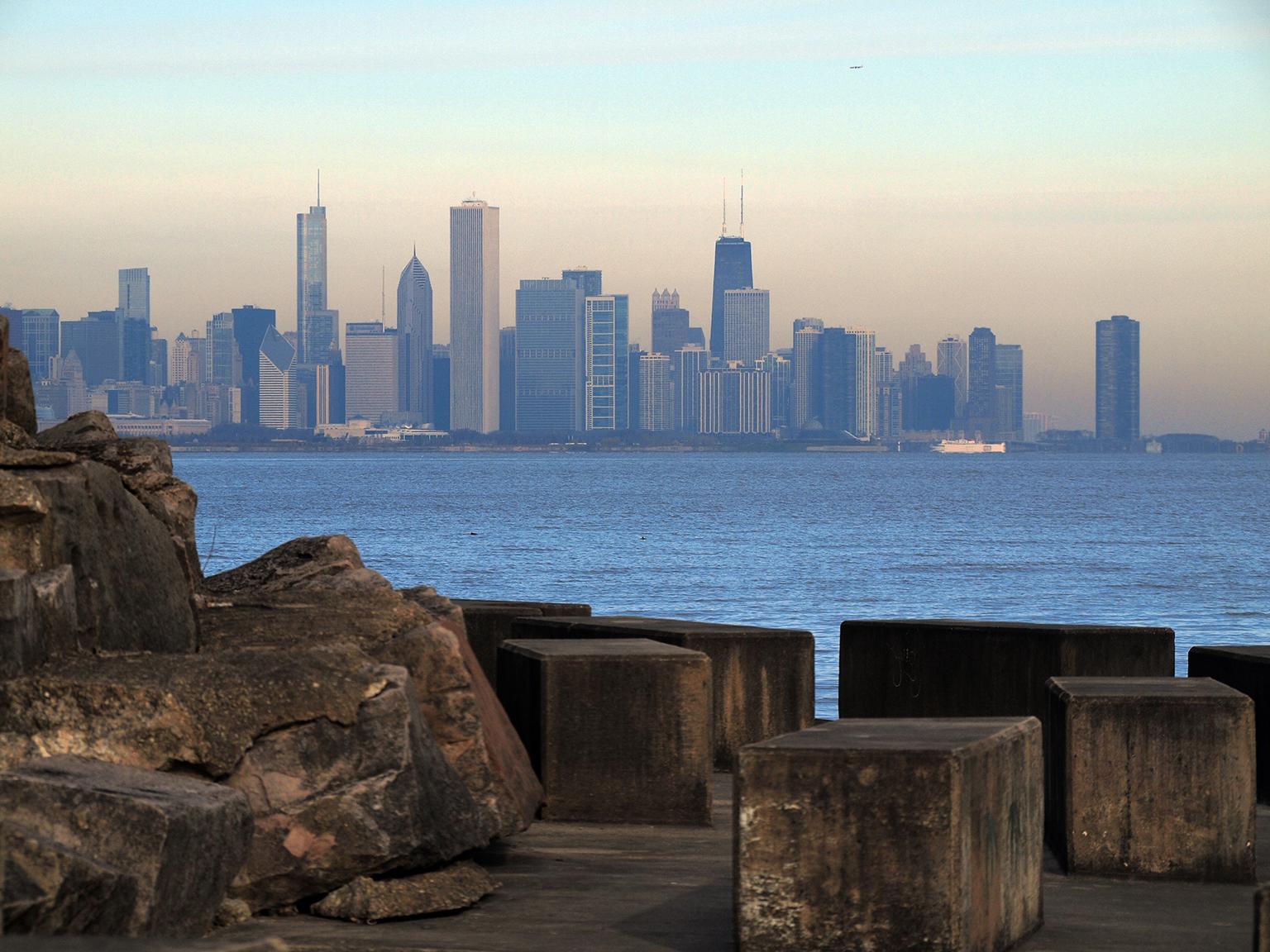 Promontory Point (John Picken / Flickr)
2. Alfred Caldwell Lily Pool
Situated next to the gorgeous Lincoln Park Conservatory, the Alfred Caldwell Lily Pool took shape in the 1930s when Caldwell, the famous American architect, redesigned a previous Victorian-style heated lily pool that began to crumble due to the harsh Chicago climate. Caldwell designed the pool to resemble a river meandering through a Midwestern prairie.
The spot offers a peaceful symphony of chirping birds and gentle waterfalls, fulfilling Caldwell's mission to provide a hidden garden for Chicagoans.
Like Promontory Point, the pool is listed on the National Register of Historic Places and is also a National Historic Landmark.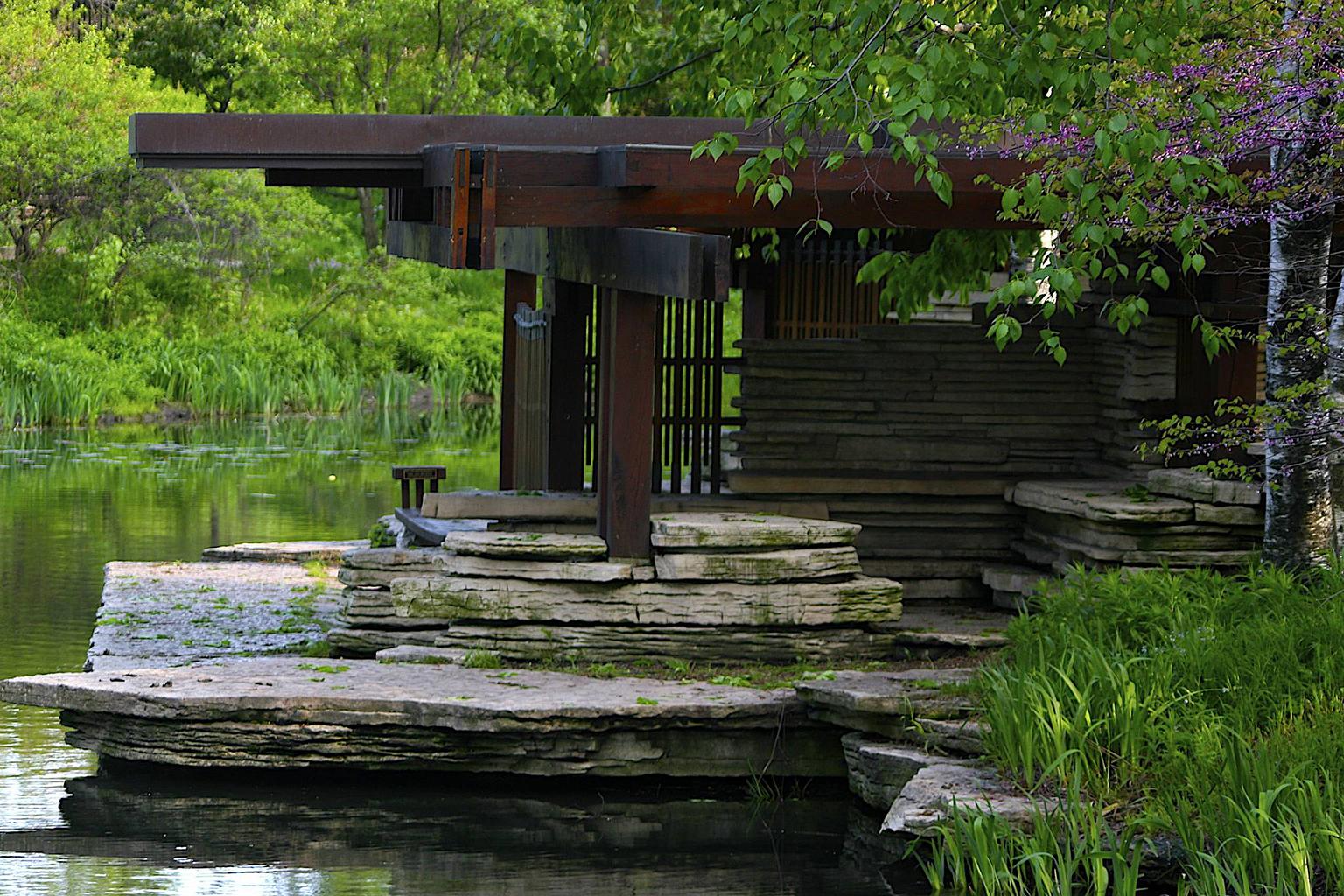 Alfred Caldwell Lily Pool (IIP Photo Archive / Flickr)
3. Garfield Park Conservatory
Spanning 4.5 acres inside and out, the Garfield Park Conservatory is one of the largest greenhouse conservatories in the country and is often described as "landscape art under glass." Located within Garfield Park on the city's West Side, the conservatory is home to thousands of plant species on display in eight indoor rooms and a series of outdoor gardens. 
One of its most notable features is its historic Fern Room with "lush ferns, rocky outcroppings and an indoor lagoon that evoke the swampy landscape of prehistoric Chicago," according to the Chicago Park District. This room features a palm-like cycad, one of the oldest species of plants on Earth.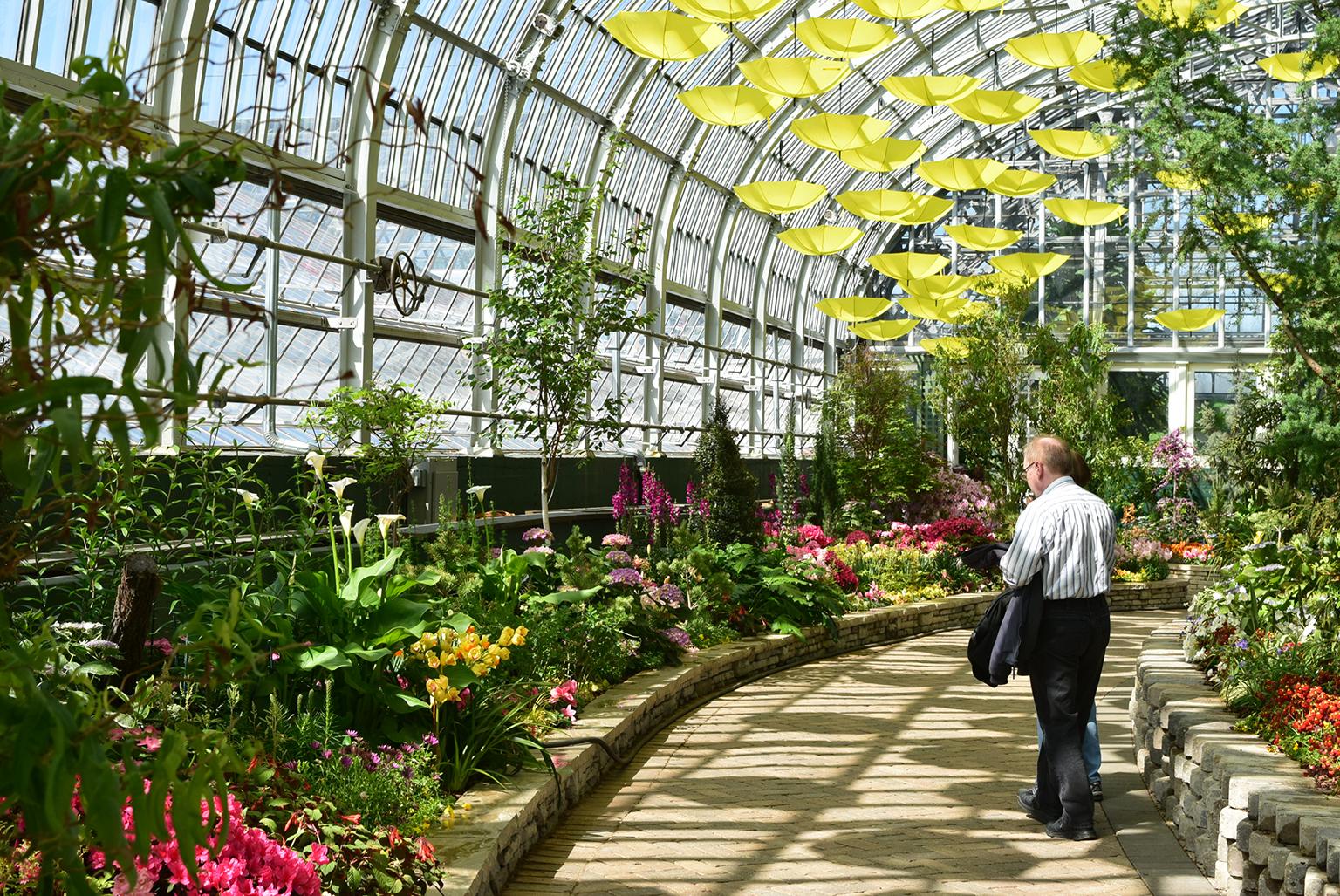 Garfield Park Conservatory (Stephen Boisvert / Flickr)
4. Garden of the Phoenix
Located on the northern tip of the 15-acre Wooded Island in Jackson Park, the Garden of the Phoenix is said to symbolize the U.S. and Japan's "160-year story of friendship, turmoil and prosperity." The garden traces its roots to the 1893 Chicago World's Fair, when Japan, hoping to impress its counterparts in the West, constructed the Phoenix Pavilion as a way to show off the country's artistic prowess.
A stroll through the garden takes you past a green koi pond and a gently splashing waterfall, lush azaleas and perfectly manicured pine trees. Opposite the Museum of Science and Industry to the north, a winding gravel path directly to the south accompanies you through 2 acres of peaceful greenery highlighted by a series of Japanese maples.
The Garden of the Phoenix in Jackson Park (Urbanrules / Wikimedia Commons)
5. South Garden at the Art Institute
Tucked away from the whizz of cars along Michigan Avenue to its west, the South Garden at the Art Institute features a rectangular pool with a spattering of tiny fountains. The pool is flanked on either side by the glossy dark green leaves of cockspur Hawthorn trees, under which you can sit and take in all the garden has to offer.
Built atop a parking garage just south of the Art Institute, the garden also includes three rows of honey locust trees that provide cover for flowering bulbs. In tandem with the Hawthorns, the trees form a canopy over the garden, offering a shady respite from the bustling surroundings of the Loop.
The South Garden at the Art Institute of Chicago (Ken Lund / Flickr)
6. Montrose Point Bird Sanctuary
If surrounding yourself with songbirds is your type of relaxing, look no farther than Montrose Point Bird Sanctuary.
Widely regarded as the best location in Illinois to observe the annual spring migration made by millions of birds through Chicago, this 13-acre habitat originally featured sweeping meadows and layered native plants. Since undergoing an expansion in the late 1990s, the sanctuary has tended to include Eurasian grasses, common milkweed and thistle rather than classic prairie plants.
What makes it such a popular destination for birds? Because of Chicago's placement on the Mississippi Flyway, along with the fact that the point juts out into Lake Michigan, the spot is a logical resting place for exhausted songbirds as they fly south from the northern U.S. or Canada.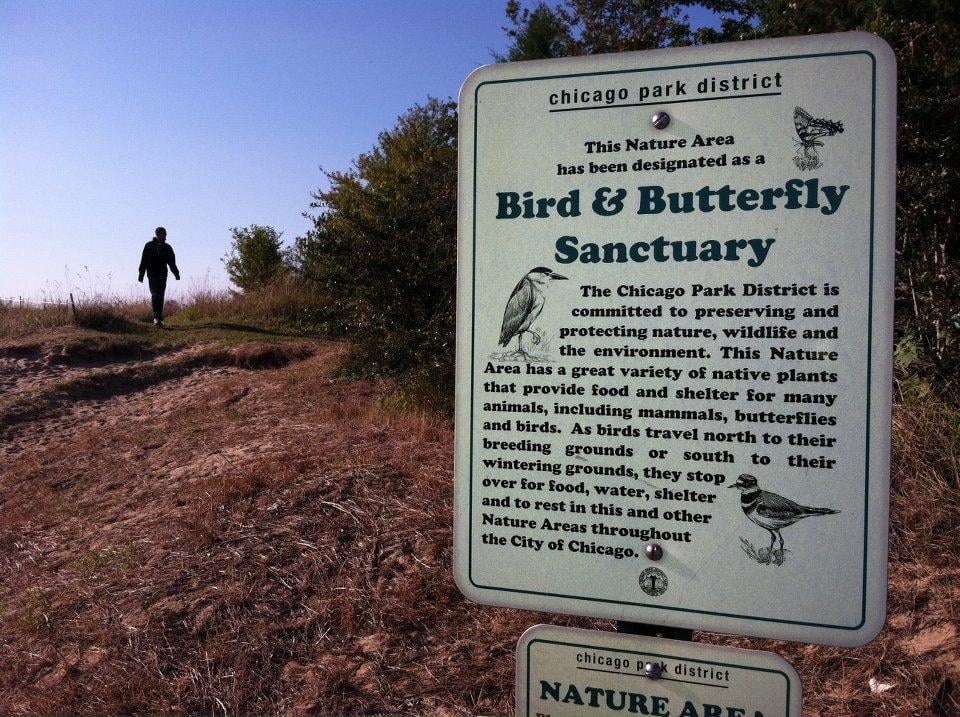 Montrose Point Bird Sanctuary (Louise Clemency / U.S. Fish and Wildlife Service)
7. Humboldt Park Formal Garden
Featuring a bronze bison sculpture (see below), this garden is an iconic circular gem located in the center of 219-acre Humboldt Park. Designed by prominent prairie-school landscape architect Jens Jensen, the garden offers semi-circular flower beds filled with roses and perennials. A reflecting pool and fountain run through the middle of the garden, which also features a terrace with shaded seating areas.
The spot continues to serve its role as envisioned by Jensen – that of a true "community garden" created for "those who have no other gardens except their window sills."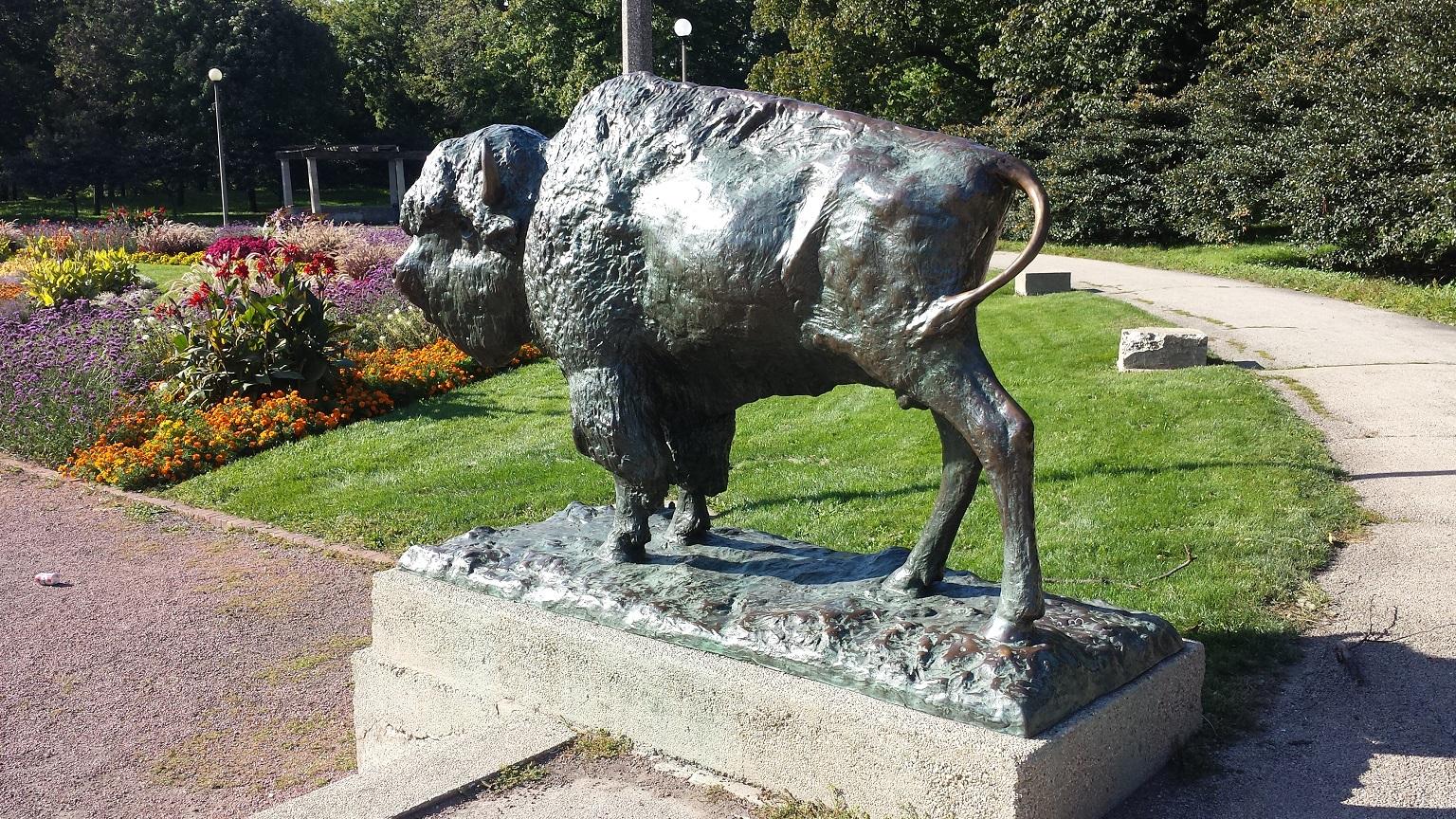 Humboldt Park Formal Garden (Steven Kevil / Wikimedia Commons)
8. Burnham Centennial Prairie 
Planted just a few years ago as part of a prairie restoration project, this area along the city's lakefront trail offers sweeping meadows with dense thickets of tall prairie grass that bend in the wind with the lake's bouncy waves as a backdrop.
The prairie is part of the 100-acre "ribbon of urban wilderness" known as the Burnham Wildlife Corridor, which also features the Burnham Nature Sanctuary and McCormick Bird Sanctuary. The corridor flanks each side of Lake Shore Drive and is the largest stretch of natural area along the city's lakefront, according to the Chicago Park District.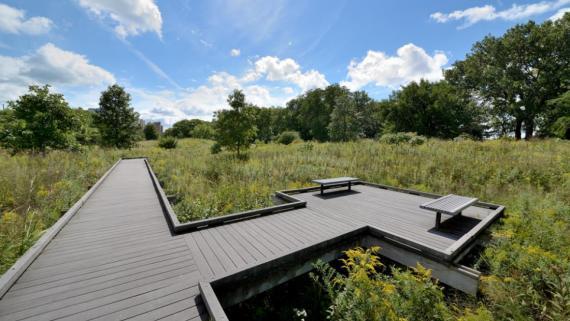 Burnham Centennial Prairie (Courtesy of Chicago Park District)
9. Graceland Cemetery 
If you're not spooked by burial grounds, Uptown's Graceland Cemetery is a fine spot for rest, relaxation and – most notably – silence. Billed as a "serene yet vibrant park-like cemetery," Graceland Cemetery's collection of 2,000-plus trees has been certified as an arboretum.
Situated just a few blocks north of Wrigley Field, the cemetery/park spans 121 acres of finely landscaped grounds, all surrounded by walls with wrought iron spear-point fencing.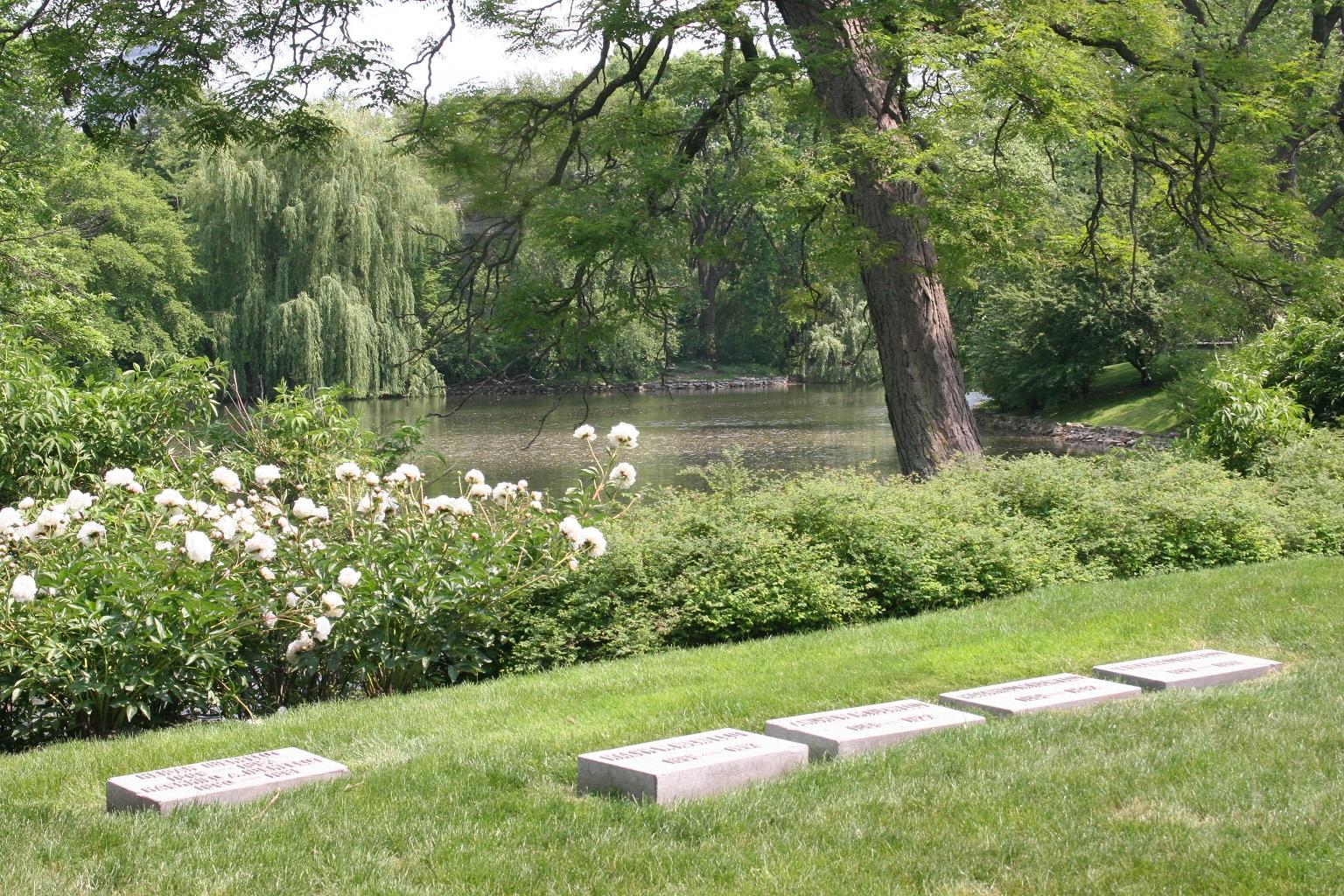 Graceland Cemetery (Thshriver / Wikimedia Commons)
10. Nature Boardwalk at Lincoln Park Zoo 
This scenic area at the south end of Lincoln Park Zoo might serve as home for native birds, frogs, fish and other creatures, but it's also peaceful spot to rest and take in views of Chicago's skyline.
Built in 2010 and designed by Studio Gang Architects, the Nature Boardwalk surrounds the zoo's South Pond and is flanked by lush collections of prairie grass and other colorful plants.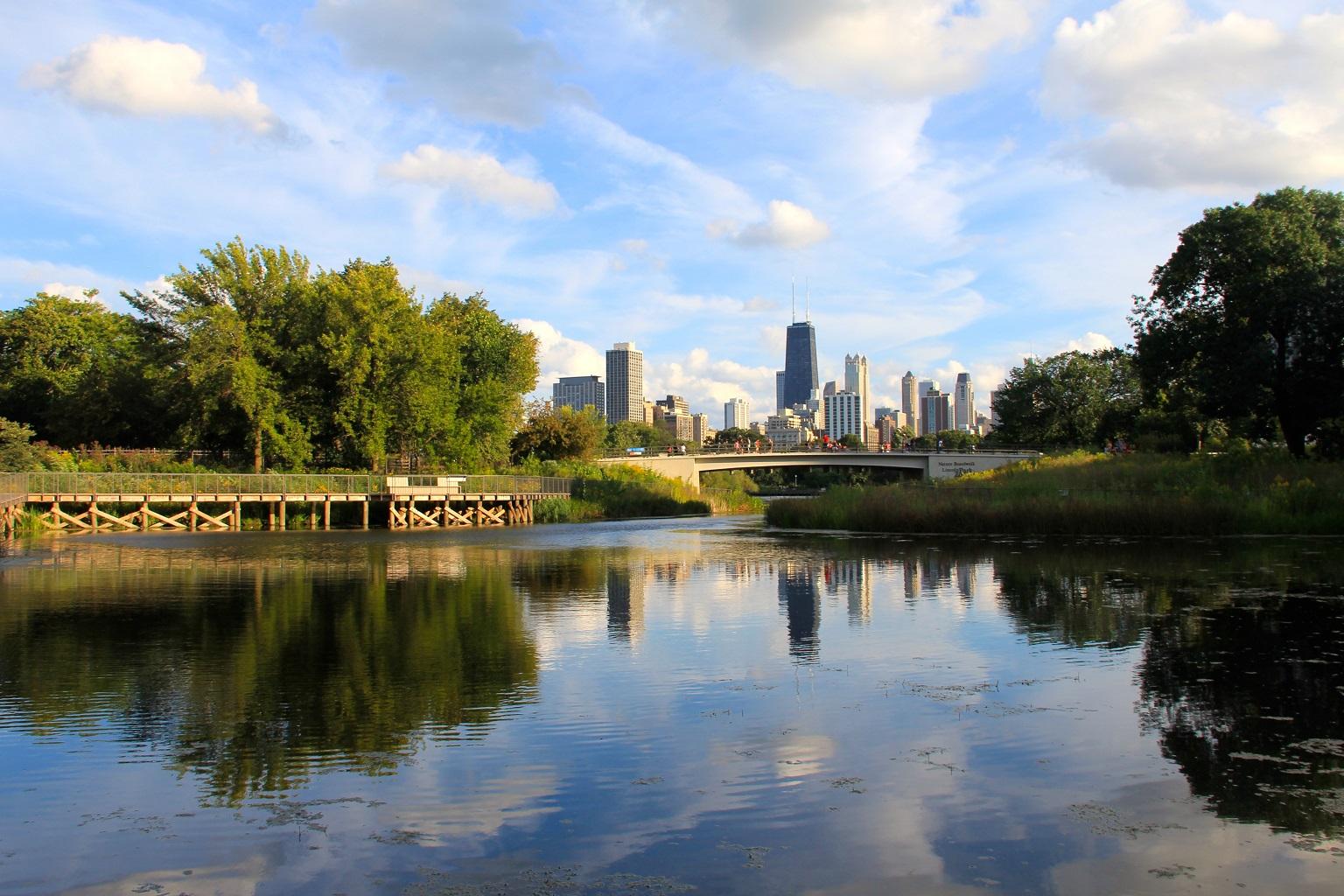 Nature Boardwalk at Lincoln Park Zoo (Daniel X. O'Neil / Wikimedia Commons)
Contact Alex Ruppenthal: @arupp | aruppenthal@wttw.com | (773) 509-5623
---
Related stories: