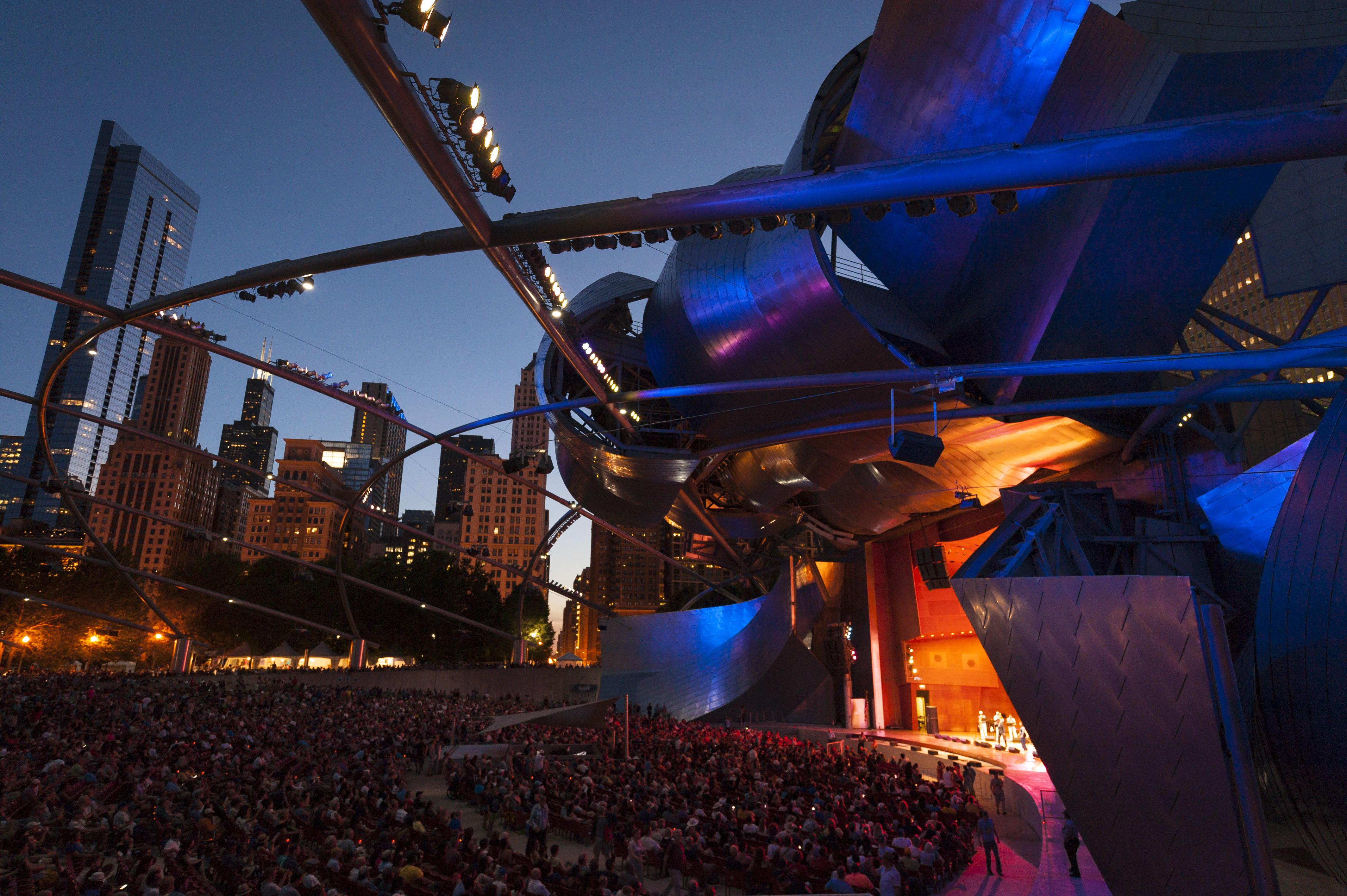 2017 Chicago Blues Festival in Millennium Park (Photo credit: City of Chicago, DCASE)
The annual Grant Park Music Festival kicks off its 10-week series Wednesday, June 12.
The free concert series, now celebrating its 85th anniversary, is just one way to see music under the stars this summer in Millennium Park's Pritzker Pavilion. (You can also watch movies under the stars there through Aug. 20; and work up a sweat under the sun through Aug. 31.)
Below, a list of every concert taking place at Pritzker Pavilion this summer. All events below are free.
---
June Jump to: July | August | September
June 12 (6:30 p.m. Wednesday): Grant Park Music Festival opening night – Tchaikovsky Symphony No. 2 (Grant Park Orchestra; Carlos Kalmar, Principal Conductor; Benjamin Beilman, Violin)
June 13 (6:30 p.m. Thursday): Millennium Park Summer Music Series – Mt. Joy | Rayland Baxter
June 14 (6:30 p.m. Friday): Grant Park Music Festival – Beethoven Symphony No. 8 (Grant Park Orchestra And Chorus; Carlos Kalmar, Principal Conductor; Christopher Bell, Chorus Director; Kareem Roustom, Composer-in-Residence)
June 15 (7:30 p.m. Saturday): Grant Park Music Festival – Beethoven Symphony No. 8 (Grant Park Orchestra And Chorus; Carlos Kalmar, Principal Conductor; Christopher Bell, Chorus Director; Kareem Roustom, Composer-in-Residence)
June 17 (6:30 p.m. Monday): Millennium Park Summer Music Series – Cory Henry and the Funk Apostles | Liniker e os Caramelows
June 19 (6:30 p.m. Wednesday): Grant Park Music Festival – Mozart Piano Concerto No. 23 (Grant Park Orchestra; Carlos Kalmar, Principal Conductor; Inon Barnatan, Piano)
June 20 (6:30 p.m. Thursday): Yo-Yo Ma — The Complete Bach Cello Suites
June 21 (6:30 p.m. Friday): Grant Park Music Festival – Brahms Violin Concerto (Grant Park Orchestra; Carlos Kalmar, Principal Conductor; Stacy Garrop, Composer-In-Residence; Augustin Hadelich, Violin)
June 22 (7:30 p.m. Saturday): Grant Park Music Festival – Brahms Violin Concerto (Grant Park Orchestra; Carlos Kalmar, Principal Conductor; Stacy Garrop, Composer-In-Residence; Augustin Hadelich, Violin)
June 24 (6:30 p.m. Monday): Millennium Park Summer Music Series – Chucho Valdes & Jazz Batá | Fareed Haque + Casseus
June 26 (6:30 p.m. Wednesday): Grant Park Music Festival – A Night in Vienna: Emperor Waltzes and More (Grant Park Orchestra; Carlos Kalmar, Principal Conductor)
June 27 (6:30 p.m. Thursday): Millennium Park Summer Music Series – Flora Cash | SUSTO
June 28 (6:30 p.m. Friday): Grant Park Music Festival – Beethoven "Missa Solemnis" (Grant Park Orchestra And Chorus; Carlos Kalmar, Principal Conductor; Christopher Bell, Chorus Director; Maeve Höglund, Soprano; Siena Licht Miller, Mezzo-Soprano; Andrew Owens, Tenor; Michael Sumuel, Bass)
June 30 (4-9 p.m. Sunday): Chicago Mariachi Festival
---
July Jump to: June | August | September
July 1 (6:30 p.m. Monday): Millennium Park Summer Music Series – Car Seat Headrest | Naked Giants
July 4 (6:30 p.m. Thursday): Grant Park Music Festival – Independence Day Salute (Grant Park Orchestra; Christopher Bell, Conductor; Mary Stolper, Flute; John Orduna, Baritone)
July 5 (6:30 p.m. Friday): Grant Park Music Festival – Gershwin Piano Concerto (Grant Park Orchestra; Carlos Kalmar, Principal Conductor; Jeffrey Kahane, Piano; Alicia Hall Moran, Mezzo-Soprano; Holland Andrews, Vocalist; Holcombe Waller, Vocalist; Gabriel Kahane, Vocalist And Composer-In-Residence)
July 6 (7:30 p.m. Saturday): Grant Park Music Festival – Gershwin Piano Concerto (Grant Park Orchestra; Carlos Kalmar, Principal Conductor; Jeffrey Kahane, Piano; Alicia Hall Moran, Mezzo-Soprano; Holland Andrews, Vocalist; Holcombe Waller, Vocalist; Gabriel Kahane, Vocalist And Composer-In-Residence)
July 8 (6:30 p.m. Monday): Millennium Park Summer Music Series – Brent Cobb | Lydia Loveless
July 10 (8 p.m. Wednesday): Grant Park Music Festival – Classic Movie Night: "The Wizard of Oz" (Grant Park Orchestra; Norman Huynh, Conductor)
July 12 (8 p.m. Friday): Grant Park Music Festival – The Envelope Please: A Tribute to Broadway and Hollywood's Best (Grant Park Orchestra And Chorus; Larry Loh, Conductor; Susan Egan, Vocalist; Doug LaBrecque, Vocalist; Madison Claire Parks, Vocalist)
July 13 (8 p.m. Saturday): Grant Park Music Festival – The Envelope Please: A Tribute to Broadway and Hollywood's Best (Grant Park Orchestra And Chorus; Larry Loh, Conductor; Susan Egan, Vocalist; Doug LaBrecque, Vocalist; Madison Claire Parks, Vocalist)
July 17 (6:30 p.m. Wednesday): Grant Park Music Festival – Ravel "Mother Goose" (Grant Park Orchestra; Emmanuel Villaume, Conductor; Yolonda Kondonassis, Harp)
July 19 (6:30 p.m. Friday): Grant Park Music Festival – Beethoven Piano Concerto No. 3 (Grant Park Orchestra; Martyn Brabbins, Conductor; Stephen Hough, Piano)
July 20 (7:30 p.m. Saturday): Grant Park Music Festival – Beethoven Piano Concerto No. 3 (Grant Park Orchestra; Martyn Brabbins, Conductor; Stephen Hough, Piano)
July 22 (6:30 p.m. Monday): Chicago Jazz Philharmonic – Chicago Immigrant Stories Part II: Finale
July 24 (6:30 p.m. Wednesday): Grant Park Music Festival – Tchaikovsky "Swan Lake" (Grant Park Orchestra; Christian Macelaru, Conductor; Edgar Moreau, Cello)
July 25 (6:30 p.m. Thursday): Millennium Park Summer Music Series – Los Amigos Invisibles | Natalie Prass
July 26 (6:30 p.m. Friday): Grant Park Music Festival – Dvořák Symphony No. 7 (Grant Park Orchestra; David Danzmayr, Conductor; Anthony McGill, Clarinet; Demarre McGill, Flute)
July 27 (7:30 p.m. Saturday): Grant Park Music Festival – Dvořák Symphony No. 7 (Grant Park Orchestra; David Danzmayr, Conductor; Anthony McGill, Clarinet; Demarre McGill, Flute)
July 29 (6:30 p.m. Monday): Millennium Park Summer Music Series – Rev. Sekou | Cha Wa
July 31 (6:30 p.m. Wednesday): Grant Park Music Festival – Copland "Rodeo" (Grant Park Orchestra; Carlos Kalmar, Principal Conductor; Conrad Tao, Piano)
---
August Jump to: June | July | September
Aug. 5 (6:30 p.m. Monday): Millennium Park Summer Music Series – Love Love Love – Chicago Celebrates the Music of Donny Hathaway
Aug. 7 (6:30 p.m. Wednesday): Grant Park Music Festival – Mambo Kings: Hot Latin Nights (Grant Park Orchestra; Carlos Kalmar, Principal Conductor; Mambo Kings)
Aug. 9 (6:30 p.m. Friday): Grant Park Music Festival – "A Mass Of Life": A Celebration of The Human Spirit (Grant Park Orchestra And Chorus; Carlos Kalmar, Principal Conductor; Christopher Bell, Chorus Director; Melody Moore, Soprano; Ewa Plonka, Mezzo-Soprano; Andrew Staples, Tenor; Nathan Berg, Bass-Baritone)
Aug. 10 (7:30 p.m. Saturday): Grant Park Music Festival – "A Mass Of Life": A Celebration of The Human Spirit (Grant Park Orchestra And Chorus; Carlos Kalmar, Principal Conductor; Christopher Bell, Chorus Director; Melody Moore, Soprano; Ewa Plonka, Mezzo-Soprano; Andrew Staples, Tenor; Nathan Berg, Bass-Baritone)
Aug. 12 (6:15 p.m. Monday): Broadway in Chicago Summer Concert at Millennium Park
Aug. 15 (6:30 p.m. Thursday): Millennium Park Summer Music Series – Jupiter & Okwess | Noura Mint Seymali
Aug. 14 (6:30 p.m. Wednesday): Grant Park Music Festival – Flight of The Bumblebee (Grant Park Orchestra; Carlos Kalmar, Principal Conductor)
Aug. 16 (6:30 p.m. Friday): Grant Park Music Festival – Mahler "Resurrection Symphony" (Grant Park Orchestra And Chorus; Carlos Kalmar, Principal Conductor; Christopher Bell, Chorus Director; Amanda Majeski, Soprano; J'Nai Bridges, Mezzo-Soprano)
Aug. 17 (7:30 p.m. Saturday): Grant Park Music Festival – Mahler "Resurrection Symphony" (Grant Park Orchestra And Chorus; Carlos Kalmar, Principal Conductor; Christopher Bell, Chorus Director; Amanda Majeski, Soprano; J'Nai Bridges, Mezzo-Soprano)
Aug. 27 (6 p.m. Tuesday): México en el Corazón 2019
Aug. 29-Sept. 1: Chicago Jazz Festival
---
September Jump to: June | July | August
Sept. 6 (7 p.m. Friday): Stars of Lyric Opera at Millennium Park
Sept. 21 (11 a.m. Saturday): YAS! Fest
---
Related stories:
2019 Chicago Summer Festival Guide
Get Fit at Free Outdoor Workouts in Chicago This Summer
Watch 'Black Panther,' 'Love, Simon' in Millennium Park This Summer
---