A waterfall in Starved Rock State Park. (Arturo Hurtado / Flickr)
In need of a vacation, but don't want to travel too far? We share our favorite local activities and weekend getaways for a last-minute road trip or a city staycation. 
---
1. Kayak on the Chicago River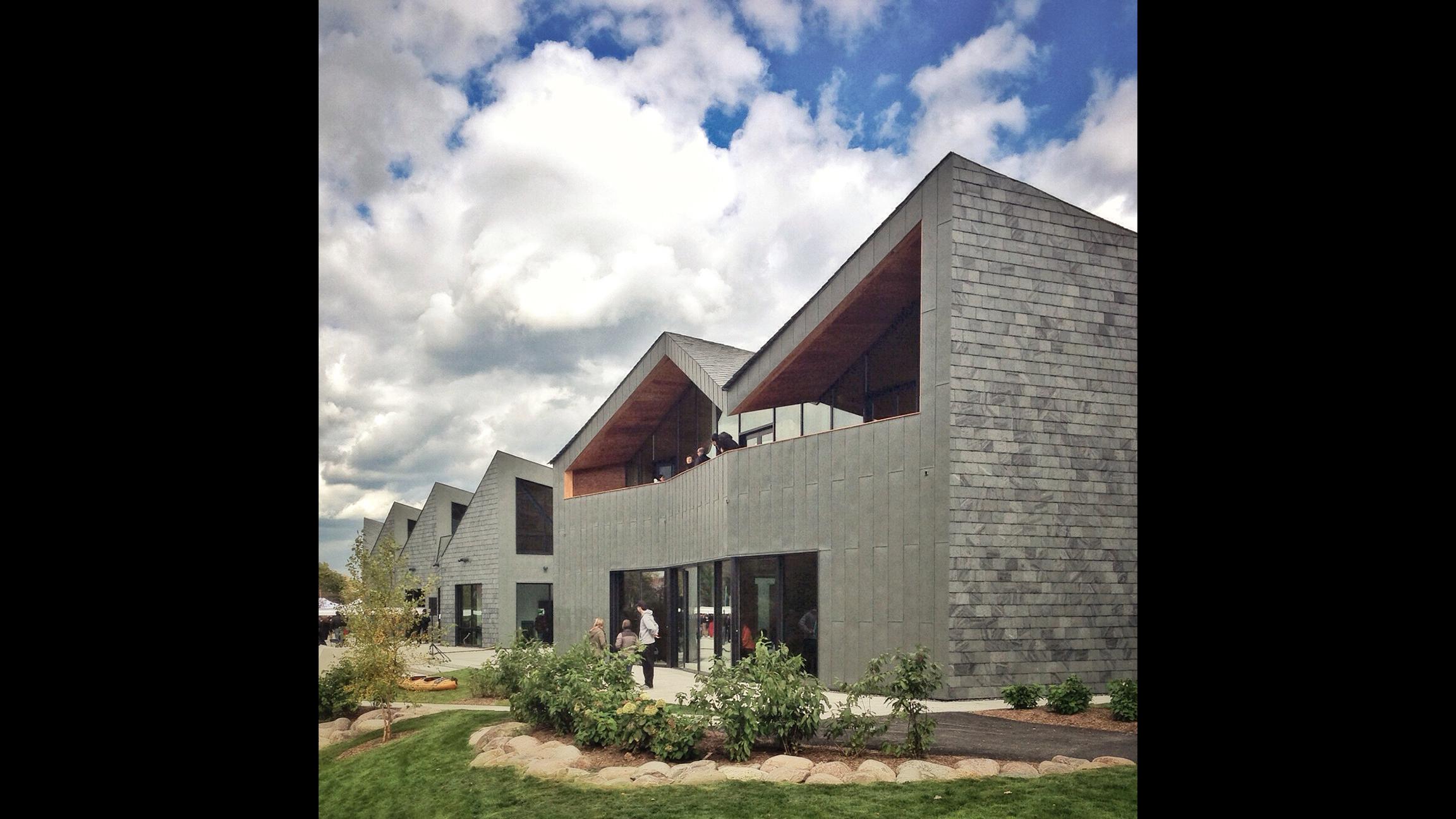 Rent a kayak or canoe at the stunning WMS Boathouse at Clark Park, designed by Studio Gang. (John Zacherle / Flickr)
Location: 3400 N. Rockwell St. | MAP
Get out on the water this weekend. Instead of bumming it on the beach, go for a paddle along the Chicago River. Explore winding streams where herons hunt for fish and turtles bask in the sunlight. Beginners welcome. The Chicago River Canoe and Kayak team will provide you with everything you need to know.
"A river paddle in Chicago is best enjoyed if you keep splashing to a minimum (and you don't mind the stream's signature scent). But a trip here could be rewarded with some awesome wildlife sightings. Several types of elegant herons were spotted on a recent evening paddle, perched in trees, along banks and soaring overhead," said digital editor Rebecca Palmore. "We spied a turtle, too, and a few rambunctious squirrels. The team at Chicago River Canoe and Kayak will give you a heads-up of what to keep a lookout for, and answer any questions new paddlers may have."
Tip: Bring hand wipes for a quick, post-paddle clean.
Hours: 10 a.m.-6 p.m. Monday-Friday, 9 a.m.-6 p.m. Saturday-Sunday and July 4 through Sept. 2; 10 a.m.-4 p.m. Friday, 9 a.m.-5 p.m. Saturday-Sunday through October.
Cost: $20 per hour for a single kayak, canoes and tandem kayaks (1-hour minimum); day rate is equal to three hours (the company stops charging after three hours)
2. Bike the North Branch Trail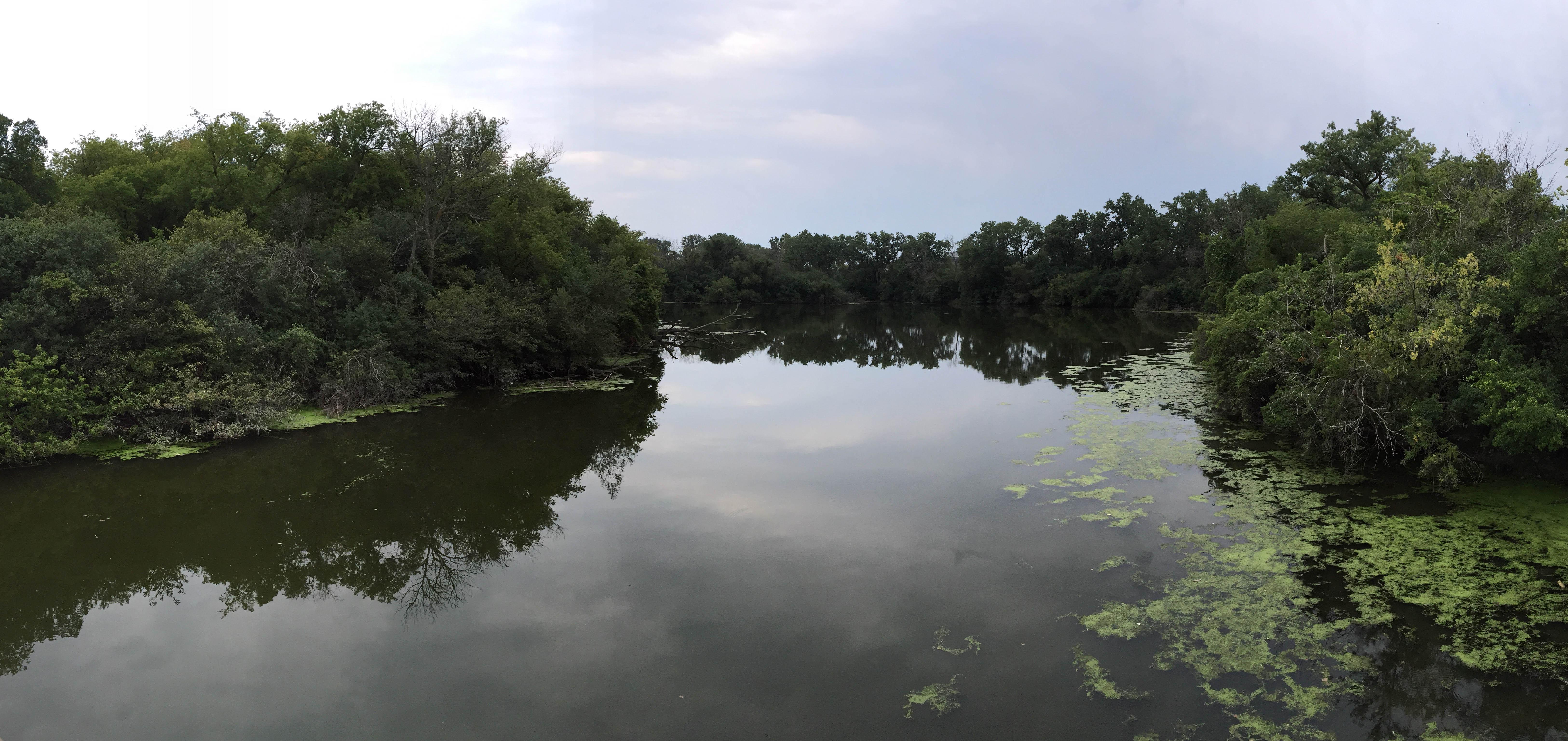 The North Branch Trail system winds along the Chicago River and the Skokie Lagoons. (Evan Garcia / Chicago Tonight)
Location: Access the southern trailhead at Gompers Park, 4222 W. Foster Ave. | MAP
Click here to see alternative access points and an interactive map of the trail.
Pack a picnic and hit the pavement with a pal. The 33.5-mile trail winds along the North Branch of the Chicago River and the Skokie Lagoons. Stop along the way to observe wildlife, have a snack, play a round of golf (several courses are along the route) or visit the Chicago Botanic Gardens. Don't have a bike? Rentals are available at several locations, including the Chicago Botanic Garden and Caldwell Woods.
"Biking is one of my favorite weekend activities, especially on a long holiday weekend. I recently discovered the North Branch Trail, a trail which extends 23 miles from Gompers Park in the Albany Park neighborhood northward to the Chicago Botanic Garden in Glencoe," said producer Evan Garcia. "The paved path runs through several nature preserves, providing gorgeous scenery and it's mostly free of motor vehicles, save for a few roads to cross along its course. "
Hours: Open during daylight hours.
Cost: Free

3. See green in Garfield Park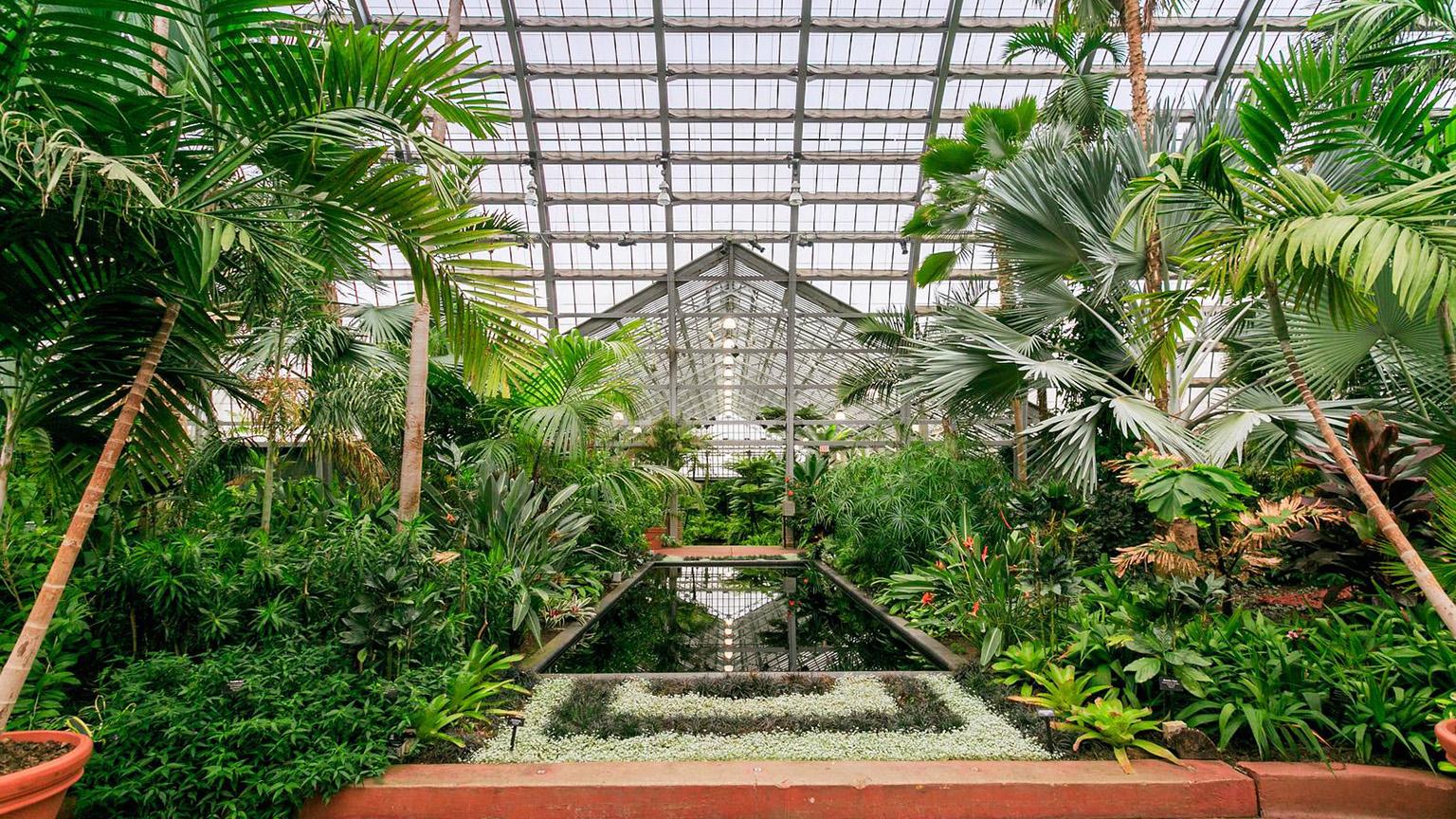 (Garfield Park Conservatory / Facebook)
Location: 300 N. Central Park Ave. | MAP
Stop and smell the flowers as you wander the 12 acres of outdoor summer gardens at the Garfield Park Conservatory. First opened in 1908, the West Side conservatory is often referred to as "landscape art under glass," for its six greenhouses spanning approximately two acres.
"Garfield Park Conservatory always fills me up," said producer Marc Vitali. "Breathing in the excellent air of the Fern Room, marveling at weird cacti in the Desert Room, strolling the outdoor gardens and lily pond – it's all a delight. With free parking and a $5 donation, it's also a bargain."
Hours: 9 a.m.-5 p.m. daily except Wednesday, when it's open until 8 p.m.
Cost: Free (donations suggested)

4. Unwind in Lake Geneva, Wisconsin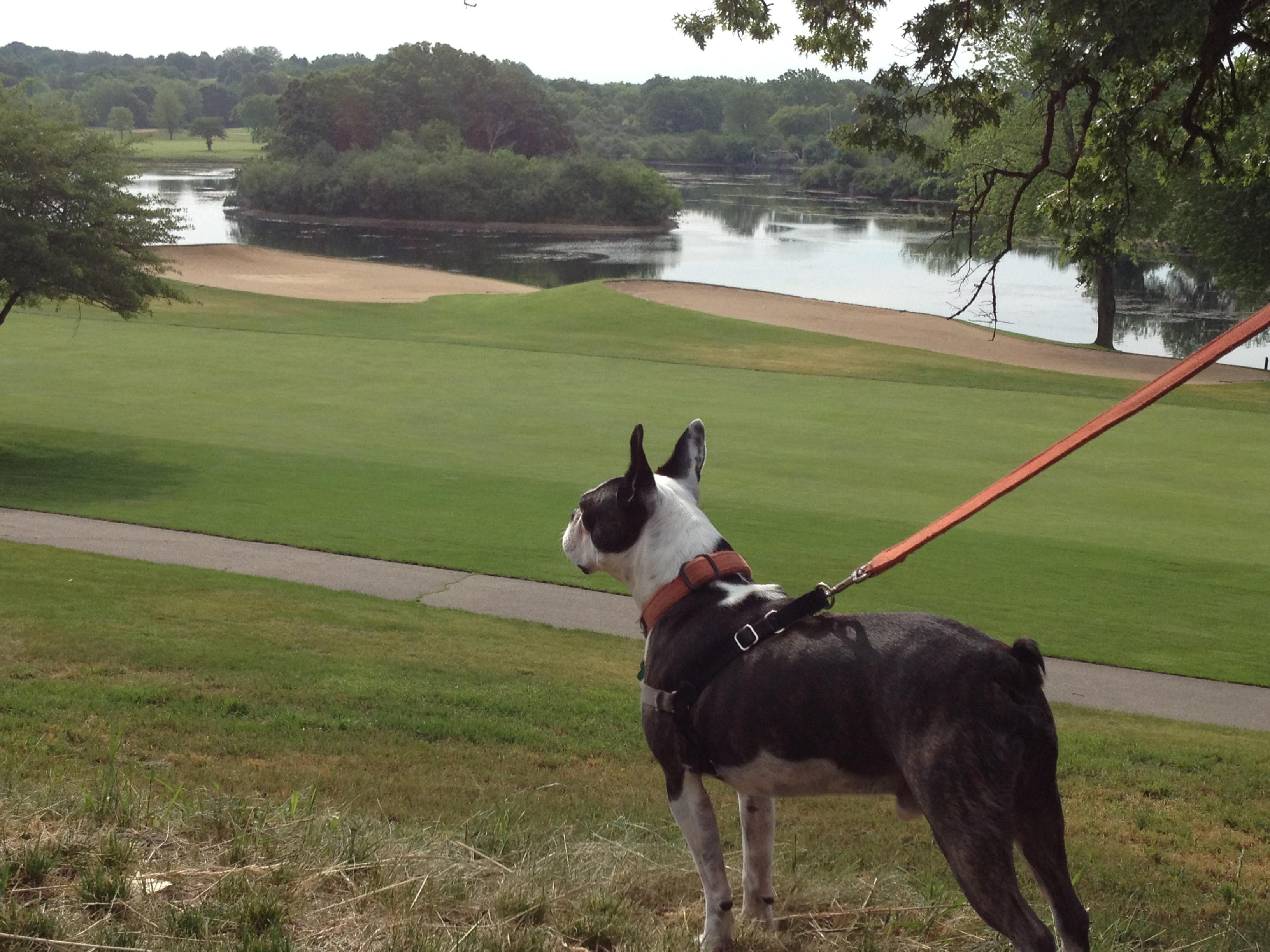 Rocky enjoys family trips to Lake Geneva. (Brandis Friedman / Chicago Tonight)
Location: Lake Geneva Visitors Center, 201 Wrigley Drive, Lake Geneva, Wisconsin | MAP
Approximate distance from Chicago: 83 miles
Retreat from the chaos that can be city life and unwind in this small town just north of the state border. Pamper yourself at one of the many salons and spas, sip artisan wines at the award winning Studio Winery, lounge on the beach or take a cruise on the town's namesake lake.
"I love a quick trip to Lake Geneva! The drive is short and sweet. We like to stay at the Grand Geneva Resort & Spa, it's beautiful, kid- and pet-friendly and has an interesting history," said host Brandis Friedman."I don't need much: just a pool, a spa and great restaurants (both at the hotel and in the adorable downtown)." 
Visitors Center Hours: 9 a.m.-5 p.m. Monday-Friday, 10 a.m.-4 p.m. Saturday-Sunday.
Cost: Free

5. Go on a state park adventure
A waterfall in Starved Rock State Park. (Arturo Hurtado / Flickr)
Location: 2668 E. 875th Road, Oglesby | MAP
Approximate distance from Chicago: 92 miles
Located along the Illinois River, Starved Rock State Park features more than 13 miles of trails that twist and turn through 18 glacier-carved canyons. Hiking is the primary attraction with trails for all skill levels. For an easy stroll, try the Aurora Canyon. Up for more of a challenge? Give Lover's Leap a try. Be sure to bring your own water and snacks (and take your trash with you). Birders, bring your binoculars along: Eagles, herons, owls and woodpeckers can all be spotted in the park.
"I have fond memories of family trips to Starved Rock. Days were filled with hikes and fishing, and nights were spent bonding over home cooked meals," said reporter Kristen Thometz. "The canyons, waterfalls and views along the Illinois River are breathtaking."  
Hours: 6:30 a.m.-9 p.m.
Cost: Free

6. Explore the City Museum in St. Louis
(Courtesy of City Museum)
Location: 750 N. 16th St., St. Louis, Missouri | MAP
Approximate distance from Chicago: 310 miles
Let your imagination and (inner) child run wild at the sprawling 600,000-square-foot City Museum. For 20 years the attraction has been thrilling young and old alike with its mix of children's playground, funhouse and architectural marvels. The brainchild of artist Bob Cassilly, City Museum was built only from materials found within the borders of St. Louis, including construction cranes, salvaged bridges and two abandoned planes.
"Try a weekend trip to visit the craziest, most inventive display of pure human creativity I've seen anywhere: The City Museum in St. Louis. To call it a museum is really a misnomer.  It's a wildly creative nuthouse of thinking outside the box," said host Geoffrey Baer.
"Where do I start? It's like a big community art project and it's a wonder the lawyers haven't shut it down. There's a labyrinth of claustrophobic tunnels under the floor and a forest of fake trees that extends several floors up through the building all for climbing, exploring and getting utterly lost. On the outside recycled construction cranes form a sort of jungle gym that climbs up the side of the building."
Hours: 9 a.m.-5 p.m. Monday-Thursday, 9 a.m.-midnight Friday-Saturday, 11 a.m.-5 p.m. Sunday
Cost: $16, Children ages 3 and under are free; additional $3 for roof admission; taxes apply.
---
Note: This story was originally published in August 2017. It has been updated for 2019.
---
Related stories:
2019 Chicago Summer Festival Guide
List: Free Summer Concerts in Millennium Park's Pritzker Pavilion
10 Things About Chicago Beaches You Might Not Know
Get Fit at Free Outdoor Workouts in Chicago This Summer
---