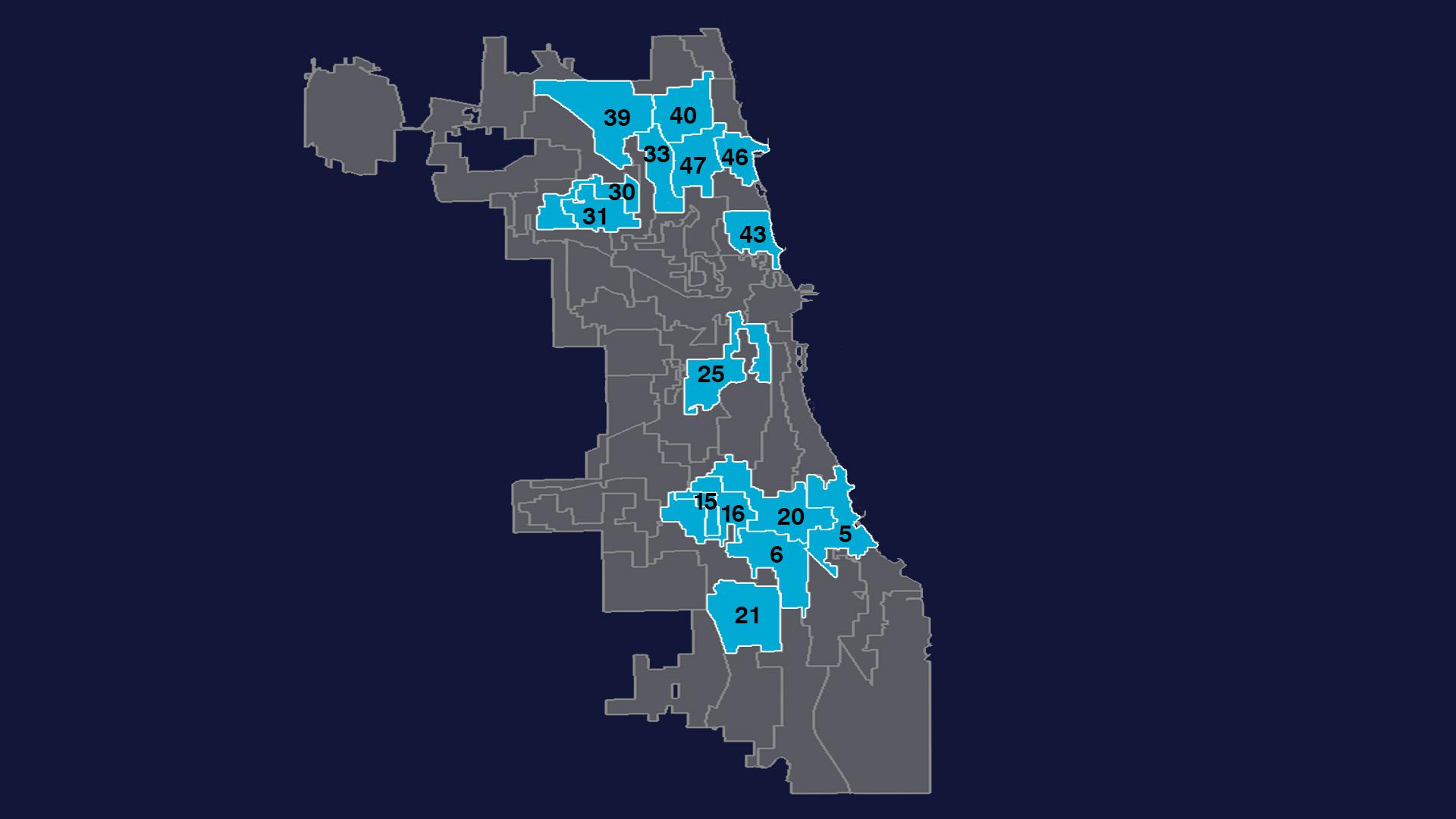 In 15 wards across the city, voters cast ballots for aldermen in Chicago's runoff election Tuesday. And in nearly a dozen of those races, incumbents fought for their political lives while a handful of newcomers battled for four vacant City Council seats.
More: Meet the Runoff Winners of 4 Open City Council Seats
Perhaps the most surprising incumbent upset was in the 40th Ward, where longtime Ald. Patrick O'Connor – Mayor Rahm Emanuel's floor leader and chairman of the City Council's powerful Finance Committee – was unseated by AT&T manager and former rapper Andre Vasquez, a democratic socialist.
Of the 11 incumbent aldermen, three have so far been unseated – Alds. Toni Foulkes, Milly Santiago and O'Connor – while five have held onto their seats – Alds. Roderick Sawyer, Raymond Lopez, Howard Brookins, Ariel Reboyras and Michele Smith.
In three wards, results are too close to call: the 5th Ward, 33rd Ward and 46th Ward.
Two seats were left vacant by aldermen immersed in legal trouble. In the 20th Ward, Ald. Willie Cochran effectively resigned after pleading guilty to federal corruption charges last month. In the 25th Ward, Ald. Danny Solis, who announced in November that he wouldn't seek re-election, has been out of the public eye since being named in a federal criminal complaint. 
Check live election results here.
5th Ward – too close to call: Ald. Leslie Hairston holds a slight lead over community organizer William Calloway, with 50.57 percent of the vote to Calloway's 49.43 percent.
6th Ward: Ald. Roderick Sawyer defeats accountant Deborah Foster-Bonner.
15th Ward: Ald. Raymond Lopez defeats Chicago police Officer Rafael "Rafa" Yanez.
16th Ward: Democratic committeeman Stephanie Coleman defeats Ald. Toni Foulkes.
20th Ward: Jeanette Taylor defeats Nicole Johnson for the seat of Ald. Willie Cochran, who recently resigned after a federal corruption guilty plea.
21st Ward: Ald. Howard Brookins defeats retired city employee Marvin McNeil.
25th Ward: Byron Sigcho-Lopez defeats Alexander "Alex" Acevedo for the open 25th Ward seat, where retiring Ald. Danny Solis has essentially been missing in action since it was revealed he wore a wire on Ald. Ed Burke and had been the subject of corruption allegations himself. 
30th Ward: Ald. Ariel Reboyras defeats Jessica Gutierrez, the daughter of former U.S. Rep. Luis Gutierrez. 
31st Ward: Ald. Milly Santiago was defeated by first-time candidate Felix Cardona Jr.
33rd Ward – too close to call: Democratic socialist Rossana Rodriguez Sanchez leads Ald. Deb Mell, daughter of longtime former Ald. Dick Mell, by a margin of 64 votes.
39th Ward: Samantha "Sam" Nugent defeats Robert Murphy to replace retiring Ald. Margaret Laurino.
40th Ward: Longtime Ald. Patrick O'Connor was defeated by former rapper Andre Vasquez.
43rd Ward: Ald. Michele Smith defeats businessman Derek Lindblom.
46th Ward – too close to call: Ald. James Cappelman narrowly leads scientific research consultant Marianne Lalonde by a margin of 23 votes.
47th Ward: Matt Martin soundly defeats Michael Negron for the seat of retiring Ald. Ameya Pawar, who is running for city treasurer.
Follow Evan Garcia on Twitter: @EvanRGarcia
---
Related stories:
Chicago Runoff Election: Live Results
Lori Lightfoot Makes History as Chicago Mayor-Elect
How Will Chicago's 2019 Runoff Election Go Down in History?
Voter Turnout for Historic Runoff on Pace With February Election
Mayoral, Aldermanic Candidates Try to Close the Deal
---