Lori Lightfoot's mayoral victory was decisive. What happens next is not, and the turnover isn't just at the top: Voters seeking change booted several longtime aldermen, meaning there will be a lot of fresh faces on the City Council.
Our politics team of Amanda Vinicky, Carol Marin and Paris Schutz talks about what we might see under a Lightfoot administration in this week's Spotlight Politics.
---
"You did more than make history," Chicago Mayor-elect Lori Lightfoot told her enthusiastic crowd of supporters Tuesday night. "You created a movement for change."
Lightfoot bested Cook County Board President Toni Preckwinkle in each of the city's 50 wards, and captured 73.7 percent of the vote to Preckwinkle's 26.3 percent, according to the latest election data released Wednesday evening.
It was a victory sizable enough to consider a mandate – a mandate that Lightfoot said during her election night speech she plans to use to advance her agenda.
"With this mandate for change we're going to take the next steps together," she said. "Together we can and will finally put the interest of our people – all of our people – ahead of the interest of a powerful few."
Such a mandate may help Lightfoot, who has never before held elected office or managed a beast as large as Chicago's bureaucracy, navigate the turbulent waters of City Hall and the General Assembly (she'll need Springfield's help to make good on many of her promises).
But the challenges are many. There's the sheer gravity of the city's gun crimes epidemic and the sheer severity of its financial woes, not to mention a teachers' union already girded for battle with pending Chicago Public Schools contract talks (the Chicago Teachers Union backed Preckwinkle over Lightfoot).
She'll also be governing alongside a City Council that's full of more fresh faces.  
Voters tossed out at least six incumbent aldermen, but possibly as many as nine, barring the outcome of races that as of Wednesday are still too close to call. Another four new alderman will take seats left open when their predecessors retired.
Lightfoot's win, coupled with the aldermanic turnover, is a sure signal that voters were sick of the status quo.
But that also makes for a fractured council, and means Lightfoot won't benefit from getting the rubber stamp alderman have historically given to mayor's budgets and agendas.
Meanwhile, Preckwinkle's bruising loss leaves her weakened, even as she holds onto powerful positions as president of the Cook County Board of Commissioners and head of the Cook County Democratic Party.
Follow us on Twitter: @wttw | @paschutz | @CarolMarin | @AmandaVinicky
---
Chicago City Council: Who's staying, who's going, and how the fresh faces got there.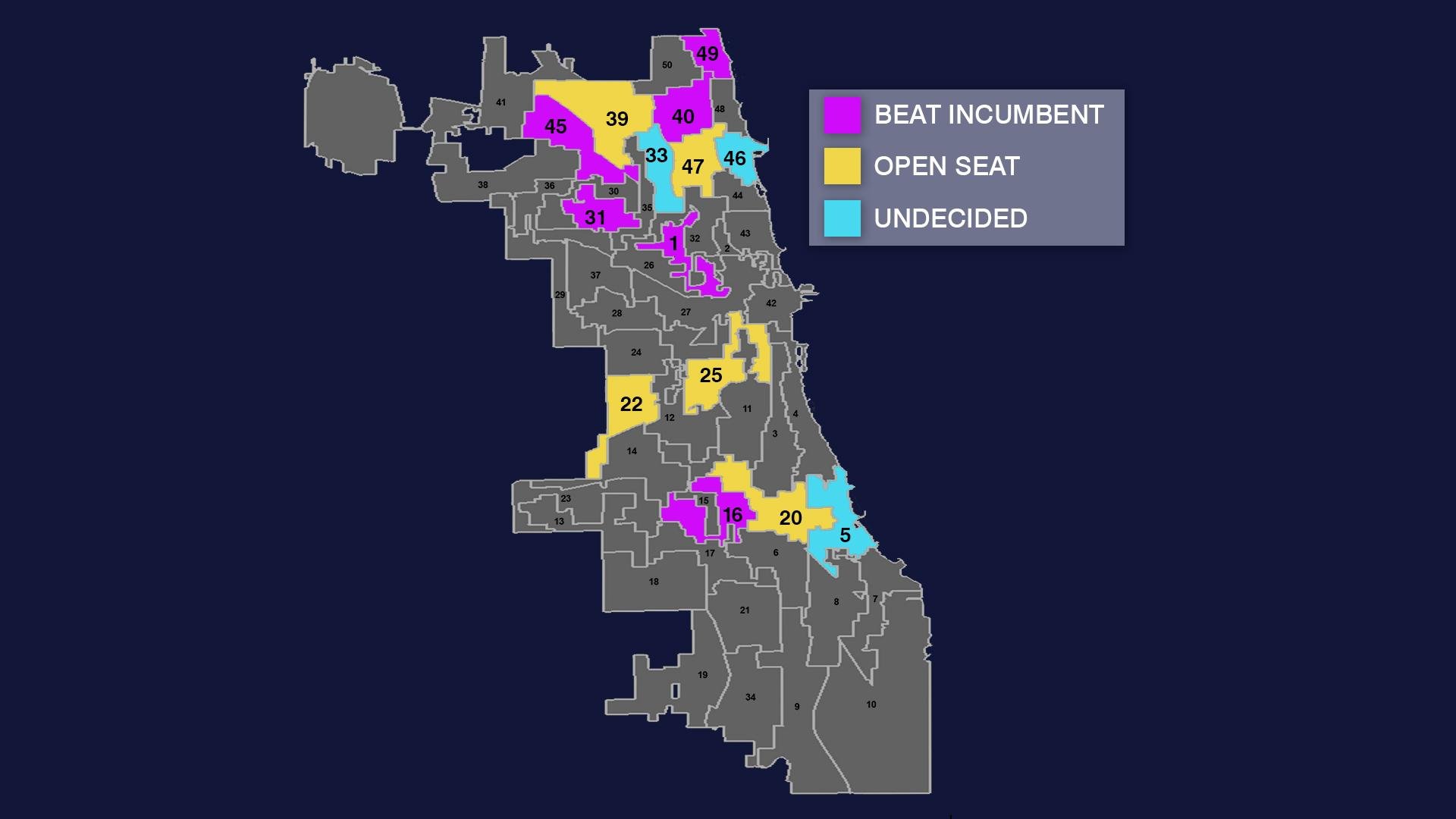 Returning Incumbents
• Ward 2: Brian Hopkins
• Ward 3: Pat Dowell
• Ward 4: Sophia King
• Ward 6: Roderick Sawyer (defeated Deborah Foster-Bonner in April runoff)
• Ward 7: Gregory Mitchell
• Ward 8: Michelle Harris
• Ward 9: Anthony Beale
• Ward 10: Susan Sadlowski Garza
• Ward 11: Patrick Daley Thompson
• Ward 12: George Cardenas
• Ward 13: Marty Quinn
• Ward 14: Ed Burke
• Ward 15: Raymond Lopez (defeated Rafael "Rafa" Yanez in April runoff)
• Ward 17: David Moore
• Ward 18: Derrick Curtis
• Ward 19: Matt O'Shea
• Ward 21: Howard Brookins (defeated Marvin McNeil in April runoff)
• Ward 23: Silvana Tabares
• Ward 24: Michael Scott Jr.
• Ward 26: Roberto Maldonado
• Ward 27: Walter Burnett
• Ward 28: Jason Ervin
• Ward 29: Chris Taliaferro
• Ward 30: Ariel Reboyras (defeated Jessica Gutierrez in April runoff)
• Ward 32: Scott Waguespack
• Ward 34: Carrie Austin
• Ward 35: Carlos Ramirez-Rosa
• Ward 36: Gilbert Villegas
• Ward 37: Emma Mitts
• Ward 38: Nicholas Sposato
• Ward 41: Anthony Napolitano
• Ward 42: Brendan Reilly
• Ward 43: Michelle Smith (defeated Derek Lindbloom in April runoff)
• Ward 44: Tom Tunney
• Ward 48: Harry Osterman
• Ward 50: Debra Silverstein
New Aldermen in 2019
• Ward 1: Daniel LaSpata (defeated incumbent Joe Moreno in February)
• Ward 16: Stephanie Coleman (defeated incumbent Toni Foulkes in April runoff)
• Ward 20: Jeannette Taylor (defeated Nicole Johnson in April runoff; open seat previously held by Willie Cochran)
• Ward 22: Michael Rodriguez (open seat previously held by Ricardo Munoz)
• Ward 25: Byron Sigcho-Lopez (defeated Alex Acevado in April runoff; open seat previously held by Danny Solis)
• Ward 31: Felix Cardona, Jr. (defeated incumbent Milagros "Millie" Santiago in April runoff)
• Ward 39: Samantha Nugent (defeated Robert Murphy in April runoff; open seat previously held by Margaret Laurino)
• Ward 40: Andre Vasquez (defeated incumbent Patrick O'Connor in April runoff)
• Ward 45: Jim Gardiner (defeated incumbent John Arena in February)
• Ward 47: Matt Martin (defeated Michel Negron in April runoff; open seat previously held by Ameya Pawar)
• Ward 49: Maria Hadden (defeated incumbent Joe Moore in February)
Undecided Runoff Races
• Ward 5: Incumbent Leslie Hairston vs. William Calloway (see latest totals)
• Ward 33: Incumbent Deb Mell vs. Rosanna Rodriguez Sanchez (see latest totals)
• Ward 46: Incumbent James Cappleman vs. Marianne Lalonde (see latest totals)
---
Related stories:
Mayor-Elect Lightfoot Mends Fences on Day One of Transition
Lori Lightfoot Makes History as Chicago Mayor-Elect
Vasquez Vanquishes O'Connor in 40th Ward
Incumbent Aldermen Fight for Their Political Lives in Runoff Election
---