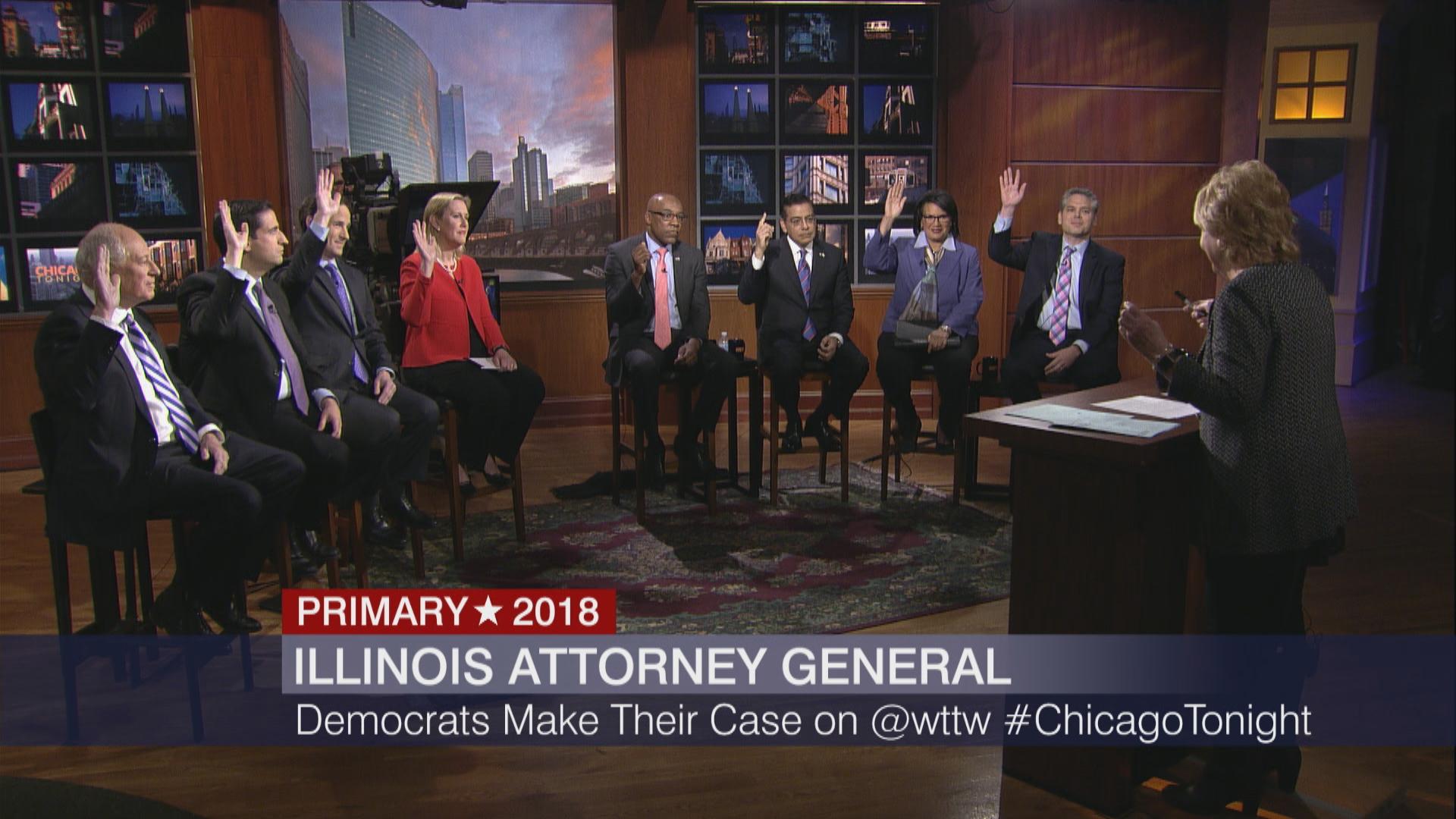 Democratic candidates for attorney general raise their hands Monday on "Chicago Tonight" in response to Carol Marin's question, "Should Mike Madigan step down as chairman of the Democratic Party?"
Political leaders of the fabled Chicago Democratic machine have lost public support from a group of lawyers, one of whom may in the near future be well-placed to do more than just talk about rooting out corruption.
None of the eight Democrats aspiring to be Illinois' next attorney general says that Cook County Democratic Party Chairman Joe Berrios should be re-elected county assessor. All eight attorney general candidates also raised their hands when asked at a Chicago Tonight forum Monday night whether House Speaker Michael Madigan should step down as head of the Democratic Party of Illinois.
However, state Sen. Kwame Raoul, who won the Cook County Democratic Party's endorsement, went on to say that he was not making any statement about Berrios, and is "not endorsing anybody" in the contentious assessor's race, which pits the besieged Berrios against former wealth manager Fritz Kaegi.
"What I do privately in the ballot box is what I do privately in the ballot box," Raoul said.
His opponents took the opposite tact – actively piping up to criticize Berrios.
"His office is sort of the poster child for everything that's wrong in Democratic politics in Illinois right now," Highland Park Mayor Nancy Rotering said.
Cook County public defender Aaron Goldstein and political commentator and former assistant U.S. attorney Renato Mariotti actively back and endorsed Kaegi. "Joe Berrios is similar to Mike Madigan, really a cancer on our democracy," Goldstein said. 
"That is an area where there is a lot of fairly questionable and shady activity going on," Mariotti said. "In Illinois we've set the bar way too low, where if you're not committing a crime you're somehow not corrupt. I think that corruption is broader than that. And there's a lot of very questionable and unethical practices going on related to that office."
Video: Watch the full candidate forum.
---
Former Illinois Gov. Pat Quinn says Illinois needs to investigate the entire assessment process in Cook County.
An independent review released in February showed Berrios's office uses a flawed system to determine property wealth. Berrios says he plans to upgrade the process, but Kaegi and other critics say that could and should have been done years ago.
Berrios is also under fire for accepting campaign contributions from property tax attorneys, including Madigan, who make money by appealing assessments.
Former federal prosecutor and former assistant Illinois attorney general Sharon Fairley said of Berrios: "He's run a shop that's become, like, the employment agency for his family."
State Rep. Scott Drury of Deerfield, a former prosecutor, said were he to be elected attorney general, investigating Berrios's office would be one of his top priorities.
The candidates were evenly divided as to whether Madigan should resign from his position as speaker, however (in the "yes" camp: Drury, Fairley, Mariotti and Goldstein; not raising their hands were Raoul, Quinn, Rotering and former state board of education chairman Jesse Ruiz).
"It's a position that's chosen by people who are elected by the electorate," Rotering said, referencing Illinois' procedure of legislators, not the public, voting for the leaders of the General Assembly. "I think it's important their voices be represented."
Drury, who is running a campaign ad touting his refusal to vote for Madigan as speaker last year, called Madigan the "single biggest impediment to progress," and said that Madigan is able to retain his position as speaker because he doles out campaign cash and staff and controls what legislation moves in the House.
Madigan's daughter, Attorney General Lisa Madigan, stunned political observers in September when she announced she would not seek a fifth term.
"I think she's been an independent broker and I think she's done the job well," Raoul said.
Quinn also had high praise for Lisa Madigan, noting how her office fought "a bum law" that has allowed Commonwealth Edison to raise its rates. "I think she's very independent," Quinn said.
Others were not so charitable.
Goldstein says Lisa Madigan has been "competent but cautious."
"She said in 2003 corruption would be a priority … it's 2018 and nothing has been done. We have sexual harassment claims, and conflicts of interest and nothing has been done on those issues," Goldstein said.  "On criminal justice reform, she was completely absent until Laquan McDonald happened."
All of the candidates say they support Lisa Madigan's calls for the city of Chicago to enter a consent decree with the U.S. Department of Justice, following a probe of the Chicago Police Department that kicked off upon the release of a video that showed a police officer, now on trial for murder, repeatedly shooting black teenager McDonald.
All of the candidates support legalizing recreational marijuana. 
According to recent polls, most voters are still undecided, even as early voting is already underway and the primary is a week from Tuesday.
Fairley has clinched most major newspaper endorsements, but Quinn and Raoul have led the polls.
That made them the subject of attacks from the rest of the field, with Ruiz questioning how Raoul would be able to enforce ethical standards and pursue corruption cases against senators who've contributed to Raoul's campaign. Ruiz also attacked Raoul for accepting money from fantasy sports groups, who have been fighting an opinion issued by Lisa Madigan that says fantasy sports betting qualifies as gambling, and thus should be illegal in Illinois.
There's "no evidence I've ever taken an action in response to a campaign contribution," Raoul said.
Mariotti sparred with Quinn as the former governor touted citizen-driven referenda and petitions as the path to ridding state government of conflicts of interest (Quinn helped to form the Citizens Utility Board in the early '80s via a referendum). 
"You've been in office since I was a little boy. I'm 41 years old and you have been in office as long as I can remember. And we don't have a clean state," Mariotti said. "We have a state that frankly, people aren't proud of. A state government that is not working well, a city government that is not working well."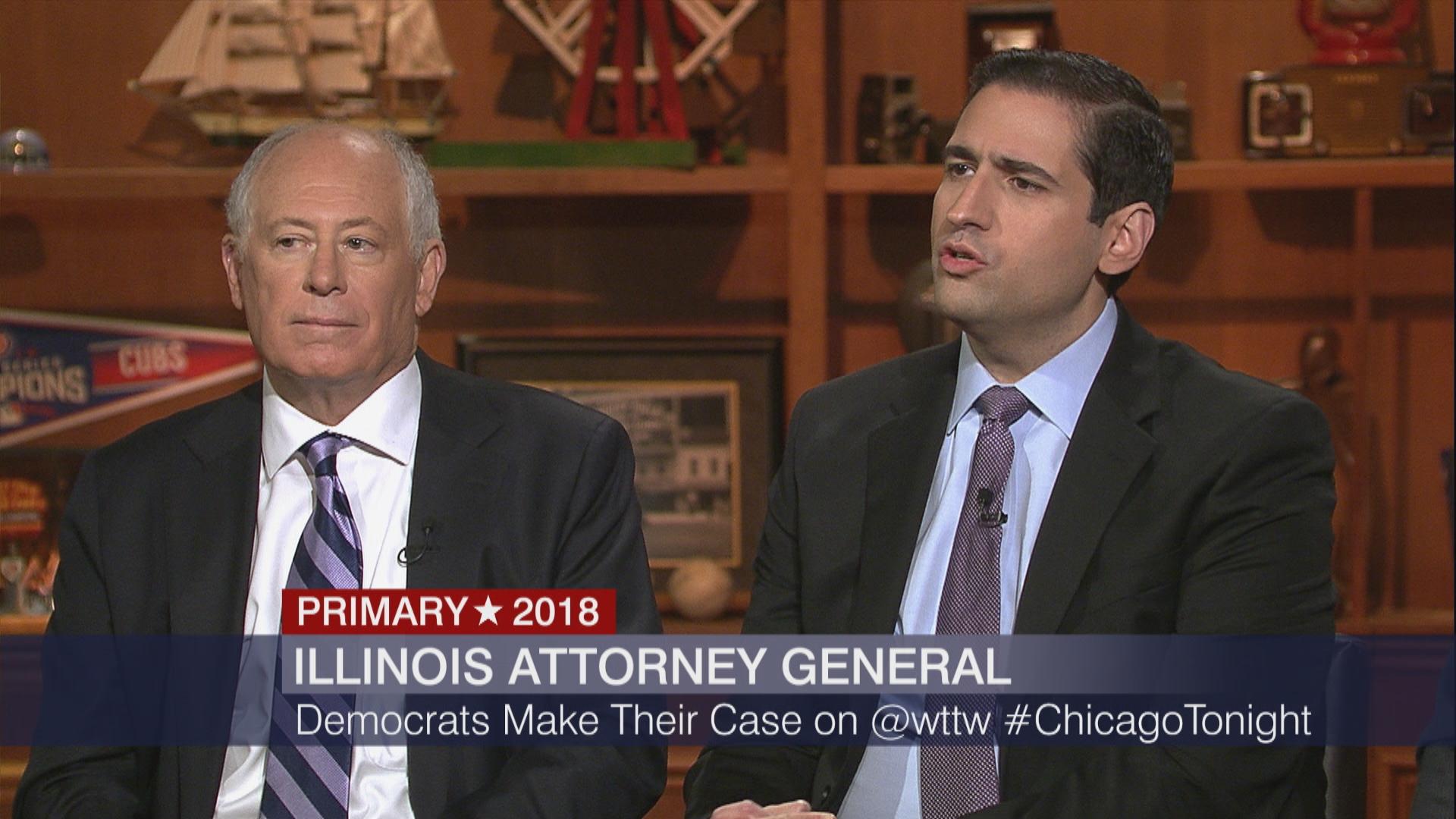 Former assistant U.S. attorney Renato Mariotti spars with former Gov. Pat Quinn during a forum Monday on "Chicago Tonight."
Rotering said that Illinois' Freedom of Information Act law, which exempts legislators' emails, is an "opaque situation ... we don't know what they're talking about, who they're meeting with and how they're getting to any of these conclusions."
Fairley resigned this fall as the leader of the Chicago Civilian Office of Police Accountability, or COPA – an agency formed in the aftermath of the McDonald case. Her decision to leave, Fairley said, was "separate" from her bid for attorney general.
Fairley said she felt she was an "anchor around the agency's neck" and that the public questioned how COPA could be different from IPRA, the previous police accountability group, with her at the helm, considering she'd been brought in at "a time of crisis."
Among the less-serious revelations from Monday's forum: Fairly was once in a band called The Power Tools, Ruiz likes to sing but says he isn't good at it (though he says he embarrassed himself signing with a mariachi band at his son's bar mitzvah) and Drury loves The Grateful Dead – he's been to roughly 60 shows and has a Jerry Garcia tie.
Follow Amanda Vinicky on Twitter: @AmandaVinicky
---
Related stories: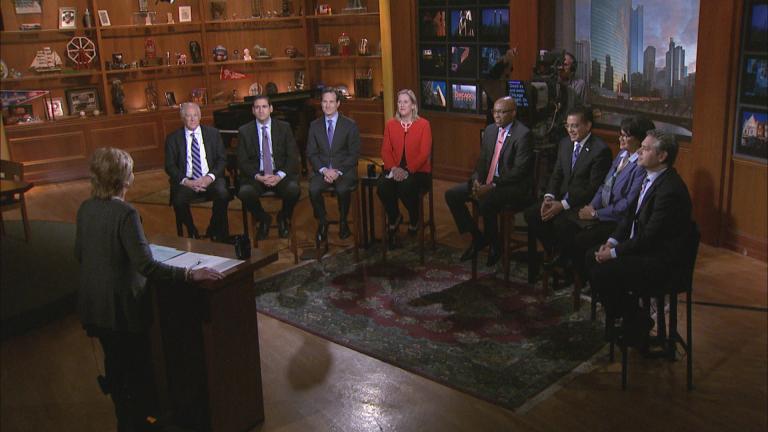 Illinois Attorney General Forum: Democratic Candidates
March 12: Meet the eight Democrats running for Illinois attorney general Monday during a special hourlong episode of "Chicago Tonight."
---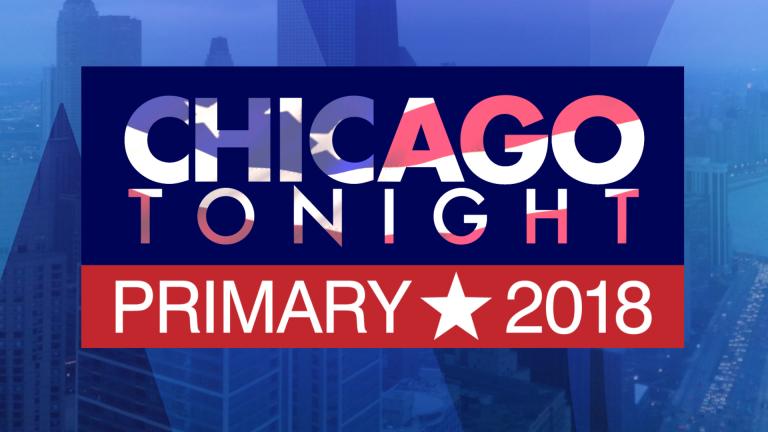 2018 Primary Election: Candidate Forums on 'Chicago Tonight'
Ahead of the March 20 primary election, Chicago Tonight is hosting a series of candidate forums. Here's what you need to know.
---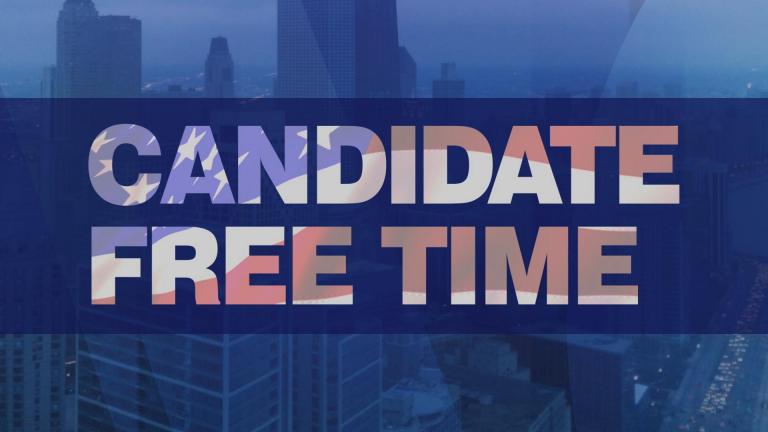 2018 Voters' Guide to the Cook County Primary
WTTW's 2018 Voters' Guide to the Cook County Primary is an online resource designed to inform voters about the candidates running for office in the March 20 election. Learn more.
---