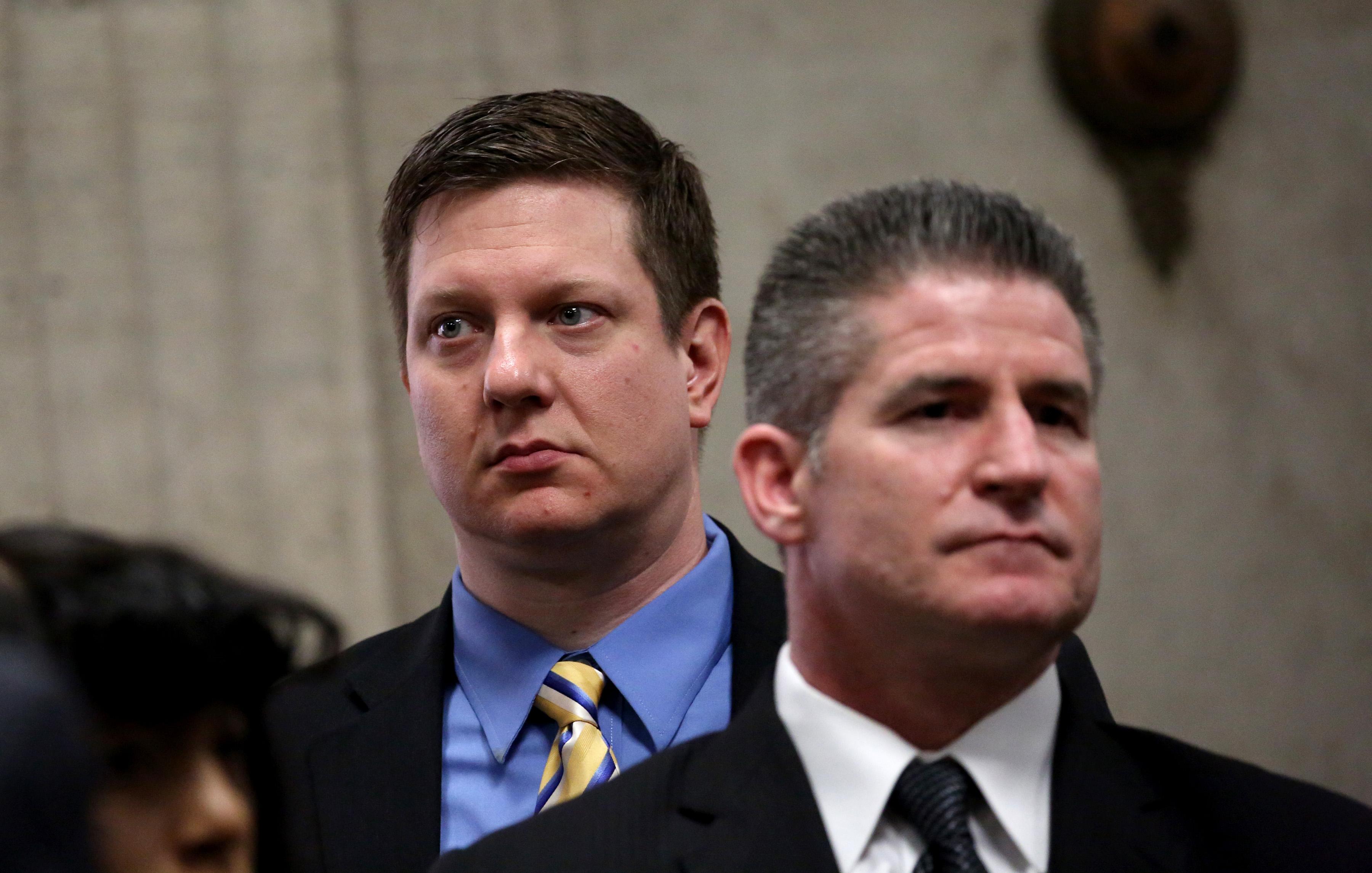 Jason Van Dyke, left, with his attorney Daniel Herbert inside the Leighton Criminal Court Building in Chicago on Thursday, March 8, 2018. (Nancy Stone / Chicago Tribune / Pool)
When will the murder trial of Chicago Police Officer Jason Van Dyke begin? A start date remains unclear, but the Cook County judge handling the case said it will proceed only after attorneys have had an appropriate amount of time to prepare.
Van Dyke was escorted into and out of the courthouse for a pre-trial hearing Thursday wearing a bulletproof vest. He faces six counts of first-degree murder and another 16 counts of aggravated battery in the October 2014 shooting death of 17-year-old Laquan McDonald that was captured on police dashcam video.
Judge Vincent Gaughan wouldn't say how soon a trial could get underway. Protestors on Thursday called on the judge to set a date, but Gaughan said he wants to ensure a fair trial.
He addressed the extended duration of the case during a separate hearing Thursday morning, saying his court alone presided over 30 trials last year, 11 of which involved first-degree murder.
Attorneys say the Van Dyke case has included more than 500,000 pages of documents along with more than 40 attorneys for the prosecution, defense and other involved entities. Gaughan reiterated the case is moving as quickly as it can, but added it's not going to be "run by the public."
"This court has not just been sitting idly by not doing anything," he said. "We're going to take the time that is appropriate for everybody … It'll go to trial when it's fair."
The judge did press defense attorneys to make some of their expert witnesses available at a hearing later this month and expressed a desire to get the case moving more quickly. Still, protesters are calling for a trial date to be set soon.
"Our patience has been fully exhausted," Chicago activist William Calloway told media. "We have been peaceful, we have marched and protested and raised this issue peacefully."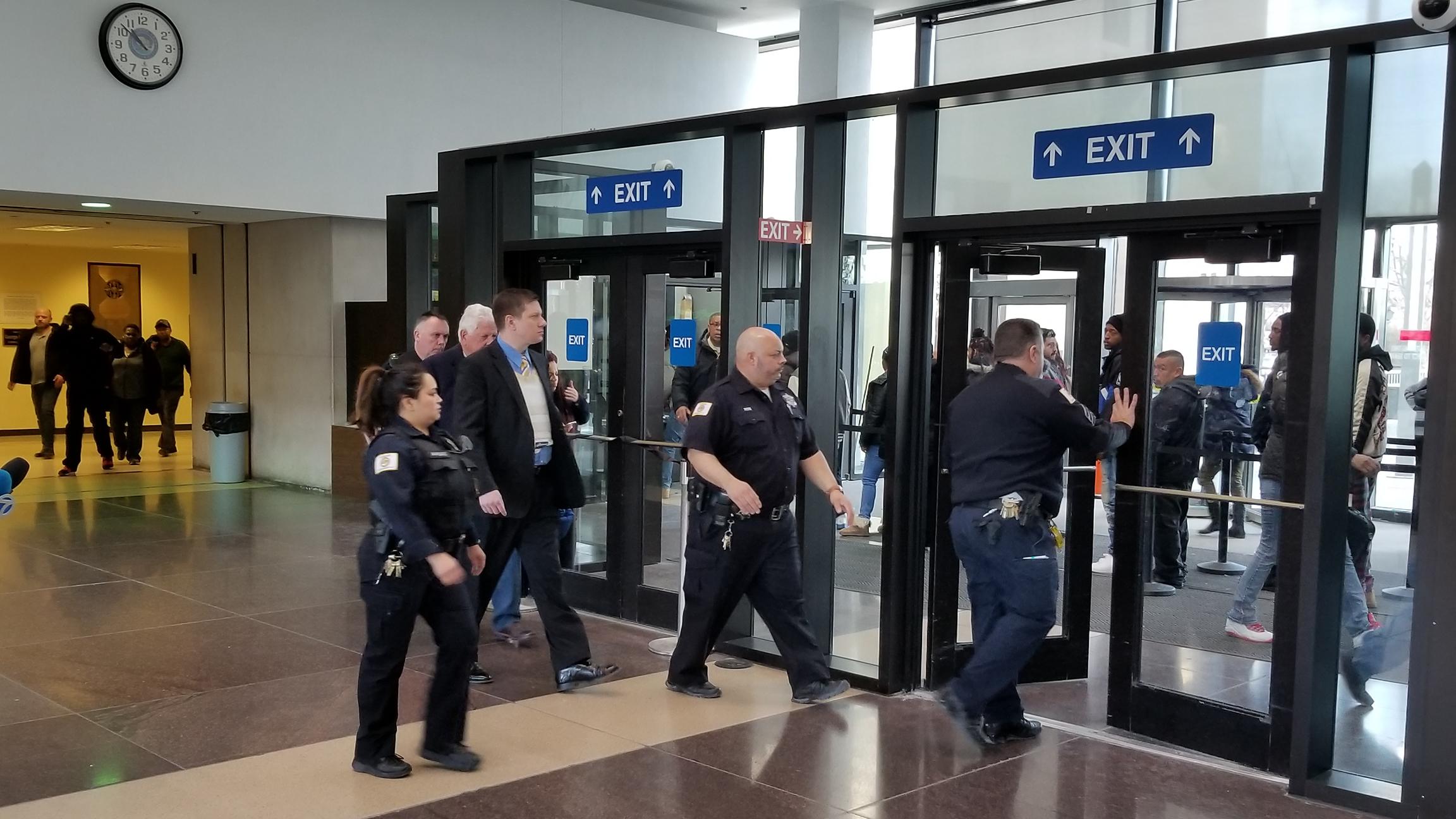 Wearing a bulletproof vest, Jason Van Dyke exits the Leighton Criminal Court Building in Chicago on Thursday, March 8, 2018. (Matt Masterson / Chicago Tonight)
Van Dyke pleaded not guilty in December 2015. Several court officials said Thursday they would likely need to be made aware of a trial date two months in advance to ensure they're adequately prepared.
Among the other issues discussed Thursday was a request by Chicago Public Media attorneys representing multiple Chicago-area outlets to grant public access to sealed documents held under a "decorum order" in the high-profile murder case.
That order prohibits attorneys from discussing any details in public outside the courtroom. To this point, pre-trial hearing discussions have also taken place largely behind closed doors in the judge's chambers and case files have remained under seal. The judge says this is necessary to ensure a fair trial.
Gaughan agreed to their petition for intervention, ordering prosecutors and defense attorneys to meet in the coming weeks to determine what case documents and information are protected by state law set previously in State of Illinois v. R. Kelly.
Attorneys for the Chicago Sun-Times, Tribune Company and the Associated Press filed an emergency motion in the R&B artist's 2008 child pornography case – which Gaughan also presided over – in order to gain access to pretrial proceedings and records that had been kept under seal through a similar decorum order.
The judge also wants to hear later this month from a defense polling specialist surveying for a possible change of venue request. Van Dyke is expected back in court for a hearing Mach 28.
Contact Matt Masterson: @ByMattMasterson | [email protected] | (773) 509-5431
---
Related stories: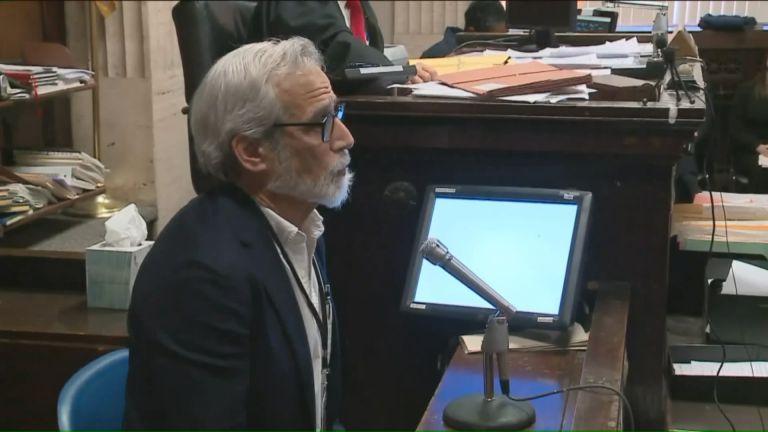 Van Dyke Attorneys Want Reporter to Reveal Sources
Dec. 6: Should Jamie Kalven, the reporter who broke the story of the Laquan McDonald shooting, be forced, under oath, to reveal his sources?
---
3 Cops Plead Not Guilty to Cover-Up Charges in Laquan McDonald Case
July 10: Two former Chicago Police officers and one current officer pleaded not guilty to charges they conspired to cover for former cop Jason Van Dyke in the shooting of 16-year old Laquan McDonald.
---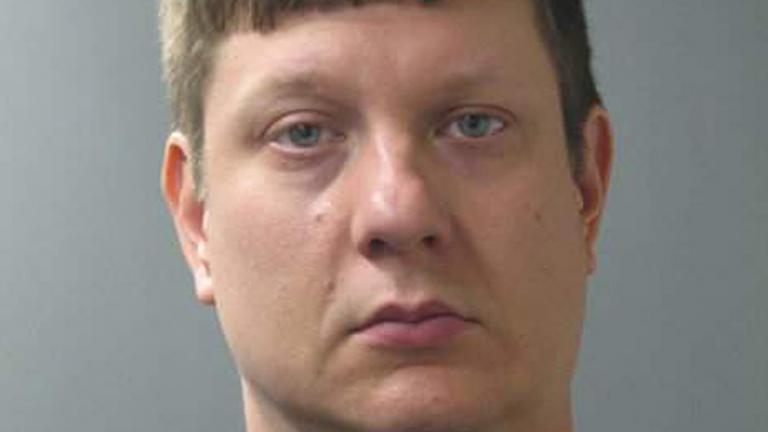 Officer Jason Van Dyke Pleads Not Guilty to Murder Charges
Dec. 29, 2015: The former Chicago police officer appeared in court this morning for his arraignment in the Laquan McDonald case. Paris Schutz brings us the latest.
---