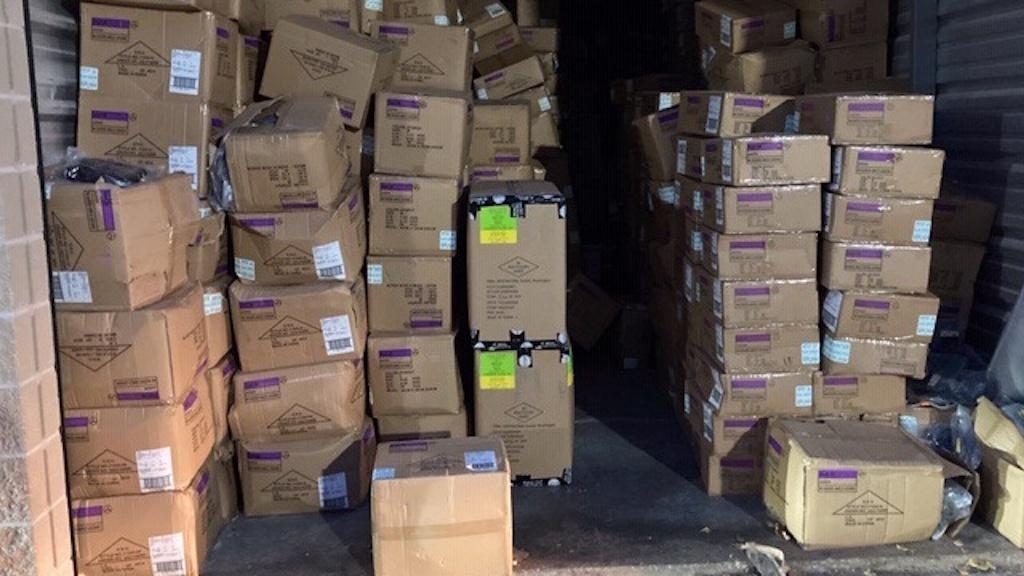 Some of the more than $1 million in stolen retail items recovered this week by Illinois law enforcement. (Illinois Attorney General's Office)
A joint task force this week recovered thousands of pieces of stolen retail items, including men's and women's clothing, electronics, high-end food items and beauty supplies, totaling more than $1 million in value from multiple Chicago storage containers this week, law enforcement officials announced Friday.
Illinois Attorney General Kwame Raoul said members of an Organized Retail Crime Task Force and the Chicago Police Department executed search warrants at eight storage units in two Chicago locations Wednesday night, where they recovered "four semitrailers of merchandise" that had been stolen from major national retailers.
"The actual operation of these organized schemes is a lot more sophisticated than might be reflected in the commonly seen smash-and-grab group thefts," Raoul said Friday during a press conference in Chicago. "Our goal is to disrupt the criminal enterprises that engage in the overall scheme and send a message to these criminal operations that we will identify them and end the destruction they cause to our communities."
BREAKING

In a significant development related to my Organized Retail Crime Task Force, hundreds of thousands of dollars of stolen merchandise has been recovered from several storage units.

Join me live to learn more about the ongoing investigation: https://t.co/oc07e3DmhX pic.twitter.com/1rBNlmy3z9

— IL Attorney General (@ILAttyGeneral) December 3, 2021
---
Though officials were light on some specifics, the seizure apparently stemmed from an unrelated gun arrest. CPD Chief of Detectives Brendan Deenihan said an officer arrested that suspect and discovered stolen items in their car. From there, a Chicago retail crime team was notified, as well as the AG's task force and the items were eventually recovered.
Raoul said it took a team of 15 investigators working between eight and nine hours to unload all of the seized items between Wednesday night and Thursday morning. These items are believed to have been stolen not just from retail stores, Raoul said, but at various points throughout the supply chain.
Chicago and other cities have seen multiple brazen thefts in recent weeks and months at high-end retailers, leading some stores to begin employing additional security.
Last week, the CPD issued a community alert about a string of October and November retail thefts along Michigan Avenue in which a group of three to 10 people would enter a business, grab purses on display tables, and flee into an awaiting getaway vehicle.
On Thursday, the department announced criminal charges against a 16-year-old boy who was allegedly one of nine people to steal merchandise from a Michigan Avenue store in broad daylight earlier this week.
These type of thefts have netted valuable items that can be moved quickly and sold on a "well-organized secondary market," Raoul said.
"We have strong reason to believe that if we had not acted swiftly, that the over $1 million worth of stolen items would not have been recovered," he said.
An investigation remains ongoing, and aside from the unrelated gun charge that led to the seizure, no one has yet been arrested in this case.
Raoul said it'd be "premature" to discuss what potential charges people could face, though state, federal and local authorities have all directed their attention onto this case.
"There's a lot to our disposal in terms of potential charges," he said. Asked if he would defer to federal authorities who may impose stricter penalties, Raoul said "We've got some pretty tough penalties at our disposal at the state level too, but you know, we're all working together."
Contact Matt Masterson: @ByMattMasterson | [email protected] | (773) 509-5431
---