CPS Chief Education Officer Janice Jackson said the district doesn't want to "stand back and just wait for the dust to settle" as it awaits a resolution to its ongoing budget struggles. (Chicago Tonight)
On top of requiring seniors to plan for life after high school, Chicago Public Schools' new graduation requirements will also put an added focus on science courses and financial literacy.
Along with its new "Learn. Plan. Succeed." graduation program, CPS is requiring students to achieve credits in specific science-based courses before crossing the stage and picking up their diplomas.
"Our financial crisis is real, and … it's important to know that the district is in a place where despite those financial challenges, we are not prepared to stand back and just wait for the dust to settle," CPS Chief Education Officer Janice Jackson said. "There are some things that we can do from an infrastructure standpoint that lays the groundwork for CPS to be successful once the budget crisis is resolved and we get some kind of relief."
CPS and Mayor Rahm Emanuel announced the new grad program earlier this year, requiring the class of 2020 to formulate a post-graduation plan – anything from a college or military acceptance letter to entry into a gap-year, job or trade program – before they are allowed to graduate.
The district says 60 percent of its students already have a postsecondary plan.
High schoolers already take three years of science, but the new policy concentrates that specifically on biology, chemistry and physics, requiring students to achieve one credit in each course in order to graduate. Chief of Teaching and Learning Latanya McDade said the district wants to encourage students to enter Science, Technology, Engineering and Math (STEM) careers, as those are growing at three times the rate of non-STEM fields.
CPS is also emphasizing financial literacy with a pass/fail grad requirement the district hopes will lead to students making "empowered financial decisions."
The financial education and science requirements will take effect for freshmen enrolling in 2017 and 2018, respectively.
Jackson and district administration acknowledge that these changes will require additional counselors and a re-shuffling of the tasks they already handle. But she said the decisions made about additional counselor training and hiring will occur at a school-by-school basis.
"For example, if you are in a school where you maybe have one counselor … as a principal you will have to look at how you are spending your money and it may mean you add an additional counselor and make a decision to stop doing something else," she said. "That is a real possibility here for some principals here with a tight budget."
With decisions coming at the school level, the district will take on more of an advisory and oversight role in the process. One way CPS is aiming to ensure schools implement the model is by including "Learn. Plan. Succeed." in its School Quality Rating Policy – the district's annual school performance metric.
But it still remains to be seen how much of an impact the new graduation requirements will have on that rating. Jackson said CPS is also looking to increase its number of college and career specialists to assist schools in the plan's gradual rollout.
As the district looks to borrow millions to keep classrooms open through the end of the school year, Jackson said CPS wanted to be proactive in trying to grow its student achievement.
"We're laying the groundwork," she said. "Some of this is an acknowledgement that our financial situation is what it is, but the district has a choice – we can just stand by and wait for things to happen, or we can continue to build on the success we've experienced."
The Board of Education will vote on the graduation plan in its entirety at its meeting Wednesday. 
Follow Matt Masterson on Twitter: @ByMattMasterson
---
Related stories:
New 'GoCPS' High School Application Site Goes Live
May 17: The districts' common high school application website officially went live this week, less than a month after the Board of Education approved the new model.
---
Betsy DeVos, Mayor Emanuel Scheduled to Meet Wednesday
April 10: Chicago's mayor and the U.S. education secretary have a 10:30 a.m. meeting scheduled Wednesday morning. But the location and content of their talk is not yet known.
---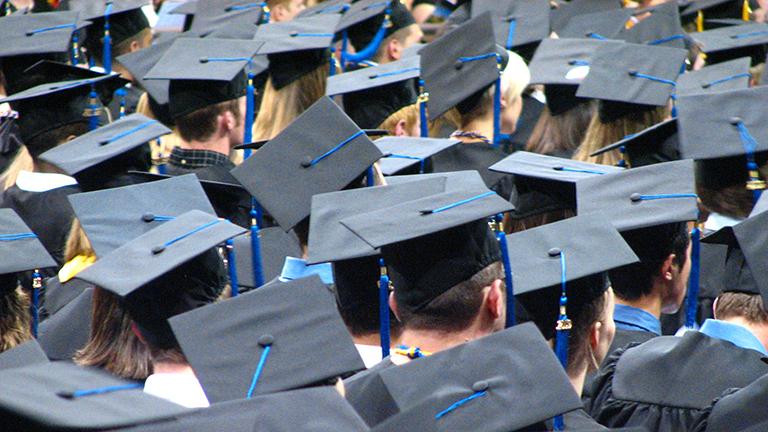 CPS Announces Record-High Graduation Rate for Class of 2016
Sept. 5: Nearly three out of four seniors within Chicago Public Schools earned their diplomas in 2016 – a district record – as graduation rates increased across neighborhood, charter and traditional high schools.
---