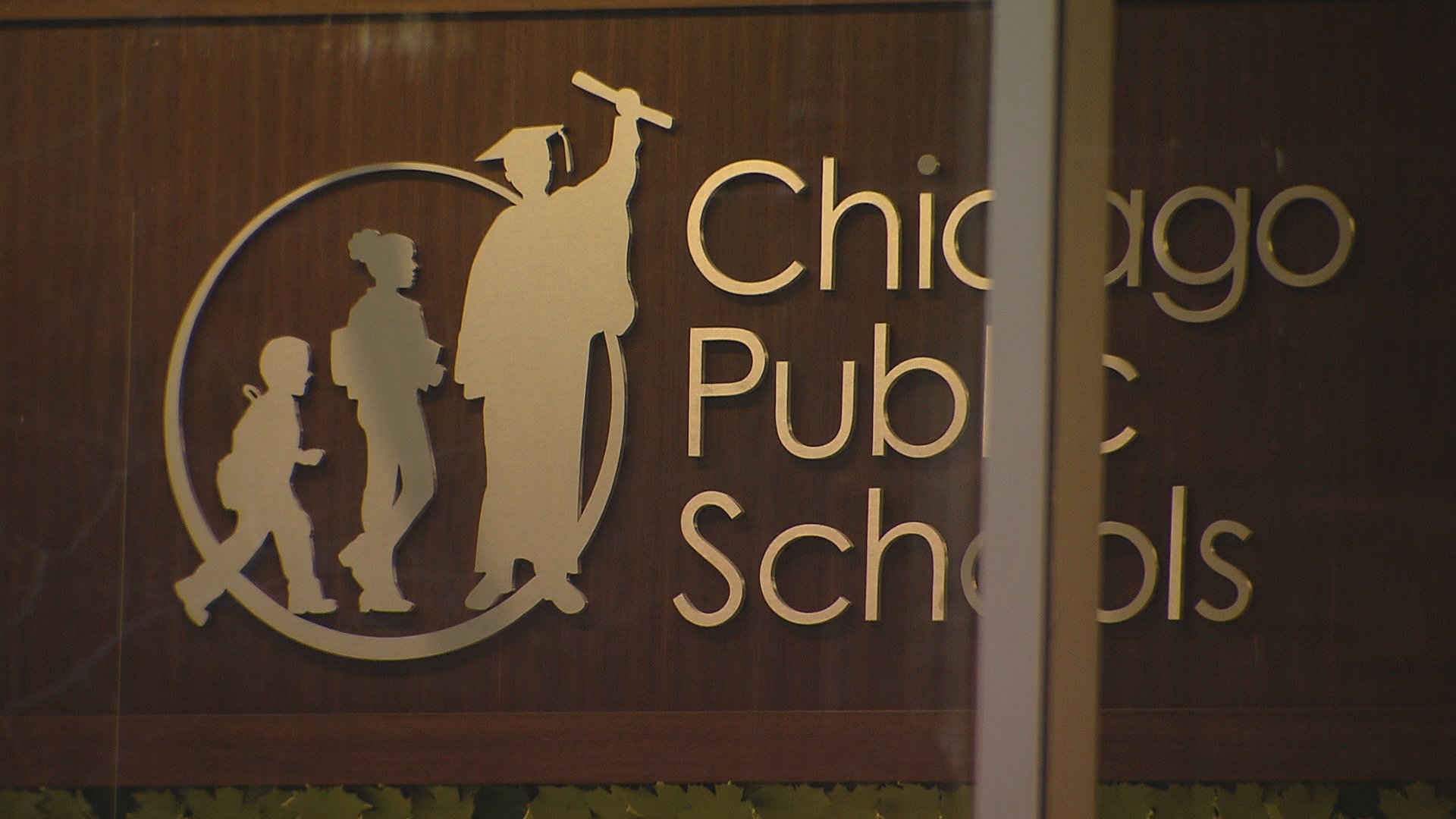 As the sun sets on Chicago Public Schools' five-year school closure moratorium, the district on Friday revealed a wave of consolidations and mergers it plans to carry out across the city.
"At the request of community members throughout the city, Chicago Public Schools announced today that it will propose several school actions for the 2018-19 school year to expand quality academic programming for students and create more diverse school environments," CPS said in a statement.
"CPS is investing more than $100 million in new facilities for students – including $85 million in Englewood – and intends to invest an additional $14 million in making the transitions successful for students and the school communities."
In announcing its plans for the moratorium, the district said the move would provide "long-term stability to students, parents and school communities" after voting to close 50 schools in 2013.
The moratorium doesn't officially end until 2018, but Friday marked the deadline for CPS to announce its planned school actions for the coming year. That list included some long-discussed moves – like the merger of Jenner Academy and Ogden International, and the creation of a new $85 million Englewood high school that'll open in the fall of 2019 (though the price tag is $10 million higher than the district's original estimate).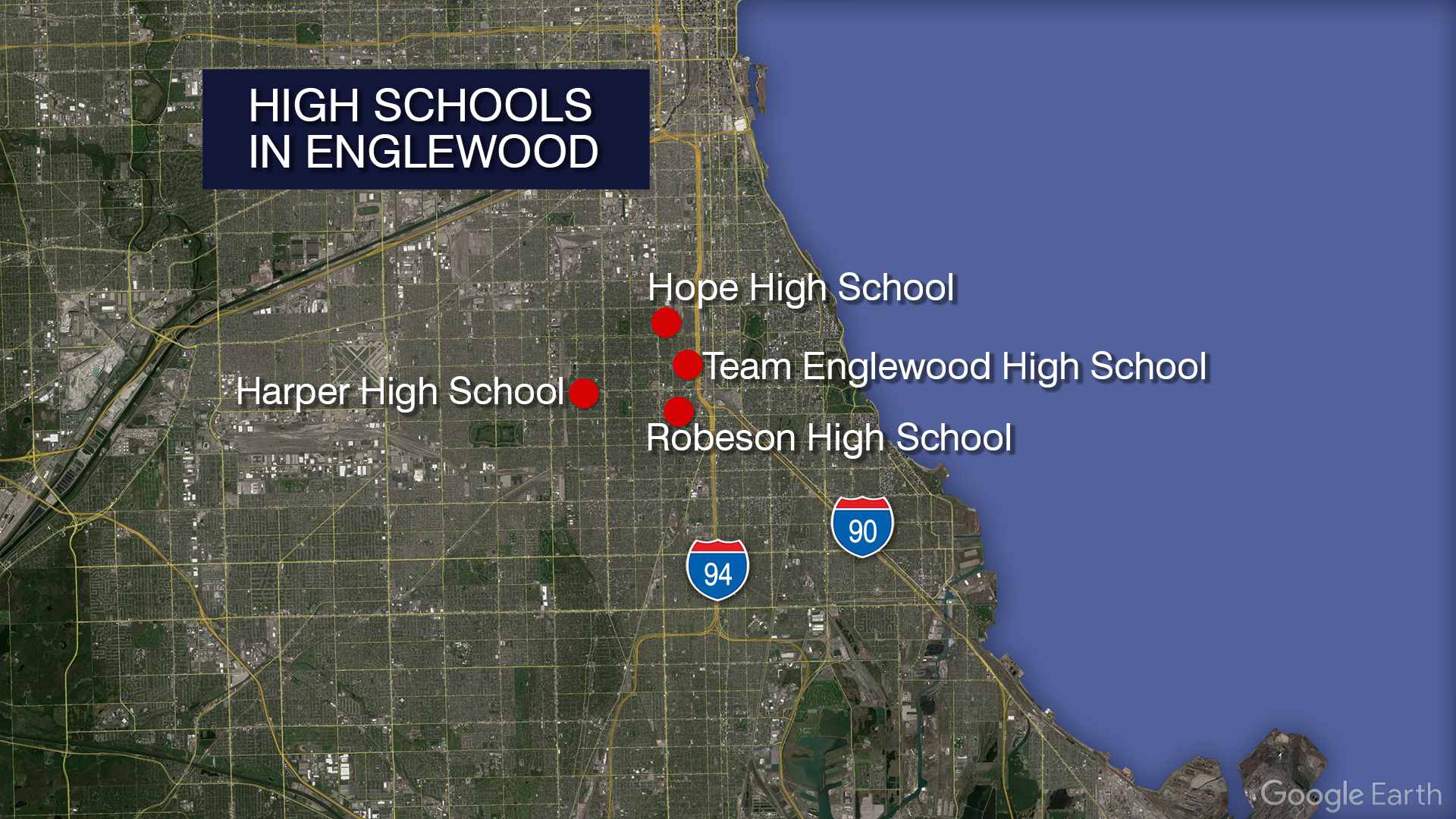 That move will result in the closure of four existing Englewood schools – Hope, Harper, Robeson and TEAM Englewood – at the end of this school year. That means non-graduating students at those schools will have to transfer elsewhere before the new facility opens. CPS says it'll put up $8.3 million to help them do so and will shift boundaries at Bogan, Gage Park, Phillips and the Chicago Vocational Career Academy High School to provide those students with additional options.
"The new school will be a neighborhood school for kids who live in Englewood boundaries, but we are starting with ninth graders in the new school," explained CPS Chief Education Officer Janice Jackson. "That's typical of the school design model, to start with one grade and build up one level at a time."
At a press conference Thursday, Chicago Teachers Union Vice President Jesse Sharkey expressed frustration with the plan. "(Mayor Rahm) Emanuel and his hand-picked school bureaucrats sold this proposed new Englewood high school on the basis of a lie," he said.
"In a classic bait-and-switch to gin up support, CPS dangled the new school as an option for current Englewood high school students – a claim that was flat-out false."
Social media showed students at Harper High School staging a sit-in to protest their school closures, as well as parents, teachers and community members protesting outside of National Teachers' Academy (slated for school action) early Friday morning.
Students at Harper held a sit in and walkout at school today to protest closing pic.twitter.com/m7UMeaUio1

— Olivia Abrecht (@OliviaAbrecht) December 1, 2017
---
But Jackson emphasized that these decisions were either community-driven or included a variety of community stakeholders to help create these plans.
"I think that these are complicated decisions obviously, they aren't cut and dry. I hope people understand that CPS took an approach in every case to engage the community," Jackson said. "That said, not everyone is going to be happy at the beginning, but our vision for high quality schools is the right vision. You have to make decisions that are unpopular, my goal is make sure we only have high-quality options. When I look at Englewood, at the experience some kids are getting, I can't make the case they're getting a good high school experience."
The district's list also had some other surprises.
For instance, CPS will recommend boundary and grade offering shifts at Haugan and Henry elementary schools and Roosevelt High School in Albany Park. The two elementary schools will expand from K-6 to include seventh- and eighth-grade classes by 2019-20, while Roosevelt will shrink from grades 7-12 to grades 9-12 over that same period.
CPS is planning to consolidate Cardenas and Castellanos elementary schools on an administrative level. The two schools serve different grades (Cardenas is Pre-K-3, while Castellanos is 4-8), so this change means that rising fourth graders at Cardenas will now move to Castellanos.
The action plan will also co-locate Art In Motion Charter – the lone charter school CPS recommended for approval this year – inside existing space at Hirsch High School, and a controversial move to convert the National Teachers Academy into a neighborhood high school on the Near South Side.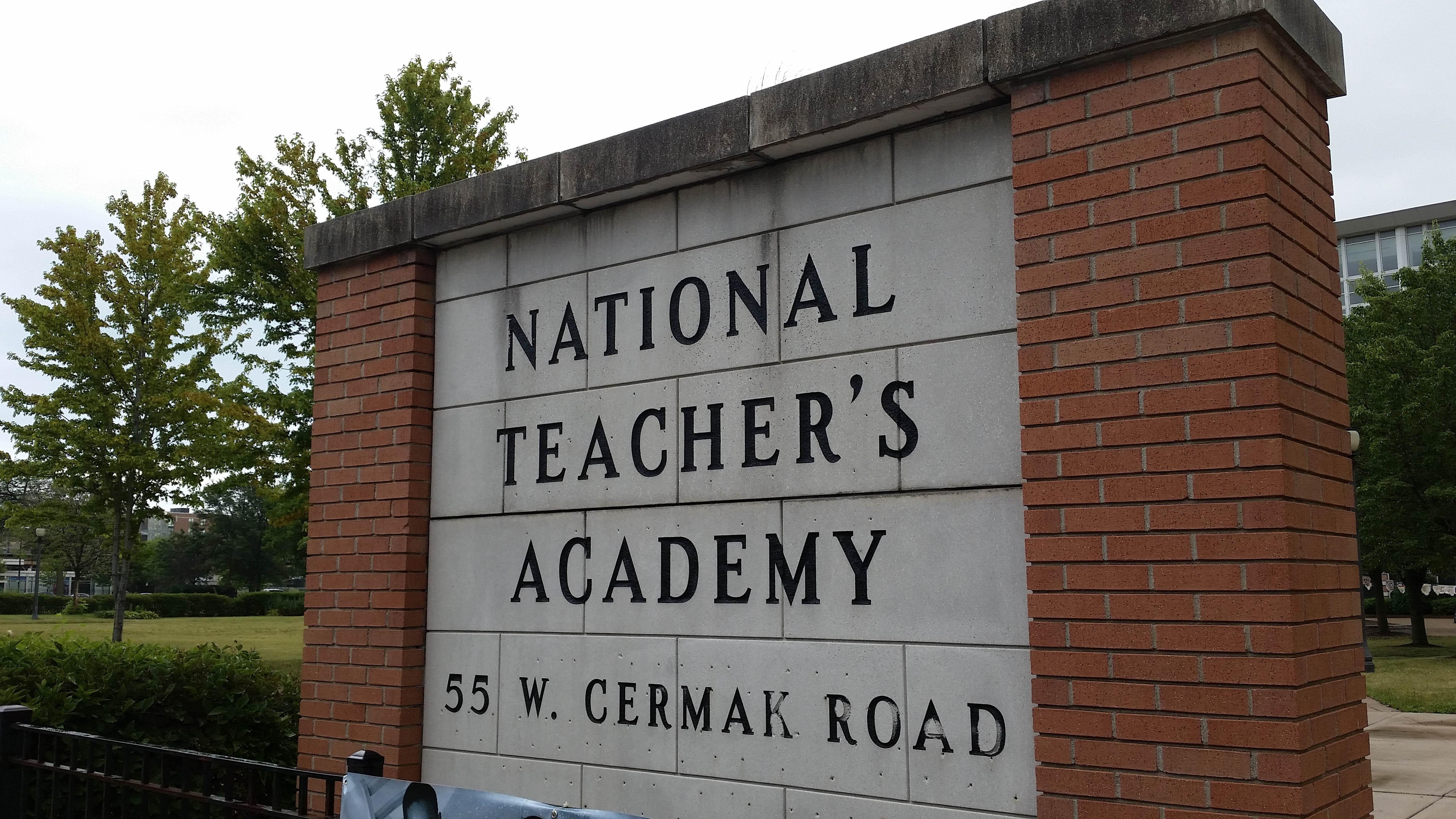 (Matt Masterson / Chicago Tonight)
An expansion of the nearby South Loop Elementary is already under construction, and when completed, NTA students will gradually transition there as NTA itself begins adding high school classes.
"This will increase access to this new, state-of-the-art school facility and create one of the most racially and economically diverse schools in the city," the district said. "In addition, expanding South Loop's boundaries seeks to right a historical wrong in the Near South area by including students who were previously excluded from South Loop."
CPS is planning to phase in high school classes at NTA beginning with a freshmen class during the 2019-20 school year. Rising fourth through seventh grade students currently at NTA will be allowed to stay there and will be guaranteed a seat in the new high school, while younger students will be transferred to South Loop Elementary beginning that same year.
But NTA parents have railed against this proposal for months, continuing to fight to keep their children's school open. They joined community members outside the school in protest Friday morning before a district presentation outlining its plan.
---
In a letter to members of NTA's local school council, CPS CEO Forrest Claypool said the district will budget $85,000 for a third-party equity analysis in order to "ensure that all students would be treated equitably in the transition and the years to come."
"Over the coming months, CPS will work with your labor union to minimize the impact of this proposed action on both school staffs," Claypool said in the letter. "It is our goal to maintain stability throughout the transition, and we will communicate additional details to you as these plans are further developed.
The district has also announced community meetings and public hearings for each proposed school action throughout January. The Chicago Board of Education will begin voting on the proposals as early as February 2018.
A full list of proposed school actions is available at: cps.edu/Transitions.
Brandis Friedman contributed to this story. Twitter: @BrandisFriedman
Contact Matt Masterson: @ByMattMasterson | [email protected] | (773) 509-5431
---
Related stories: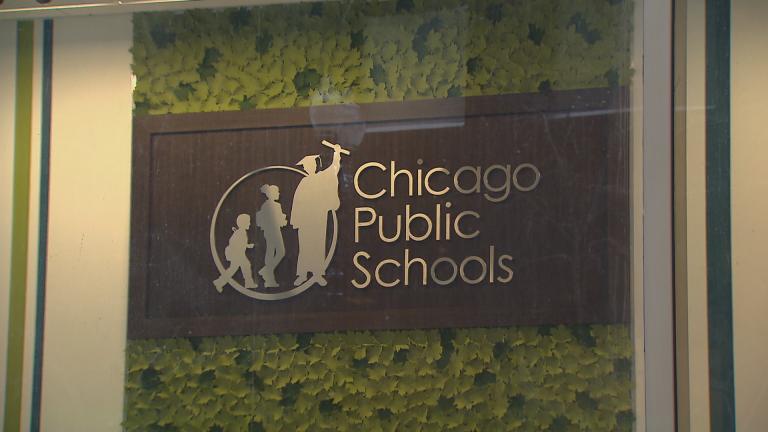 CPS Recommends Closing 1 Charter School, Opening Another
Nov. 30: A day before Chicago Public Schools is expected to unveil its action plan following a five-year neighborhood school closing moratorium, the district announced it will move to shutter one charter school and authorize another.
---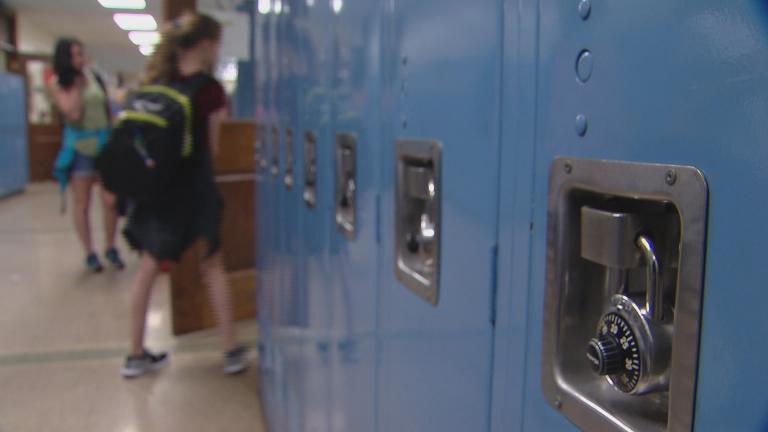 Declining CPS Enrollment Could Lead to More School Closings
Nov. 27: With CPS enrollment down by 32,000—and the school-closing moratorium coming to an end—is another wave of Chicago school closings possible?
---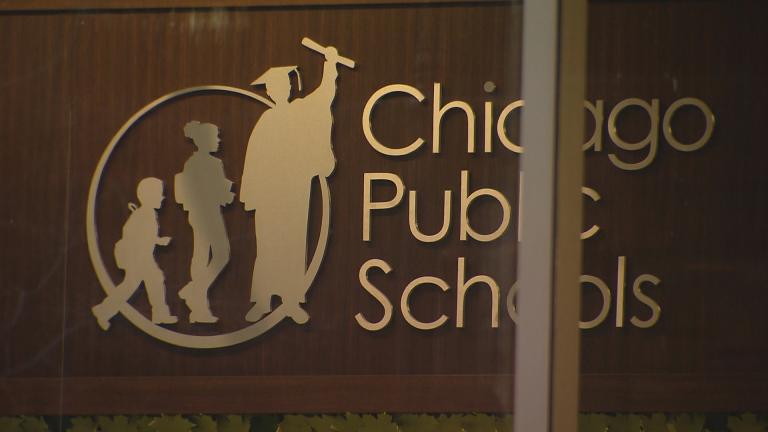 CPS to Consider Closing 4 Charter Schools
Oct. 20: Under its accountability guidelines, the Board of Education can opt to revoke or not renew charters that have been placed on an academic warning list.
---