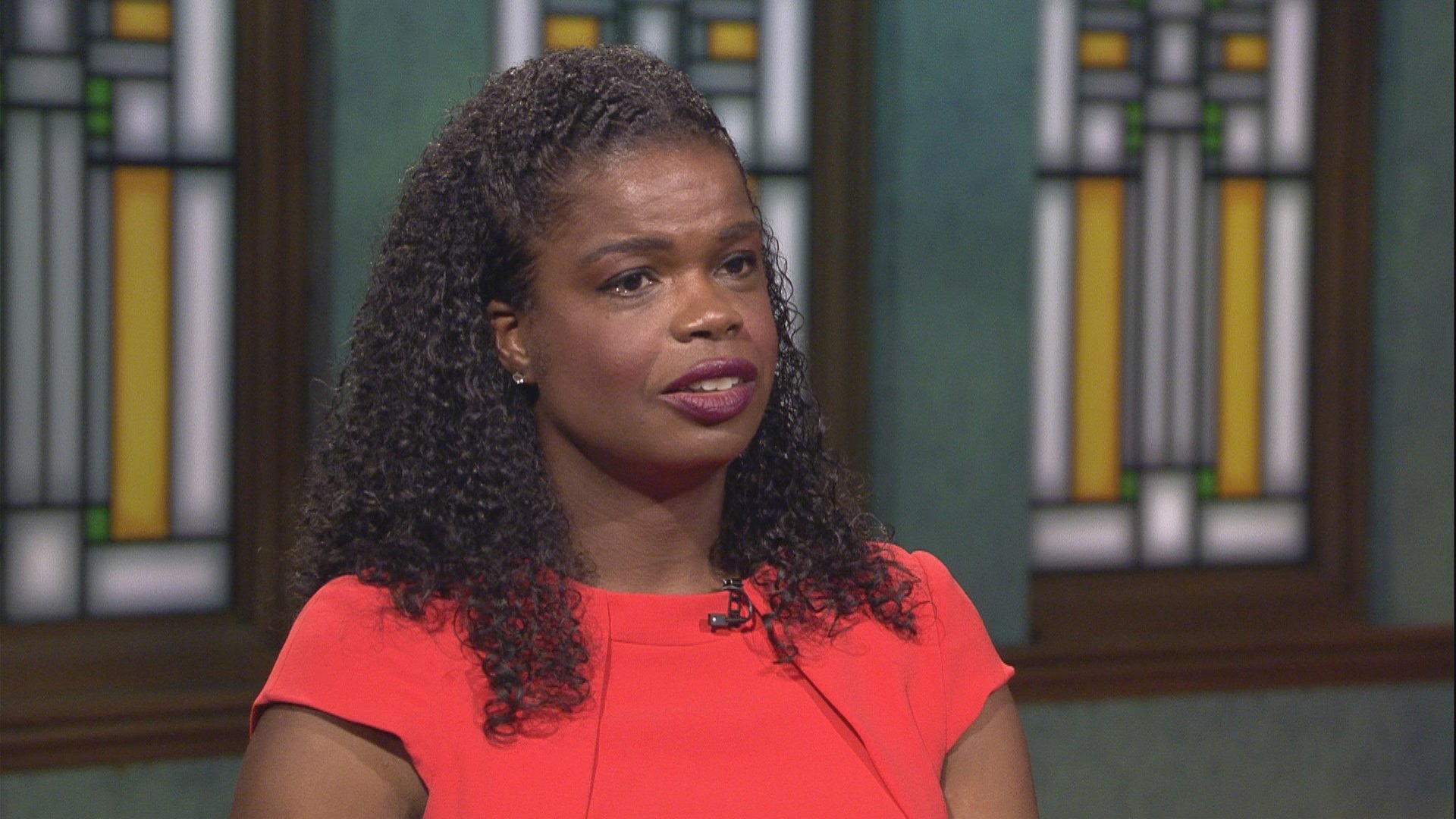 Cook County State's Attorney Kim Foxx appears on "Chicago Tonight" on Sept. 17, 2019. (WTTW News)
When she ran for Cook County state's attorney in 2016, Kim Foxx campaigned on a reform platform that promised a move from tough-on-crime to "smart-on-crime" policies. According to a new report, dozens of defense attorneys who deal with Foxx's office say that shift has been largely apparent during her tenure.
In a new report titled "Creating a Culture of Fairness and Accountability," more than two dozen veteran defense attorneys said they've seen an uptick in the use of probation and diversion programs that keep offenders out of prison. At the same time, Foxx's office relies less on cash bond and has been more willing to dismiss low-level charges.
"Overall our interviews revealed that State's Attorney Foxx has made substantial progress in increasing discretion and reforming the policies of her predecessors that had led to so much incarceration," the report states.
The report was released Wednesday by a handful of local organizations including The People's Lobby and Reclaim Chicago – groups that publicly supported Foxx during her 2016 election campaign – along with the Chicago Council of Lawyers and the Chicago Appleseed Fund for Justice.
Those same groups have already released a handful of other reports on Foxx's time as state's attorney, including one in July that claimed incarceration rates had fallen some 20% since she's been in office.
Twenty-eight attorneys were interviewed for the report. They include currently practicing private attorneys, public defenders and attorneys who work with nonprofits to represent indigent clients. Their experience in the Cook County criminal courts system ranged between three and 50 years.
"We really tried to get a pretty wide variety of defense attorneys who had practiced in a wide variety of courtrooms so we got as full a picture as we could," said Sarah Staudt, senior policy analyst and staff attorney with the Chicago Appleseed Fund for Justice.
Attorneys were asked how their most recent negotiation with the State's Attorney's Office was and how things had changed – both culturally and in the courtroom – between Foxx's management and her predecessor Anita Alvarez.
That was done, Staudt said, in order to get a sense of the things that are "never going to be written down."
"When culture changes, it doesn't leave like a data imprint," she said. "It's just how are things working on the ground between the players in the justice system? And that's what we were really looking to get at."
The attorneys primarily lauded Foxx's use of incarceration alternatives – diversion programs, probation and supervision – as a way to limit the prison population, even in some felony cases. They also said the State's Attorney's Office seems more willing to treat cases individually, rather than following strict guidelines for handling all cases the same way.
Foxx has pledged to expunge marijuana convictions before the drug officially becomes legal in Illinois next year, and has partnered her office with a California-based nonprofit to expedite the process of sealing those cases.
But Foxx's willingness to divert low-level felony cases also led to the biggest fiasco of her tenure: the case of former "Empire" television star Jussie Smollett.
Foxx's office charged and later dismissed 16 counts of disorderly conduct against the actor after he allegedly lied to police about a racist and homophobic attack he orchestrated against himself. Foxx's recusal from that case and the sudden dismissal of those charges has led to calls for her ouster.
A special prosecutor has since been appointed to investigate that case and whether Foxx or her office engaged in any improper or illegal conduct.
That case and fewer low-level prosecutions have drawn the ire of critics, including the Chicago chapter of the Fraternal Order of Police, which has called for Foxx's resignation. A group of suburban police chiefs also criticized Foxx for her "failure … to hold offenders accountable."
One issue under Foxx highlighted by defense attorneys in the report is consistency. That includes the "punitive hardline approach" taken by some assistant state's attorneys appointed under Alvarez. The report argues Foxx needs to thoroughly review her staff and implement "evaluation and promotion" policies that reward assistant state's attorneys who effective emphasize "restoration, justice and overall community health and safety."
"Overall our interviews revealed that State's Attorney Foxx has made substantial progress in increasing discretion and reforming the policies of her predecessors that had led to so much incarceration," the report states. "But Foxx continues to face challenges in undoing decades of a culture entrenched with a win-at-all-costs mentality and a heavy reliance on bringing high charges to force plea deals that require incarceration."
Contact Matt Masterson: @ByMattMasterson | [email protected] | (773) 509-5431
---
Related stories:
Kim Foxx Hopes to 'Right Wrongs of the Past' With Pot Expungements
Kim Foxx Plans to Expunge Misdemeanor Marijuana Convictions
2 Years In, Cook County State's Attorney Kim Foxx Looks Back, Ahead
Kim Foxx Calls on R. Kelly Abuse Victims to Come Forward
Felonies, Pleas and Convictions Examined in New Cook County Report
New Cook County State's Attorney Kim Foxx Talks Reform Plans
---