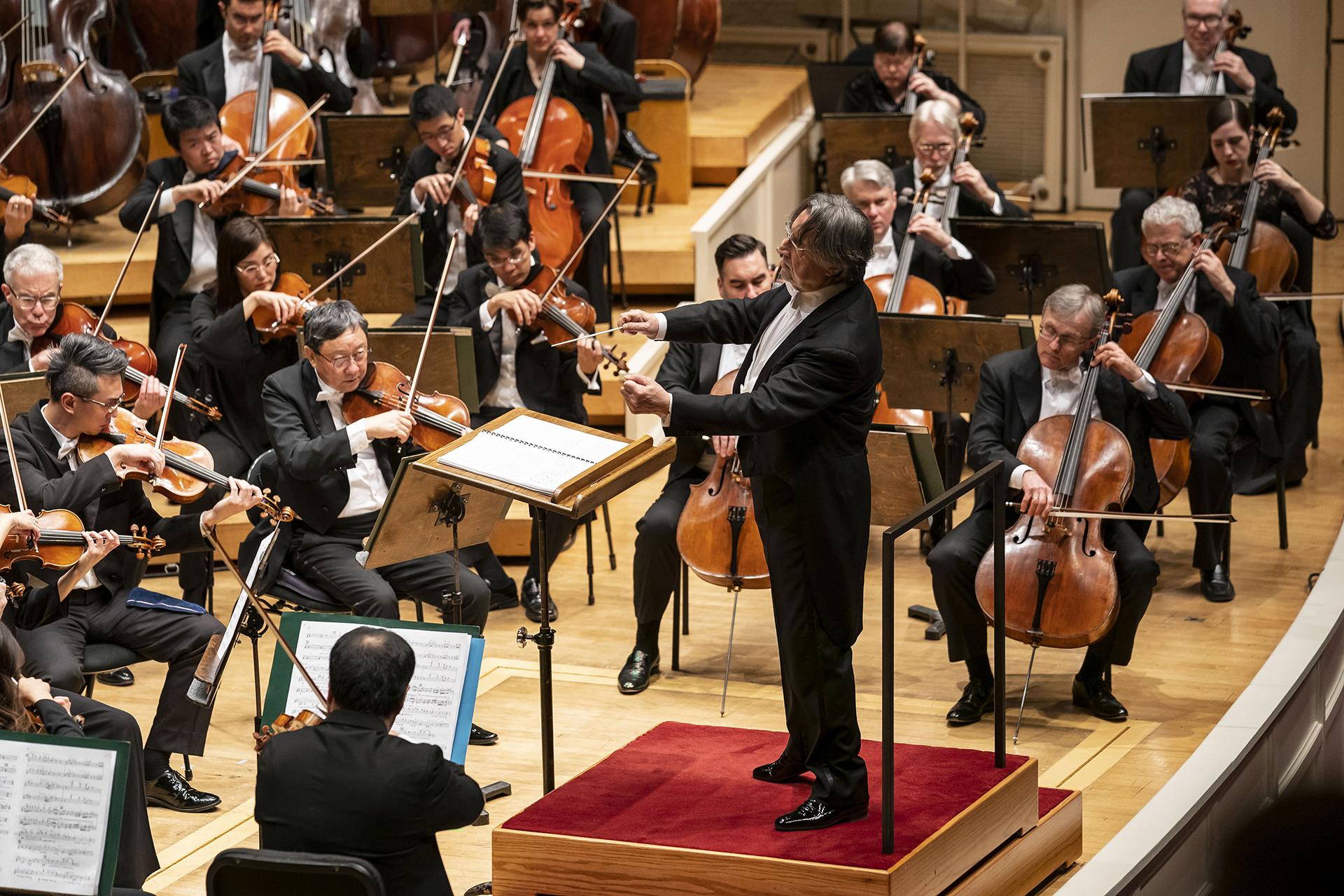 Music Director Riccardo Muti leads the musicians of the Chicago Symphony Orchestra in the Orchestra's first performance of Pulitzer Prize-winning American composer William Schuman's "Symphony No. 9" (Le fosse Ardeatine) in a year that marks the 75th anniversary of this World War II tragedy in Italy. (Photo Credit: Todd Rosenberg)
As it is on earth, but also as it might be in heaven. That is the most concise way to describe the fascinating juxtaposition of the pieces on the Chicago Symphony Orchestra's current program - the first to be conducted by Maestro Riccardo Muti since he and the orchestra returned from their recent grand tour to China and Japan.
Continuing the theme of war memorial that has infused the 2018-2019 season (and marked the 100th anniversary of the World War I armistice between the Allies and Germany), the concert features two radically different works: the CSO's first performance of American composer William Schuman's haunted and haunting "Symphony No. 9" (subtitled "Le fosse Ardeantine" or "The Ardeatine Caves") that was first heard in 1969, and Mozart's glorious "Requiem in D Minor," written in 1791 and completed by Franz Xaver Sussmayr shortly after Mozart's death.
Schuman's work was a response to an awakening of sorts when, in 1967, on a visit to Rome, he visited the Ardeantine mausoleum/memorial and first learned about the brutal but rarely discussed World War II massacre it commemorates. On March 24, 1944, Italian partisans (an anti-fascist underground group comprised primarily of communists) killed 32 occupying German soldiers. The Germans then proceeded to take the most horrific revenge, murdering 335 Italian civilians, both Christians and Jews, near a series of man-made caves on the outskirts of Rome and subsequently bombing the site in order to conceal the atrocity.
What's intriguing about Schuman's symphony is that it's not designed to illustrate the event in any literal way. Rather, it is a brilliant evocation of the composer's emotional response to discovering the nightmarish action, and perhaps imagining its moments of terror.
A ferociously difficult work, it deploys every section of the orchestra in highly original ways, and that clearly flourishes under Muti's precisionist yet fiercely emotional direction. (This piece most definitely needs a conductor to be played.) It has a strong, stringent, mid-20th century sound as it moves back and forth between a tense yet almost elegiac hum, and a giant crescendo. Along the way there is sensational work by the orchestra's percussionists (timpani, drums, cymbal, xylophone and chimes), horns, winds and strings, and a superb guest pianist, Kelly Karamanov of the Chamber Music Society of St. Louis.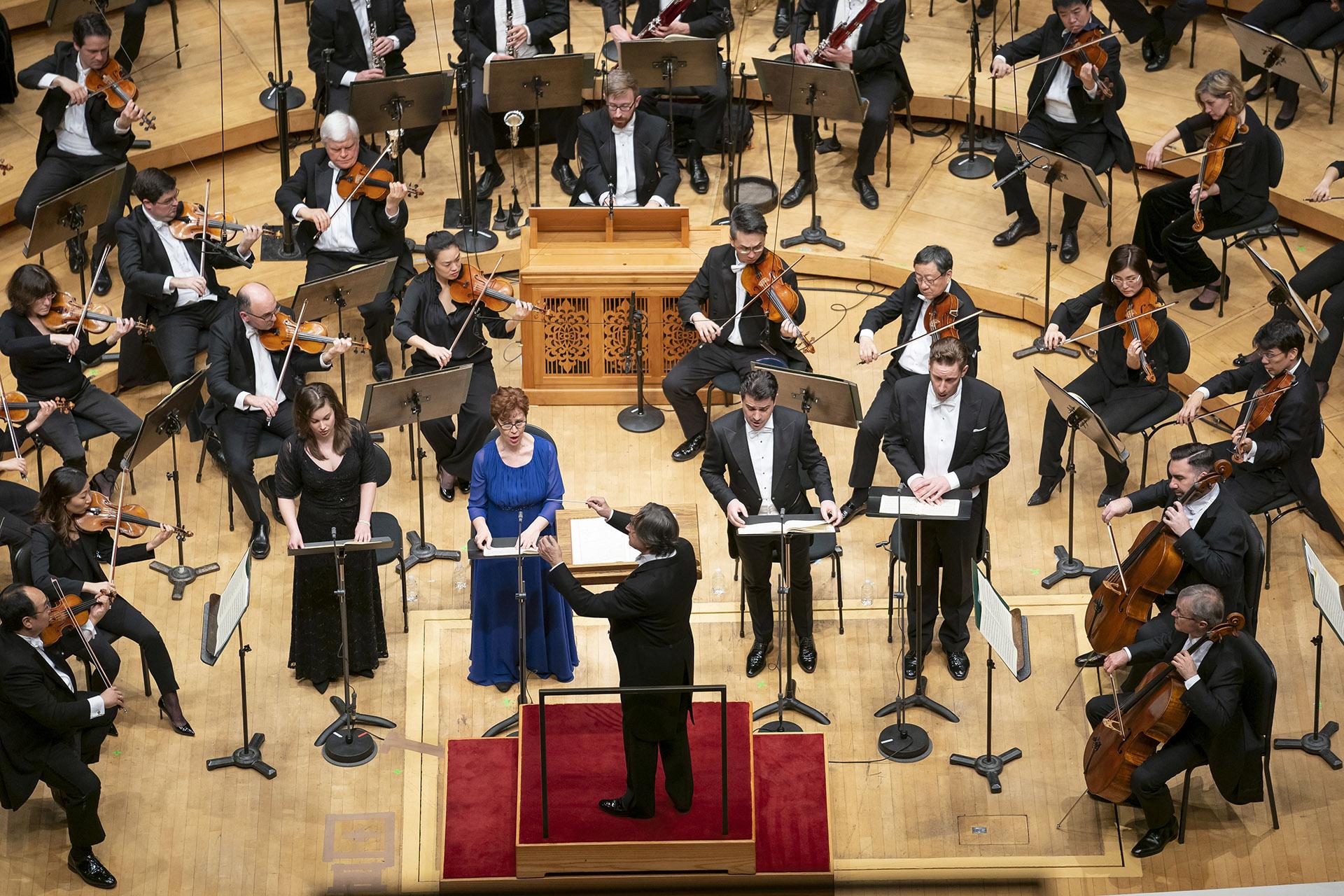 Music Director Riccardo Muti leads the Chicago Symphony Orchestra and Chorus and soloists including –Benedetta Torre (soprano), Sara Mingardo (contralto), Saimir Pirgu (tenor) and Mika Kares (bass) in Mozart's Requiem. (Photo Credit: Todd Rosenberg)
With its complex rhythms, sporadic cacophony and dissonances, and shifting colors, the symphony captures a sense of the unearthing of a dark secret - an awakening to something chaotic and shocking. Without question, it is a work that bears multiple hearings, just as its subject bears further study. (An elaborate exhibit about the massacre is on display in Symphony Center's rotunda space and provides a wealth of valuable information.)
And then there is Mozart, and his unrivaled musical conjuring of a world in which mankind is fully aware of the nature of earthly sins, yet still believes fervently in the power of God and the possibility of redemption in heaven.
If music could ever turn a sinner into a believer, this "Requiem" would be it. To hear the unearthly beauty of the orchestra, combined with the ravishing voices of the massive Chicago Symphony Choir (masterfully directed by Duain Wolfe) and the exquisite voices of the soloists – Benedetta Torre, a flawlessly fluid soprano, bass Mika Kares, contralto Sara Mingardo and tenor Saimir Pirgu – is to be purged of the worst ugliness in human nature and to be dazzled by the possibility of light.
This CSO program will be repeated on Feb. 23 at 8 p.m. at Symphony Center, 220 S. Michigan Ave. For tickets ($47-$298) call (312) 294-3000 or visit www.cso.org. Running time is 2 hours with one intermission.
Note: The CSO will soon be heading out on a tour (Feb. 26-March 2) to Florida, with stops in West Palm Beach, Miami and Naples.
Meanwhile, contract negotiations between the CSO Association and the Chicago Federation of Musicians are ongoing, with the deadline for an authorized strike set for March 10. Keep your fingers crossed for a settlement.
Follow Hedy Weiss on Twitter: @HedyWeissCritic
---
Six Girls Negotiate Difficult Road to Adulthood in 'Twilight Bowl'
In 'The Abuelas,' a Chilling Episode in Argentina's History Washes Up on Lake Shore Drive
At Lyric, a 'La Traviata' of Great Intimacy Amid the Social Whirl of Paris
Actors Play the Music of August Wilson's Dialogue in 'Ma Rainey's Black Bottom'
---