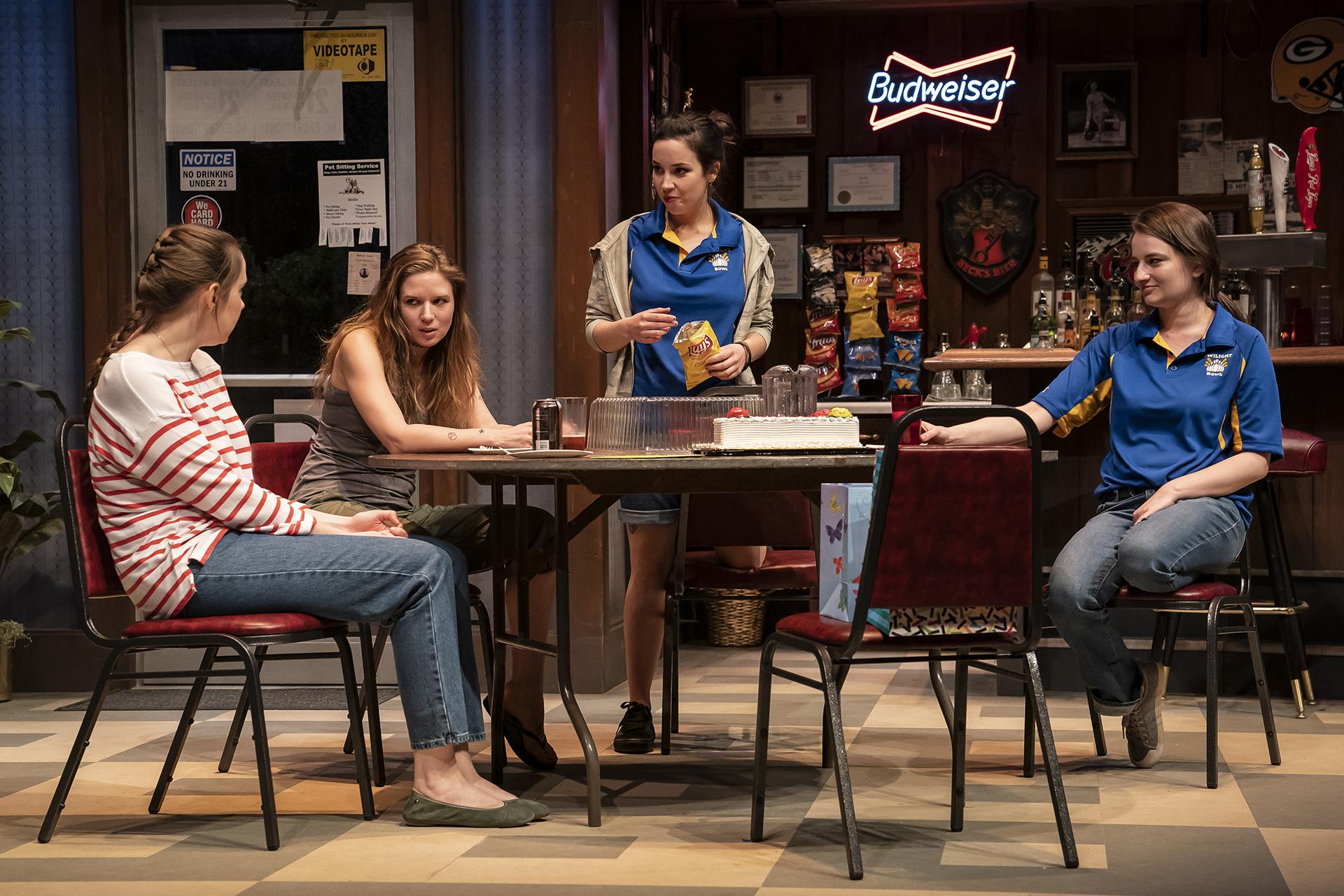 Anne Thompson (Sharlene), Heather Chrisler (Jaycee), Hayley Burgess (Clarice) and Becca Savoy (Sam) in the world premiere of "Twilight Bowl" by Rebecca Gilman, directed by Erica. (Credit: Liz Lauren)
In Rebecca Gilman's new play, "Twilight Bowl," now in its world premiere at the Goodman Theatre, six girls on the brink of adulthood interact at a bowling alley/bar in a small Wisconsin town. Five of them have grown up in the town and are from working class families. All of them have growing pains, some more severe than the others.
One girl, Sam (Becca Savoy), is terrified of not being good enough to keep her athletic scholarship at college. Another, Sharlene (Anne E. Thompson), is a devoted Christian whose life revolves around the church, and whose goodness and naïveté make her a target of ridicule. A third, the quietly strong-minded Brielle (deftly underplayed by Mary Taylor), is a few years older than the others, works as a bartender at the bowling alley, and is planning to get married (with something more like acceptance than enthusiasm) and move to another unpromising town. A fourth, Clarice (Hayley Burgess), works at several different low-paying jobs in the area to secure her independence, and resents Jaycee (Heather Chrisler), a similarly smart, but angry, self-destructive girl. Jaycee has been upended by her deeply dysfunctional parents, and is on her way to jail (along with her father), convicted of aiding and abetting him in the sale of drugs at local schools.
The only character from beyond this working-class world is Maddy (the very funny Angela Morris, who employs a North Shore-meets-Valley girl accent). A wealthy girl from Winnetka, she has graduated from New Trier and blithely assumes everyone in the world knows it as one of the top-ranked high schools in the country. (Not surprisingly, this generated instant audience laughter.) Superficially pumped up with all the neo-liberal slogans of the moment, and tired of competing on the fast track, Maddy, who has quite a taste for alcohol and vaping, has recently done some growing up the hard way – getting wasted, finding herself pregnant by a so-called boyfriend and getting an abortion.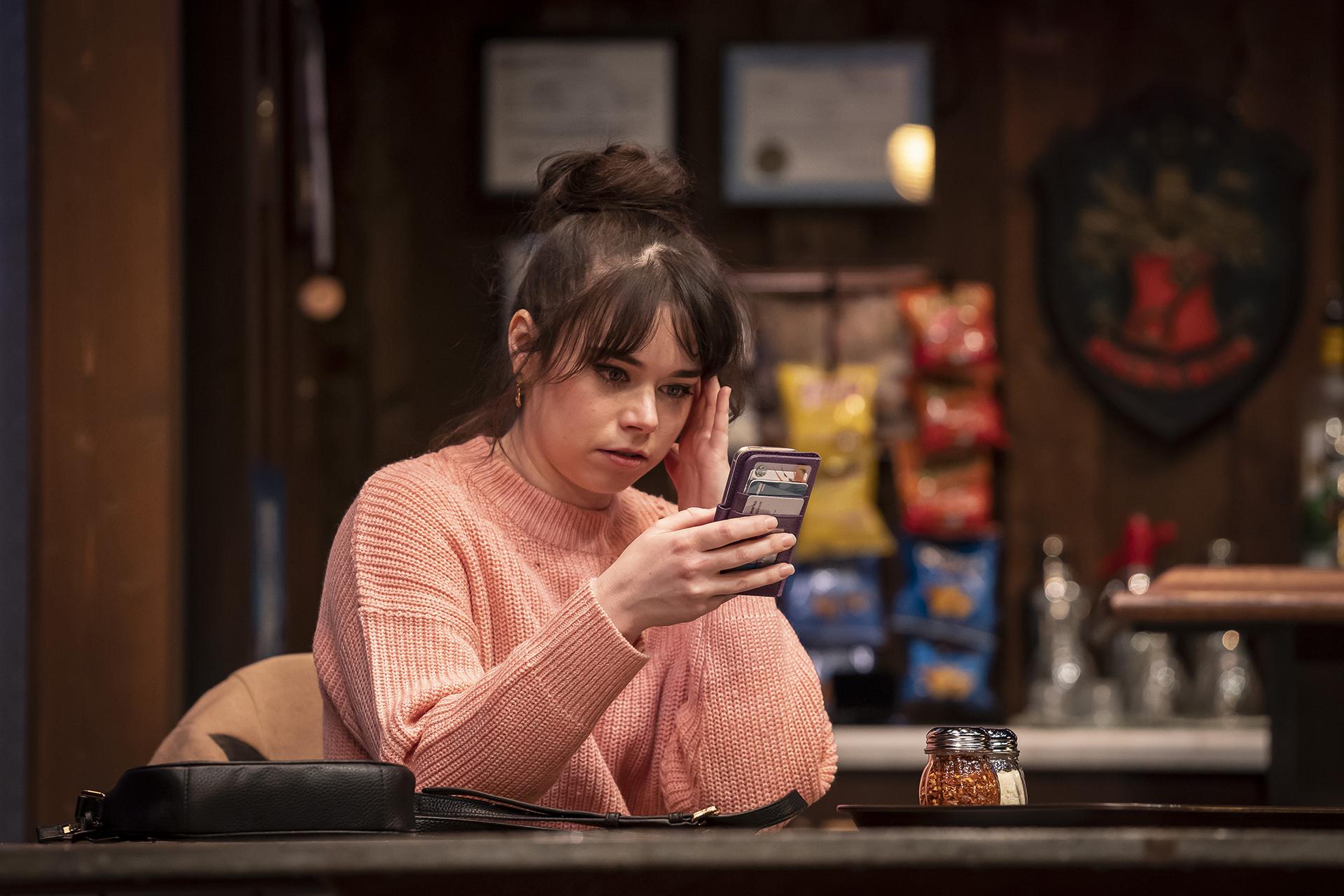 Angela Morris (Maddy) in the world premiere of "Twilight Bowl" by Rebecca Gilman, directed by Erica. (Credit: Liz Lauren)
There is a strong hint of "Mean Girls" in the mix here, although Gilman probes more deeply into what drives each of her characters as they make their way from high school through the first year of college or into something of an independent life. And for those familiar with Gilman's many earlier plays (especially her strongest, "Luna Gale"), the themes are familiar: social inequity, financial insecurity, the role of religion in contemporary America, parent-child relationships, the pros and cons of college, and the overall pressures in the lives of women.
Spicing things up along the way is some comic banter about sex toys and alcohol. But too often these characters seem devised to represent a variety of "types" who can voice the playwright's attitudes about everything from what is necessary for survival, and for even the most modest level of success and happiness, to the need to have a goal and make good choices.
The story, which unspools over a two-year period (and whether by the playwright, or by director Erica Weiss, the shifts in time could be finessed in a more clear-cut way, as could the intermittent lack of vocal projection) begins at a tense "farewell" party as Jaycee is about to head off to prison. (One of the girls suggests she watches "Orange Is the New Black.") It is difficult to believe that even in a small town the four disparate personalities gathered here (Jaycee, along with Sam, Sharlene and Clarice) would ever socialize together. But there it is: the scared, angry and sullen Jaycee (played by the always impeccable Chrisler), along with the painfully good-hearted and surprisingly strong Sharlene (winningly played by Thompson), the tense, sharp-edged Sam (Savoy), and the bitter but determined Clarice (Burgess).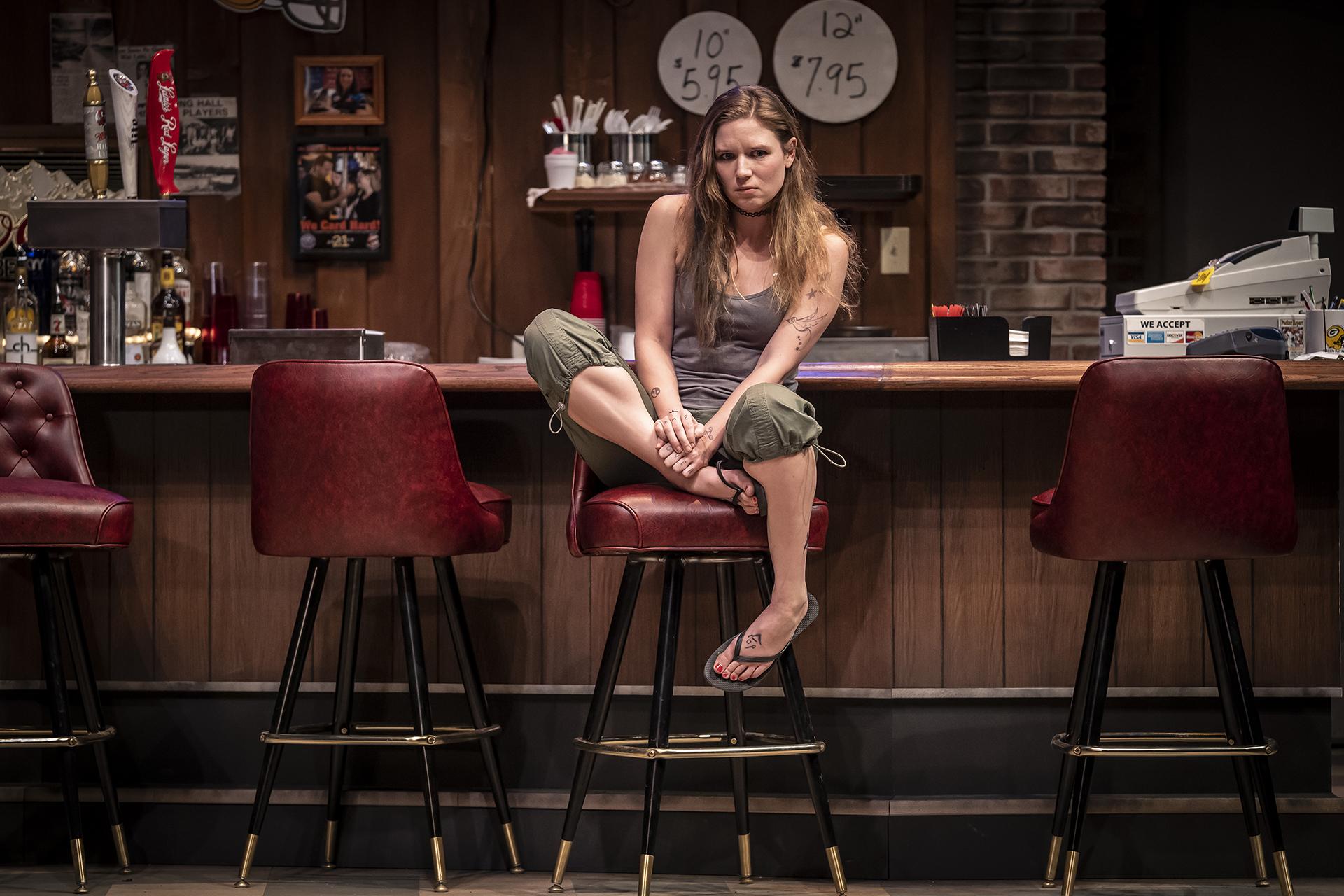 Heather Chrisler (Jaycee) in the world premiere of "Twilight Bowl" by Rebecca Gilman, directed by Erica. (Credit: Liz Lauren)
Without divulging too much, the later portion of "Twilight Bowl" finds Jaycee released on parole from prison – sober, working, and resigned to her situation, at least for the moment. And she pays tribute to Sharlene, whose devotion and love during her incarceration are now seen as great gifts of spirit, kindness and transformation.
Regina Garcia's bowling alley/bar set, complete with wood paneling, neon beer signs, a glass-doored case full of trophies and a Green Bay Packers poster, is a photo-realist gem.
This play doesn't pack the punch of Sarah DeLappe's "The Wolves," another all-female story recently produced at the Goodman. But it is a telling depiction of a crucial transitional period in the lives of a cross-section of young women who are at once lost and found in the American heartland.
"Twilight Bowl" runs through March 10 at the Goodman Theatre, 170 N. Dearborn St. For tickets ($10-$45) call (312) 443-3800 or visit GoodmanTheatre.org. Running time: 90 minutes with no intermission.
Follow Hedy Weiss on Twitter: @HedyWeissCritic
---
In 'The Abuelas,' a Chilling Episode in Argentina's History Washes Up on Lake Shore Drive
At Lyric, a 'La Traviata' of Great Intimacy Amid the Social Whirl of Paris
Actors Play the Music of August Wilson's Dialogue in 'Ma Rainey's Black Bottom'
---