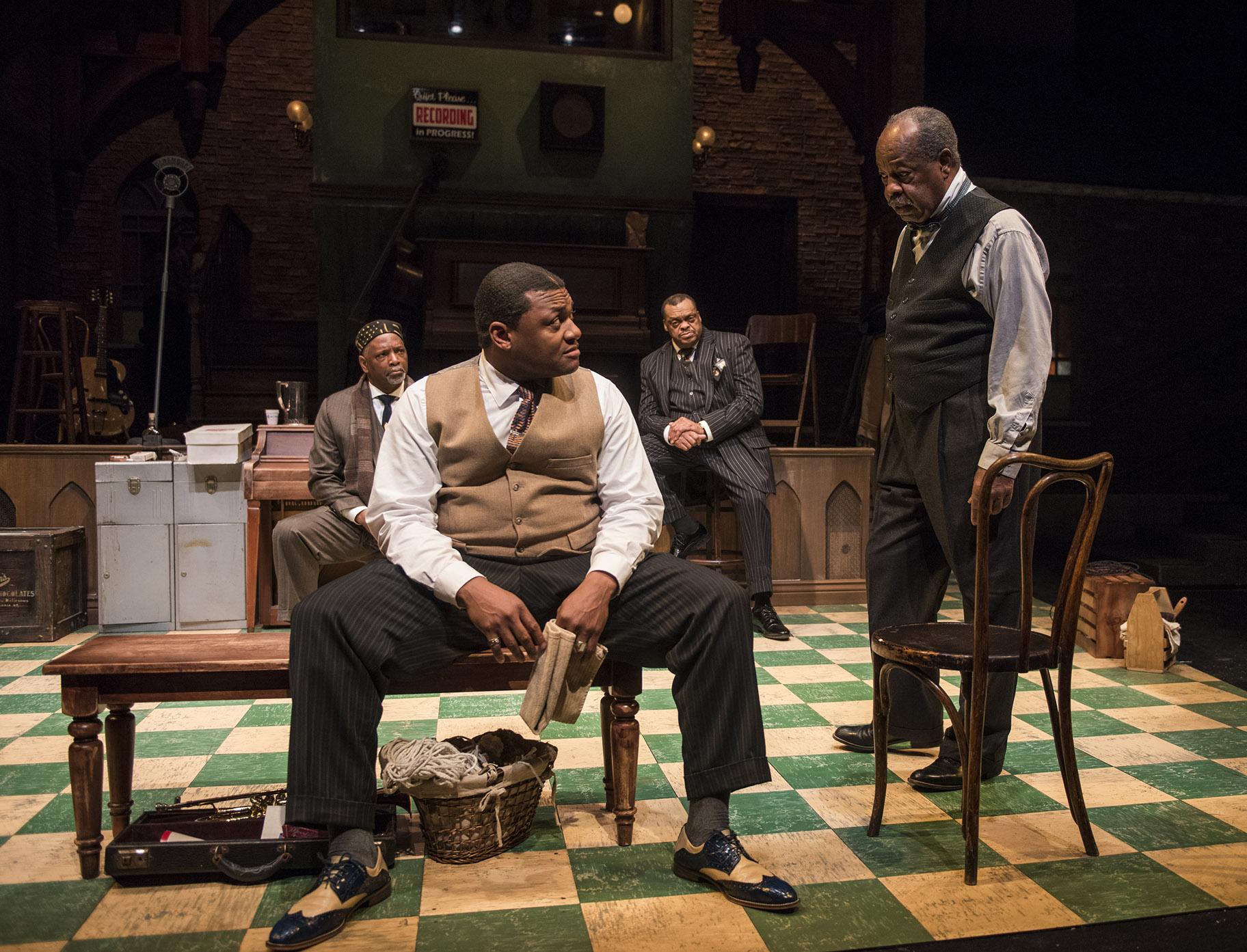 From left: David Alan Anderson, Kelvin Roston, Jr., A.C. Smith and Alfred H. Wilson in "Ma Rainey's Black Bottom" at Writers Theatre. (Photo credit: Michael Brosilow)
I have long imagined what might happen were a gifted composer to turn one of the 10 plays in The Century Cycle, August Wilson's epic look at African-American life in the 20th century, into a blues opera.
But watching the Writers Theatre revival of "Ma Rainey's Black Bottom" – a play first produced at the Yale Repertory Theater in 1984, and that quickly moved to Broadway, heralding the arrival of a unique voice that would alter the shape of black theater in this country – I was reminded that such an effort would be largely redundant. For while there is relatively little actual music played or sung during the course of the play, the harmonies, dissonances and inflections of the conversations among the four men who form Ma Rainey's fractious band are already something of a spoken-word blues opera. And as "sung" by a quartet comprised of four stellar actors – David Alan Anderson, A.C. Smith, Alfred H. Wilson and Kelvin Roston, Jr. – no further embellishment is needed. They are simply astounding.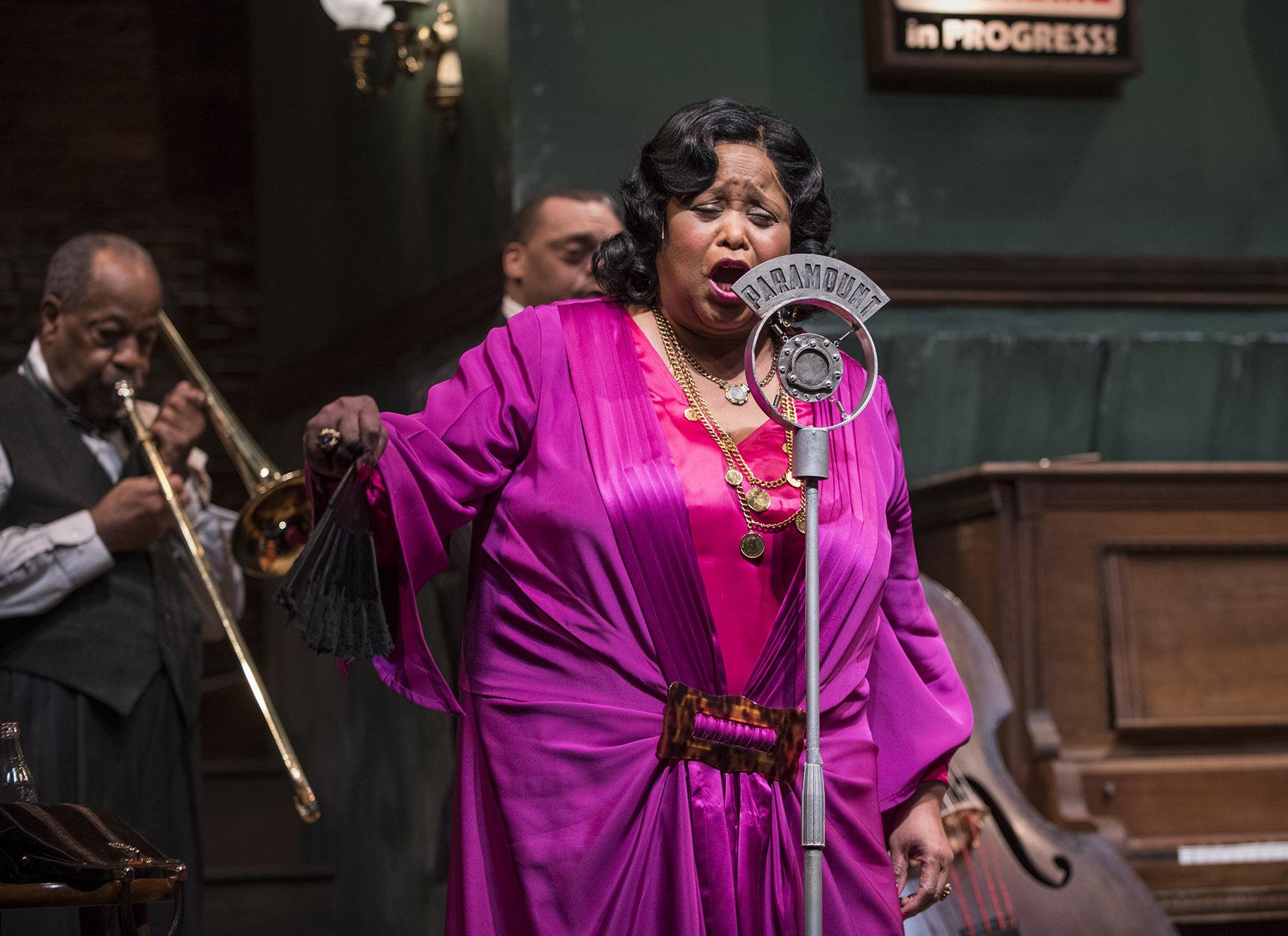 Felicia P. Fields in "Ma Rainey's Black Bottom" (Photo credit: Michael Brosilow)
And then there is the commanding, no-nonsense presence of Felicia P. Fields as Ma Rainey, "The Mother of the Blues," who was one of the earliest professional blues singers, and one of the first generation to record the blues – largely on Paramount, a label widely considered substandard in its recording techniques.
Fields is sensational, but doesn't get to sing anywhere near as much as you might wish because this play is mostly about what happens beyond the actual recording.
"Ma Rainey" is the only installment in Wilson's cycle of plays that is not set in the Pittsburgh Hill District of his formative years. Rather, it takes place in 1927, in a chilly Chicago recording studio that (if Todd Rosenthal's handsome two-story set is historically accurate), was housed in an old, unused brick church.
The musicians gather on time, with Sturdyvant (Thomas J. Cox), the money-pinching producer and engineer, already in the sound booth, and Irvin (Peter Moore), Ma's manager, ready to serve as peacemaker. Both men are white (and casually refer to the musicians as "boys"). Ma Rainey will be late, arriving (followed by a policeman) with her retinue: Sylvester (a spit-on Jalen Gilbert), the shy, stuttering nephew she has taken under her wing, and Dussie Mae (the fascinating Tiffany Renee Johnson), a beautiful young dancer.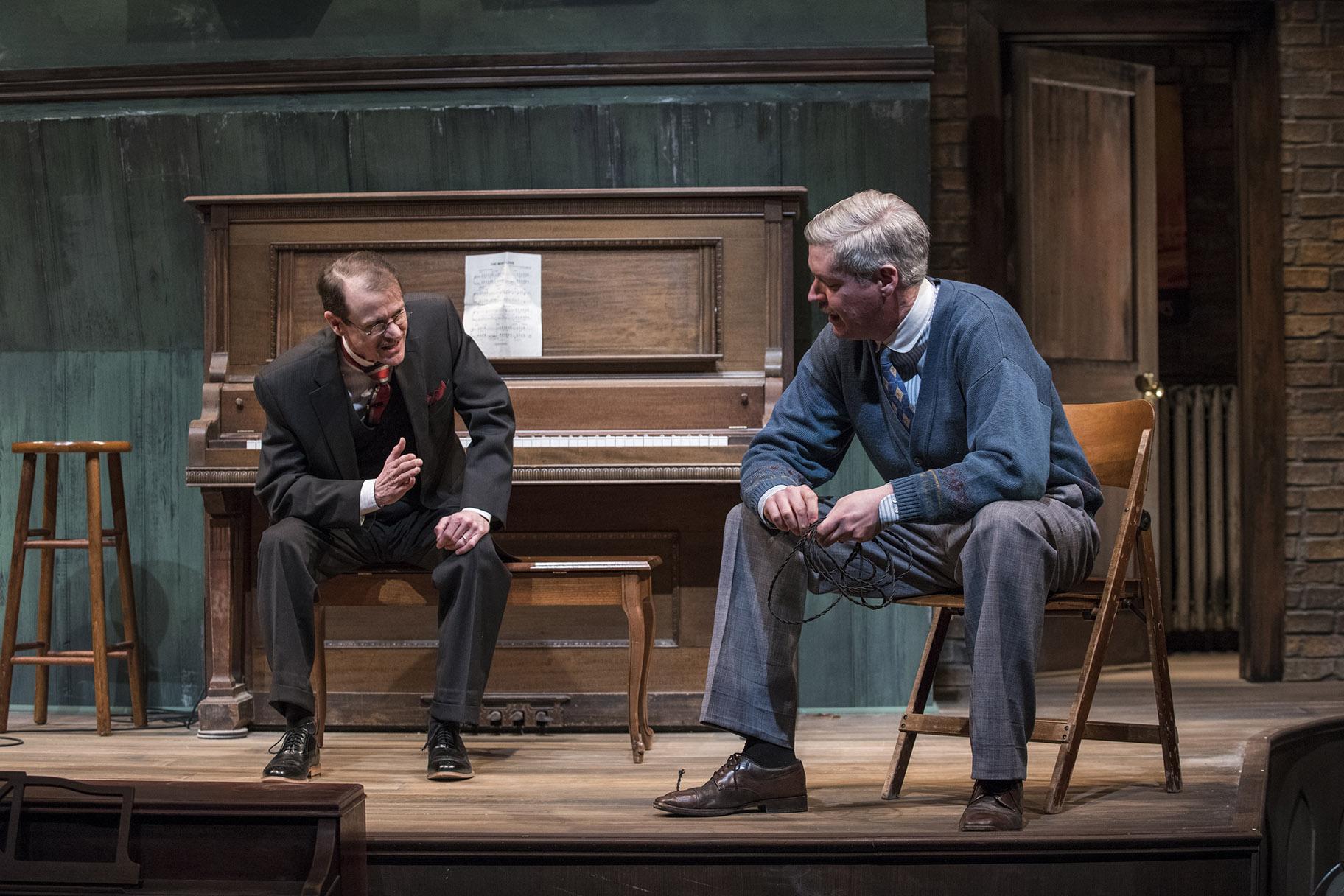 Thomas J. Cox, left, and Peter Moore in "Ma Rainey's Black Bottom" (Photo credit: Michael Brosilow)
Three of the musicians are "old-school types" who have known each other for years, but they have decidedly different personalities. There is Toledo (Anderson), the pianist, philosopher and hyper-intellectual who spins elaborate global theories about everything, particularly the state of black men. There is Cutler (Wilson), the bandleader and trombone player who just wants to do his job and get paid in cash, since cashing a check is almost impossible for a black man. And there is the bass player, Slow Drag (Smith), a burly man who can dance up a storm, and who spins the elaborate tale of a man who made a deal with the devil and did just fine.
Levee, the trumpet player (played with full fire, ferocity and impulsiveness by Roston), is of a younger generation. Impatient, hot-tempered and ambitious (and deeply scarred by a traumatic racist event in his childhood that erased any belief in the possible existence of God), he writes songs and has big plans to have a band of his own. He also senses there is a change in the air musically, with people wanting faster dance music arrangements rather than Ma Rainey's more country-style blues. In fact, he has written a new arrangement of the title song approved by Sturdyvant, but Ma rejects it, clearly reminding everyone that she is still selling records and keeping the recording studio alive. Ma knows very well about how to get her way.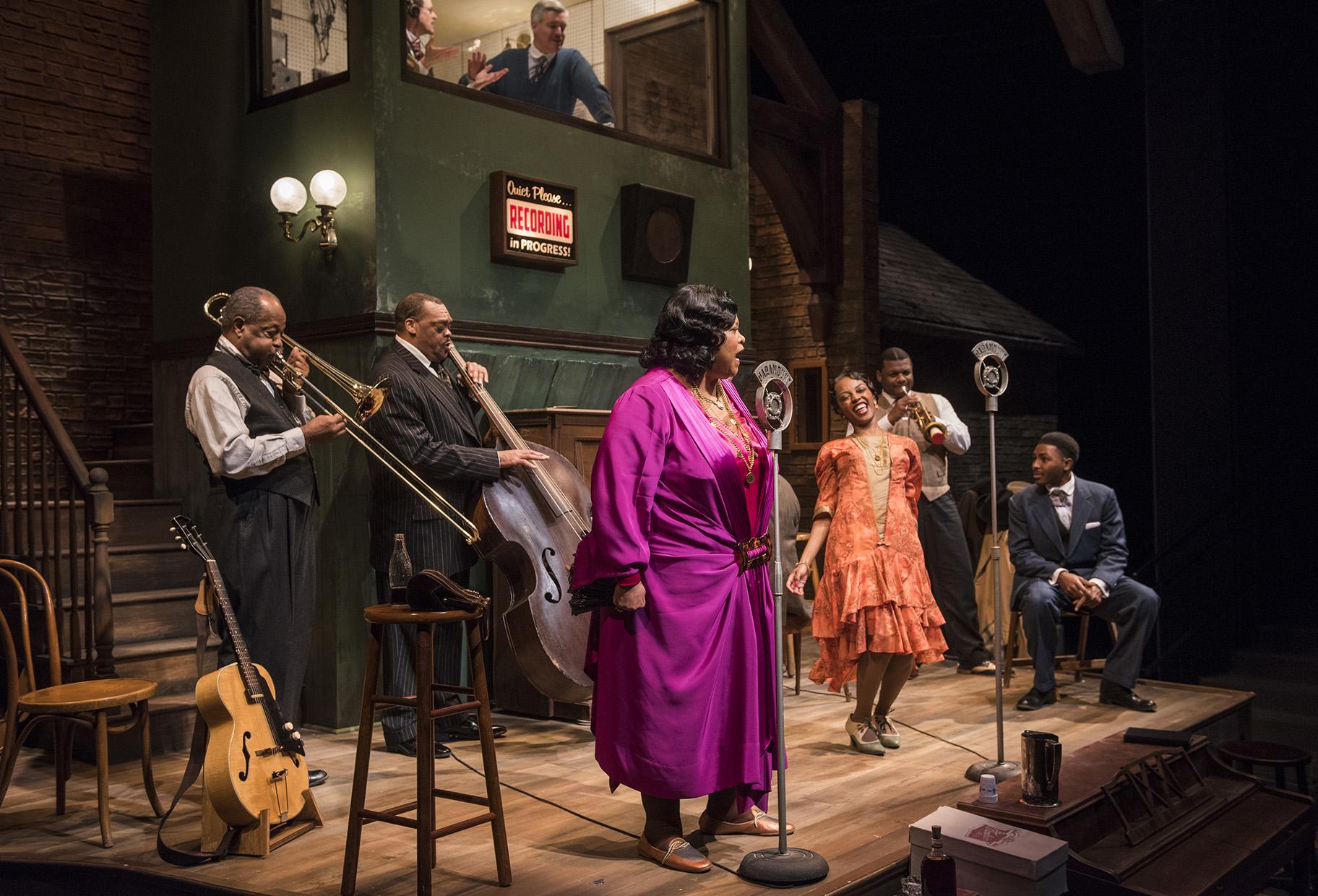 The cast of "Ma Rainey's Black Bottom" (Photo credit: Michael Brosilow)
Levee, who has just bought a fancy pair of Florsheim shoes – a status symbol he prizes above all else – also is quickly distracted by Dussie Mae, a sexy young climber (who a program note suggests might be Ma Rainey's lover, though I sensed no hint of that being the case). And when she leaves the session with Ma, and Sturdyvant reneges on a promise to record his songs, and Toledo accidentally steps on his new shows, he turns into a human explosive.
Director Ron OJ Parson has orchestrated the voices of his exceptional cast to perfection so that each character's "arias" don't just grab the spotlight but serve as a vivid reminder of Wilson's ability to air many viewpoints and use his uncanny ear for capturing the inherent music and variety in African-American speech. As it happens, he was his own best composer.
"Ma Rainey's Black Bottom" runs through March 17 at Writers Theatre, 325 Tudor Court, Glencoe. For tickets ($35-$80) call (847) 242-6000 or visit writerstheatre.org. Running time is 2 hours and 30 minutes with one intermission.
Follow Hedy Weiss on Twitter: @HedyWeissCritic
---
Joffrey Ballet's World Premiere 'Anna Karenina' Fit for the Silver Screen
In 'A Doll's House, Part 2,' a Provocative He Said/She Said Twist on an Ibsen Classic
A Brilliantly Subversive Take on 'The Producers' at the Paramount
---