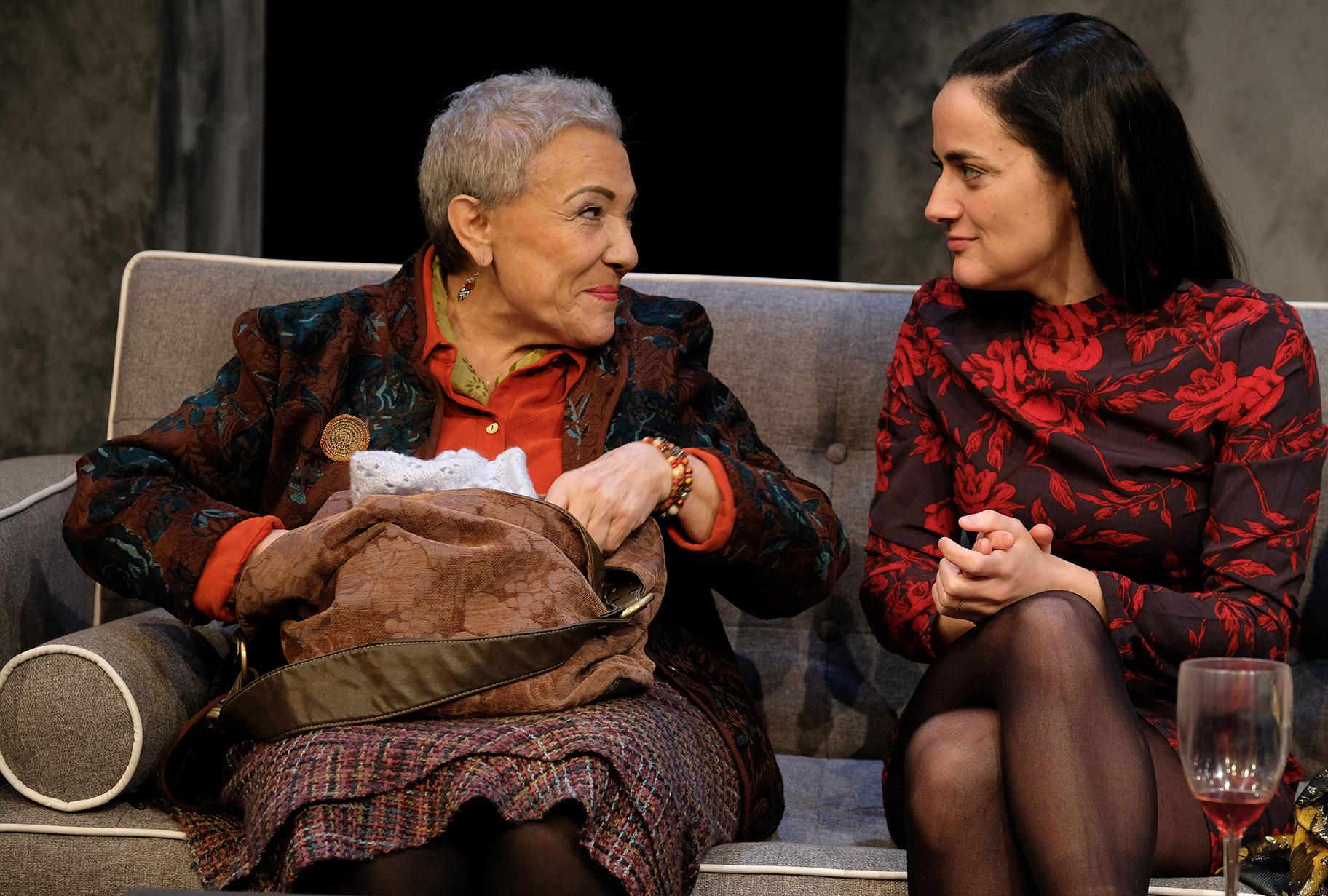 Alba Guerra, left and Cruz Gonzalez Cadel in Teatro Vista's world premiere of Stephanie Allen Walker's "The Abuelas." (Photo credit: Joel Maisonet)
At this very moment, when many countries in South America are in a state of intense political turmoil, Stephanie Alison Walker's play, "The Abuelas" ("The Grandmothers"), now in a world premiere Teatro Vista production, serves as a chilling reminder of a particularly horrific period in Argentina's history when, from 1976 to 1983, that nation was under the thumb of a brutal military dictatorship. And if the events of that period have since been largely forgotten, or eclipsed by other calamities, this story (a sequel to Walker's play, "The Madres," produced by Teatro Vista last year) will unquestionably drive audiences to do some research.
Walker has set her chilling drama in an apartment on Lake Shore Drive that is home to Gabriela (Cruz Gonzalez-Cadel), who grew up in Argentina, but is now the widely known "first female principal cellist" of the Chicago Symphony Orchestra, and her American husband, Marty (Nate Santana), a young architect with superstar potential. The couple has some marital problems, as well as a new baby and demanding careers. And Gabriela's mother, Soledad (Katie Barberi), a well-to-do woman with a sense of privilege, a whole lot of attitude, and no love for the Chicago winter, has come from Buenos Aires to spend a few months caring for her grandchild.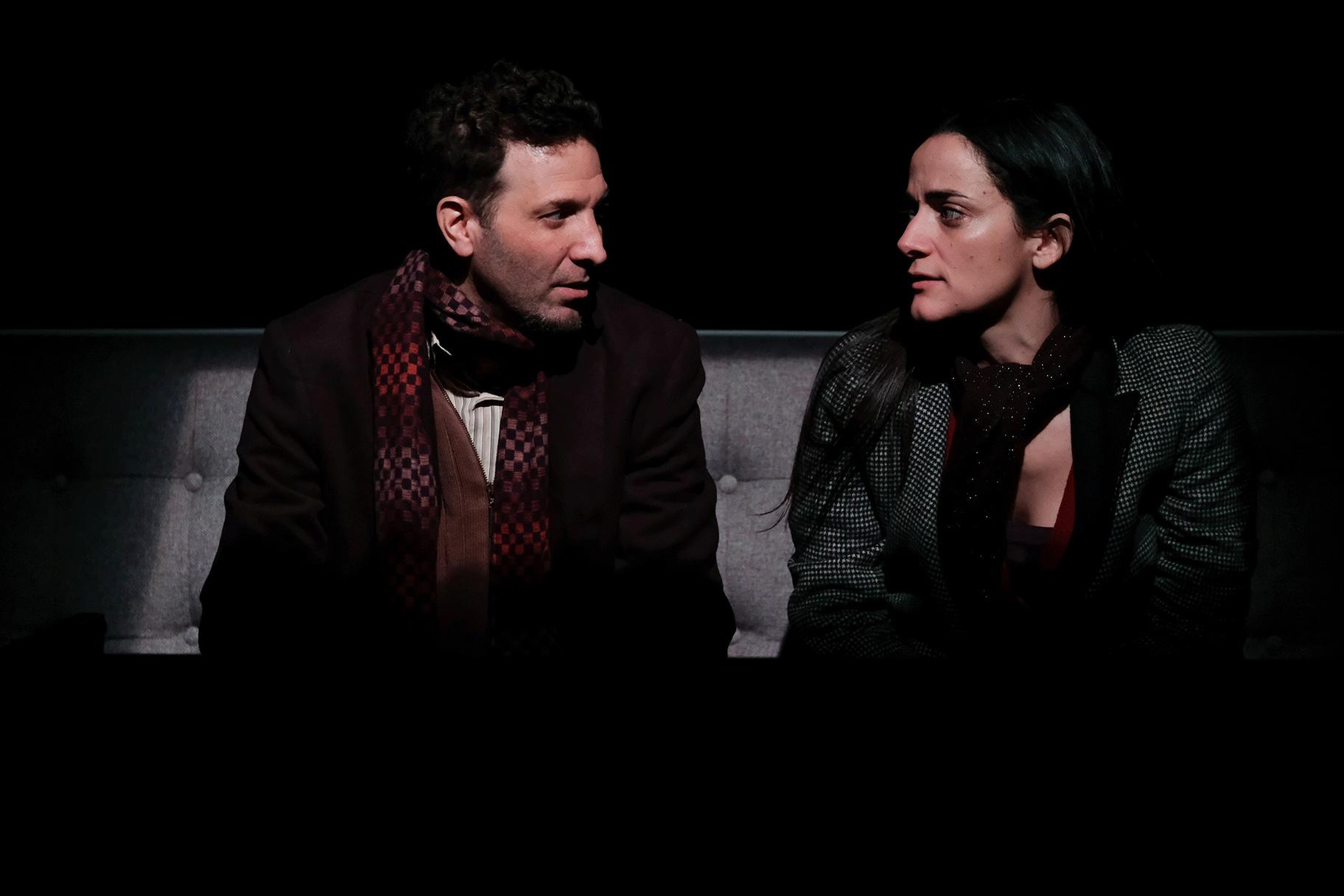 Esteban Schemberg and Cruz Gonzalez Cadel in "The Abuelas." (Photo credit: Joel Maisonet)
Then, wholly unexpectedly, a pair of previously unknown visitors from Argentina arrive at the couple's apartment. They are Cesar (Esteban Schemberg), a young forensic anthropologist, and his companion, Carolina (Alba Guerra), an older but clearly invincible woman carrying a purse full of important papers and photos.
Their visit is no accident (although how they uncovered the information they have brought with them needs a far clearer explanation). And it doesn't take long before the shared pleasantries and memories of Buenos Aires neighborhoods turn into stunning revelations that are enough to upend the lives of all in the room in different but monumental ways.
At this point a spoiler alert should be sounded. And, to put things in the play in clearer perspective, a bit more information than that supplied in a brief program note should be provided about the "Dirty War" ("Guerra Sucia") waged by the military dictatorship.
Among the tactics used by the Argentine regime (which was getting backing from the United States), was the kidnapping, detention, torture, execution (and in some cases the ejection of bodies from planes flown over the Atlantic Ocean) of those suspected of involvement in left-wing activities. An estimated 10,000 to 30,000 such people (including students, artists, journalists and trade unionists, some of whom were pregnant women), became known as the "Desaparecidos" ("The Disappeared"). And beginning in 1977, the mothers of these victims gathered every Thursday afternoon in the centrally located Plaza de Mayo in Buenos Aires to demand information about the fate of their children.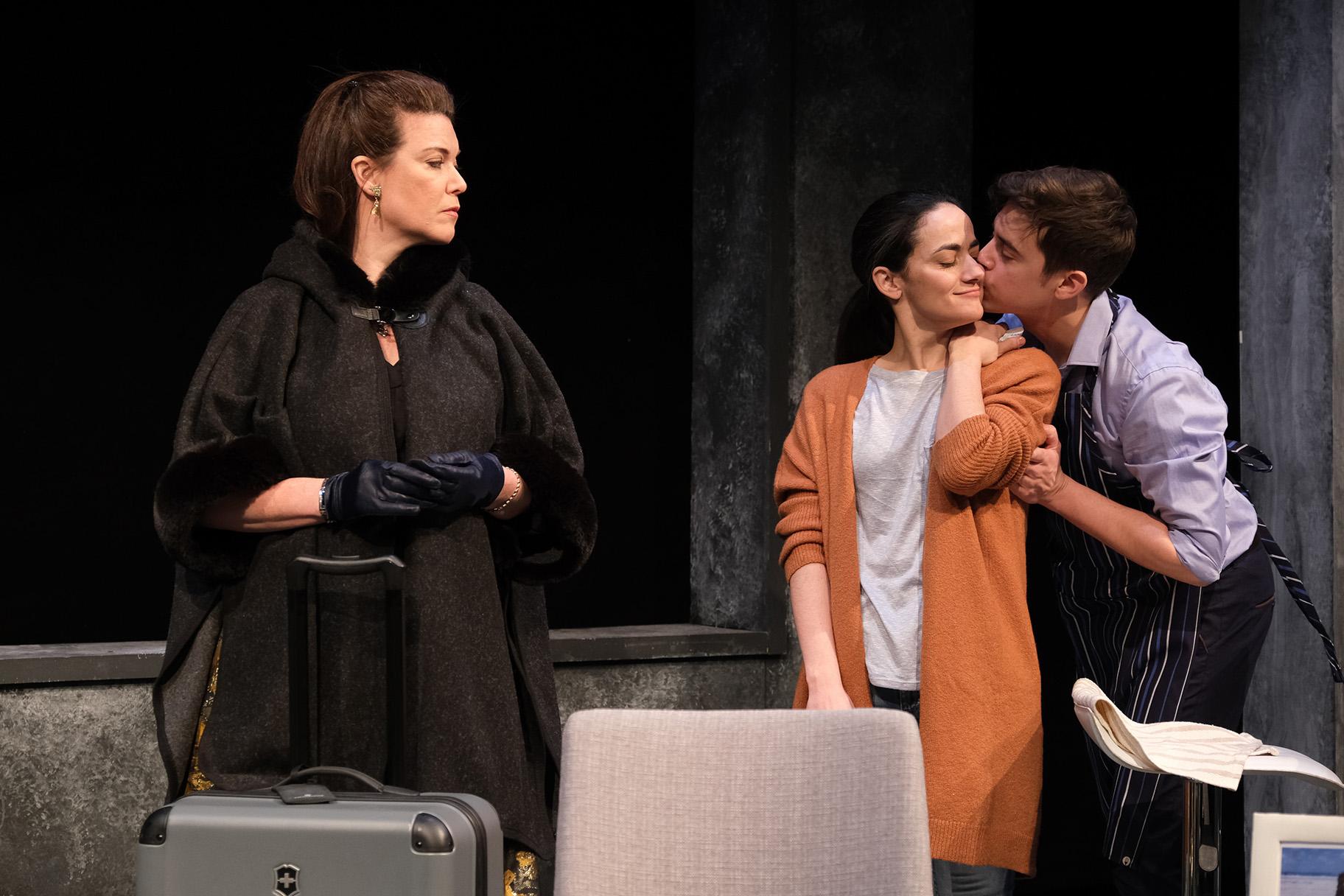 Katie Barberi, left, Cruz Gonzalez Cadel and Nate Santana in "The Abuelas." (Photo credit: Joel Maisonet)
As it turns out, among "The Disappeared" was Carolina's pregnant daughter, Belen (Ilse Zacharias, who is central to several brief but harrowing scenes). And now Carolina has arrived in Chicago to see Gabriela, who she has learned is her now famous granddaughter. For as it turns out, Soledad is not Gabriela's birth mother, but a woman who, like a number of others from highly placed families, were given the babies born under the most horrific circumstances and provided with illegal papers.
Not surprisingly, this revelation is a stunning emotional shock to Gabriela – one that alters her whole sense of identity, causes further tension in her marriage, and puts her relationship to Soledad, the woman who, for 37 years, she believed to be her birth mother, in jeopardy.
Walker (who grew up in the northwest suburbs of Chicago and is now based in Los Angeles), has done a solid job of capturing the contemporary fallout of this warped and ugly chapter of Argentina's history. And under the direction of Ricardo Gutiérrez, there are some fine performances, including those by two Chicago actresses born and raised in Buenos Aires: Gonzalez-Cruz, who expertly suggests Gabriela's tightly wound personality, and Guerra, a petite, sparkling presence who wears her character's heart and indomitable spirit on her sleeve.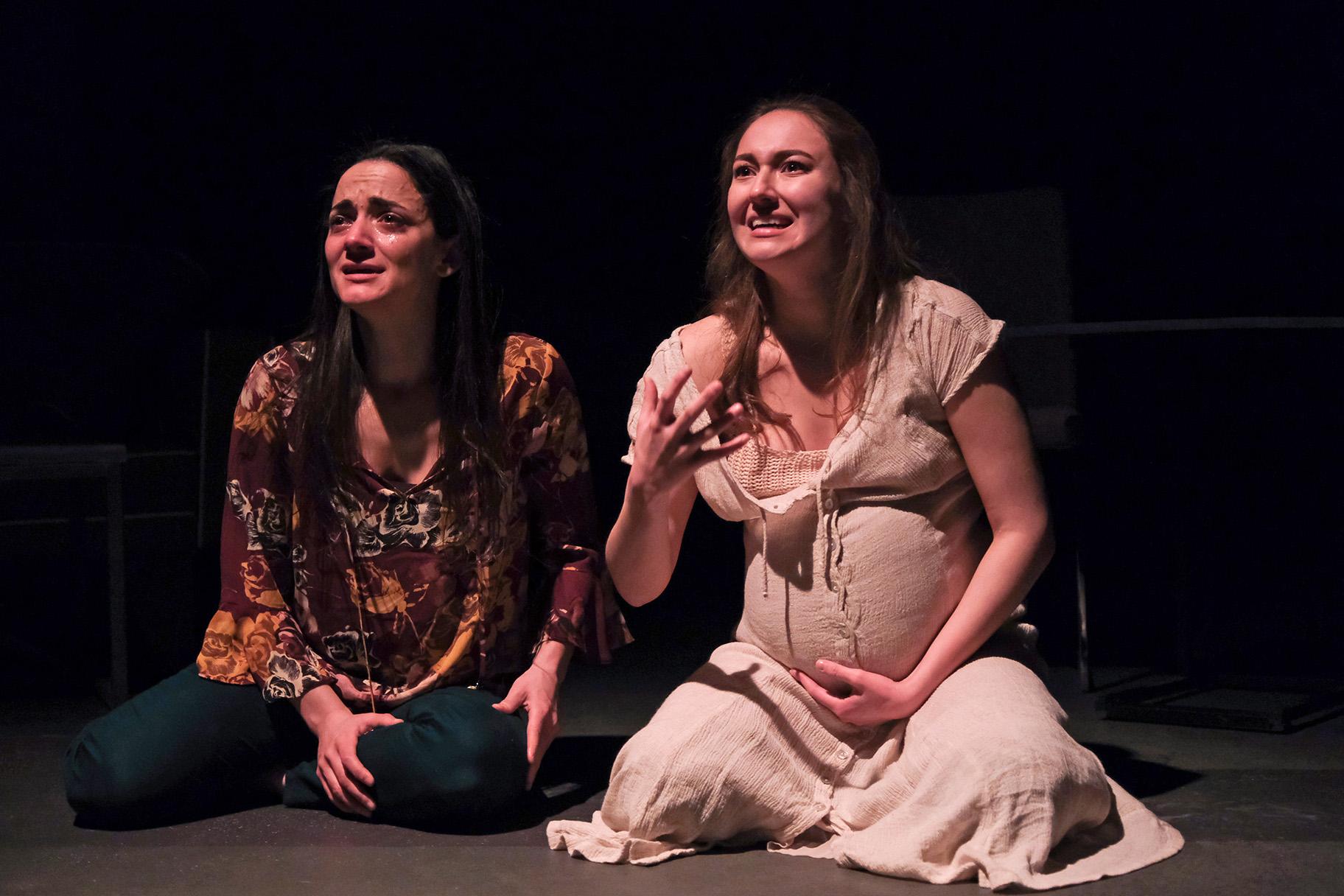 Cruz Gonzalez Cadel, left, and Ilse Zacharias in "The Abuelas." (Photo credit: Joel Maisonet)
Gonzalez-Cruz also has some believably sexy/frustrated scenes with Santana (a handsome fellow who captures both Marty's ego and his insecurity), and with Schemberg (as the shy but intense Cesar, another child of the The Disappeared). And Barberi suggests the spoiled diva in Soledad, but does so with an accent that is more "Noo Yawk" than Buenos Aires-bred.
All in all, "The Abuelas" is an important story, and one that can stand alongside Isaac Gomez's "La Ruta" (seen earlier this season at Steppenwolf), another play inspired by social and political events in the southern hemisphere that often receive far too little attention.
Teatro Vista's production of "The Abuelas" runs through March 17 at Victory Gardens Studio, 2433 N. Lincoln Ave. For tickets ($20-35) call (773) 861-3000 or visit teatrovista.org. Running time is 2 hours and 15 minutes with one intermission.
Follow Hedy Weiss on Twitter: @HedyWeissCritic
---
At Lyric, a 'La Traviata' of Great Intimacy Amid the Social Whirl of Paris
Actors Play the Music of August Wilson's Dialogue in 'Ma Rainey's Black Bottom'
Joffrey Ballet's World Premiere 'Anna Karenina' Fit for the Silver Screen
---