Christopher Kenney, Zoie Reams, Ricardo Jose Rivera, Mario Rojas and Giorgio Berrugi in "La Traviata" (Credit: Todd Rosenberg)
In one form or another, most of the great opera classics are about two things: love and death. While some explore these interlocking themes by looking at the lives of the gods and other mythic creatures, the Italian masters most often focused on the fates of ordinary human beings, even if many were royalty and aristocrats. And few did it as powerfully, or with a more achingly beautiful sound (and all the vocal challenges that can come with it) than Giuseppe Verdi.
The production of Verdi's "La Traviata" ("The Fallen Woman") that returned to Lyric Opera for the first time since 2013 is a beauty on all counts. But its greatest virtue is the way it emphasizes the essential intimacy of the work, with each of its three major characters delivering virtuosic, soliloquy-like arias, as well as joining for richly dramatic duets and trios against the backdrop of the lavish social whirl and blatant hypocrisy of mid-19th century high society Paris.
Director Arin Arbus sets the tone with the first notes of the overture. Through a lacy curtain, we see Violetta Valery (Russian soprano Albina Shagimuratova), the popular courtesan who is recovering from a serious illness, being attended to by her maid, Annina (the fine Ryan Opera Center contralto Lauren Decker).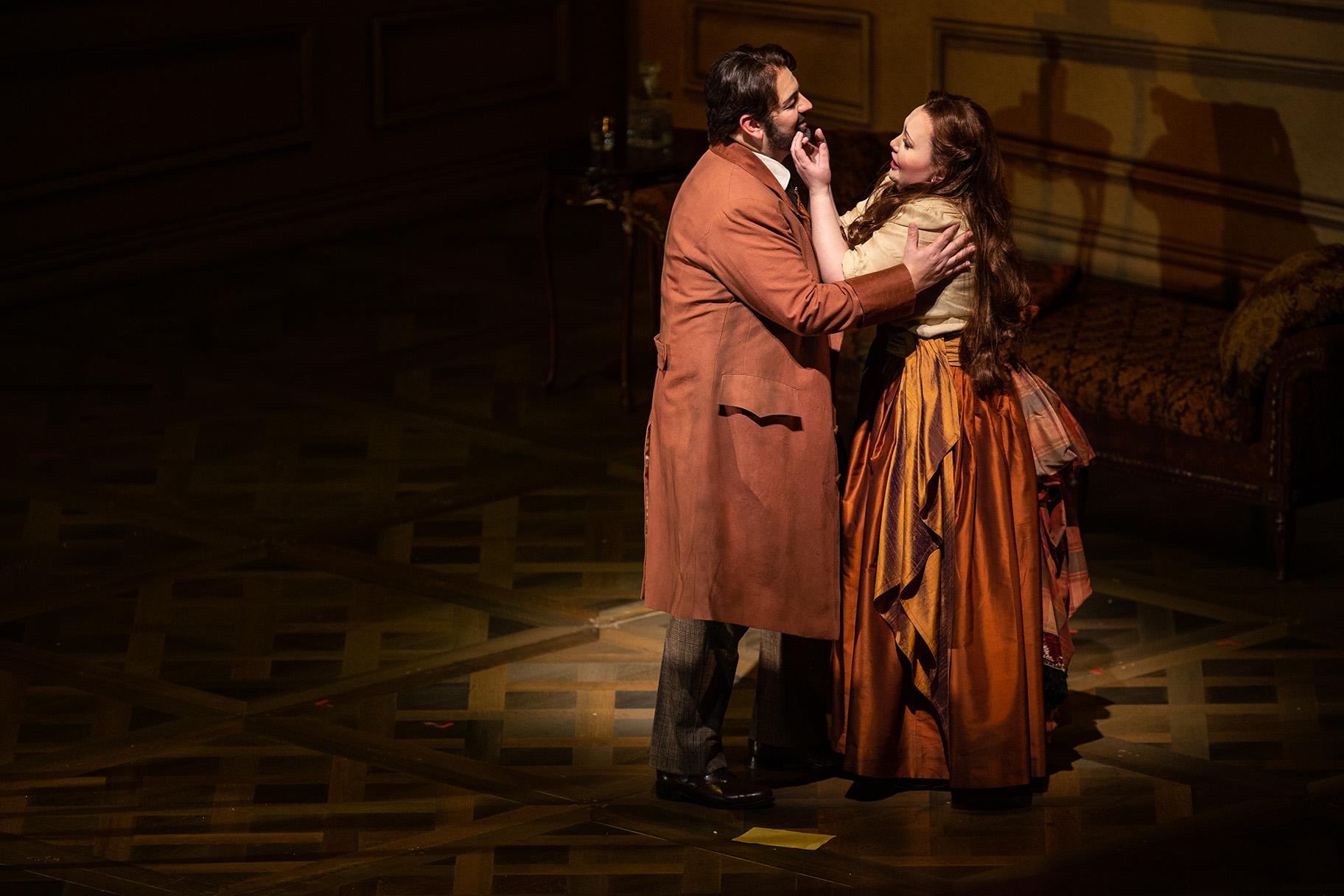 Giorgio Berrugi and Albina Shagimuratova in "La Traviata" at Lyric Opera of Chicago. (Credit: Lyric Opera of Chicago)
Though clearly still weak, Violetta hosts a party at her beautiful Paris apartment where, much to the displeasure of her current lover, Baron Douphol (Puerto Rican baritone Ricardo Jose Rivera), she is introduced to Alfredo Germont (the warm-voiced Italian tenor Giorgio Berrugi, in his Lyric debut), the young man from a bourgeois family who had inquired about her throughout her illness. And although she is skeptical about his protestations of love, she clearly is disarmed by him, and already hoping that something deeper and more lasting than her usual relationships might be possible. Alfredo then leads a grand toast, noting that everything in the world that is not pleasure is foolish, and he is joined by Violetta and the chorus of guests, all richly decked out in their finery.
Of course this is a tragic opera, and love, rather than hedonistic pleasure, will become the operative word in the story, along with sacrifice, jealousy, anguish and remorse.
Fast forward five months, and Violetta and Alfredo are living in an idyllic home in the countryside. (Riccardo Hernandez's set, with its gently raked stage floor, is marked by expansive curved walls whose plasterwork and murals evoke a perfect sense of place, enhanced by Christopher Ash's projections and Marcus Doshi's lighting). But things are not quite as rosy as they seem.
Lauren Decker and David Weigel in "La Traviata" (Credit: Todd Rosenberg)
The couple's financial problems have led Violetta to secretly sell off all her possessions, but when Alfredo discovers this he is so upset he heads off to Paris to fix the situation. In his absence, his father, Giorgio Germont (in an exceptional portrayal by Serbian baritone Zeljko Lucic), arrives at their home and tells Violetta she must give up her relationship with Alfredo because her reputation as a courtesan will destroy his "angelic" daughter's plans to make a respectable and prosperous marriage.
Although devastated by this demand, Violetta ultimately responds to Giorgio's plea and his assertion that she will be rewarded by God, and she agrees to make the ultimate sacrifice, although she senses it will destroy her. Leaving a farewell note for Alfredo, she returns to Paris to attend a fancy party at the home of her flamboyant socialite friend, Flora Bervoix (the boldly exuberant mezzo-soprano Zoie Reams), who has invited fortune-spinning Spanish gypsies to entertain the guests. When Alfredo follows her there, and finds her with her former lover, Baron Douphol, tempers flare and he publicly berates Violetta in the most insulting manner, unaware of all that she has sacrificed until his father arrives and puts his son to shame.
Zoie Reams in "La Traviata" (Credit: Lyric Opera of Chicago)
A month later, as Violetta lies dying, she is visited by Alfredo and Giorgio, who has explained to his son about her extraordinary sacrifice. Both men beg her forgiveness, and Alfredo once again expresses his love for her. But it is too late.
The beauty of this production goes beyond the absolute glory of Verdi's impassioned, at moments wildly celebratory, and vocally demanding score (with a libretto by Francesco Maria Piave based on Alexandre Dumas fils' play "La Dame aux Camelias," and with excellent projected English supertitles by Francis Rizzo).
The voices are uniformly superb and full of heat, but so is the almost conversational style of acting, and that makes all the difference. Particularly memorable is the way Shagimuratova (in one of those high-flying coloratura roles famously performed by such divas as Maria Callas and Joan Sutherland), reveals her innermost thoughts as she suggests the possibility of true love while also cautiously admitting her need for freedom. And she and Lucic are particularly superb in the all-important scene in which Giorgio, both manipulative and compassionate, convinces her to leave his son.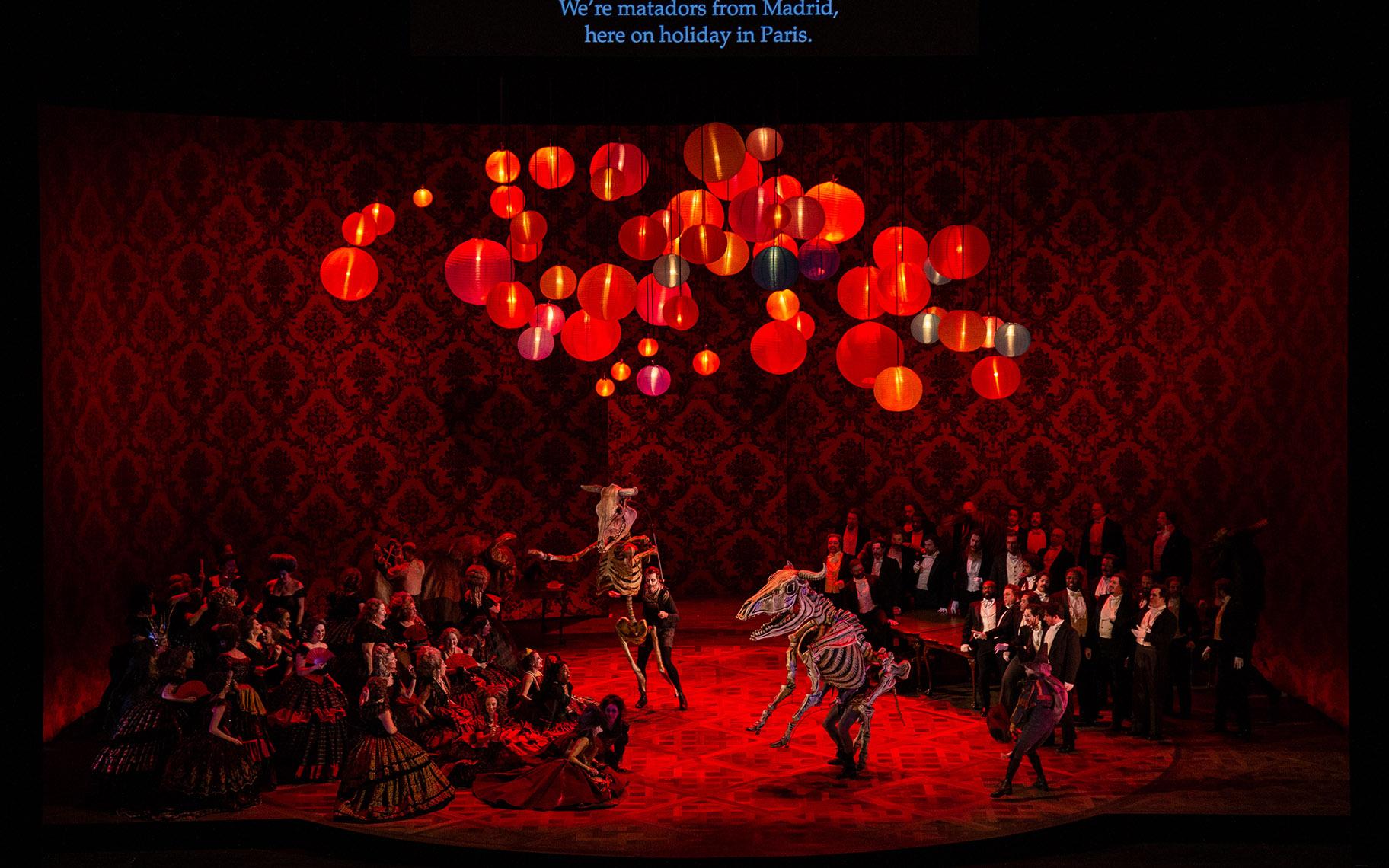 "La Traviata" (Credit: Lyric Opera of Chicago)
Arbus and choreographer Austin McCormick have devised stylish party scenes that benefit greatly from Cait O'Connor's lush costumes and giant, death-driven skeleton puppets, an ensemble of dancers (Jordan Beyeler, Andrew Harper, Demetrius McClendon, Michelle Reid and Benjamin Holliday Wardell), and the chorus. And in an impressive Lyric Opera debut, conductor Michael Christie led the Lyric orchestra in the life-affirming energy of the opera's grand waltzes and familiar "brindisi" drinking song, and in the pathos of love and intimations of death. Viva Verdi.
"La Traviata" runs through March 22 at Lyric Opera Chicago, 20 N. Wacker Drive. For tickets ($39-$299) call (312) 827-5600 or visit lyricopera.org. Running time is 2 hours and 50 minutes with two intermissions.
Follow Hedy Weiss on Twitter: @HedyWeissCritic
---
Actors Play the Music of August Wilson's Dialogue in 'Ma Rainey's Black Bottom'
Joffrey Ballet's World Premiere 'Anna Karenina' Fit for the Silver Screen
In 'A Doll's House, Part 2,' a Provocative He Said/She Said Twist on an Ibsen Classic
At Lyric, an Electrifying 'Elektra' With a Rip-Roaring Female Cast
---