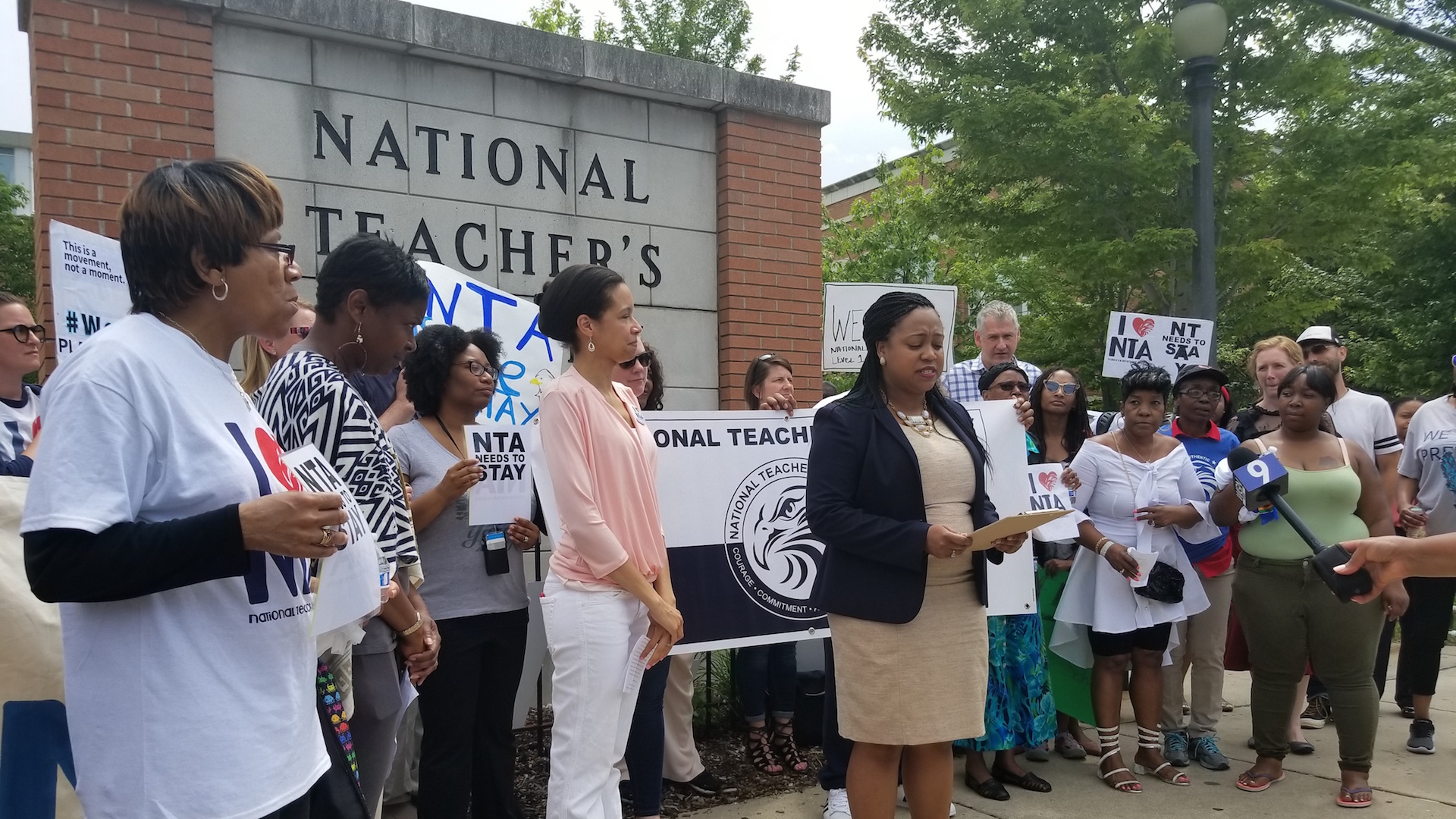 National Teachers Academy parent Elisabeth Greer, center, and Candace Moore, right, of the Chicago Lawyers' Committee for Civil Rights, discuss their lawsuit outside the school on June 19. 2018. (Matt Masterson / Chicago Tonight)
Parents from a Near South Side elementary school are hoping a court order will put a halt to a controversial transition plan that would see their school transformed into a high school over the coming years.
Four families from the National Teachers Academy who filed suit against Chicago Public Schools earlier this summer are now asking a Cook County judge to grant an injunction that would prevent the district from proceeding with its plan to phase out K-8 classes at their school beginning next fall.
"Basically we're asking the court to stop CPS from moving forward in their plans to close NTA," said Ashley Fretthold, an attorney with the Legal Assistance Foundation of Metropolitan Chicago who is representing the plaintiffs. "So basically any activities related to that, we're asking that they stop moving forward on that now while we resolve the ultimate complaint."
If granted, that means CPS would be enjoined from enrolling high school students at NTA or even beginning any construction necessary for the transition until the parents' lawsuit is fully resolved.
Under its current plan, CPS is set to begin phasing in a freshmen class at the school during the 2019-20 school year. Rising fourth- through seventh-grade students currently at NTA will be allowed to stay there and will be guaranteed a seat inside the new high school.
Students below fourth grade will be transferred to South Loop Elementary School – which will expand its enrollment boundary to include NTA's existing elementary boundary – beginning that same year.
The Chicago Board of Education voted to approve that plan at its February meeting.
But in their lawsuit, filed in June, NTA parents argue this transition discriminates against the low-income, black students like those who make up the vast majority of their school's current population.
"CPS's Proposal includes the creation of a new neighborhood high school with guaranteed enrollment for students from six elementary schools – NTA, South Loop Elementary, Haines, Healy, Drake, and Ward – with a combined attendance of approximately 4,550 students," the parents state in a support brief filed Tuesday.
"Only 31 percent of the students who will allegedly benefit from this new high school are African-American, while 78 percent of those displaced or otherwise adversely impacted are African-American."
NTA first opened in 2002 and currently serves more than 700 students.
The plaintiffs claim CPS has violated both the Illinois Civil Rights Act and the state school code, both by choosing SLES as the receiving school for these students based on "low-value, racially biased criteria" and failing to follow procedural requirements that outline how school actions must be handled.
The district contends that bringing NTA's students into SLES will "right a historical wrong" by eliminating boundaries that had "excluded and separated low-income black children from their peers."
"CPS is committed to improving access to high quality schools throughout the city," CPS spokeswoman Emily Bolton said in a June statement, "and the district will continue to engage with the school communities, parents and students over the course of the next year to ensure a successful transition that benefits all students."
The district has also repeatedly stressed the need for a diverse, high-quality high school option in the South Loop community, saying that fewer than 10 percent of students in the area actually attend their neighborhood school.
Fretthold said her clients are seeking a permanent injunction against the district's plan in their lawsuit. But because that process is likely to drag on for some time, they hope this preliminary motion will stop this transition as soon as possible.
"The preliminary injunction is just the next legal step in trying to move the case forward," she said, "and to basically say this needs to be stopped now while we sort this out."
Contact Matt Masterson: @ByMattMasterson | [email protected] | (773) 509-5431
---
Related stories:
NTA Families Sue CPS, Claim School Transition Plan Violates Civil Rights
CPS Board Votes Unanimously to Close 4 Englewood High Schools
Education Equity Group Calls for Community Referendum on NTA Transition Plan
NTA Student: 'As Kids we Shouldn't Have to Worry About Our Second Home'
---