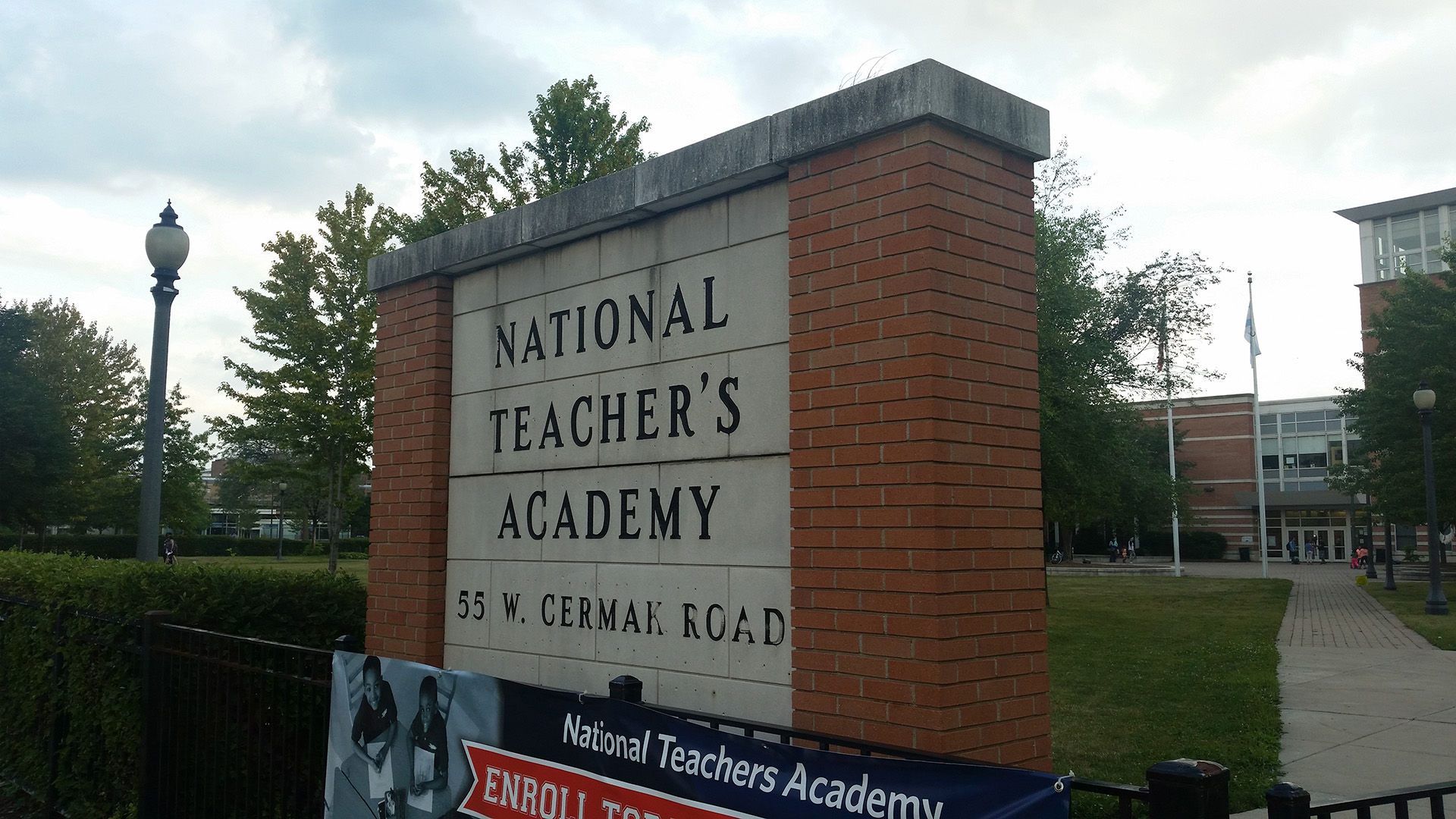 (Matt Masterson / Chicago Tonight)
A local group focused on ending racial and class-based school segregation is asking the Chicago Board of Education to review alternative proposals and allow a community vote before a final decision is made on a plan to transform a high-performing Near South Side elementary into a high school.
Chicago United for Equity is calling for a public referendum after completing its racial equity assessment of Chicago Public Schools' plan to convert the National Teachers Academy – a Level 1-plus elementary school serving primarily low-income, black students – into a high school.
A committee of about a dozen education experts and community stakeholders compiled a report claiming the district's planning process largely ignored the groups that will be most negatively impacted by the plan, namely NTA families and students at under-enrolled South Loop high schools. A second report consolidated about 300 public comments taken across three town hall meetings CUE organized between November and January.
Both reports argue the district's current plan will worsen existing racial inequities and called on the board to consider other options such as investing in existing neighborhood schools or moving NTA into a new building.
"The current proposal fuels inequitable outcomes primarily because it entails the loss of a high-performing school that specifically support students of color learning, growing, and improving their school and community," the committee report states.
"The Equity Committee finds that the closure of NTA would set numerous precedents that will have a long-standing impact on an already historically disenfranchised community of students."
The reports were submitted Monday to the board, CPS CEO Janice Jackson and State Superintendent of Education Tony Smith hours before the district held its final public hearing on the proposal.
Under its current plan, CPS would spent around $10 million to phase in high school classes at NTA during the 2019-20 school year. Rising fourth through seventh grade students currently at NTA will be allowed to stay there and will be guaranteed a seat in the new high school, while younger students will be transferred to the nearby South Loop Elementary that same year.
CPS will also shift SLE's southern border from 18th Street to 22nd Street/Cermak and make room for an additional 1,200 seats after constructing a new addition during the 2018-19 school year.
The committee urged the board to dump its current proposal and instead use that $10 million to invest in the under-utilized Dunbar High School, which has fewer than 500 students and currently sits at about 24 percent of its ideal enrollment capacity.
They argue this would achieve the same goal CPS is striving to reach – creating a high-quality neighborhood high school in the South Loop – but would do so without harming the NTA student population.
CUE also highlighted several other alternatives drawn from its racial equity assessment. Those include:
Co-locating NTA's students with SLE's sixth-through-eighth graders inside its new expansion while using NTA's building as a high school
Moving all SLE students into their new expansion and selling off the current building to raise money for a new high school
Additional investments in Phillips and Dunbar
Redistributing selective enrollment seats at Jones College Prep
If those alternatives aren't entertained, CUE has asked that the district at least follow its minimum recommendations to further engage the South Loop community and retain NTA staff by transitioning them to South Loop Elementary with their students. CPS spokesmen did not respond to a request for comment.
The NTA plan has been a controversial topic since its announcement last summer. Chinatown and South Loop residents have been calling for a high-quality high school in the area for decades. But NTA families and students say that filling that need shouldn't come at the expense of their high-performing school.
CPS was involved in CUE's assessment – its director of strategic initiatives Judy Camacho was on the equity committee – but the district has also budgeted $85,000 for its own third-party racial equity analysis. Those results have not yet been released.
The board could vote on the proposal as early as next month.
"Chicago United for Equity believes that the Board of Education has a historic opportunity in this proposal to construct a new template for community engagement," CUE Executive Director Niketa Brar wrote in a letter to the board.
"On our best days, Chicago is a city that serves us all well. To ensure that all communities are served well today, we can start today by acknowledging the history of inequity in our city, recognizing those who have been historically marginalized, and looking for solutions that do no further harm to these communities."
Contact Matt Masterson: @ByMattMasterson | [email protected] | (773) 509-5431
---
Related stories: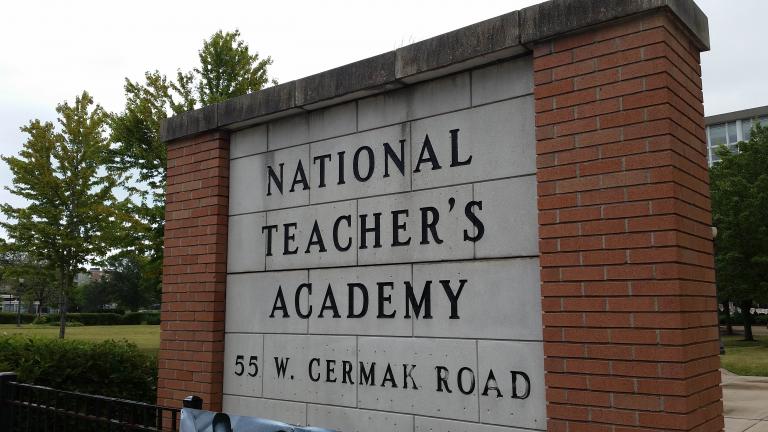 CPS Announces School Action Plan: Closures, Consolidations in Proposal
Dec. 1: As Chicago Public Schools' five-year moratorium on school closures draws to an end, the district announced plans Friday for a new series of school closings, conversions and consolidations.
---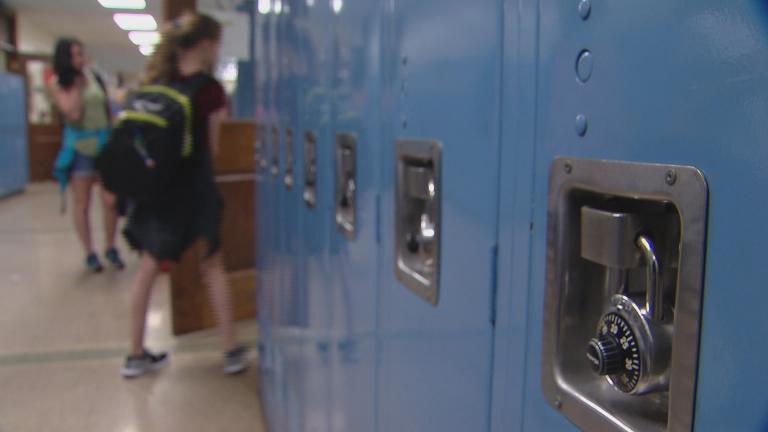 Declining CPS Enrollment Could Lead to More School Closings
Nov. 27: With CPS enrollment down by 32,000—and the school-closing moratorium coming to an end—is another wave of Chicago school closings possible?
---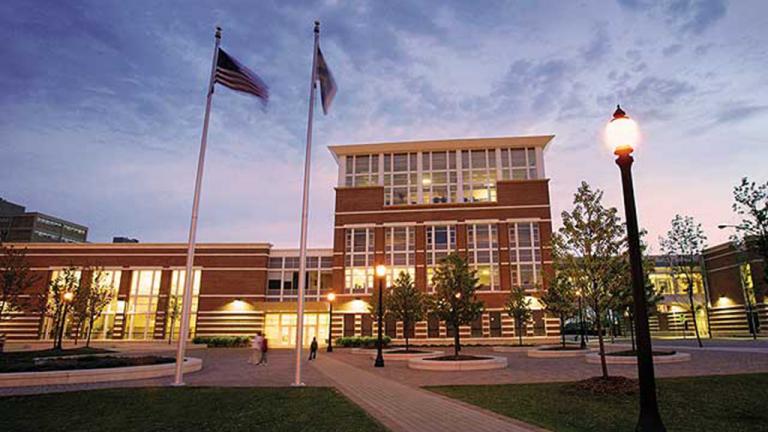 NTA Student: 'As Kids we Shouldn't Have to Worry About Our Second Home'
July 26: A trio of town halls wasn't enough for National Teachers Academy parents and South Loop-area residents, who filled a Board of Education meeting Wednesday to continue talks over a controversial plan for a new high school.
---