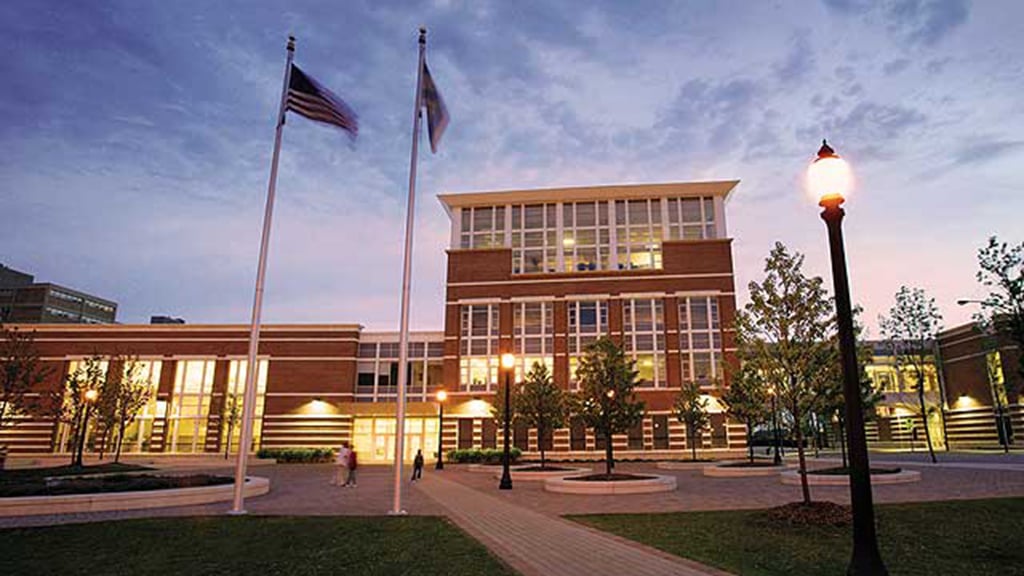 (National Teachers Academy / Facebook)
Chicago Public Schools' controversial plan to transition a Near South Side elementary school into a high school violates state law and discriminates against low-income, black students, according to a new lawsuit filed by district parents.
Four families from the National Teachers Academy are suing CPS and the Chicago Board of Education, hoping to reverse a district decision to phase out K-8 classes at their school over the next few years, arguing the move is illegal and violates their civil rights.
"Phasing out NTA would displace and destroy a vibrant and successful school community," the families say in a 49-page complaint filed Tuesday in Cook County chancery court, "and needlessly disrupt the educational experience of NTA students."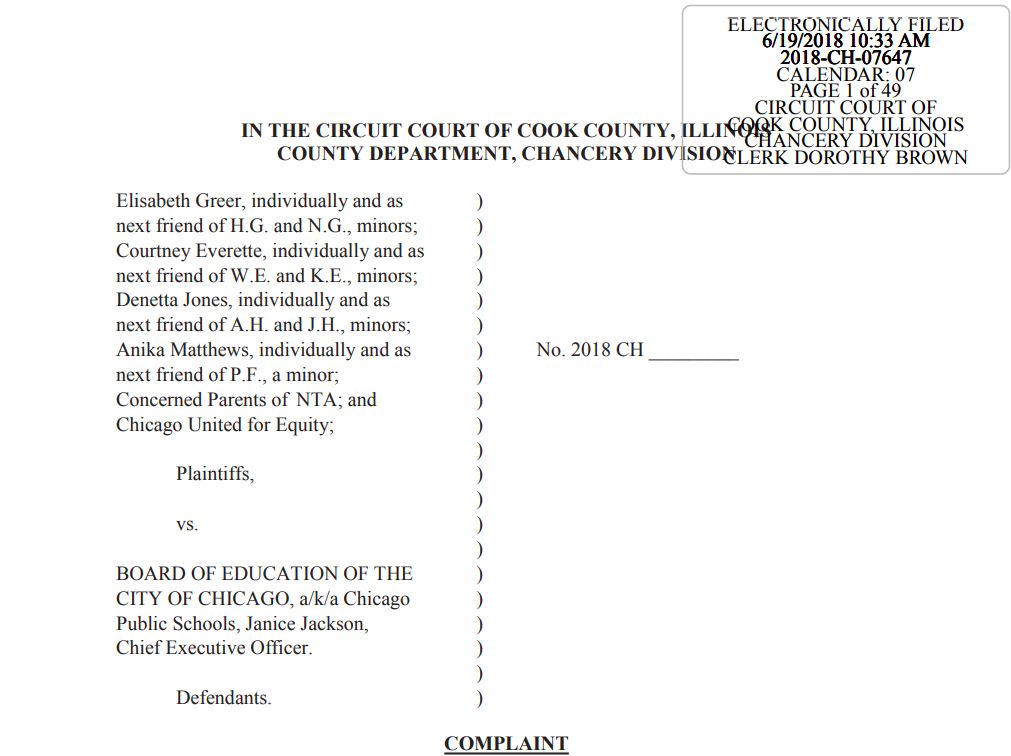 Document: Read the full complaint.
After months of protesting and pleas from NTA students, the Board of Education voted in February to transition the high-performing school by next fall.
CPS will begin by phasing in a freshmen class during the 2019-20 school year. Rising fourth- through seventh-grade students currently at NTA will be allowed to stay there and will be guaranteed a seat in the new high school.
Younger students will be transferred to South Loop Elementary School – which will expand its enrollment boundary to include NTA's existing boundary – beginning that same year.
SLES is currently constructing an expanded 120,000-square-foot building designed to eliminate overcrowding and account for new students from NTA. That building is expected to be completed next year.
In their lawsuit, the parents argue that under the Illinois Civil Rights Act, displaced students must be assigned to a higher-performing receiving school. But because NTA is Level 1-plus school – the highest rating under the district's School Quality Rating Policy – that isn't possible.
Instead they claim CPS "unlawfully" chose South Loop Elementary as the receiving school for these students using "low-value, racially biased criteria" that will disproportionately harm poor, black children.
They argue the current system also relies on a racially biased metric (student attainment) in defining what constitutes a higher-performing school. That metric, the plaintiffs claim, will always be higher in wealthier schools like South Loop Elementary.
"When it comes to deciding which schools to close, they have set it up that you will always close the poorer, blacker school," Elisabeth Greer, NTA's local school council chair and a plaintiff in this suit, told Chicago Tonight. "It will always lose to the richer, whiter school."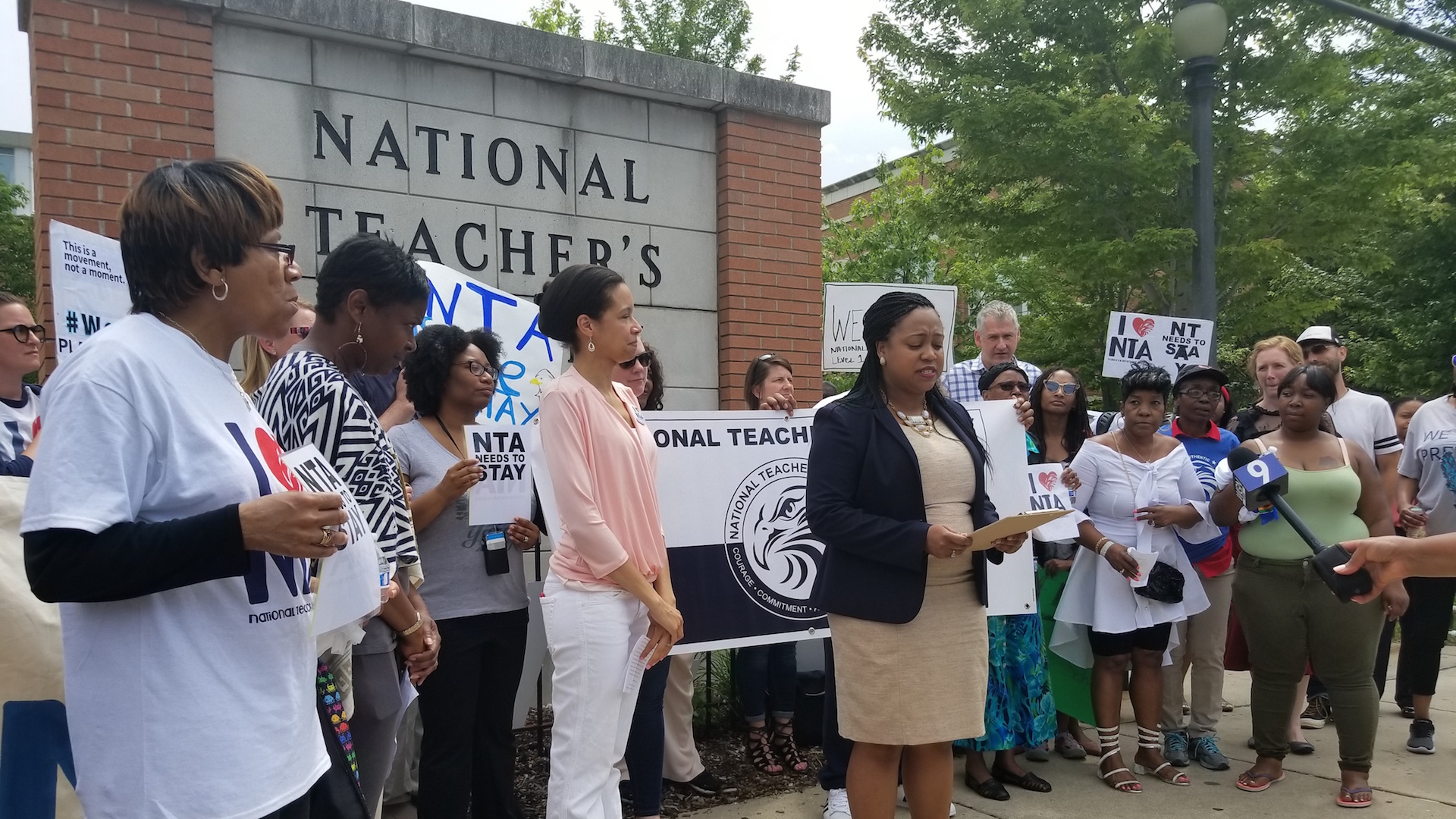 National Teachers Academy parent Elisabeth Greer, center, and Candace Moore, right, of the Chicago Lawyers' Committee for Civil Rights, discuss their lawsuit outside the school Tuesday afternoon. (Matt Masterson / Chicago Tonight)
NTA first opened in 2002 and currently serves more than 700 students. Nearly 4 in 5 of those students are black and more than 3 in 4 come from low-income families. But CPS has said bringing these children into South Loop Elementary will "right a historical wrong" in the community by eliminating boundaries that "excluded and separated low-income black children from their peers."
The district has also stressed the need for a diverse, high-quality high school option in the South Loop community, saying that fewer than 10 percent of students in the area actually attend their neighborhood school. More than half of those neighborhood kids instead travel 3 miles or more each day to go to a different CPS high school.
CPS spokeswoman Emily Bolton said Near South Side families have supported the transition plan because it will create more diverse school communities and increase access to SLES, which she calls the "top elementary school in the area."
"CPS is committed to improving access to high quality schools throughout the city," Bolton said in a statement, "and the district will continue to engage with the school communities, parents and students over the course of the next year to ensure a successful transition that benefits all students."
The district has allocated $3.5 million to spend on supports and resources to ensure a "smooth transition" for NTA students and families who will be moving into new schools. But the school community says CPS has never shut down a Level 1-plus school like NTA and many believe if the school was predominantly white, it wouldn't be in this situation.
"I wish CPS would change their mind. This is our community," said Audrey Johnson, a mother of five current or former NTA students. "Our children deserve what they built; they built this school."
Along with the legal charges, the lawsuit contains an injunction seeking to halt the transition plan while the rest of the case is settled. The plaintiffs also criticize draft guidelines the district published last year that presumably allow any "community members" to request a school be closed.
Beyond saving their own school, NTA parents hope to change the way school closures are handled moving forward. 
"This is bigger than just NTA," Greer said. "Yes, we want to save NTA, of course, and that's the primary goal, but just as important is to make sure this never happens again."
Contact Matt Masterson: @ByMattMasterson | [email protected] | (773) 509-5431
---
Related stories:
CPS Board Votes Unanimously to Close 4 Englewood High Schools
Education Equity Group Calls for Community Referendum on NTA Transition Plan
NTA Student: 'As Kids we Shouldn't Have to Worry About Our Second Home'
---