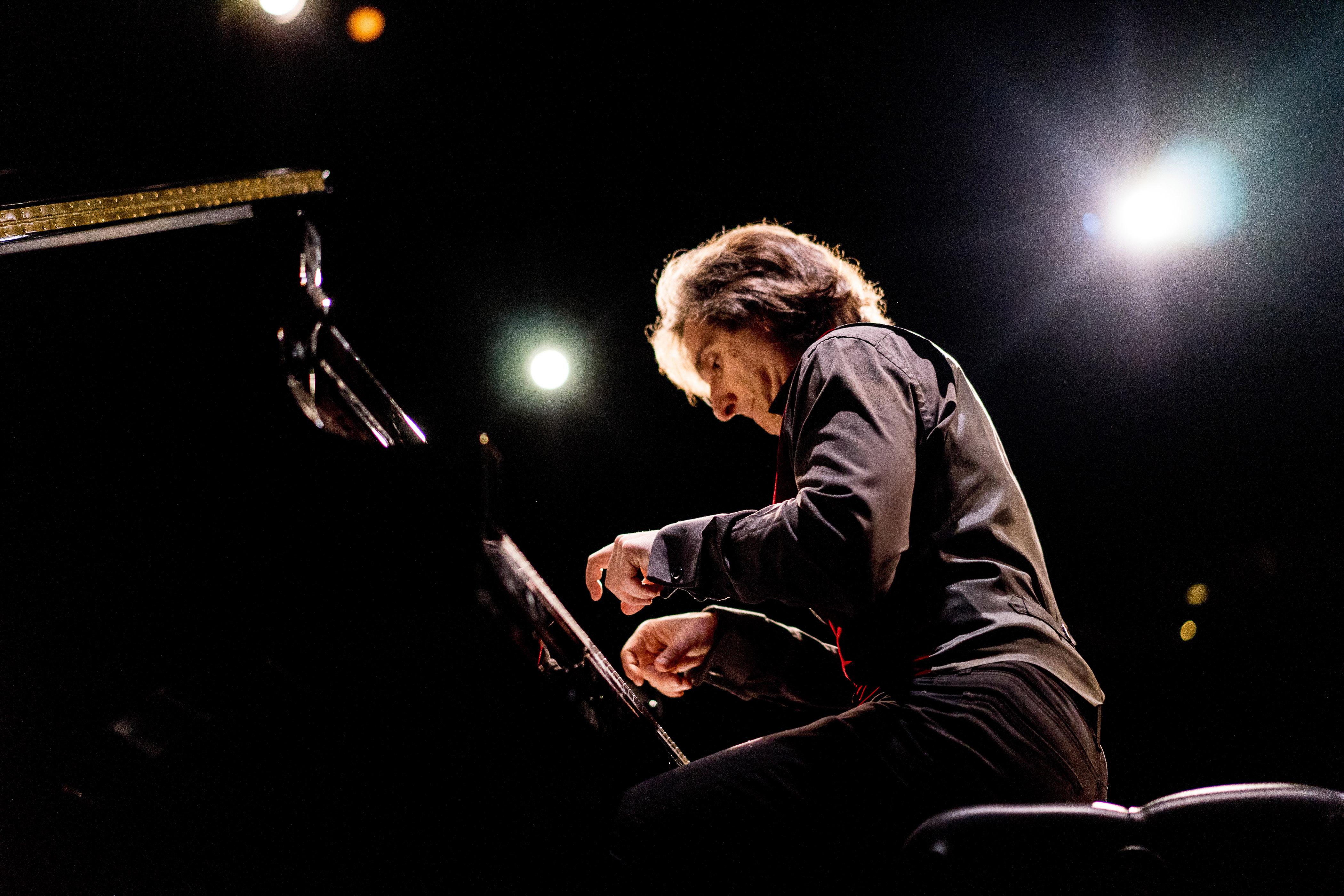 Hershey Felder in "Our Great Tchaikovsky" at Steppenwolf Upstairs Theatre.
It was the arrival of a most unexpected "official letter" from a Russian envoy to the United States that inspired Hershey Felder, that most brilliant of artistic polymaths, to begin work on "Our Great Tchaikovsky," the latest in his series of uniquely imagined portraits of musicians from George Gershwin, Irving Berlin and Leonard Bernstein to Beethoven, Chopin and Liszt.
In the letter, which was sent to him in 2013 (remember that year), the envoy explained that he was aware of the great success of Felder's many shows, and that he wished he would create one about "our great Tchaikovsky."
Intrigued (and who wouldn't be), Felder got to work, even listening to an 1890 cylinder recording of the composer's voice. Along the way, he discovered a great deal more about the man whose beloved ballet scores ("The Nutcracker," "Swan Lake" and "The Sleeping Beauty"), operas (most notably "Eugene Onegin"), symphonies and other music are among the most widely known works in the classical repertoire. And the story that began to emerge was one of a monumentally talented artist who was tormented throughout most of his life by his homosexuality, and by the terrifying consequences of its exposure.
For those still unfamiliar with the magic Felder can create, an introduction to the man, whose enthralling show about Tchaikovsky is now in a limited engagement at Steppenwolf's Upstairs Theatre, is essential.
Not only is Felder a superb storyteller as both the writer and performer of his one-man shows, but he is an immensely gifted concert pianist. And his ability to weave all these talents into a dramatic whole is unmatched. The seamless connection between the music and the narrative is so compelling that the audience's rapt attention becomes palpable. And in this case, contemporary events only serve to intensify the story. But more about that later.
The story unfolds in Tchaikovsky's lavish dacha (country house), where birch trees frame the stage, and a grand piano is the centerpiece of a room full of beautifully carved wood furniture and candelabras. (The set design also is the work of Felder, with magical lighting and projections by Christopher Ash.)
We learn about the composer's youth: His technocrat father and emotionally distant mother (a singer, who died when he was 14), and his prodigious ability to improvise at the piano by age six. And then there was his parents' determination for him to be educated for a "real profession" – to become a respectable civil servant rather than a musician.
Of course music was his destiny, and he would eventually attend a new music conservatory in St. Petersburg and come under the tutelage of the great pianist of the era, Anton Rubinstein (who Felder characterizes with comic zest). He also would find himself emerging at the same time as the The Five, a group of contemporary composers (among them Rimsky-Korsakov and Mussorgsky) who were championing music rooted in a more Russian nationalist tradition than his own European romanticism.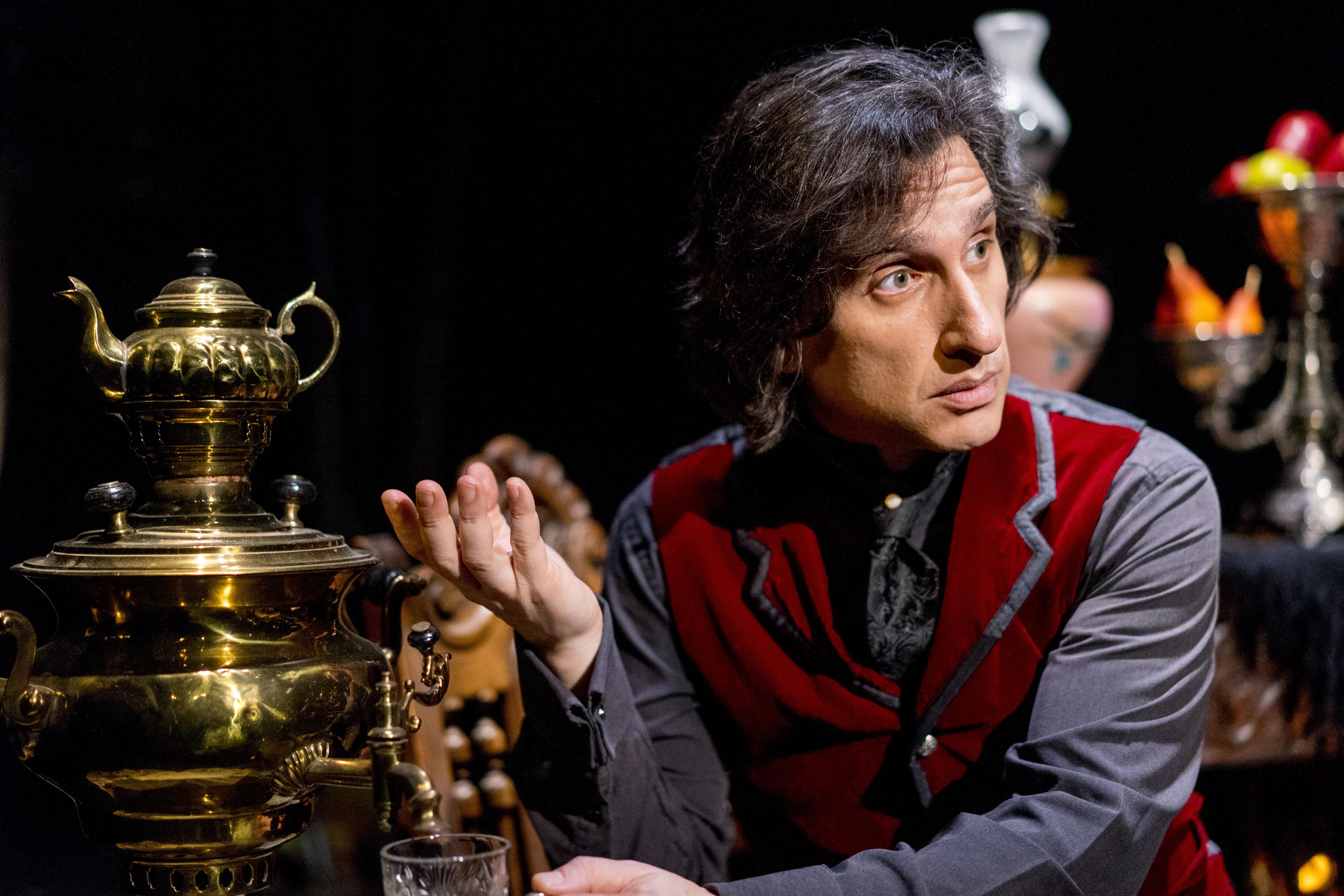 Hershey Felder in "Our Great Tchaikovsky" at Steppenwolf Upstairs Theatre.
Felder juxtaposes the many ups and downs of his career with his necessarily secret, guilt-ridden relationships (or yearnings for) young men, including a nephew, and the abiding fear of being publicly humiliated and even exiled to Siberia. A marriage of convenience turned into an enduring hell (and long-term demands for money). A more felicitous relationship with a woman – his long-time patroness, Nadezhda von Meck, a wealthy widow with whom he corresponded, but met only very briefly – was far more successful, until threats put an end to that, too.
Did the emotional turmoil fuel the music? Of course. But so did financial necessity (hear him rail against the fact that the booming "1812 Overture" became his most successful work). And as it turned out, he achieved immense success in his lifetime, and was even invited to oversee the opening of New York's Carnegie Hall in 1891 (his first and only visit to America), where he conducted his "Coronation March" and received great critical and audience praise. It also was in New York where he became transfixed by the street life, and found a number of ideas for "The Nutcracker."
Throughout, Felder plays excerpts from Tchaikovsky's piano works, ballets and orchestral works (sometimes with taped accompaniment, but also, half jokingly, with his own vocalization). And he is a superb musician.
Felder brings the composer full circle to his death at the age of 53 – perhaps from cholera, perhaps a suicide, and still a subject of gossip and debate. But he also brings his own story full circle, noting that in June 2013 (yes, that very year), the Russian duma passed what is referred to as "the gay propaganda law for the purpose of protecting children from informational advocacy denying traditional family values."
So, as it turns out, that Russian envoy opened something of a Pandora's box with his invitation. And given the current climate, it is doubtful Felder will be performing on a Moscow stage any time soon.

"Our Great Tchaikovsky" runs through May 13 at Steppenwolf Theatre Upstairs, 1650 N. Halsted St. For tickets ($55) call (312) 335-1650 or visit www.steppenwolf.org. Running time: 1 hour and 35 minutes with no intermission.
Follow Hedy Weiss on Twitter: @HedyWeissCritic
---
John Malkovich joins CSO and Muti in Copland's 'Lincoln Portrait'
Broadway Revival of 'Carousel' Injects New Elements Into Rodgers and Hammerstein Classic
'Gentleman Caller' Lays Bare the Not-So-Secret Lives of Tennessee Williams, William Inge
Blistering Grand Opera 'Sweeney Todd' at Theo Ubique's Tiny Storefront
---